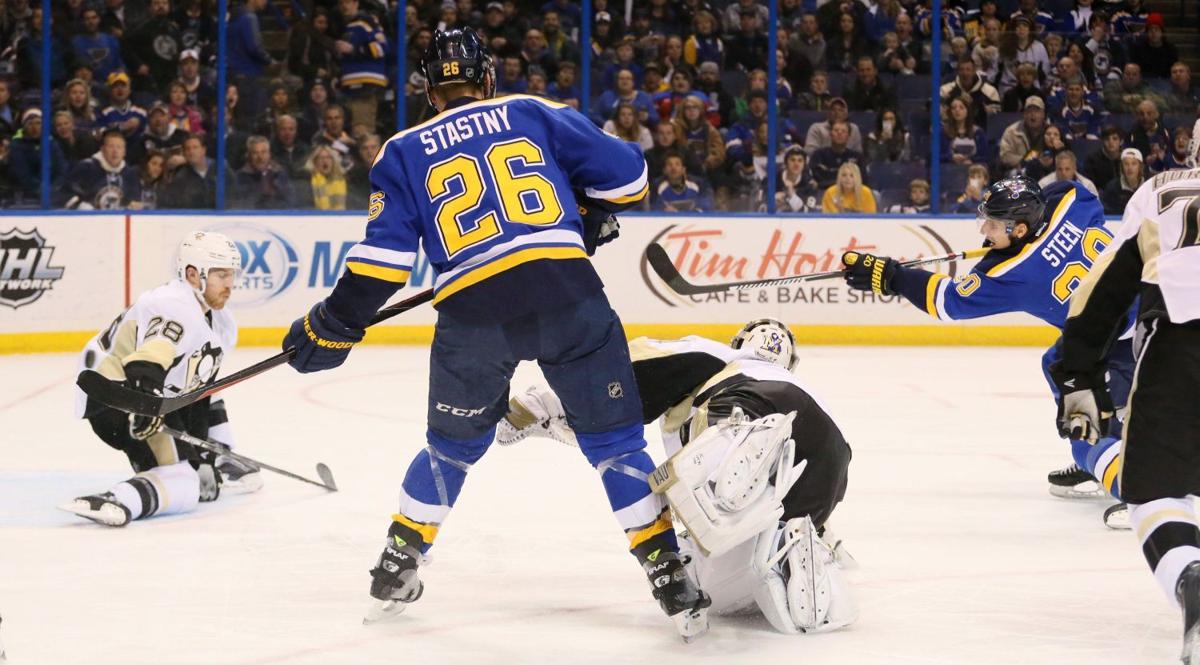 Paul Stastny can see again.
A facial injury required him to wear a caged mask the past two games, bringing him back to his college days at the University of Denver, but Stastny went back to a visor for Monday's game against Pittsburgh. He said the cage took away his peripheral vision and noted that with the visor he felt like a new player.
A few hours later, Stastny had the numbers to prove it, a four-point night with a goal and three assists in the Blues' 5-2 victory over the Penguins.
"A new lease on life — felt like I could see so much more and not play so hesitant," Stastny said. "The game moves so fast that every split second makes a difference."
In addition to Stastny, linemates Alexander Steen and Troy Brouwer, along with goaltender Brian Elliott, made the difference Monday. Steen and Brouwer also scored for the Blues, giving that group a total of eight points. Elliott made 36 more saves, giving him a combined 82 in his past two victories.
The win in front of a crowd of 19,312 — the third consecutive sellout at Scottrade Center — closed out a four-game homestand with a record of 3-1. The club will now head on the road for a three-game trip that will take the season into the NHL All-Star break.
The Blues split the season series with Pittsburgh one game apiece, following the Penguins' 4-3 overtime victory Nov. 25 at Consol Energy Center.
There were a combined 14 goals in the two games and until Stastny netted his with 8 minutes, 22 seconds remaining in regulation, neither team had held a two-goal lead.
"We're up a goal, we're down a goal," Elliott said. "It's trying to stay even keeled and the guys did a good job tonight."
The Blues took a 3-2 lead on Brouwer's ninth goal of the season just 2:10 into the third period. Stastny whacked a puck into the slot, where Brouwer settled it and slung it past Pittsburgh backup goalie Jeff Zatkoff.
"It came surprisingly flat, to be honest with you, when it bounced," Brouwer said. "Hopefully I get a bunch of it and I did."
Stastny then made it 4-2 with a wrist shot from the top of the circle, beating Zatkoff for his fifth goal of the season. Kevin Shattenkirk added an empty-netter, and with Stastny setting him up, the center had his third assist and fourth point of the game.  It was his first four-point game since Dec. 16, 2013, with Colorado.
Steen and Brouwer each finished with a goal and an assist.
"We talked a little bit before the game that the last few games we've been a little big stagnant, so we wanted to be a difference-maker tonight and we were," Brouwer said.
It was a close game before the Blues netted three goals in the third period.
Two Russian superstars traded highlight-reel goals less than two minutes apart in the second period, sending the game to the third tied at 2-2.
First, Evgeni Malkin handed Pittsburgh its first lead of the game, scoring his 20th goal of the season on one of his patented breakaway moves.
Malkin skated around Blues defenseman Jay Bouwmeester, who was back in the lineup Monday after missing four games with a concussion. Then in the clear, Malkin went backhand, forehand and goal for a 2-1 advantage with 4:04 left in the second period.
Oh yeah, watch this, Tarasenko thought.
Taking a pass from Joel Edmundson at the blue line, Tarasenko entered the offensive zone and appeared as though he might pull up and turn the puck inside. That caused Penguins defenseman Ben Lovejoy to pause, and when he did, Tarasenko continued to curl around Lovejoy, protecting the puck on the outside, and then flipped to his forehand for the shot.
"The battle of the Russians there," Stastny said. "I think once Malkin had that nice goal, then Vladi got upset. He took it in his own end and basically did the same thing a little nicer, a little more power move and a nice shot."
Tarasenko's 25th goal of the season, which tied the score 2-2 with 2:46 left in the middle frame, ended a season-long five-game stretch without one.
The Blues had a quick answer for the third time in their last two games. In Saturday's 4-3 overtime victory over Montreal, they responded with goals just 1:07 and 44 seconds after the Canadiens had taken leads of 2-1 and 3-2.
"Tarasenko's goal was, again, as timely as it could be, because we were being outplayed, our goalie was standing on his head and to score that goal, that's a great sign for us," Blues coach Ken Hitchcock said.
The Blues and Penguins traded goals in the first period.
Steen, who was it was learned underwent three root canals after Shattenkirk inadvertently hit him in the face with a stick against Carolina, put the Blues ahead 1-0. But Pittsburgh responded with Chris Kunitz picking up his eighth goal of the season with 1:57 left in the period.
After that, Elliott allowed just one goal on the last 25 shots he faced, picking up his fourth win in his last five decisions.