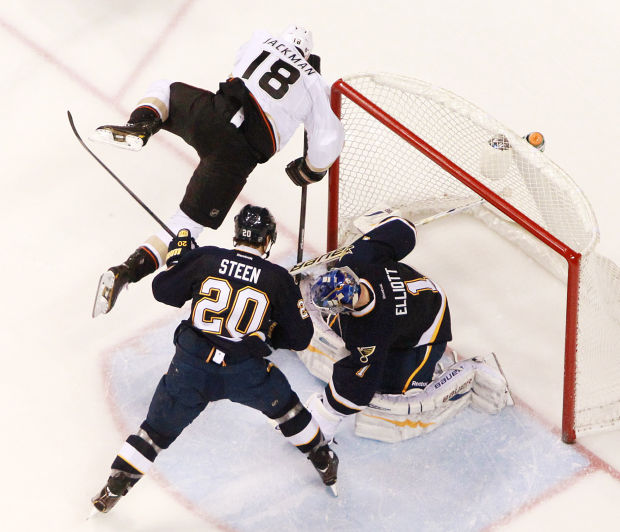 DETROIT • Blues forward Alexander Steen made it through his first game back from a concussion cleanly, but he wasn't pleased with his performance.
After missing 11 consecutive games, Steen saw nearly 21 minutes of ice time (20:56 to be exact) in the Blues' 3-1 loss to Anaheim on Saturday. He had four shots on goal but had seven of the team's 23 missed shots.
"I didn't think I played very well (Saturday), and I'm looking to play better next game," said Steen. "My conditioning and physically I was fine, I just didn't play well.
"Everything, from my offensive game to my defensive game to how I normally play, I didn't think I was even close. I'm just focused on playing better against Detroit. Not over-analyzing (Saturday), just got to be better."
Blues coach Ken Hitchcock kept his most productive line of late — Patrik Berglund, Vladimir Sobotka and Vladimir Tarasenko — separated at the start of Saturday's game.
When he later reunited the combination, it was the Blues' most effective group. The three combined for 12 of the team's 36 shots on goal.
"You're throwing stuff against the wall and hope it sticks," Hitchcock said. "When we switched up, we got a lot of tempo in our game. I don't know if it's because (Anaheim) got tired, but we had more tempo in our game.
"But I don't know that we can play it that way. We're going to have to include more people in the game. We almost played two lines at the end, and you're not going to win playing two lines."
Derek Roy played a season-low 9:47 against Anaheim.
Following Brian Elliott's first two-game losing streak of the season, goaltender Jaroslav Halak has been tabbed the starter for tonight's game.
Halak will be making his second bid for win No. 20. He lost 4-1 in his last outing against Los Angeles.
"Halak and then we'll see," Hitchcock said.
The Blues have games on back-to-back nights, facing New Jersey on Tuesday.
The two coaches in tonight's game, Hitchcock and Detroit's Mike Babcock, will soon be on the same bench together.
Babcock is the Team Canada's head coach for the upcoming Olympics, and for the second straight Olympics, Hitchcock will be his assistant.
Their friendship, Hitchcock says, won't be resurrected until the NHL takes a break.
"He's not my buddy during competition," Hitchcock said. "He'll be my buddy for two weeks. After that I don't like him."
The last of the Blues' injured players, Maxim Lapierre, is on the team's four-game road trip.
Lapierre, who suffered a lower-body injury against Vancouver, participated in an optional skate Sunday and said he's getting closer to a return.
"Just trying to keep up with the pace and I think we're pretty happy with where we're at now," Lapierre said.
Added Hitchcock: "We'll skate him full on (Monday) and see how he looks."
After alternating between Ian Cole and Jordan Leopold the past two games, Hitchcock wasn't ready to say Sunday which defenseman would be in the lineup tonight.