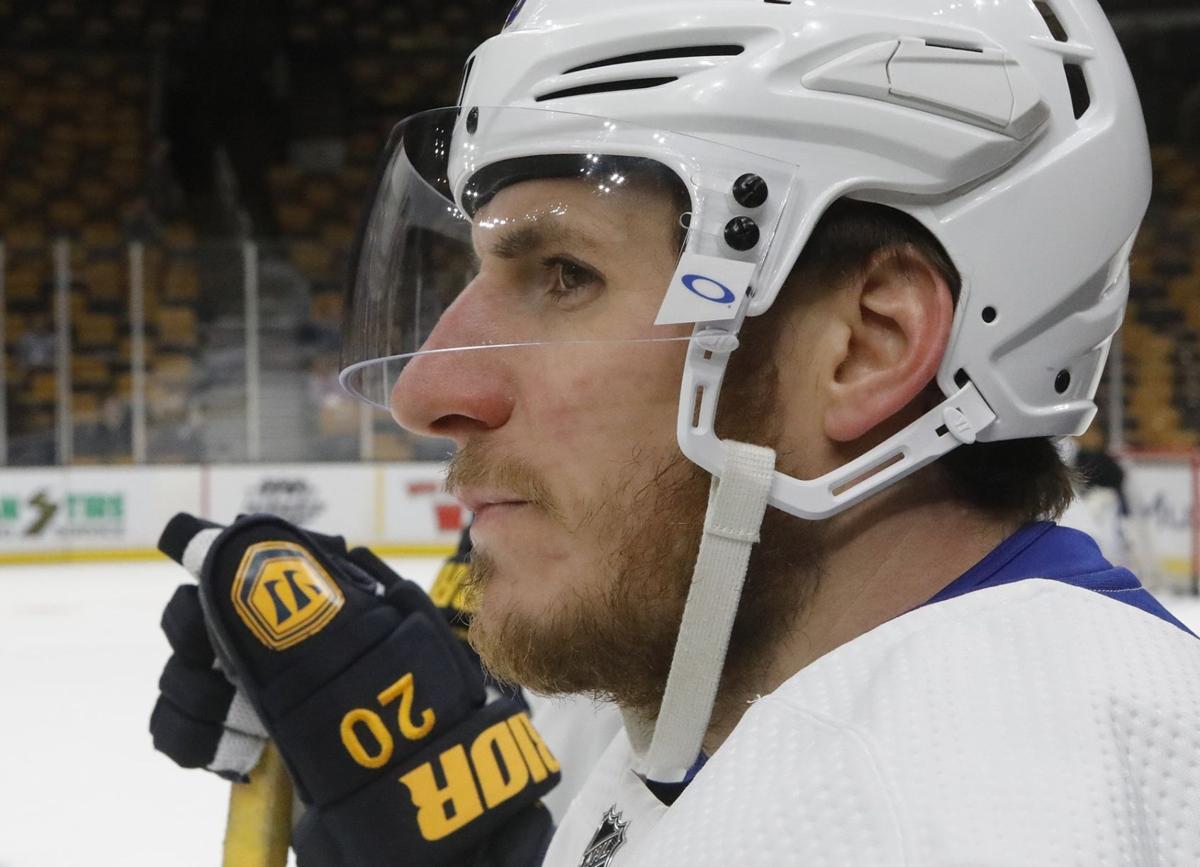 The question was about his legacy, how he wanted to be remembered as a St. Louis Blue. It's a question Alexander Steen liked, something that rarely was the case during his often-bumpy postgame media scrums over the years.
But behind the gruff exterior has always been a good man with a warm heart, especially when it came to helping others. Besides, now that he has retired as a player, he's got plenty of time for questions, right?
In answering the legacy question, Steen cited a book about the All Blacks, New Zealand's fabled men's rugby team.
"They want to leave their jersey in a better place than when they got it," Steen said Tuesday. "That's something over the last few years I've tried to keep in the back of my head, to keep pushing that (jersey) forward together with everybody I played with in the organization."
It may sound a little strange, but not for someone from the old school like Steen. For him, it was all about wearing that Blue Note with pride, recognizing the history behind it and what it meant to fans in St. Louis.
"It's a group effort," he said. "You know, with the alumni, what they have done before we got the jersey. When I came here, there wasn't a championship but there was plenty of history. And a lot of people that have done a lot of things so that we were in the position we're in now to be able to win.
"I think when people look back at my time here in St. Louis, we were able to do that."
For sure. For nearly 12 seasons, encompassing 856 regular-season and playoff games, Steen and his teammates "pushed it forward." The Blues have been among the NHL's winningest teams over the past decade, and in the 2018-19 season, they were champions. The first to win the Stanley Cup in franchise history, with Steen the third Blues player to hoist the Cup behind captain Alex Pietrangelo and elder statesman Jay Bouwmeester.
Steen said it was everything he imagined.
"It's an indescribable moment," Steen said. "I knew through my father, how difficult it is to win, to even get the opportunity, to have teams capable of competing for it year after year like we have here."
Because of the meaningful relationships Steen built up over the years here, whether it be past or present players, or just people around the city — bar and restaurant owners, police, firefighters — he felt like they had all won the Cup together.
"That's what was so, I don't know what word to use, but that's why it was such an amazing feeling," Steen said.
But now it's time for others to represent that jersey, to move it forward. Steen, and also Pietrangelo and Bouwmeester, are gone. At least as Blues players.
Like most hockey players who have been good enough and fortunate enough to have a long career, Steen played through his share of pain and injury.
But what he felt last summer in the Edmonton "bubble" was different. He didn't know it at the time, but that marked the beginning of the end for his highly-successful NHL career.
"There was a time there in Edmonton when I started getting some different uncomfortable pain when I knew it was a little bit different of an injury and was probably more serious," Steen said. "We worked at it, and it just wasn't bouncing back like other injuries do with time off or rehab and treatment and other things."
With the help of specialists, trainers, etc., Steen tried all sorts of things to feel better. But the degenerative discs in his back wouldn't cooperate.
"It just wasn't coming around," Steen said. "And kind of ultimately brought me to this."
"It's not something you want to do as a player," Steen said. "Mentally you're still there and your body's just not allowing you to participate in the same way anymore."
Steen, 36, and a veteran of 1,018 regular-season games, made his remarks on a Zoom call with media members Tuesday afternoon that lasted 30 minutes — an eternity as those things go. But when you consider his long career, it represented only two minutes for each of his 15 NHL seasons, 12 of which were played in St. Louis. And that's not so much.
Steen is an intense, serious type to begin with. So his somewhat somber tone wasn't completely unexpected. But he did get emotional, nearly breaking down in the early minutes of the call when asked when he made the decision to retire and how he's dealing with that finality.
"It's been …" Steen said, pausing for 10 seconds to keep it together. "There's definitely times where you think this is what the outcome is going to be but you're hopeful that it's not."
(Then came another pause.)
"But there's no exact day or anything I think," he continued. "When that decision was made it was just something that I had good contact with team doctors, our management with Army (general manager Doug Armstrong) and everybody, and just talking about how I was progressing. If I was. And things I was dealing with in everyday life.
"And ultimately I just couldn't get my body to respond the way I had been able to before."
The Blues announced Steen's retirement last Thursday. But Steen has been preoccupied lately. His wife Josephine gave birth prematurely to son Leon last Wednesday night. So it took a few days before Steen was able to share his thoughts with the media.
"We've been back and forth between the hospital and home, trying to get everybody organized," Steen said. "They're doing well, and we're hoping to get them home here soon."
Steen said he would like to stay in hockey in some fashion, preferably with the Blues, although he hadn't given it much thought at this point. He said he continues to experience back discomfort regularly, and continues to get treatment. And he thanked the people of St. Louis for making him feel at home right from the start of his time with the Blues.
Updated: It's likely home games will start with no fans in the stands at Enterprise Center.
Agreement calls for Blues to begin training camp Jan. 3, with a 56-game regular season starting Jan. 13.
Jim Thomas' most memorable stories from 2020: Pietrangelo's triplets; Edmonton quarantine; 'Gloria'
Sports fans love reading about the hometown team. Even more so when that team just happens to be the defending Stanley Cup champions. But how do you cover a Blues team that has been "in season" — practicing and playing games — for only 6 1/2 weeks over the past nine months?
Well, you get on every Zoom call possible. Scan Twitter as if panning for gold. Make phone calls and send texts. Lots of them.
Without the normal rhythm of stories that comes as a beat writer, I tried to take the reader behind the scenes as much as possible. Track down a story I'd had trouble getting to previously. Take a stroll down memory lane with colorful players from days gone by. Or provide a glimpse of life in a pandemic for a hockey player.