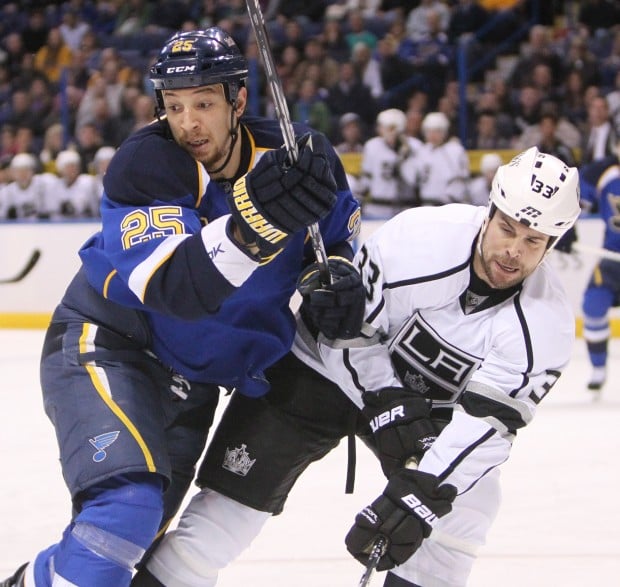 In an effort to motivate Chris Stewart, Blues coach Ken Hitchcock moved the right winger to the team's fourth line today.
Stewart, who has scored 28 goals in each of his last two seasons, has 11 goals and 22 points this season. He has one goal and three assists in his last 14 games.
Stewart has played much of season on the Blues' second line, alongside center Patrik Berglund. In today's practice, he played on a line with center Scott Nichol and left winger Chris Porter.
"Before you can think about scoring goals, you've got to start to work," said Hitchcock, who added that he has been contemplating the move for awhile. "Does this get his attention and do all that stuff? We'll see, but we need him to have way more impact on the game. He's too good a player to just go quietly by the night."
After practice, Stewart said: "It's obviously a message … message loud and clear. I've been in this position before … just got to get back to work. Obviously not contributing offensively and something had to be done. They feel like that's the right approach and I'll just go from there."
Stewart believes he has been working hard.
"Yeah," he said. "I mean, I'm obviously out there trying, giving it my all every night. But at the end of the day, if they don't feel that's good enough, then I've got to show more. It's up to them to give me the job description and up to me to do it. The good thing about this game is we've got another game tomorrow, come out and give it my best."
Hitchcock said the move had nothing to do with Stewart's missed scoring opportunity in Tuesday's 2-1 loss to Columbus. With a wide-open net, Stewart had his backhanded attempt stopped by defenseman James Wisniewski.  
"I'm not worried about that," Hitchcock said. "That's not relevant. Those things happen in a game. He's a good player that needs to have more impact on the game. It's not a boiling point. It's just a matter-of-fact point.
"You have to base your team on work ethic ... and we need more. We need more work. More determination, more work. It's a competitive league based on second and third efforts. That's what the league is ... and let the skill take over from the third effort."
Hitchcock hopes the work ethic of Nichol and Porter will rub off on Stewart.
"You couldn't get a better worker than Scott Nichol," Hitchcock said. "I know playing with Scott, and whether it's with (Ryan Reaves) or whether it's Porter or whatever, they'll work. We'll see where it goes. Whether it's for one period, one shift, one game, 10 games ... who knows."
Hitchcock said he has not considered making Stewart a healthy scratch, reiterating that the winger has "elite skill but we need to see more."
"It is what it is," Stewart said. "I can't really do anything about it now. Come out tomorrow and put together a good first period and hopefully get back up there. Just take it one game at a time ... That's been my whole career. I feel like I hold my own cards in my own hand. It's up to me to do it."
Blues defenseman Carlo Colaiacovo fell in today's practice and left the ice holding his right wrist. He went to the hospital for X-rays and the results aren't yet known.
"If his wrist is sprained, then we'll probably play (Kent Huskins) tomorrow," Hitchcock said. "Husky is ready to go. Husky knocked on my door today and said 'hello' and said, 'I'm ready to go.' So, he'll go in."
Huskins has been out since Oct. 28, when he blocked a shot with his ankle, which required surgery. He has been skating with the team for several weeks.
"I feel good out there," Huskins said. "The rehab process has taken a long time. I'm just trying to get the mobility and the acceleration back. That area has been the toughest, but it's to the point now where I think it's game ready."
Center Jason Arnott, who has missed the last six games with a shoulder injury, will be in the lineup Thursday.
"Arnott maybe could have played yesterday, but with the extra day and a good practice today, he's ready to go," Hitchcock said. "So that's good."
Left winger Alex Steen missed his 20th game yesterday with a concussion. He did join the team for practice today, skating in some of the drills, but he is not expected back in the lineup anytime soon.
"It's nice to see Steener out there," Hitchcock said. "He's got a big smile on his face, he's having fun, obviously he's getting better. But he's nowhere near playing yet. He's not ready to go, but nice to see him back on the ice again. Hopefully sometime he joins us just like Andy Mac did."
- The Blues assigned Ian Cole and Evgeni Grachev to Peoria today.
- The club has scored seven goals in its last three games. Only one of those was a 5-on-5 goal and that was an empty-net goal against San Jose. The other six goals include four power-play goals, a shorthanded goal and a 4-on-4- overtime goal.
- With Tuesday's 2-1 loss to Columbus, the Blues are now 0-5-1 in their last six games against the Central Division.