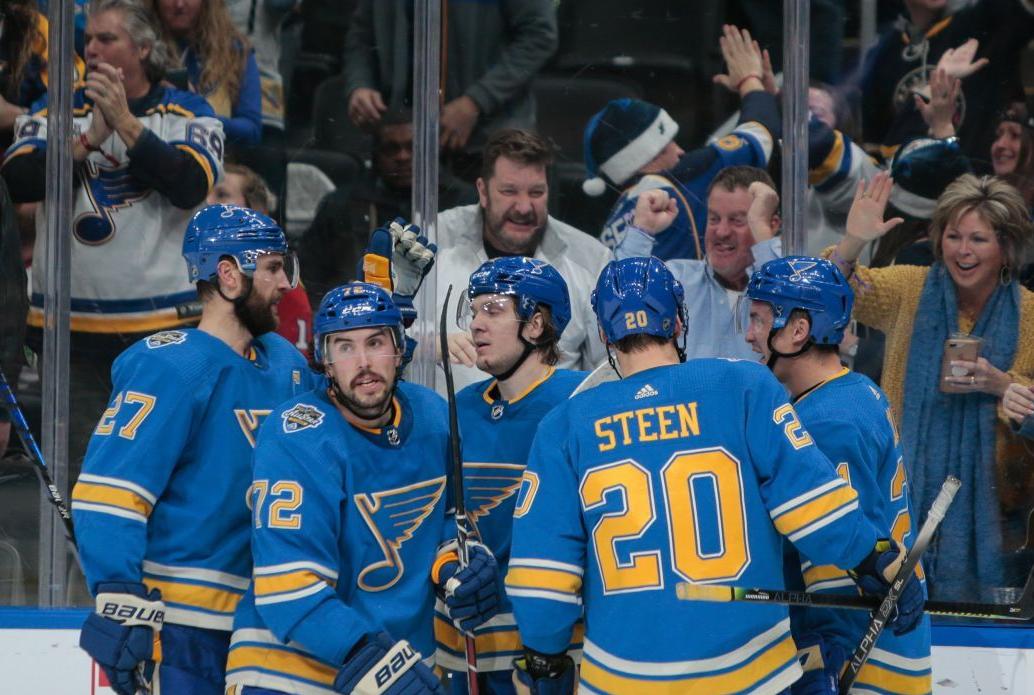 The Blues could lose millions in revenue from the six regular-season home games that remained on their schedule when the NHL announced it was suspending play indefinitely due to the coronavirus pandemic.
How much depends on how you do the math. And of course whether any or all of the six games eventually are replayed, not to mention the playoffs.
Jesse Lawrence, founder of Ticket IQ, a New York-based ticket market search engine, estimates the Blues' lost revenue for those six games would be $15.85 million dollars based on an average secondary market ticket price of $146, and assuming that every ticket is sold at Enterprise Center (capacity 18,096).
"There's all sorts of impacts," Lawrence said. "Ticket sales is one of them. I don't know what happens with media rights in a situation where games aren't getting played, sponsorships, all that."
And of course, there are food, beverage and souvenir sales. Parking revenue.
Crunching data from the Team Marketing Report, Washington University's Patrick Rishe came up with another set of numbers.
Team Marketing Report's Fan Cost Index for the Blues was $374.57 per game. The Fan Cost Index is the average cost of attending a game by a family of four. The figure includes the cost of four tickets, parking for one car, plus the least expensive price for two draft beers, four soft drinks, four hot dogs and two adult-sized team caps.
Using the Fan Cost Index for a capacity crowd at Enterprise, Rishe calculated that the Blues were losing $1.7 million in revenue per game and $10.2 million for the six remaining home games.
"I think that's a fair estimate of the lost revenue, both ticket and venue-related revenue from those six games," said Rishe, director of the Sports Business Program at Washington University. "I think that puts a decent estimate on what the Blues are looking at, and probably very similar — plus or minus $2 million or $3 million — for every team in the NHL."
The actual number is probably closer to Rishe's than Lawrence's because ticket prices on the secondary market — which Lawrence used for his calculations — can be much higher for a successful team that fills the building, than face-value ticket prices.
But the actual number is probably higher than Rishe's estimate because the Fan Cost Index uses the average price of nonpremium seats only for its ticket calculations. (For the Blues that average price was $62.38.) And doesn't factor in suite or club seat prices, which are much higher.
And, of course, it's a bit of an apples to oranges comparison because Lawrence's numbers do not include concessions and parking. But the basic point remains the same. The postponed games represent the potential for millions in lost revenue for the Blues in a sport much more dependent on ticket sales and in-game revenue than other major North American sports.
"There's no question," Rishe said. "That's right on the head. Comparatively, ticket revenue is a larger share of hockey's total revenue than is true for the other sports. So for them to lose gate is obviously difficult."
That's because the NHL gets significantly less television revenue than the NFL, Major League Baseball or the NBA.
For the Blues, like other NHL teams, a long playoff run in games that have higher ticket prices than the regular season can be very beneficial to the bottom line.
"At Madison Square Garden here in New York, I know that a playoff game is worth a million bucks of profit for them," Lawrence said.
(That's "profit," not "revenue.")
"That figure may be different in St. Louis," Lawrence continued. "But if you get into the postseason, especially with a long run like the hockey playoffs, that does add to it.
"So yeah, it's a hit either way. Obviously, the league's hoping that there is a season and there is a playoff but that's still TBD."
If that's the case, and the games are merely postponed and not canceled, those losses will go away.
Since the NHL's "pause," or suspension of play, the Blues have lost two home games: last Friday against San Jose and Sunday against Ottawa.
What would have been their final four home games of the regular season were scheduled from March 27 (against the Los Angeles Kings) through April 2 (Boston Bruins).
Many teams have sent out information to their fans about adjusted ticket policies, offering the option for fans to ask for refunds on canceled games or have that money pushed forward to the 2020-21 season.
The Blues have yet to send out any such information to fans, perhaps waiting until when or if the postponed regular-season games officially become canceled games.
In an email to season-ticket holders sent out last week, the Blues said: "... we ask for your patience until we have further details to provide regarding the remainder of the season. As a full season account holder you will receive details as soon as the new schedule is determined."
That is, if there is a new schedule. The NHL announced Monday that any resumption of play would not take place until mid-May at the earliest. Ongoing developments in the coronavirus pandemic could change that.
Even if the regular-season games (or playoffs) are canceled, it's possible the Blues have insurance against lost revenue for business interruption.
"The language of the contract, the language of the insurance clause is meaningful," Rishe said. "Many of the insurance clauses, they may address things like hurricanes, earthquakes, but they may not necessarily address things like global pandemic. So then the question becomes is there any kind of latitude?"
Even in the worst-case scenario — no games and no insurance — the Blues can ride this out.
"No one wants to see this happen," Rishe said. "But do I anticipate they're gonna be able to survive this, absolutely. Every team in the NHL is gonna survive this. It's just obviously trying and uncertain times for everybody in the sports industry right now."
Especially the part-time workers at arenas around the league. Or the parking lot attendants, or workers at restaurants and bars and to an extent hotels around the arena.
"I think the folks that are getting hit are the hourly workers, and the folks that aren't the big superstars and the owners," Lawrence said. "It's the people that are relying on the team's ecosystem to generate income for them, whether it's ushers or bars around the stadium. I think that's probably the biggest immediate impact."
Blues Quick Hits
Quick Hits: Jim Thomas on the Blues
RAMP UP THE TALKS WITH PETRO?
QUESTION: With the halt of play in the NHL, will the Blues try to enter into serious negotiations with Petro's agent, or do you see him testing the free agent waters? Have to believe with the loss of revenue for all the NHL teams that money that was once on the table is gone now -- or is that not the case when it comes to top tier free agents?
JT: Not sure if the coronavirus "pause" will affect the salary cap. But I think you raise a good question. With no hockey until at least May, why not negotiate with Alex Pietrangelo now? I have no idea if this is taking place or even a possibility.
The Blues are a team built from the goaltender and D-corps out -- it's a big part of what makes them a top team. So I'd think you'd want Pietrangelo back.
---
Follow-up: How does the suspension of the NHL season impact next season's salary cap? How does this impact Petro's impending free agency?
JT: Good questions. I would assume the salary cap for 2020-21 is based on revenue projections. Even if the '19-20 season is shortened, resulting in less ticket revenue, does that affect the 2020-21 cap? Would TV revenue for the league change? (For example, would the network partners get some kind of refund based on lost telecasts this year?) I'm not sure.
As for Pietrangelo, as I mentioned earlier, why not negotiate now since we're in a delay period that won't end any time soon.
DOES SCANDELLA STAY OR GO?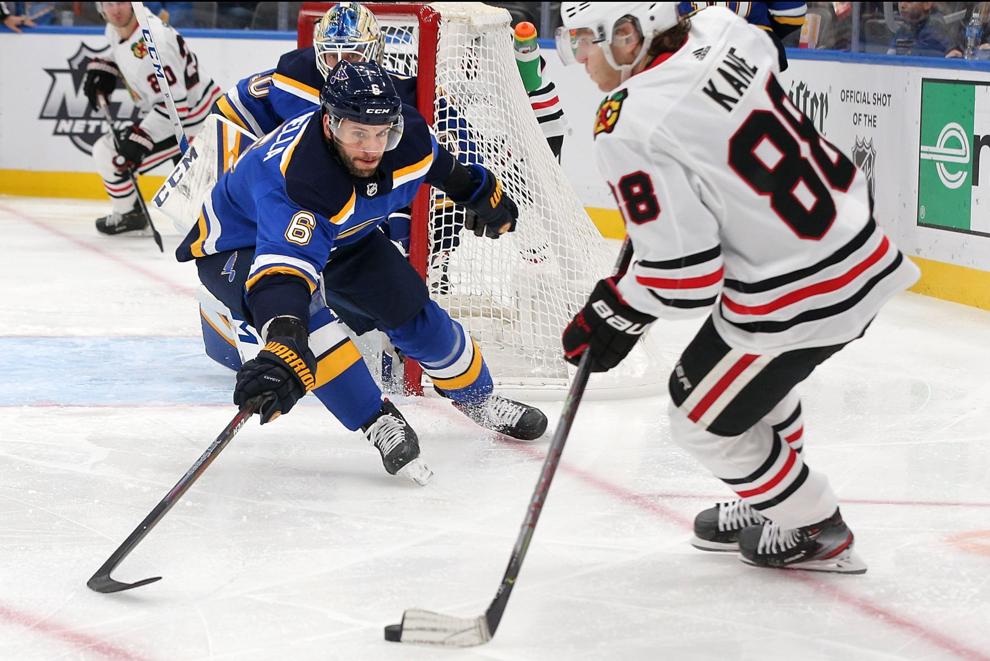 QUESTION: Thumbs-up on the Blues' trade for Marco Scandella. Can the Blues and other teams negotiate contracts during this time? He stepped right in and did the same job JayBo was doing. He's a good fit and deserves a good contract from the Blues.
JT: I believe teams are allowed to negotiate with their own players at this time. (But not players from other teams.) It's been a small sample size — 11 games — but it does seem to have been a seamless transition for him.
But I think the only way that a Scandella contract becomes a possibility is if Petro is gone. If that's the case, Petro gone/Scandella stays, you're down to three D-men with pretty good offensive skills (Dunn, Parayko, Faulk) instead of four. And any Scandella contract would have to be for a much more reasonable number than Petro will command.
NO HARD FEELINGS FOR PERRON?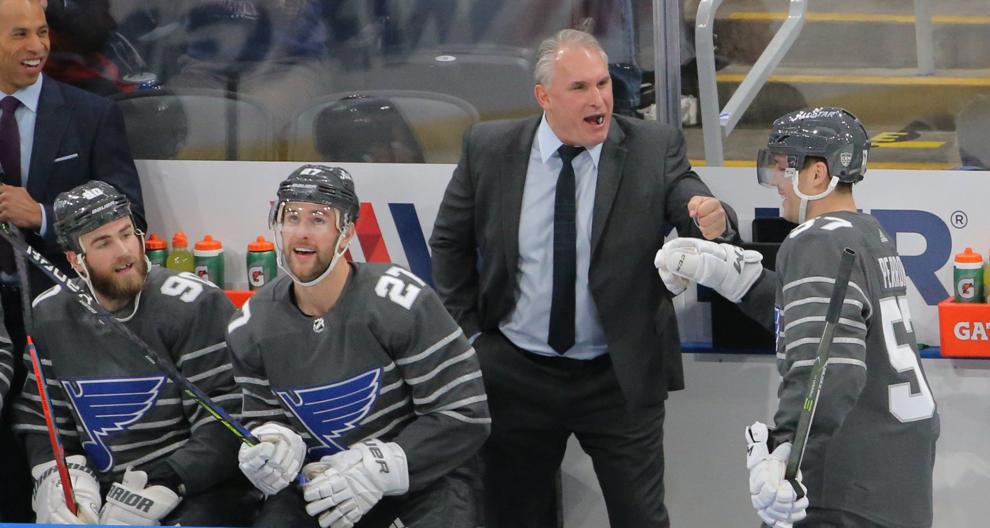 QUESTION: In the Vegas expansion draft, the Blues left DP57 exposed and the Knights claimed him. In stories I read later, I got the impression David was somewhat hurt by the Blues leaving him out, and I was surprised when he was willing to return. Have you talked to Perron about that situation? Any thoughts if the Blues do it to him again next year?
JT: Since his return to the Blues, I can't recall Perron saying much if anything about being placed on the expansion list. I do remember him talking about how excited he was to be back with St. Louis and going on and on about how fond he was of the city and its fans.
A lot can happen between now and the end of next season, but I sure can't see any scenario where the Blues would expose Perron to the Seattle draft. Not with the career renaissance he is currently experiencing.
Here's an interview I did with Perron from last season — right before his concussion — in which he talked honestly about how he and Berube got on the same page once Berube took over:
AND THE 2020 CHAMPION IS . . . ?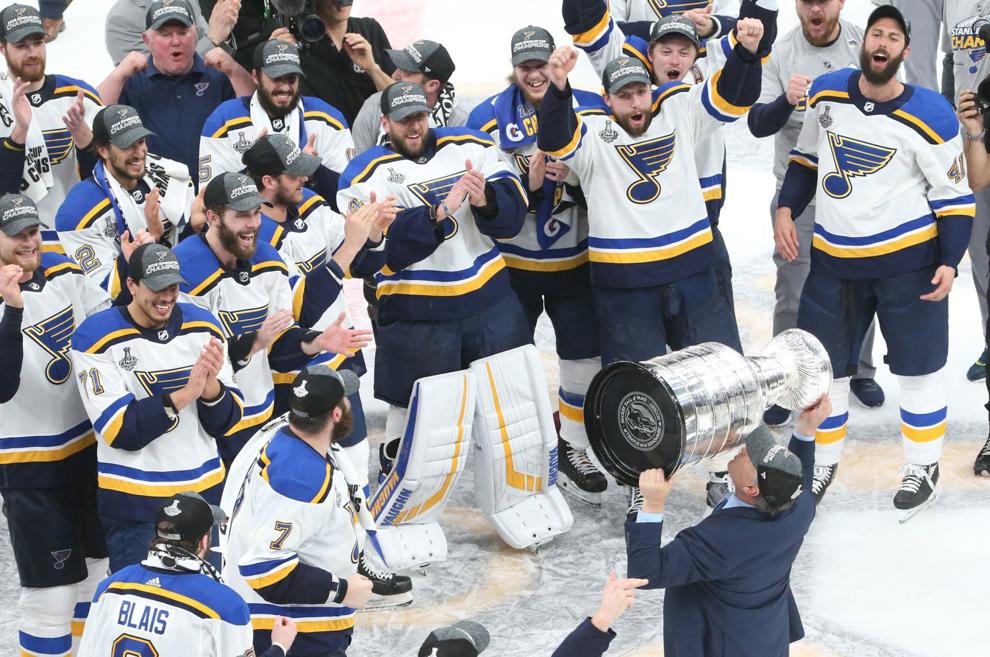 QUESTION: So, the Blues will be defending Stanley Cup Champions two years in a row?
JT: I guess you can say that's the case if the season is totally cancelled. Then again, under that scenario, the NHL could award it to Boston, since the Bruins have the most points.
---
Follow-up: Would the NHL just award it out without the playoffs?
JT: That's a good question. For now, the NHL has maintained that it plans to award the Cup, and is willing to push back the season/playoffs as far as possible without jeopardizing its ability to play a full 2020-21 situation. Obviously this is a fluid and rapidly-changing situation. A "new normal" as Doug Armstrong has referred to it, has yet to be totally established.
HOW LATE IS TOO LATE TO START A SEASON?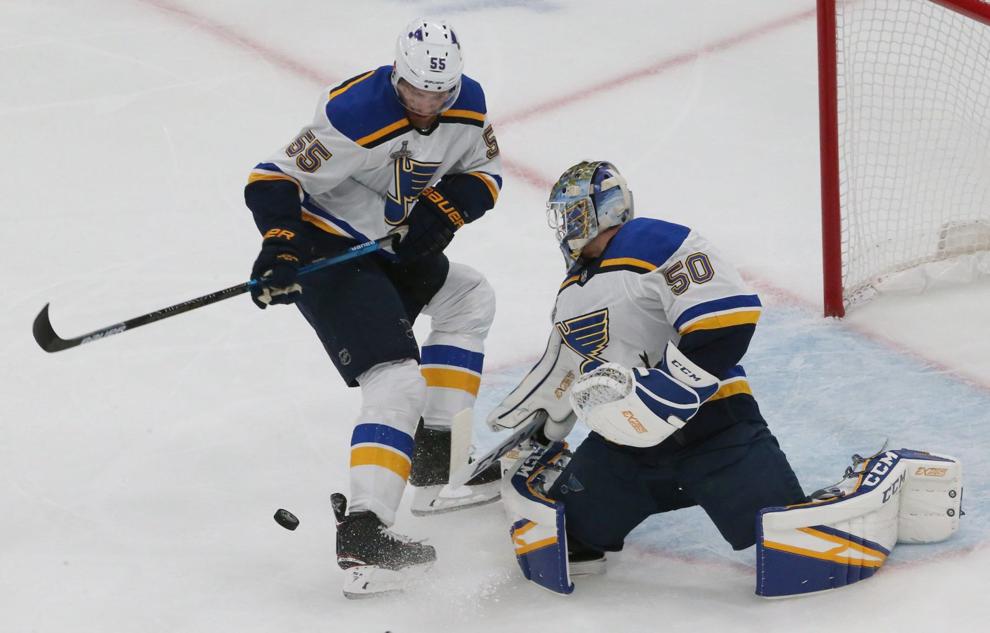 QUESTION: If play does not resume before June 1, shouldn't the remainder of the season be cancelled? Would hate to see that happen, but would hate it more to see players get injured because they are not in game shape.
JT: According to Frank Seravalli of Canada's TSN, several of the league's top players (Seravalli did not name names) have suggested a plan where the league starts up in August, completes its playoffs by the end of the September, takes October off and then begin the 2020-21 season in November and plays a full (albeit condensed) schedule.
---
Follow-up: Is there a point where even if the NHL can schedule its playoffs to end before August, that the quality of the product on the ice and logistics that it will take to maintain acceptable ice surfaces just becomes too prohibitive to make holding a postseason tournament viable?
JT: It sounds like less-than-ideal ice conditions is a risk the league is willing to take, based on the reports that some players would be willing to start the season in August. About half of the teams that would currently be in the playoff field, play in places that could be hot that time of year: Carolina, Tampa Bay, Washington, Dallas, Las Vegas, Nashville and St. Louis.
BUT ... PLAYER CONTRACTS EXPIRE IN JULY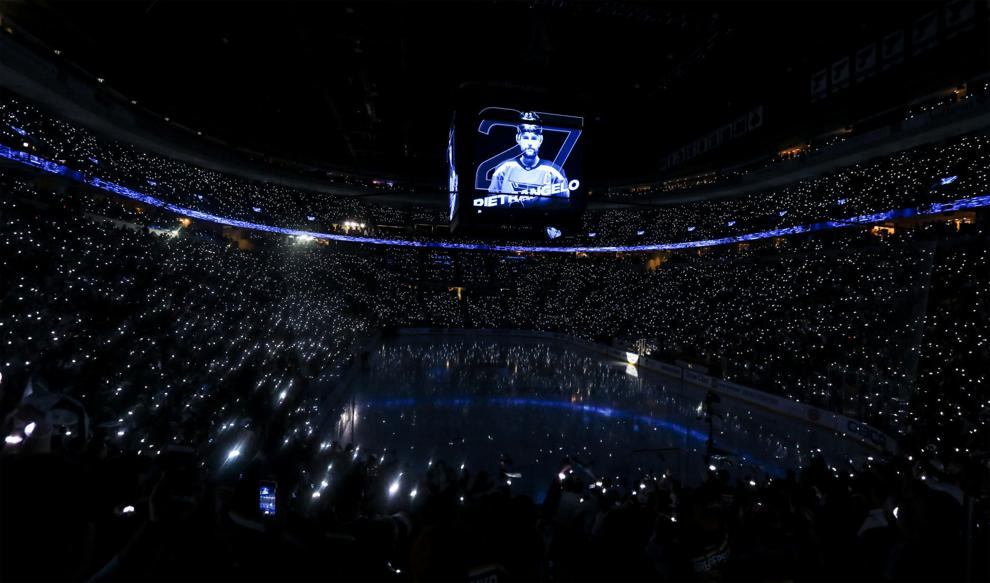 QUESTION: If players contracts expire in July, how can you extend the season beyond that?
JT: I'm sure the NHLPA would sign off on an extension that would set back the contract expiration date to some point after the conclusion of play.
Say the Stanley Cup Final ended in late September, and there was no hockey in October, and a resumption of play in November. You could have the NHL draft, say, the first week of October and free agency starting the second week of October. The only thing that might be complicated is restricted free agency, since that's usually a longer process.
WOULD SHORTER PLAYOFF SERIES HURT THE BLUES?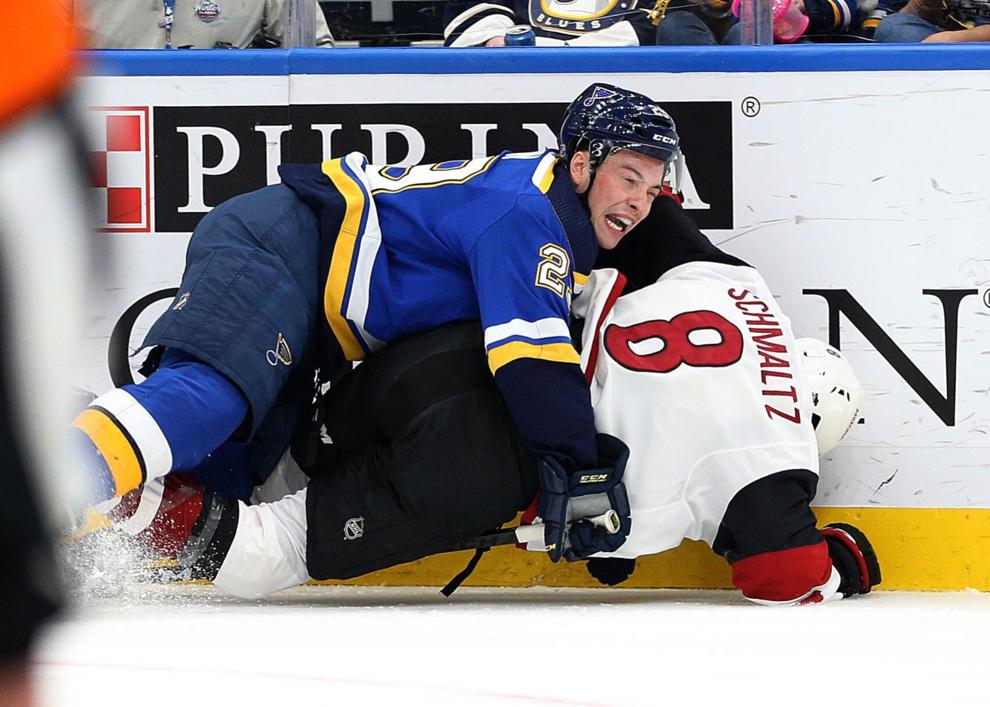 QUESTION: The Blues won the Cup last year by wearing teams down over a long series. If the playoffs move to a best-of-5 format, wouldn't that negatively impact a team that needs to play a heavy game to win? Teams like Colorado, Tampa or Toronto that have an excess of offensive talent could easily play their top line 25 minutes a game to see if they can't out-skill the competition.
JT: I think there's some truth to what you're saying. Another factor that should be considered — and Jeff Gordon and I talked about this on our Net Front Presence podcast which we recorded Wednesday — the Blues' physical, checking, grinding style isn't the easiest style to play. It seemed to me that it took the Blues several games into the regular season to get into their style this season, even with training camp and the preseason games.
So if there are no regular-season games prior to any re-start of the season, and we go straight to playoff games, I think the Blues would be at a disadvantage as compared to a team that relies more on just skating and skill. By the time they got worked into their style of play in a series, the series might be over. At least that's my theory (and Jeff's) as a possibility.
STEEN STILL HERE NEXT SEASON?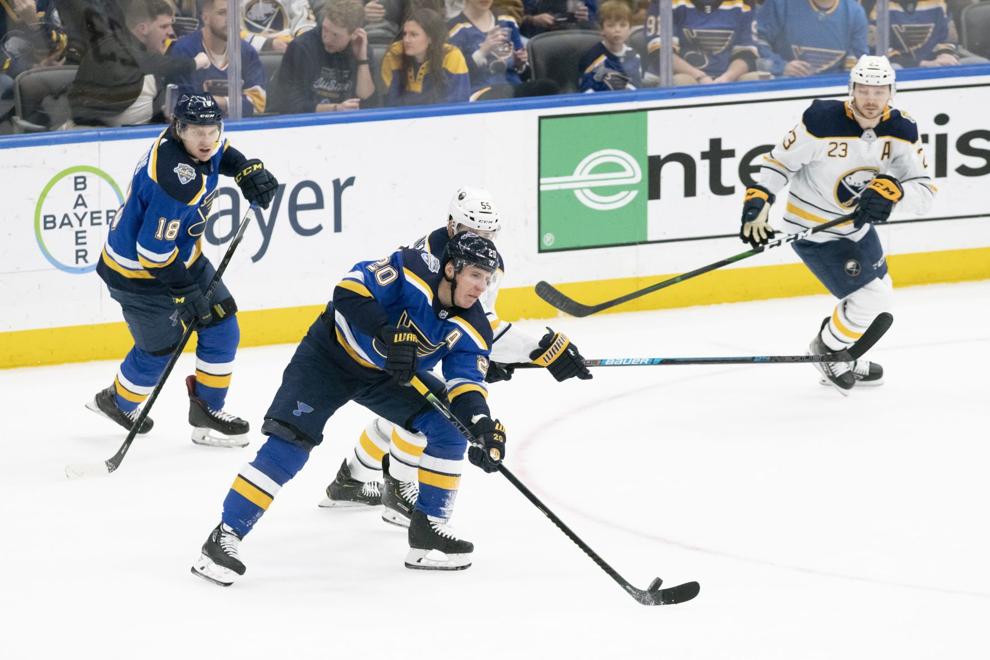 QUESTION: What becomes of Alexander Steen after this season? I never really appreciated him until he became that fourth-line warrior last year.
JT: Steen remains a valuable third/fourth-line player. It's just that third- and fourth-liners usually don't make $5.75 million a year. And as you know, the Blues are very tight against the cap for the 2020-21 season.
The problem is, unless you trade Steen you're "stuck" with Steen's cap money whether he's playing for you or not. And at this point in his distinguished career, he probably doesn't have much trade value. His contract expires after the 2020-21 season.
REFLECTING ON THE WHITE HOUSE VISIT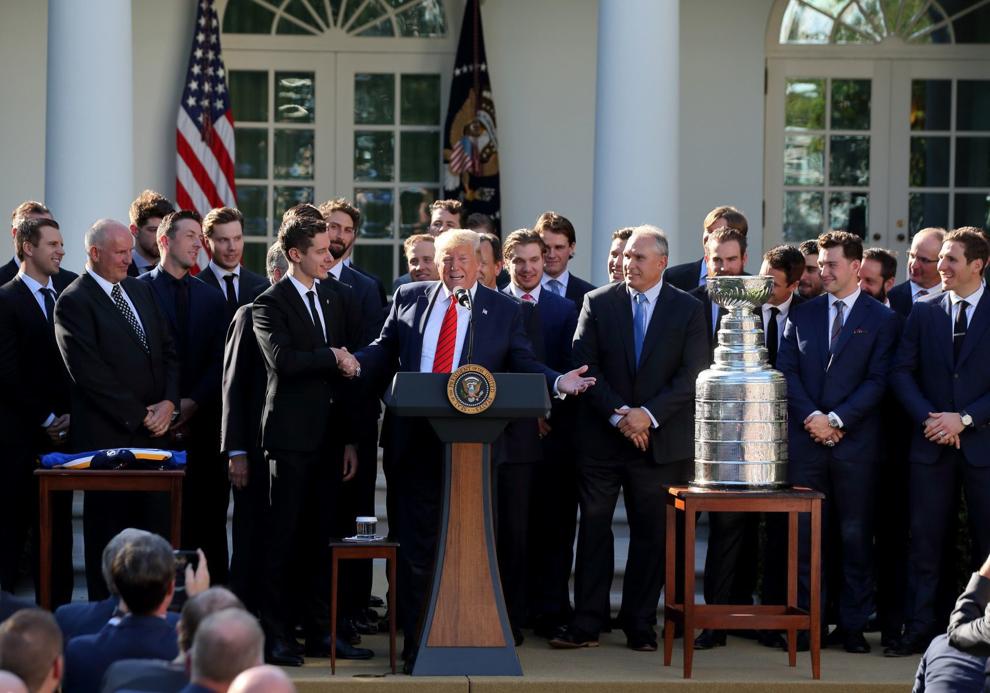 QUESTION: We're in a lull, so I'm looking back: Did any players or Blues officials privately express a reluctance to go to the White House? It seems like hockey players are big into "We do everything as a team," a stance I respect even when I don't agree with it. Did you hear from anyone who said, "Man, I really wish I didn't have to go?"
JT: One of the things that helped the Blues win the Cup was the "team" unity and unselfish "team" attitude. I think the prevailing opinion, which came from the highest levels of the organization down, was that we're doing this out of respect for the office of the president, regardless of how any of us may feel about the current occupant of the White House.
Another thing to point out, the Blues I believe had only two U.S. players visit the White House (MacEachern and Sanford). Faulk did not attend -- he told me he went out for a long, late lunch instead. (Remember, though, he did not attend any of the Blues' post-Cup ceremonies, etc., because he was not on that team.)
So it's safe to assume that most if not all the Canadians, Swedes and Russians on the team were not engaged or invested in U.S. politics. I had no one on the team tell me they had a problem with the visit.
LESS INTEREST IN HOCKEY WHEN IT RETURNS?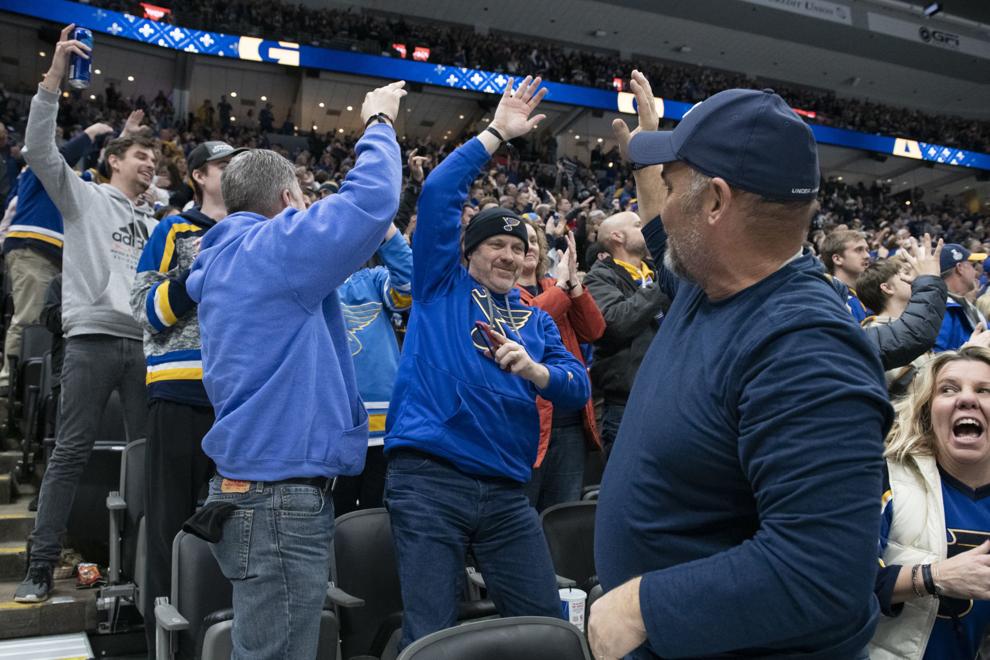 QUESTION: When sports leagues resume play, do you think there will be less public interest because people have gotten out of the habit of watching games? Or will there be more because people will be hungry for entertainment?
JT: In a great hockey market like St. Louis, I would say the interest would be increased. And why wouldn't it be, with the team in prime contention for another Cup? And I think in general this might be the case, because this isn't a situation where there was a strike or lockout and fans were angry at greedy owners or greedy players.
This is simply, as the late-great Post-Dispatch baseball writer Neal Russo used to say in trying times, a situation where it was "AOG" — act of God.
HOCKEY CANCELED WORLDWIDE?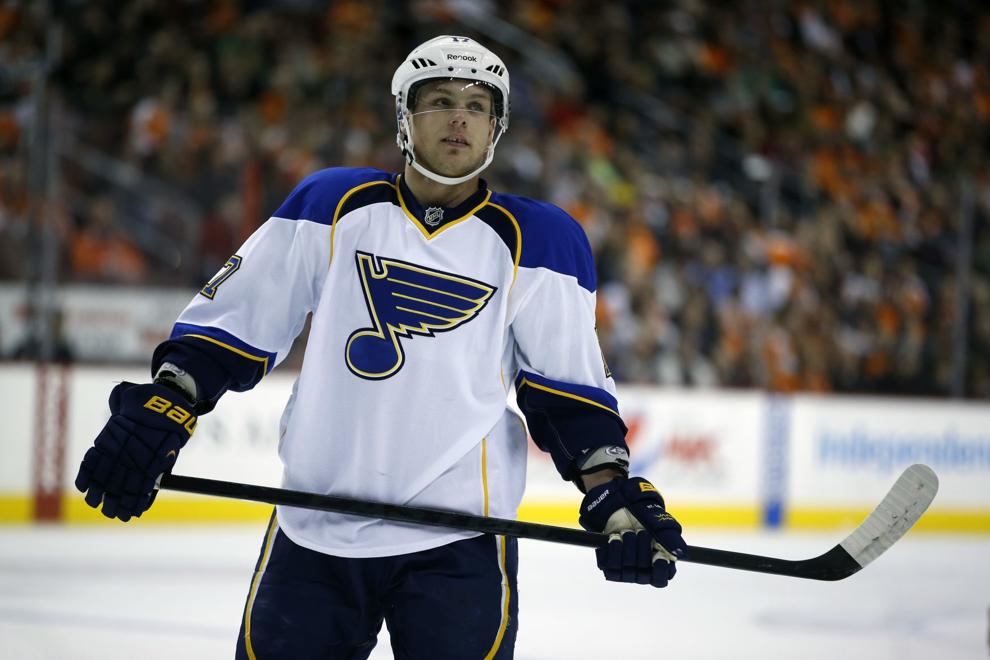 QUESTION: Have leagues in Russia, Sweden, etc., cancelled their seasons, too?
JT: All either postponed indefinitely or cancelled altogether. Doug Armstrong told me last week that all his scouts, etc., are at home because "there's nothing to watch." The Kontinental Hockey League (KHL) — which consists mainly, but not exclusively, of teams from Russia — was the last biggie to follow suit.
The KHL, which is in its postseason already (it starts and ends earlier than the NHL) announced Tuesday that it is postponing play until at least April 10.
MUSICAL CHAIRS IN THE AHL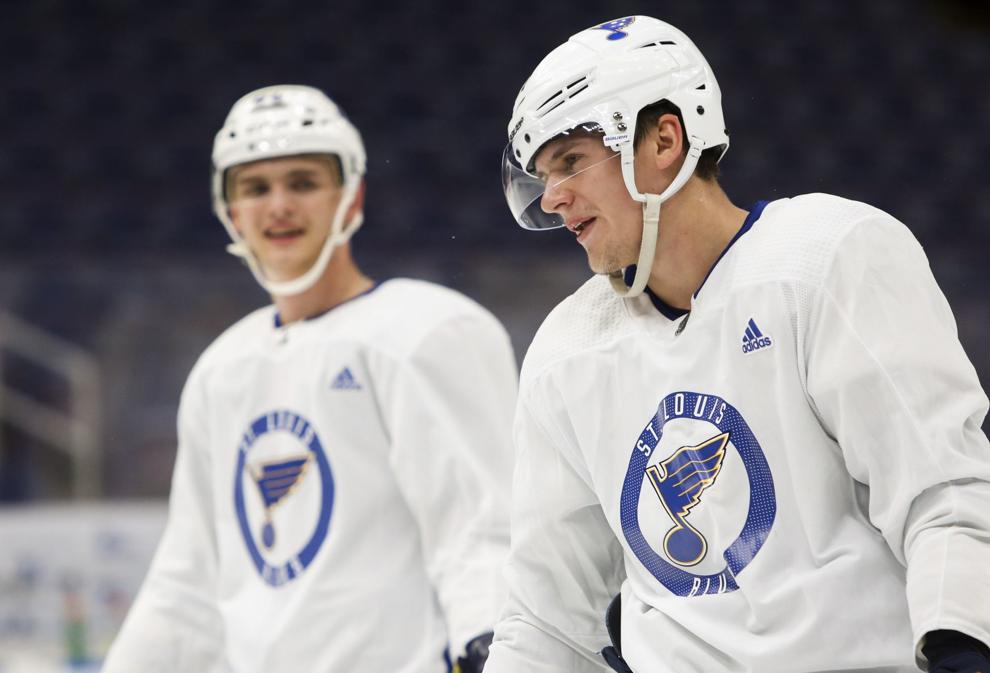 QUESTION: Will all the players that were on the San Antonio Rampage now report to the Blues' new Springfield club? Would the Blues absorb any or all of those players?
JT: Yes, the Springfield (Mass.) Thunderbirds had been an affiliate of the Florida Panthers for four seasons. But Florida is changing affiliates next season, going to Chicago (the Wolves). The Wolves franchise became open when the Vegas Golden Knights pulled out (buying the San Antonio franchise and deciding to place it in the Las Vegas area). So you see, there's been a bit of AHL musical chairs here.
So the Florida players at Springfield that are still under contract by the Panthers would now play for the Chicago Wolves. Similarly the San Antonio players under contract with the Blues would play for Springfield next season.
PROSPECT WATCH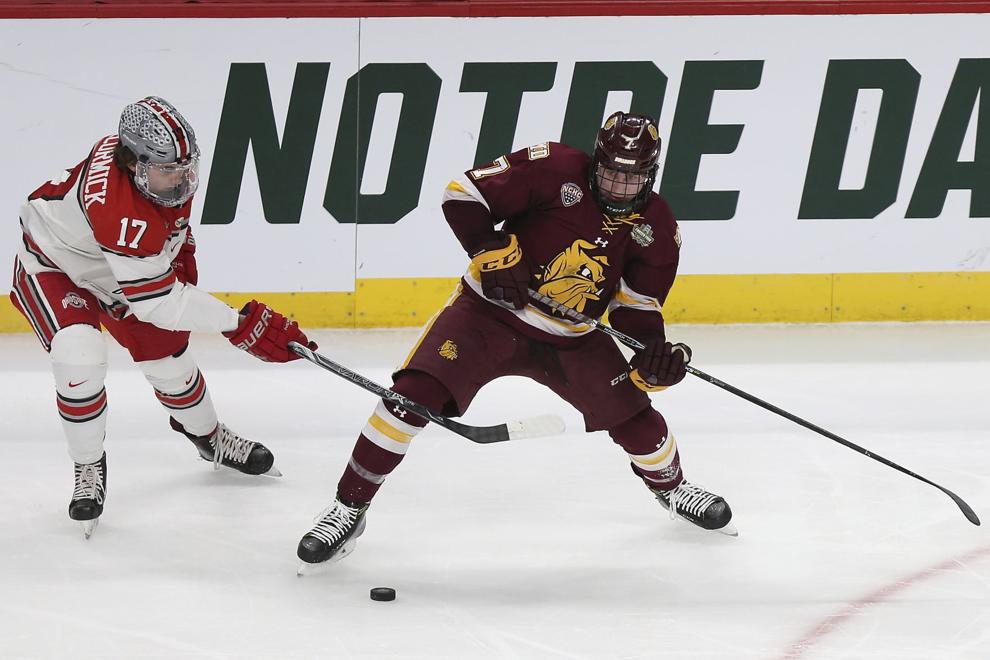 QUESTION: What is the deal with Scott Perunovich?
JT: Per league rules, he is eligible to become an unrestricted free agent since it's been two seasons since he was drafted by the Blues and he has yet to sign a contract. (Perunovich was described by Gordo in Wednesday's Post-Dispatch as an "undersized but instinctive defender" at Minnesota-Duluth who, in terms of potential, reminded Gordo of Colorado's Samuel Girard. Perunovich also was just named one of 10 finalists for college hockey's Hobey Baker Award.)
I have no idea whether he's still leaning towards the Blues or wants to explore the market.
JT'S BET ON WHEN (IF?) THE SEASON WILL RESTART
To one final question about a resumption of the NHL season, Jim Thomas replied:
Until there is some concrete sign that the virus is slowing down — and a resumption doesn't seem anywhere on the horizon at this point — it's hard to speculate on when or whether this hockey season actually gets finished.
If I were a betting man, I'd have to say that this hockey season is over.
But again, it's a fast-moving landscape. That Blues game in Anaheim last Wednesday seems like it was a month ago.