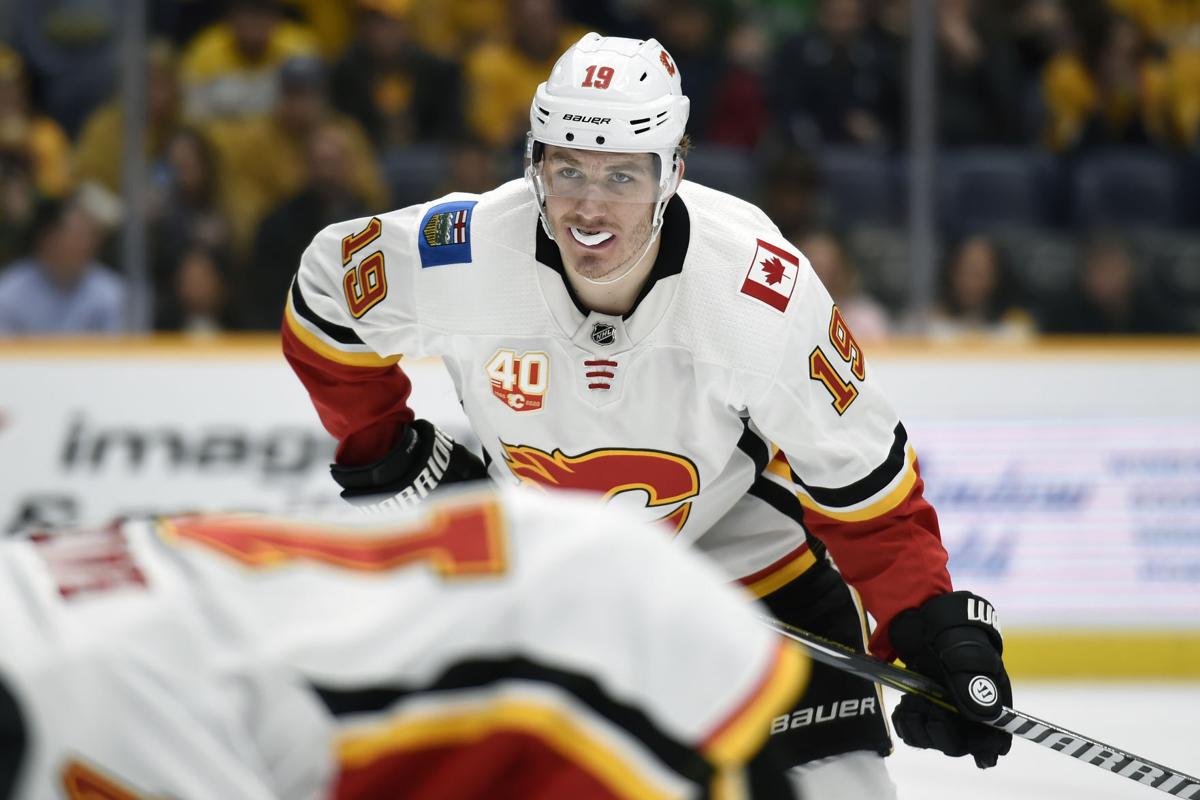 The next three weeks could be action-packed for the Blues.
Who do they lose to Seattle in the expansion draft?
What happens to Vladimir Tarasenko, his time in St. Louis almost certainly over?
What about Vince Dunn? Does he get exposed to Seattle, traded or — and this seems unlikely — return to the Blues?
Is there any smoke to those Matthew Tkachuk trade rumors?
Will any, all or none of the Blues' unrestricted free agents at forward re-up in St. Louis: Jaden Schwartz, Mike Hoffman and Tyler Bozak?
If all that weren't enough, there is a "regular" NHL draft — scheduled in less than two weeks (July 23-24). And the Blues actually have a first-round pick in this one. In fact, one of their highest first-round picks in years.
The Blues are scheduled to pick 16th overall, their highest draft position since taking Schwartz 14th overall in 2010. The lack of high draft picks is a testament to the Blues' consistent level of regular-season success during Doug Armstrong's tenure as general manager.
But it goes beyond even his decade-plus run as GM because only five times in the past 31 years have the Blues picked higher than 16th in the first round. All five have had long runs in the NHL, although in some cases, most of their games were played elsewhere. Here's the rundown:
• 2010 draft: Schwartz, 14th overall, has played 560 regular-season games — all with the Blues — scoring 154 goals.
• 2008 draft: Defenseman Alex Pietrangelo, fourth overall, has played 799 games — 758 with the Blues before signing in free agency with Vegas — scoring 116 goals and making two NHL All-Star games.
• 2007 draft: Center Lars Eller, 13th overall, played only seven of his 798 games with the Blues before getting traded to Montreal as part of the Jaroslav Halak deal. He's spent the past five seasons with Washington.
• 2006 draft: Defenseman Erik Johnson, first overall, played 203 of his 780 games with the Blues before being traded to Colorado in 2011 and is still with the Avalanche.
• 1996 draft: Center Marty Reasoner, 13th overall, played only 95 of his 798 career games with the Blues before being traded to Edmonton in 2001. He played his final season in 2012-13 for the New York Islanders.
The Blues have picked 16th overall only once in franchise history, and that pick turned out pretty well — Tarasenko in 2010, the same draft in which they grabbed Schwartz.
Given the track record of success with those past high picks, the odds seem favorable that the Blues will land a productive player at No. 16 overall and someone who can contribute in relatively quick fashion at the NHL level.
Will the Blues trade their pick?
That is, if they keep the pick.
During his time in St. Louis, Armstrong has used first-round picks as much for currency in facilitating trades than for actually selecting — and keeping — young talent.
As a result, there have been four years since that 2010 draft harvest of Schwartz and Tarasenko where the Blues ended up without a first-round pick. And there are only three first-rounders picked by the Blues from 2011 onward that are still with the club: Robert Thomas (20th in 2017), Klim Kostin (31st in 2017) and Jake Neighbours (26th in 2020).
Four other first-rounders taken over that span no longer are with the club: Jordan Schmaltz (25th in 2012), Robby Fabbri (21st in 2014), Tage Thompson (26th in 2016) and Dominik Bokk (25h in 2018).
Thompson was shipped to Buffalo as part of the Ryan O'Reilly trade in 2018 after playing only one season and 41 games for St. Louis. Bokk, who has yet to play an NHL game, was sent to Carolina as part of the Justin Faulk trade in 2019.
In the process of building the Blues as a Stanley Cup contender (and 2018-19 Cup champs), Armstrong traded assets for established players. The Blues' No. 27 pick in 2017 and No. 14 pick in 2018 pick went to Philadelphia in the 2017 trade for Brayden Schenn. (The Flyers used those picks to draft Morgan Frost and Joel Farabee, respectively.)
As part of the O'Reilly trade, Buffalo received the Blues' first-rounder in 2019 (No. 31 overall), which the Sabres used to pick defenseman Ryan Johnson.
If Armstrong keeps the pick on July 23, the Blues should have several viable options at No. 16 overall.
In the various mock drafts, among the names mentioned in connection with the Blues at No. 16 are forwards Sasha Pastujov, Cole Sillinger, Matthew Coronato, Zachary L'Heureux and Chaz Lucius; defensemen Corson Ceulemans and Carson Lambos; and goaltenders Sebastian Cossa and Jesper Wallstedt.
Interest in Tkachuk
Without a ton of top prospects in the organizational chain, you can make a case for attempting to restock the shelves with young talent. (The Blues currently have only four other picks in this draft — one apiece in rounds three, five, six and seven.)
Then again, with a team pretty much in a win-now mode, Armstrong may want to use the first-round pick as a trade chip once again.
For one, it appears there is some substance to the Tkachuk trade chatter. Would trading that first-rounder to Calgary, along with Dunn and perhaps another sweetener, be enough to get Tkachuk to his hometown Blues?
A first-rounder might also be used in any Tarasenko trade package. At this point, Tarasenko is thought to be drawing interest from Boston, the New York Rangers and Washington — with the New York Islanders also on the radar.