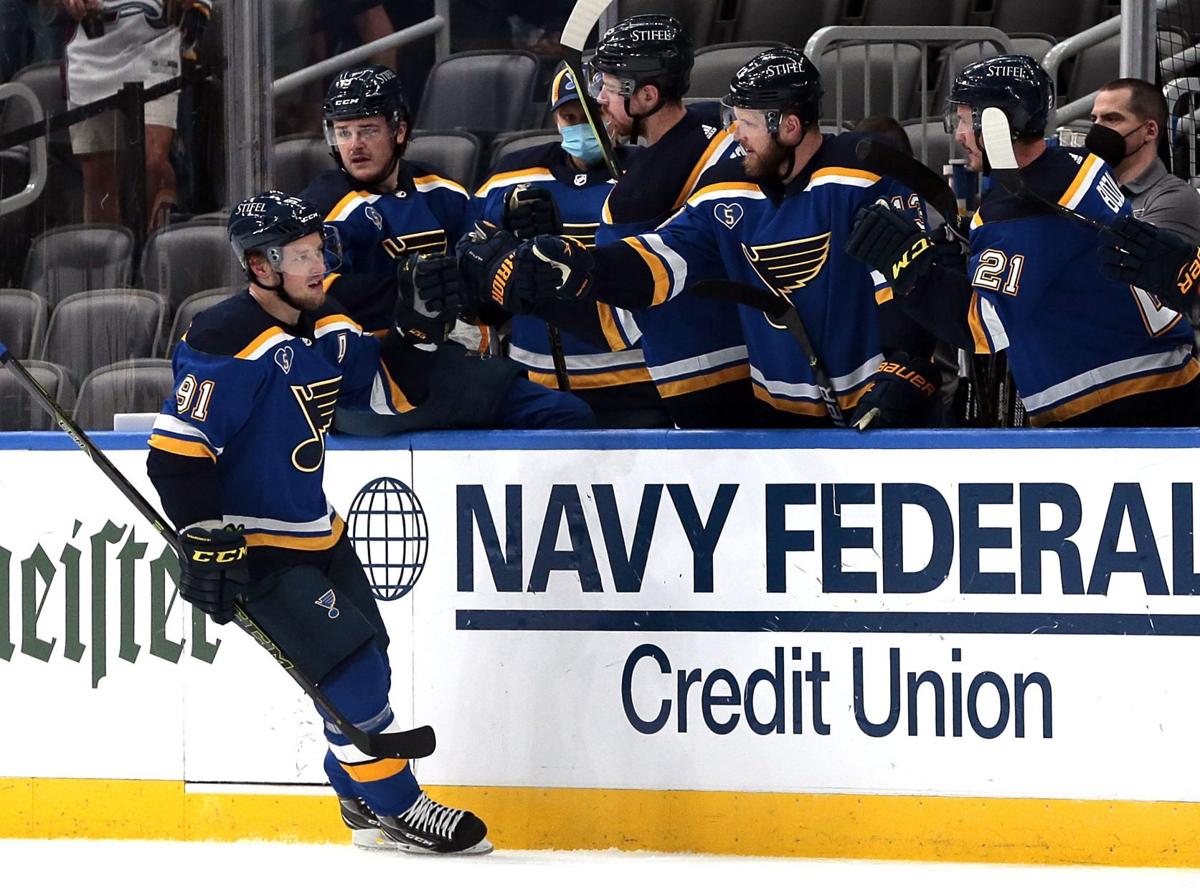 At the end of a disappointing season and a disappointing playoffs, Blues forward Vladimir Tarasenko showed Sunday what he can do when he is on his game. The question remains how much Tarasenko, who has been plagued with injuries his past two seasons, will be on his game going forward.
Tarasenko had the two Blues goals in their 5-2 loss to Colorado that closed their four-game sweep by the Avalanche, his first multi-goal game since he scored two in Game 1 of the Dallas series in the run to the Stanley Cup in 2019. In one game on Sunday, Tarasenko scored half of the goals he had in the regular season, and the two were classic Tarasenko goals, quick, precisely focused shots that beat Colorado goalie Philipp Grubauer.
"That's Vladi," said Blues captain Ryan O'Reilly. "An elite shooter. Changed the game for us. It would have been nice to help him out … but it's definitely good to see how deadly he is."
Tarasenko missed the first 24 games of the season as he recovered from shoulder surgery, his third overall and his second in a year. It was predictably slow going in the season as he returned to action and then missed eight of the final nine games of the season, including the last seven, with a lower-body injury that he identified on Sunday as being a groin injury. He was good enough to play by Game 1 of the Avalanche series, though he clearly wasn't at the top of his game. Even in Game 4, his all-around game was lacking, as his Corsi percentage was 41.7.
"I have some groin problems," he said. "Basically, it needs just time to heal. While the playoffs go on I feel more confident, but our season is done now so I have a lot of time to figure it out. But our medical staff did a great job. There is credit to them. They help me be on the same page too, help me get ready to play."
In 24 regular-season games, he had four goals and 10 assists, which projects to 13 goals over an 82-game season. In the first three games of the series, he had no points and was minus-7 in plus-minus. He had only three shots on goal. In Game 4, he had four shots on goal.
Tarasenko was almost defiant in insisting that his shoulder is fine, which is important for the Blues going forward since he's played only 34 games over the past two seasons, about one-fourth of the total number of games possible.
"There's a lot of experts," Tarasenko said. "Honestly, nobody knows what my injuries were. Everybody think it's the same thing for three (surgeries), but this is not true. There is three different things that happen. Now the shoulder is 100 percent, I have no concerns about it. There's a lot of predictions, a lot of stuff, but you know, the time will show who is right and who is wrong."
Tarasenko has in the past expressed embarrassment about the team's poor play in St. Louis, both in the regular season and the playoffs, and he was thankful Sunday to have fans, the crowd was announced as 9,000, in Enterprise Center.
"It was nice to have fans again," he said. "Fans in the building. It's been a while since I play with the fans personally (all of his games in the 2019-20 season came in the fan-less Edmonton bubble) and I think guys were really excited for all the support we have. Thanks everybody who believe in us, who don't believe in us. It was good times playing in Enterprise to the fans for the home crowds again, but we can't make it happen. Thank you for everybody for support. We can feel it. Again, it sucks, but it is what it is."
And that was the bottom line for Tarasenko: This was a bad ending for the season.
"There's no excuses," he said. "I can tell whatever I want to say, and say like we don't fight enough, but it is what it is. This is embarrassing; it's always hard to lose in the playoffs, especially like this. There is no words, that much you can see."
Defense in tatters
When the Blues played Colorado on opening night on Jan. 13, a 4-1 win for the Blues, their defense consisted of Torey Krug and Colton Parayko, Marco Scandella and Justin Faulk, and Vince Dunn and Robert Bortuzzo. Carl Gunnarsson, the seventh defenseman, was a healthy scratch.
When the Blues closed the season, Faulk, Dunn and Bortuzzo were out injured, along with Gunnarsson, who suffered a season-ending injury on Feb. 23. In their places were Niko Mikkola, Jake Walman and Steven Santini, with Mitch Reinke ready to go in case.
Walman had been on the COVID list since May 10 and had missed six games. He skated in warmups on Friday but didn't play and Blues coach Craig Berube said Sunday he would be a game-time decision. Reinke was on the ice for warmups in case, but Walman was ready to go and played 15:24, with one shot on goal and one hit.
Faulk and Bortuzzo were both injured in Game 2. Dunn last played on April 26 and missed the final 16 games of the season. It's possible all three have concussions.