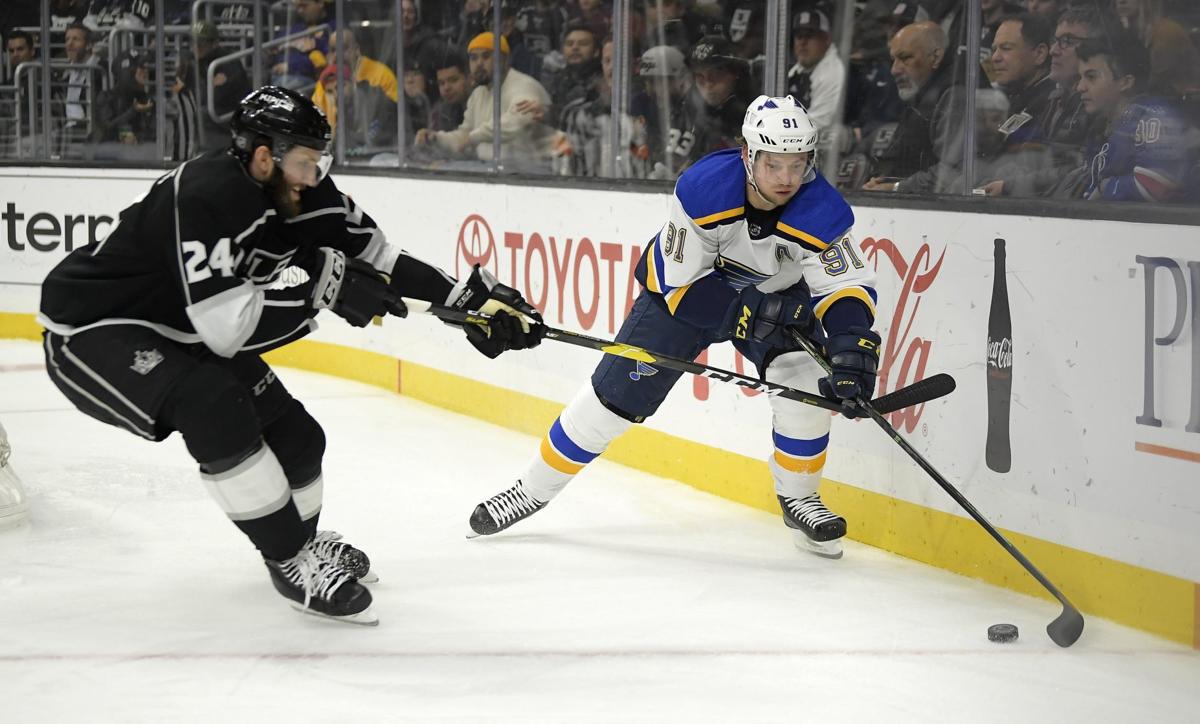 With the Blues closing in on a playoff berth, but still in a tight race, Sunday's news wasn't good.
The team announced that leading goal-scorer Vladimir Tarasenko will be re-evaluated in 10 days with an upper-body injury suffered in Thursday's 4-0 victory over the Los Angeles Kings. That means he will miss at least the next four games: the Blues play at home Tuesday against Arizona and then embark on a three-game road trip that has them playing in Ottawa on Thursday, in Pittsburgh on Saturday and in Buffalo next Sunday.
If the re-evaluation comes 10 days from Sunday's announcement, that would come Tuesday March 19, when the Blues play host to Edmonton.
The Blues have only 14 games remaining in the regular season. After going 2-0-1 on a three-game trip in California, they are 36-25-7 for the season, good for 79 points and third place in the Central Division.
They are four points ahead of the first wild-card team, Dallas, and five clear of Minnesota, which holds down the second wild-card spot. (They have a game in hand with the Wild.)
Arizona is just below the playoff line with 73 points — one back of Minnesota and six back of St. Louis. That makes Tuesday's Coyotes-Blues game a big one for both teams, especially with Tarasenko now out of the lineup and surging Arizona having won eight of its last 10 games.
Although the Blues did not provide any further details of Tarasenko's injury, it's believed to be an elbow injury. There was one instance in the Kings game where Tarasenko slipped and fell on his elbow in the second period. Similarly, he was checked into the boards in the first period and fell on his elbow.
But in neither case did he show signs of being shaken up. He didn't miss a shift in the game and finished with a goal, an assist and was plus-2.
"He's day-to-day right now, that's all I know," interim coach Craig Berube said prior to Saturday's 3-2 overtime loss to San Jose. "It's part of the game."
Jaden Schwartz replaced Tarasenko on the Blues' top line against the Sharks, joining Brayden Schenn and Ryan O'Reilly.
"We knew (Friday) that he wasn't in the lineup," goalie Jake Allen said following the San Jose loss. "The boys were preparing that way and I thought the guys did a great job filling his shoes.
"He's not an easy guy to replace. I don't think you can replace him. But guys stepped up. I thought (Zach Sanford) played a really solid game for not playing in a little bit."
With Schwartz moving up to the first line, Sanford came off the bench and moved into Schwartz's spot on the third line. Sanford had been a healthy scratch the previous two games. The Blues only other alternative on the current roster minus Tarasenko is Robby Fabbri.
But Fabbri appears to have fallen out of favor with interim coach Craig Berube after posting a minus-4 in a 5-2 loss at Carolina on March 1. Fabbri hasn't played since.
No matter who's in the lineup, you just don't replace 28 goals, which is Tarasenko's team-leading total. He has been one of the most durable Blues in recent years. The San Jose game marked only the sixth contest he has missed in nearly four seasons.
He had missed only one game previously this season, a 5-2 home win over Washington on Jan. 3 because of illness.
But after getting Schenn back from an upper-body injury for the California trip, the Blues once against will be minus two of their top four scorers. For six games it was Schenn and David Perron, the Blues' No.3 and 4 scorers, respectively.
Now it's Perron and Tarasenko, the team's No. 2 scorer with 58 points behind O'Reilly (66 points).
There has been no indication when Perron will return. He did not accompany the team on the California trip, but has been practicing regularly with the team in St. Louis, including battle drills that include some contact. Perron, with 17 goals and 18 assists, has not played since Jan. 17 against Boston, missing the Blues' last 22 games.
Perron is believed to be dealing with concussion-related symptoms.