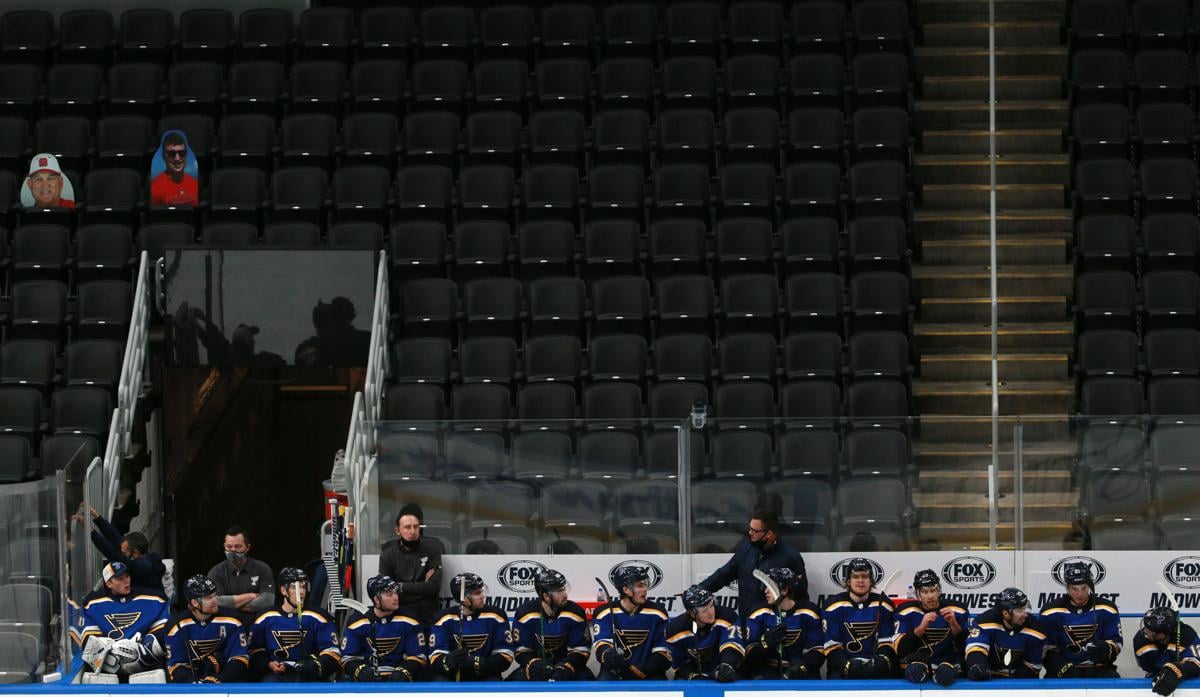 There will be fans, after all, in Enterprise Center at the start of Blues hockey season. But just a few.
The team announced Monday that it will invite a limited number of frontline workers, as well as families and friends of players, staff and team employees, to attend games during the Blues' first homestand. The home opener is Jan. 18 against San Jose.
The number of fans in attendance will be limited to "fewer than 300" according to the team. That's a drop in the bucket compared to Enterprise Center's capacity of 18,096 (as listed from last season). But you've got to start somewhere during a pandemic. At least the cardboard cutouts the team is selling to fans will have some company in the stands.
"I'd love for the cutouts to be not lonely in the building," joked Chris Zimmerman, Blues president of business operations/CEO. "So that is a good thing."
For now, it is largely a symbolic gesture. For one, the members of the "300 club" will be guests receiving free tickets. For another, 300 spectators represents only 1/60th of capacity. In a sport where 50% of the revenue comes from ticket sales, and leaguewide revenue losses this season are expected to be one billion dollars, the Blues still can't welcome ticket-holders.
"One of the things that we've seen, whether it's our season-ticket holders, our suite holders or our sponsorship partners, they are in this with us," Zimmerman said. "They understand that this is a significant challenge on multiple levels beyond the No. 1 and most important one being the health and safety of everyone around our team and in our community."
So Zimmerman sees this as a valuable first step, but cautioned against expectations that the number of fans allowed in Enterprise will increase automatically over time.
"There's not one metric that will define the expansion of additional fans," he said. "I assure that we'll be excited to shout from the rooftops, the top of Enterprise Center, as soon as we can start to move to the next level. But it will be driven both by the success and the confidence of the protocols that we've put in place, how we start to operate with the current guests that we'll be having. But most importantly, will be the external factors."
Namely, a virus that has a mind of its own. A reduction in cases and hospitalizations, coupled with an increase in the number of vaccinations taking place in the city and region are tied directly to any increased capacity.
"Appropriate progress on those key metrics — that will be the most valuable thing to expand the number of guests we can have in the building and certainly the vaccine and the distribution and accelerating that will without question play a role," Zimmerman said.
Ultimately, any increased capacity at Enterprise must be approved by St. Louis city governmental and health officials. The Blues have been working with these officials on this for weeks, and discussions will be ongoing on what obviously is a fluid situation with no guarantees. But for now the cap is 300 — or 299 if you're using the strict interpretation of "fewer than 300" for home games Jan. 18 and 20 against San Jose and Jan. 23 and 24 against Los Angeles.
"It's a very small number," said Jacob Long, communications director for Mayor Lyda Krewson. "We really appreciated the willingness of the Blues and everyone at Enterprise Center to work with us on this. They were very deliberate and very considerate. Because everybody wants to protect the health and safety of the team, yes, but of the employees and the fans.
"We know it's a difficult challenging time for everybody. This isn't easy. We would all love to be back watching some Stanley Cup playoffs. We can't do that yet. But this is a good first step to some return of hockey in the city."
Long said the city health department routinely looks at rolling seven-day averages of cases, hospital admissions and positivity rates of COIVD-19. And those metrics will be key in deciding to raise — or lower — the number of fans allowed in Enterprise over the course of the season.
"If you see dramatic changes in those (numbers), it could go one way or the other — more or less fans," Long said.
As part of the health and safety protocols at Enterprise, masks are required for all guests (and staff), bags are no longer permitted in the arena, and Enterprise will be a cash-free venue.
Those attending games at Enterprise will be given a verbal survey upon entering the building, asking if they have experienced any COVID-19 symptoms or had any exposure to those known to have tested positive. Ushers will monitor whether fans are wearing masks and socially distancing. Once fans are in the building, no re-entry will be allowed.
Automatic soap dispensers and hand sanitizers will be widely available. The Blues say there will be enhanced cleaning and disinfectant procedures in the building, particularly when it comes to restrooms, eating tables, the seating bowl, hand rails, door handles and elevator buttons.
There will be plexiglass dividers at concession stands, with food items individually packaged and new containers used for refillable items such as soda and popcorn.
The Blues are working with local health care providers and public safety organizations to come up with a guest list of frontline workers. According to the Blues, fans will sit in "socially-distanced seating pods" stationed throughout Enterprise.
With the NHL season opening Wednesday, only a handful of teams are allowing fans in their home venues.
"We have three teams that we know will start the season allowing fans in the building: Arizona, Dallas and Florida," deputy commissioner Bill Daly said Monday. "Columbus is a possibility in the near future, as is Pittsburgh."
Nashville is going the way of the Blues in allowing only friends, family and special guests, according to ESPN.
Tom Timmermann of the Post-Dispatch contributed to this report.