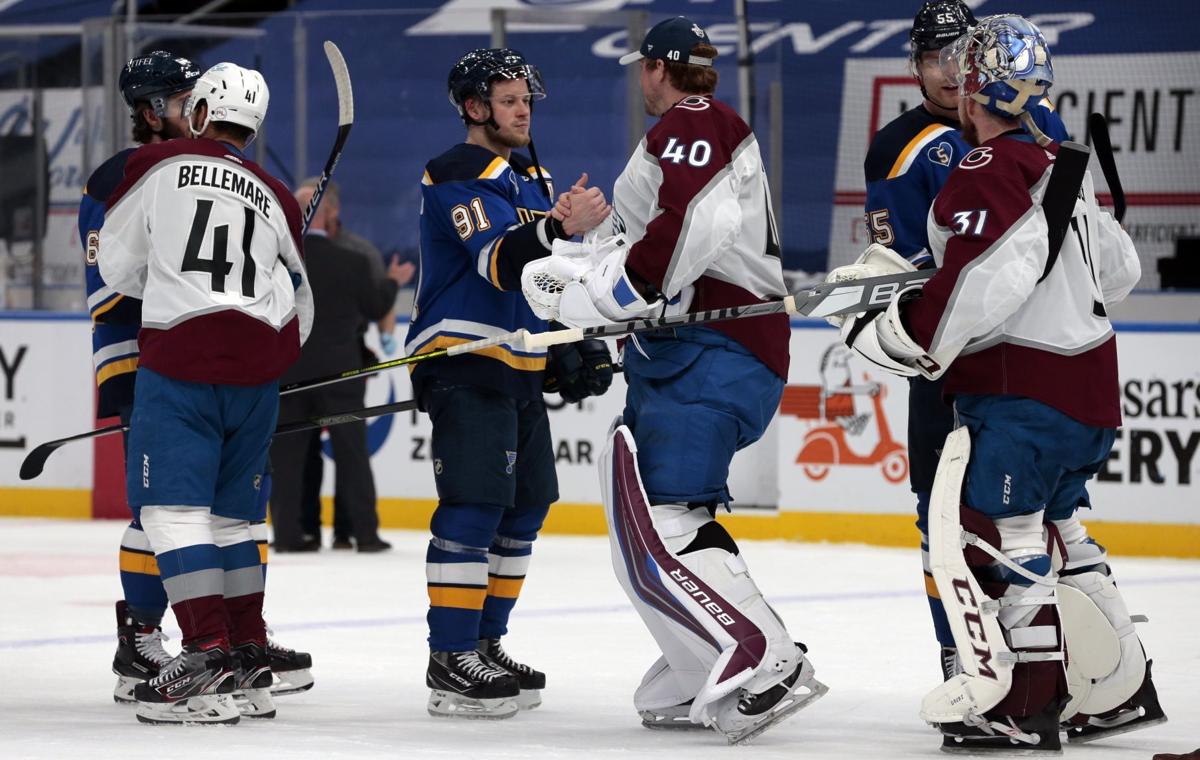 All along, the Blues figured it would be a gradual process for Vladimir Tarasenko. You don't miss all but four games over 1 ½ years, undergo multiple shoulder surgeries, and step right back into the NHL as if nothing happened.
"We're hoping he gets back and he's the old Vladi," general manager Doug Armstrong said on March 1, just a few days before Tarasenko's season debut. "But we also know that Rome was not built in a day.
"We need him to be as good as he can be as quick as he can be, but we can't think that he's going to be the Savior and everyone else can exhale."
Tarasenko was no savior. In fact, it's safe to say he didn't meet even the toned-down expectations of the Blues' front office and coaching staff in the just-completed season.
"Obviously, he wasn't happy and neither were we (with his season)," coach Craig Berube said Wednesday. "He didn't get going like maybe we thought or he thought.
"Listen, he's been out for two years, really. It's almost two years that he was out and then he's back, so I think it takes some time for sure."
It was a slow-go. He returned March 6 in Los Angeles and had four points in his first four games (one goal, three assists). But the pace slowed considerably after that, and in 24 regular-season games, he totaled four goals and 10 assists.
Over an 82-game season, that would translate to 13 goals and about 34 assists, w-a-y below Tarasenko's usual goal-scoring output before his second and third shoulder surgeries.
Tarasenko did very few interviews this season, but in almost every one he insisted his left shoulder was fine and chided the "experts" who wondered if it would be a chronic issue.
"Now shoulder's 100 percent," he said after Sunday's season-ending 5-2 loss to Colorado. "I have no concerns about it."
From 2014-15 through the Stanley Cup season of 2018-19, Tarasenko scored 182 goals — with a career-high 40 in 2015-16 and never lower than 33 goals.
That's the kind of production you get from a generational scorer, a difference-maker, someone who consistently has opposing defenses on their heels. Over those five seasons, only Alex Ovechkin (236) and John Tavares (183) had more goals than Tarasenko.
No one else was better. Not Kucherov, Kane, Crosby, Marchand, or any of the game's other big names.
Tarasenko isn't in the NHL because of his defense or checking. He's a goal-scorer. A sniper. So what do you do with a goal-scorer who's not scoring?
That's the predicament the Blues face with Tarasenko.
He has two years left on a contract paying him $7.5 million per year — which is "tied" for highest annual salary on the squad with Ryan O'Reilly.
Are the Blues confident Tarasenko can return to form next season and beyond? You know, 30-plus goals a season. Can he even approach his former standard of play?
"Who knows?" Berube said. "I don't know. Nobody knows that question. But like I said, he probably needs more time to get going. This is a big summer for him for sure, from a training standpoint, and making sure he comes in real healthy next year at training camp.
"Then use training camp to get everything going again and I'm sure that, you know, he's gonna feel good about it. . . . So I think you're gonna see a different Vladi for sure."
None of those remarks sounds anything like a coach who's even remotely thinking about exposing Tarasenko in the Seattle expansion draft July 21.
There has been much speculation on that front from outside the organization. The thinking goes, if the 2020-21 season was an indication of what's to come from Tarasenko, why not leave him exposed.
If Seattle claims him, the Blues clear $7.5 million at a time when the salary cap is flat at $81.5 million. The Blues could use that money to pursue other free agents, or deal with several of their own pending free agents coming off a disappointing season.
Then again, what if an unprotected Tarasenko is not claimed by Seattle, and remains a Blue? Proud to a fault, that wouldn't sit well with Tarasenko — that's pretty much guaranteed.
On the flip side, what if Seattle claims Tarasenko under this scenario and he reverts to his 30-goal form, or even somewhere in that neighborhood? Those kind of scorers, particularly those who can score from distance, are rare in the NHL.
And you would have left him there for the taking by Seattle. And gotten absolutely nothing in return.
Again, it doesn't look like the Blues are ready to give up on Tarasenko. In his season-ending Zoom session Wednesday, Armstrong said all the right things on the subject.
"I think that the season, when he got back in, was gonna be a work in progress for the year," Armstrong said. "Vladi's a tremendous competitor. He worked extremely hard off the ice to get ready.
"But it's still an extended amount of time off. We saw flashes of a 25-year-old Vladi Tarasenko. I know he's gonna put the work in. But like any player his age, you always have to evolve and your game has to change to stay current.
"Not just Vladi, but a lot of guys are gonna have to evolve their game to today's NHL."
In the case of Tarasenko, who turns 30 next season, Berube would like him to display more attributes of a power forward. Use his thick frame to be a force at the net front and score more "greasy" goals.
"I know he scored a couple goals in the final playoff game, but overall he needs to get his legs going again," Berube said. "Use his body and just play a harder game down low in the offensive zone, and get to the harder areas to score goals."
Along those lines, the Blues used Tarasenko as the low man — net front — on the power play at the very end of the season instead of his usual spot on the wing. Additionally, he's always been adept at using his skating ability and size to drive the net on the rush. Berube would like to see more of that as well.
All of that could add to Tarasenko's production while not neglecting his ability to fire lasers from the circle.
Tarasenko caused a stir when right after the Blues were eliminated from the playoffs by Colorado, he headed off to join Team Russia in the International Ice Hockey Federation's World Championship. It was surprising because Tarasenko missed eight of the last nine regular-season games with a groin injury before returning to play in all four postseason contests against the Avalanche.
Shouldn't he be resting the groin?
"The player signed off that he was 100 percent healthy and ready to go play, so I take his word for it," Armstrong said.
Berube said he was OK with Tarasenko playing for Russia; Armstrong was excited about the fact that Tarasenko wanted to get in a few more games.
"The passion was still there," Armstrong said. "The desire to continue after not playing a lot of hockey. Obviously, you're a little bit nervous because he hasn't played a lot. It's a long trip over and other things. But I fall back onto it, that he loves the game. He wants to continue to compete and he's gonna get that opportunity.