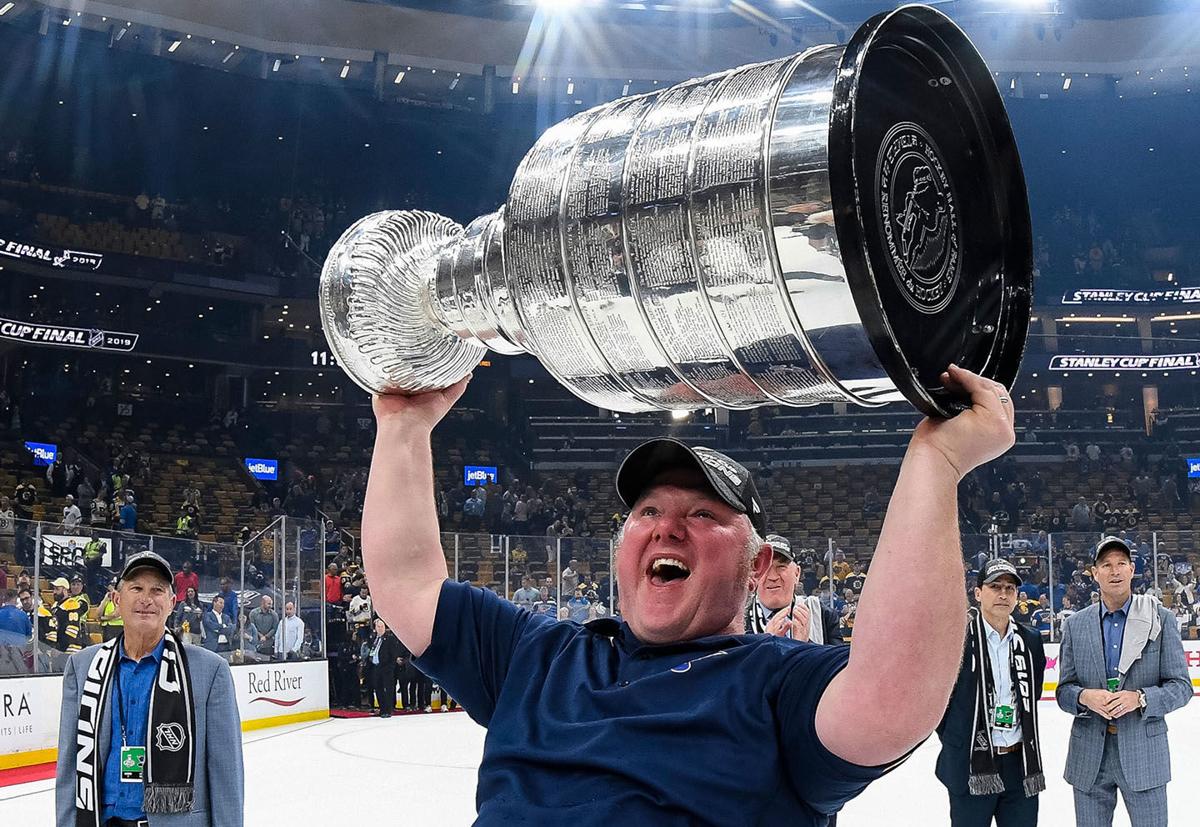 Joel Farnsworth's first day on the job in pro hockey came in Madison Square Garden — on Sept. 11, 2001. Yes, 9/11. He was preparing for the start of training camp as part of the equipment staff in the New York Rangers organization.
His last day on the job came Tuesday, in the middle of a coronavirus pandemic, after several Blues went through Phase 2 workouts at Centene Community Ice Center.
Now, those are two bookends. But what happened in between was pretty good.
"I've had an unbelievable run," Farnsworth said. "Every single second, everything I've done has been enjoyable with the Blues. And now it's time to enjoy some time with my wife and kids.
"Regular work schedule, holidays and weekends off, evenings off. I don't want to miss everything of my kids growing up. I don't want to look back when they're 20 and go: 'I don't remember anything from when they're 12 years old.'"
So the timing was good for Farnsworth. He's coming off a Stanley Cup season as the Blues' head equipment manager. His daughter Abby is 10; son Joel is 7. And at age 44, he's got plenty of time for a second career.
Farnsworth is leaving the Blues for "civilian" life — a job in mechanical engineering for a St. Louis firm. The Blues made the announcement Tuesday that Farnsworth is departing after 18 years in the organization — a period encompassing 1,497 pro games with the Blues and their Peoria Rivermen and Worcester (Mass.) IceCats minor-league affiliates.
Some players knew in advance this was coming — it's been in the works for about a month. Some didn't. Farnsworth heard from those that didn't Tuesday because his phone started buzzing.
"A little bit," he said. "And that's OK. That's the sign of a good run."
There were also tributes on social media, including David Perron's Twitter salute: "love u big bear!"
Not many Blues refer to Farnsworth, who's a big man, as Joel. His nickname is "Bear."
"Larry Pleau gave me that, probably my first year with the organization," Farnsworth said, referring to the longtime Blues general manager and executive. "He saw me scratching my back on a wall. Like a bear scratching his back on a tree. It stuck ever since."
Farnsworth was one bear who had little time to hibernate. Long hours are the way of the world for equipment mangers. They're usually among the first to arrive at the rink and the last to leave.
"You kind of deal with whatever issues arise," Farnsworth said. "Managing equipment is only a part of what we do."
They do a little bit of everything, and spend a lot of time around the players along the way.
"We had really great players here," Farnsworth said. "I can't say a bad thing about a single guy I ever worked with. They fully appreciate the hours we put in to take care of stuff for 'em. Not a single bad memory of any of my years working in pro hockey to be honest with you."
But there were some, uh, goofy players over the years. Farnsworth didn't want to name names, because apparently it's a long list.
"Yeah, everyone's got their peculiarities and idiosyncrasies, but that's what makes the world go round," he said. "Life would be pretty boring without that."
If that's the case, life got less boring for Farnsworth while attending the University of Vermont. He got to know some hockey players living in his dorm, and the next thing you know, he's the team's student manager.
After college, Farnsworth used his degree in mechanical engineering for a while, then returned to Vermont for more hockey. For several years during this time, the New York Rangers held training camp in Burlington, Vermont, and Farnsworth helped the Rangers' equipment staff.
In 2001, the Rangers hired him to work for their minor-league affiliate, the Hartford Wolf Pack.
"They decided to host training camp at Madison Square Garden that year," Farnsworth said. "It was the first time they had been at the Garden in like 50 years for training camp."
So on Farnsworth's first official day with the Rangers' organization, he was working in the Garden when terrorist attacks destroyed the twin towers of the World Trade Center about 3½ miles away.
"A rural kid from northern Vermont, who had just left home to work in pro sports," Farnsworth said. "That was my welcome to pro sports.
"We spent the night in the city, and we actually had a police escort out of the city the next morning and went out to the practice rink."
And started working on the resumption of camp a couple of days later.
"It was something you'll never, ever forget, that's for sure," he said. "It's been a crazy roller-coaster from there. A couple different cities."
Farnsworth joined the Blues' organization the next season, spending three seasons in Worcester and then four seasons in Peoria before joining the big club in St. Louis in 2009. He met his wife, Angie, in Peoria — she worked in merchandising and game operations for the Rivermen.
For anyone thinking about breaking into the business, Farnsworth offered this advice:
"There's so many hours of work, if you don't enjoy every single hour, you won't enjoy the job," he said. "Appreciate every single thing that happens, good or bad. There's a reason and a lesson to be learned from each and every one of 'em."
Farnsworth closed with a request.
"I assume you're gonna put something out tomorrow about this (his departure), and I greatly appreciate that," he said. "Just keep it minimal."
After all, another key to the equipment game is being seen but not heard.
To put his mind at ease, Farnsworth was assured there would probably be a couple of Cardinals stories in the paper Wednesday that might garner some attention.
The latest STL Blues hockey news, NHL headlines, scores, standings and rosters.