The Blues keep finding shovels.
They found them three months ago, when an eight-game losing streak left them — and still has them — chasing the rest of the Western Conference. They found them Saturday against Chicago, as the lowly Blackhawks built a three-goal lead and held on to beat the Blues. They once again found them on Tuesday night, digging themselves a four-goal deficit in a 5-3 loss to the Sabres.
The Blues pulled within 4-3 early in the third period but could not tie the game despite a six-on-four power play in the final two minutes. Sabres forward Dylan Cozens sealed the Buffalo victory with an empty-netter with one minute left.
"We could have tied it up, but at the end of the day, when you're down 4-0, you don't deserve to win the game," Blues forward Brayden Schenn said. "We have to do a better job of starting on time and focusing on that again and going from there."
The loss left the Blues 3-4-0 on a season-long seven-game homestand, a stretch that was supposed to serve as a springboard back into the playoff conversation, and not a revival of the reasons they were out of it in the first place. St. Louis (23-22-3) could have taken ownership of its season with a strong push at Enterprise Center but instead fell flat.
Optimism flashed at certain points of the homestand — a comeback overtime win over Calgary, offensive zone possession against Nashville, and even the early returns of Torey Krug and Vladimir Tarasenko from injury. But too often, old wounds were reopened — turnovers in their own zone feeding opposing offenses, missed assignments allowing free space in the slot, and neutral zone turnovers springing odd-man rushes.
On Tuesday night, early mistakes from the Blues did them in.
Tyler Pitlick lost a puck in the slot as Tage Thompson zoomed into the Blues zone. Thompson found an open Jeff Skinner and Buffalo took a 1-0 lead just 60 seconds into the game. Twenty-five seconds later, Schenn and Tarasenko both left Alex Tuch alone in the slot to beat Jordan Binnington from point-blank range.
By the time Blues coach Craig Berube called a timeout after Tuch's goal, the shovels had already moved some earth.
"I think there's times that we chase too much instead of just keeping them on the outside and having a little composure, protecting that slot area and waiting for a broken play or blocked shot or anything like that," Berube said. "We've just got to have more patience there and we really don't."
Midway through the first period, Owen Power finished a backdoor tap-in by beating Robert Thomas to the post. In the opening minutes of the second period, a Colton Parayko neutral-zone turnover sprung Thompson on the rush.
The Blues searched for a ladder to climb out of the hole.
"Our slot was just wide open, they could've just camped out there, and the puck would end up on their stick," Krug said. "We put Binner in a bad spot multiple times. Got to take better care of our house."
Blues defenseman Justin Faulk: "We're asking him to make saves that I don't know if there's any goalies in the league that can make. Backdoors, seams, anything like that. And leaving guys alone in front. It's not good on our end and we can't ask him to do that and expect him to make the save. It's just unrealistic."
Giving up chances in the slot has been a problem all season for the Blues.
Opposing players have feasted on St. Louis miscues and missed assignments, as the Blues have too often asked too much of Binnington to rescue their porous defense. According to Natural Stat Trick's model, the Blues allow the ninth-most expected goals per 60 minutes at five on five this season
"That's on us players," Schenn said. "It's preached in our locker room and it's stopping in the house and helping out Binner."
Parayko was a team-worst minus-4 on Tuesday night as he dropped to minus-19 on the season. In the third period, he was demoted to the third pair with Tyler Tucker and played just 4:01.
Parayko finished with just 16:15 of ice time, his lowest total this season and the lowest total since April 14, 2022, at Buffalo, when he played 15:06.
"Did not have a good game," Berube said. "Tentative, seems like he's a little bit tentative and just not assertive enough, not assertive enough with the puck. … It's not all the time, but he's definitely not had the year that we expected him to have or he expects."
The homestand served as a reality check of sorts for the Blues.
Playoff teams should beat teams like Chicago and Buffalo. The thing is that the Blues aren't a playoff team right now, and very possibly won't be one in April. Teams come to St. Louis now and think it's a winnable game against a beatable opponent.
"With where we're at in the standings, I can't say we should be beating this team, beating that team," Faulk said. "I mean, yeah, that's what every team looks at. But when you're out of the playoffs, I guarantee you there's teams that probably come in and say it to the other side."
Now, the Blues have three games to enter the All-Star break with warm feelings, to hope for a brighter return in February. To hope for some ladders instead of shovels.
"We have to go into Arizona and take care of business there and then focus on the next one after that," Faulk said. "There's nothing more to it. We're in a hole and we got to start digging out. If we look too far ahead, we're not gonna get anywhere."
Photos: Buffalo Sabres beat St. Louis Blues 5-3
St. Louis Blues take on the Buffalo Sabres
St. Louis Blues take on the Buffalo Sabres
St. Louis Blues take on the Buffalo Sabres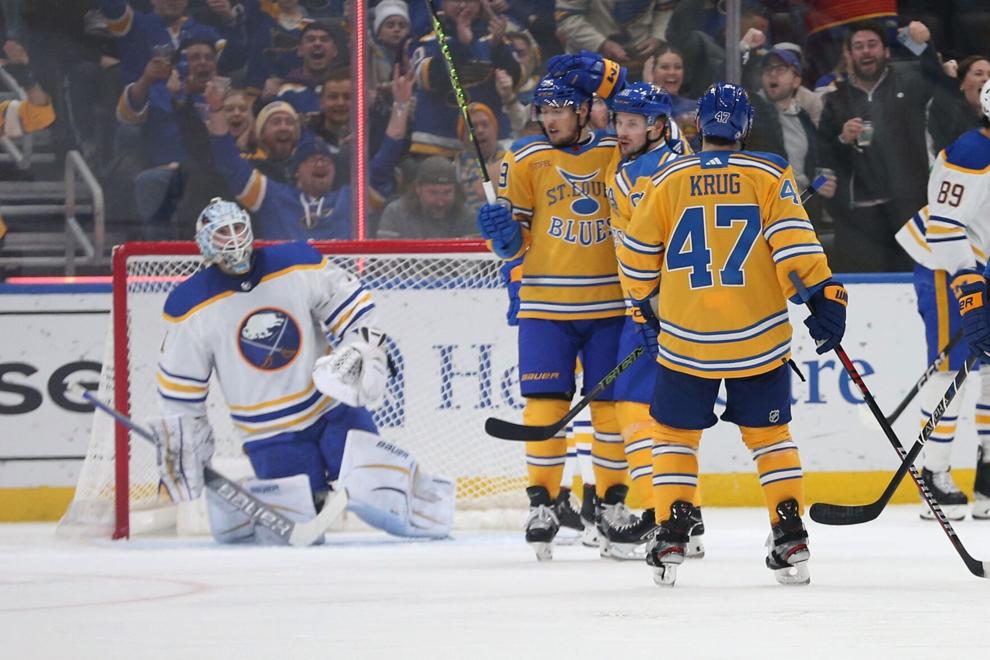 St. Louis Blues take on the Buffalo Sabres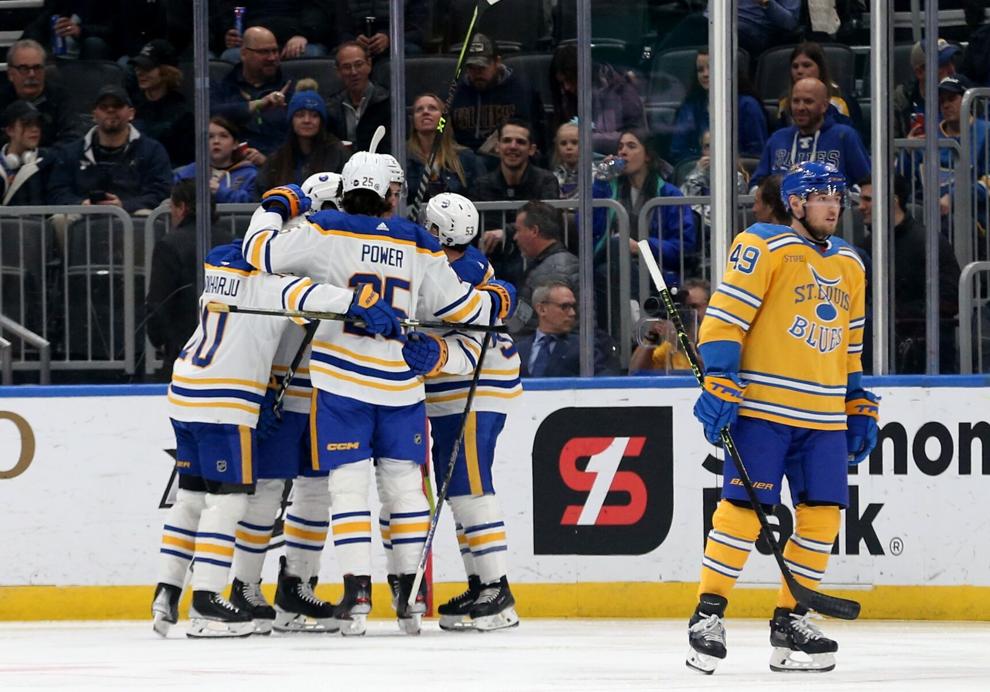 St. Louis Blues take on the Buffalo Sabres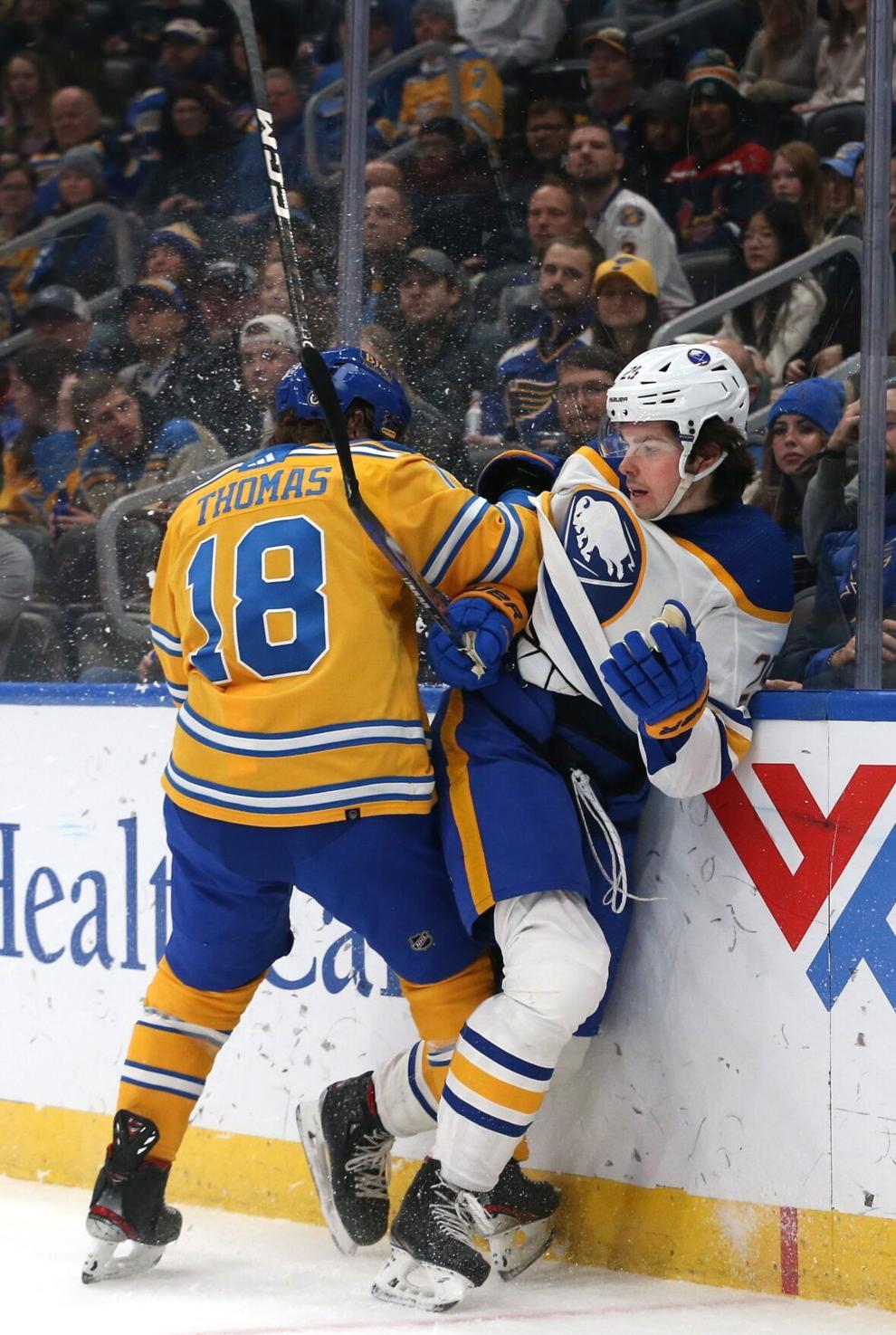 St. Louis Blues take on the Buffalo Sabres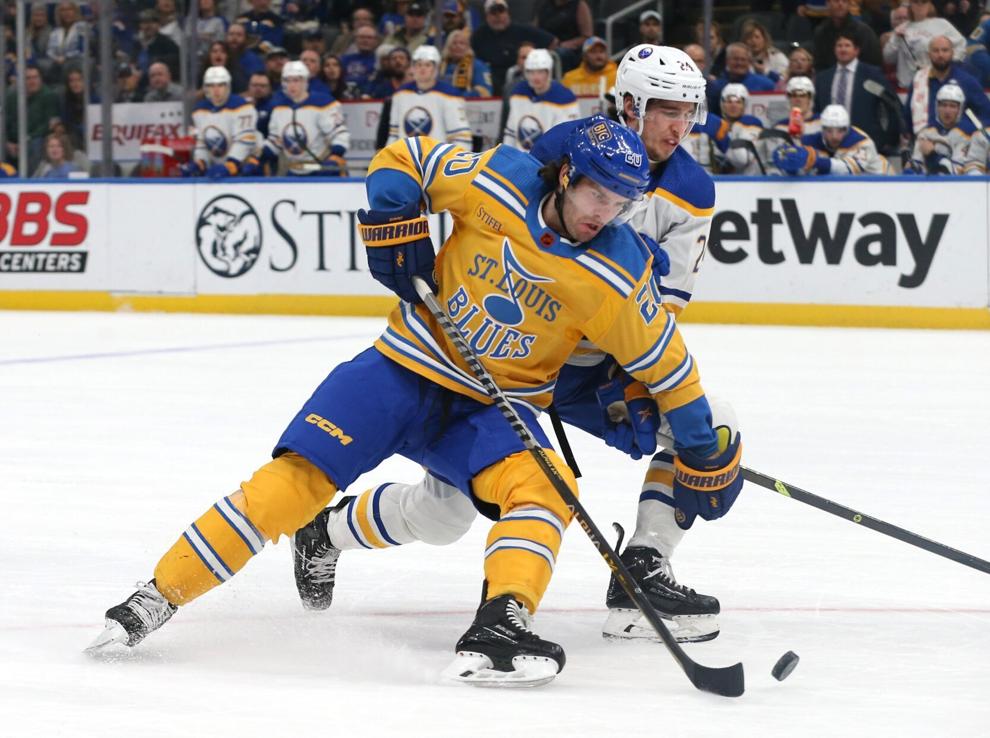 St. Louis Blues take on the Buffalo Sabres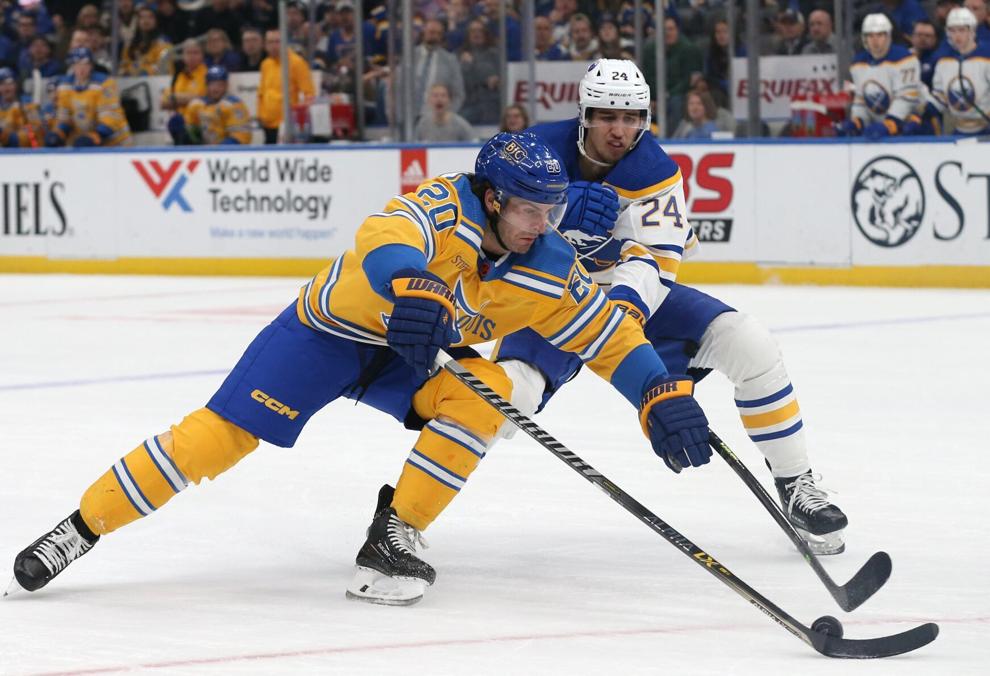 St. Louis Blues take on the Buffalo Sabres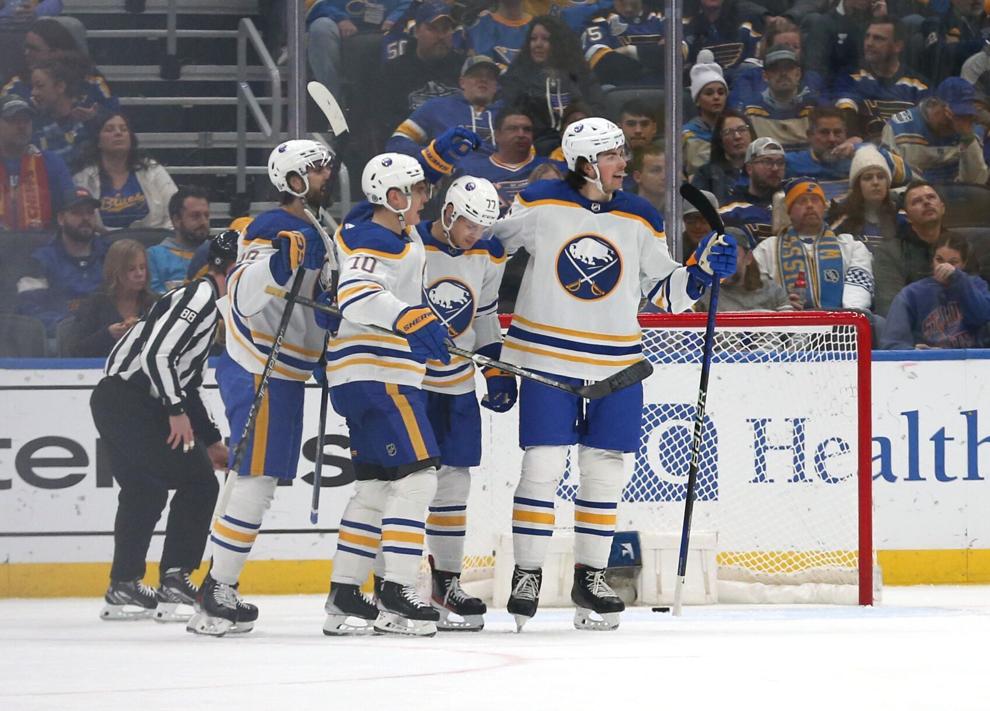 St. Louis Blues take on the Buffalo Sabres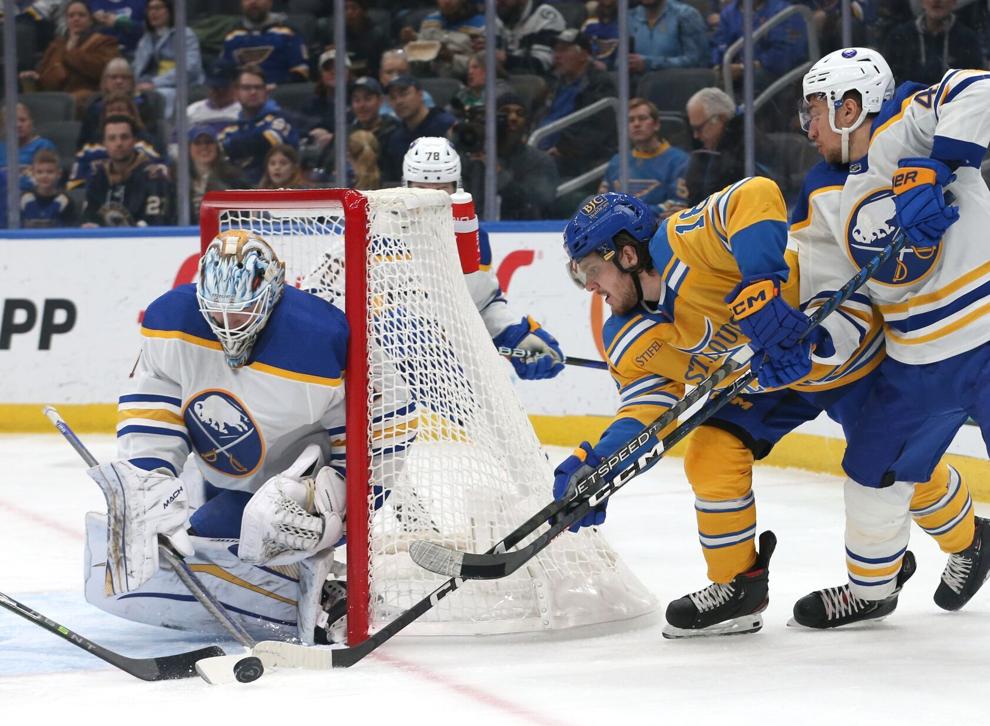 St. Louis Blues take on the Buffalo Sabres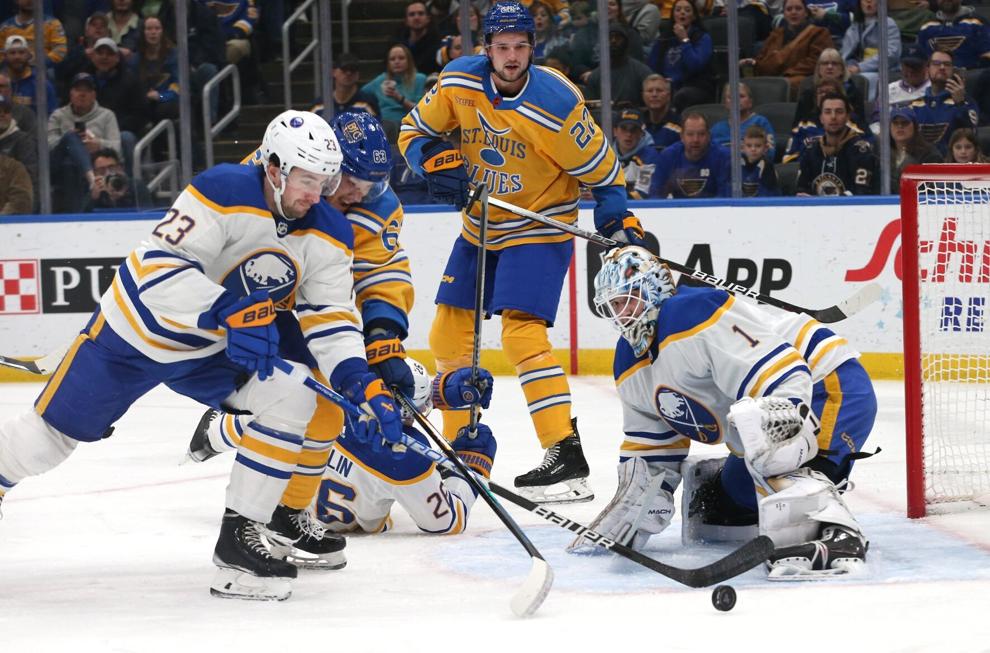 St. Louis Blues take on the Buffalo Sabres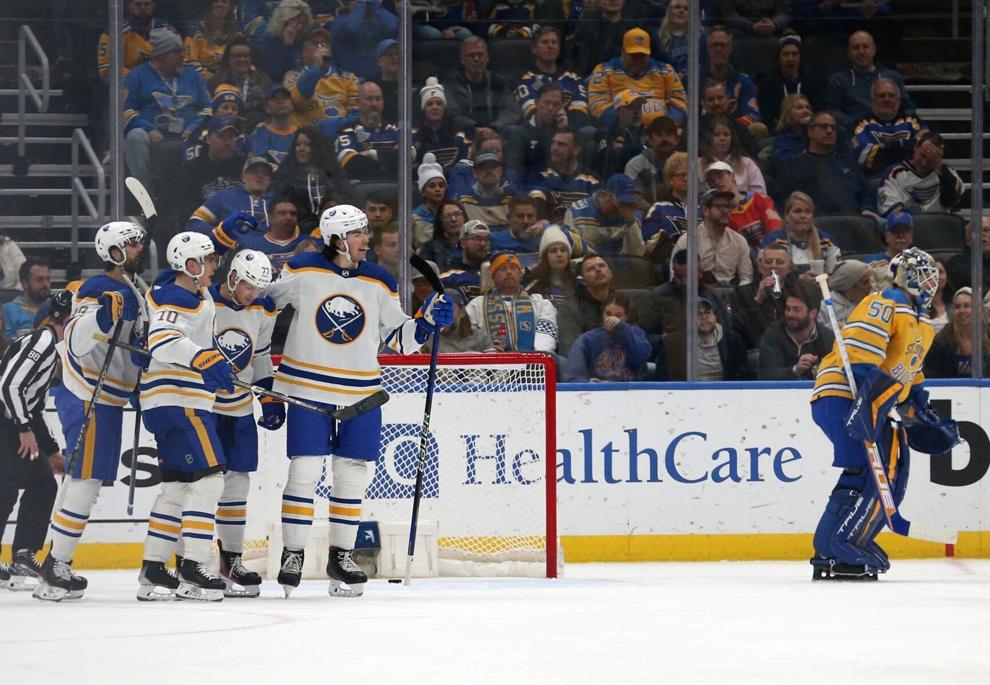 Buffalo Sabres beat St. Louis Blues 5-3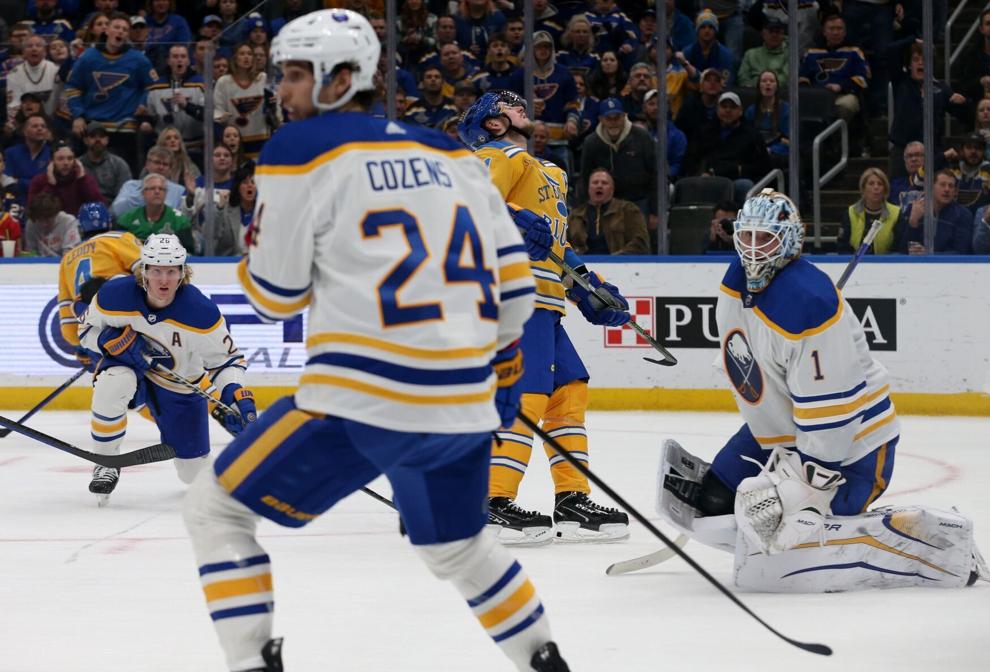 Buffalo Sabres beat St. Louis Blues 5-3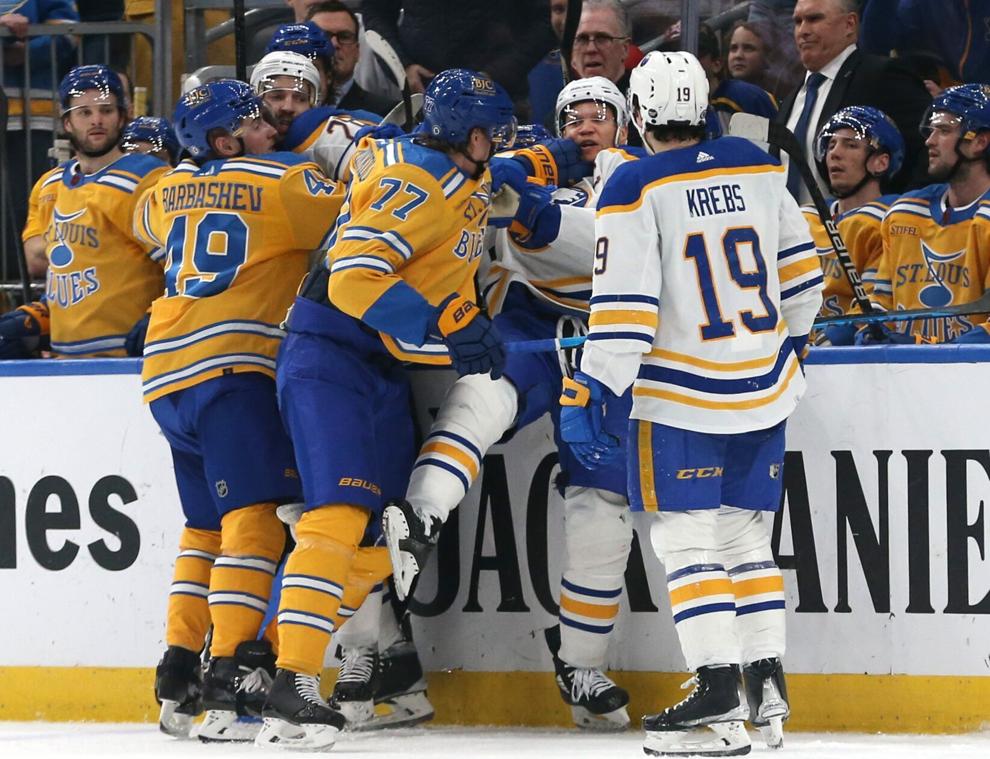 Buffalo Sabres beat St. Louis Blues 5-3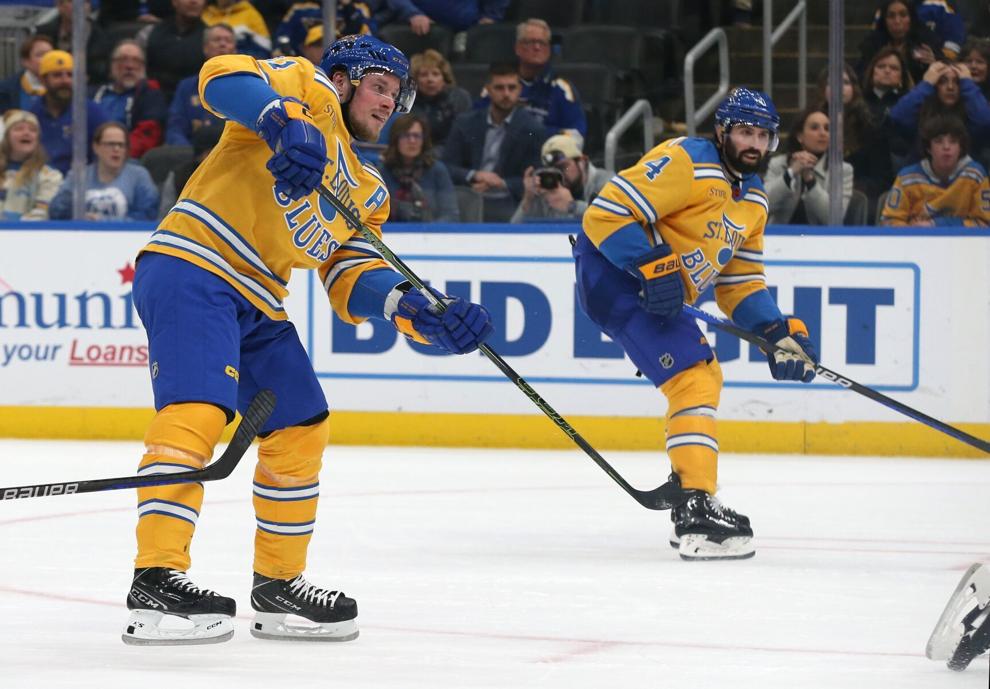 Buffalo Sabres beat St. Louis Blues 5-3