When he took over for Mike Yeo a year ago, Craig Berube didn't tinker with the lineup much as coach of the Blues. And the players, who in general prefer continuity whenever possible, appreciated it.
But this year, look at what's going on with the defense. It has been a carousel. When Vince Dunn opened with Alex Pietrangelo, and Carl Gunnarsson was paired with Justin Faulk on Tuesday against Arizona, it made 11 different pairings in 19 contests to open a game.
Last season, Berube used 11 different pairings in 63 regular-season games after taking over for Yeo.
You need a scorecard to keep track. No, check that. Not even a scorecard will help, because the Blues are changing 'D' pairings period to period, sometimes almost shift to shift this season.
Is this just a season where that's the case? Or will Berube settle into a defensive lineup?
"We'll see," Berube said. "It's been a lot of movement there."
Then he added with a laugh: "I really can't answer that question. We're going to keep experimenting."
The most stable pairing has been Jay Bouwmeester-Colton Parayko, which became the Blues' shutdown duo down the stretch last season and throughout the playoffs. They've been together on 12 occasions to start a game this season, more often than any other pairing for the Blues. Next comes Dunn-Faulk at 10 games.
No other Blues pairing has been together for more than half of the Blues' 19 games this season, although Gunnarsson-Pietrangelo come close at nine games.
So there's been a lot of changing on the blueline.
"It's more than most years right now," Pietrangelo said. "But we'll find what works. We're mixing and matching (in-game) every single night, too. We've all played with each other, so we'll be all right."
The last part of that Pietrangelo remark is a reference to the year-to-year continuity of the Blues' defensive corps. Parayko and Robert Bortuzzo are both in their fifth full season with the club. It's six seasons for Gunnarsson, seven for Bouwmeester, and 10 full seasons for Pietrangelo.
So at one time or another, everybody has spent at least a little time on the ice with everybody.
That's not quite as true for Dunn, who's in his third season with the team and at age 23 — as of Oct. 29 — has 172 games of NHL regular-season experience.
"I don't feel uncomfortable playing with anyone on this team, but I've never really had a solidified partner since I've been here," Dunn said recently. "I just got to worry about my game and bring that every night, and whoever's on the other side is more than capable of handling himself."
Dunn played the most with Bortuzzo last season (32 games), although he was paired with Pietrangelo down the stretch of the regular season and early in the playoffs.
This season, besides those 10 games with Faulk, Dunn has been paired with Bortuzzo six times, Gunnarsson twice and Pietrangelo once. He's had a few shifts with Parayko.
"It is what it is," Dunn said. "I guess it's just the coaches' reads."
"Getting guys their minutes and matchups are a big thing," Berube said. "With those three righties, they're good players and we need to get them out there. That's a big part of it."
Each member of the team's big four on defense is averaging more than 20 minutes a game: Pietrangelo (23:58), Parayko (22:57), Bouwmeester (21:26) and Faulk (20:43). Getting them that time hasn't always been easy, especially considering Pietrangelo, Parayko and Faulk are all righthanded players.
It has occasionally meant going with righty-righty combinations on pairings, which can be uncomfortable and/or awkward for whoever is playing on his off side. It has cost Bortuzzo, the fourth righthander among the team's seven defensemen, some playing time. Bortuzzo has played pretty well this season, but he's appeared in only seven games and has been a healthy scratch for the last seven games.
Even though he's lefthanded, Dunn has also seen his ice time drop compared with his first two seasons in the league, in effect freeing up more ice time for Faulk. Dunn is averaging 15:55 per game this season, down about 1½ minutes over his first two seasons.
To help ease the adjustment to the frequently changing pairings, Berube has stressed the importance of playing the system and staying with the system no matter who's your partner.
While some of the juggling undoubtedly is to get Faulk — a three-time all-star — his ice time, it has also made his transition to the Blues more challenging after eight seasons with the Carolina Hurricanes.
"As you play more, even if you're not paired with those guys, you start to learn and see how guys play just by watching them and get a feel for them," Faulk said, just before the Blues left for their recent four-game road trip.
"Obviously I'm trying to do that with 20, or 19 guys a night. So maybe it's taking me a little longer than it is for guys to get used to just me. If you ask me, the difference from Day 1 to today, it's much better."
By "20, or 19 guys a night," Faulk was also taking into account the forwards on the team as well as the goalies. As for the defensemen, Faulk has opened at least one game paired with four of the Blues' six other D-men. That's tied for the team "lead" with Dunn.
"If we're winning hockey games, no one cares, right?" Faulk said. "You try and win hockey games. And however we've got to get to that, that end result is fine with the guys."
And the Blues (12-3-4), with the second-best record in the NHL, are winning hockey games.
Blues Quick Hits
MAKING SENSE OF ARMY'S MOVES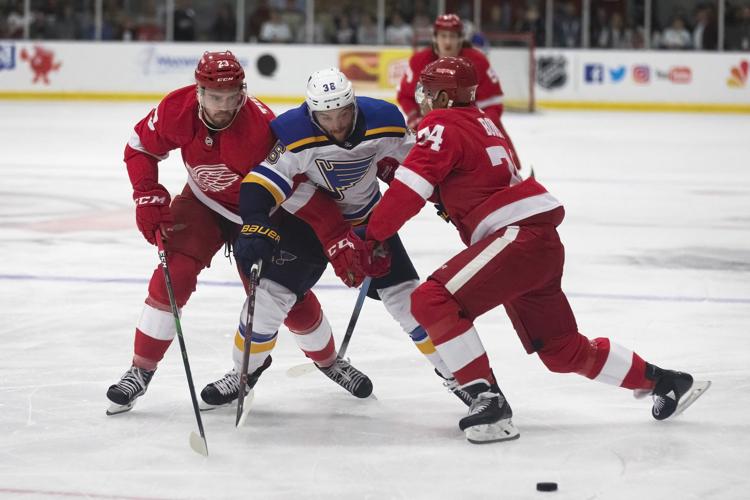 COMMENT: I'm confused by Armstrong bringing in Brouwer and McGinn for tryouts. Neither was a goal-scorer in his prime. Then he calls up Kostin, although a case could have been made for Walker or Kyrou.
JT: Kyrou isn't ready to be brought up yet. He needs more games to make sure he's healthy and in full hockey shape. Walker might have been intriguing. He's fast. I was told a week or so ago that he basically had a breakaway a game in the AHL -- although his speed might not be as glaring in the NHL, where there are a lot more fast skaters than in the AHL.
I think in Brouwer and McGinn, Armstrong/Berube are looking for bigger, more physical, more experienced players. And keep in mind, neither is regarded as a long-term fix. If either or both end up on the Blues' roster, it might only be until Steen comes back.
WHY SANFORD AND NOT FABBRI?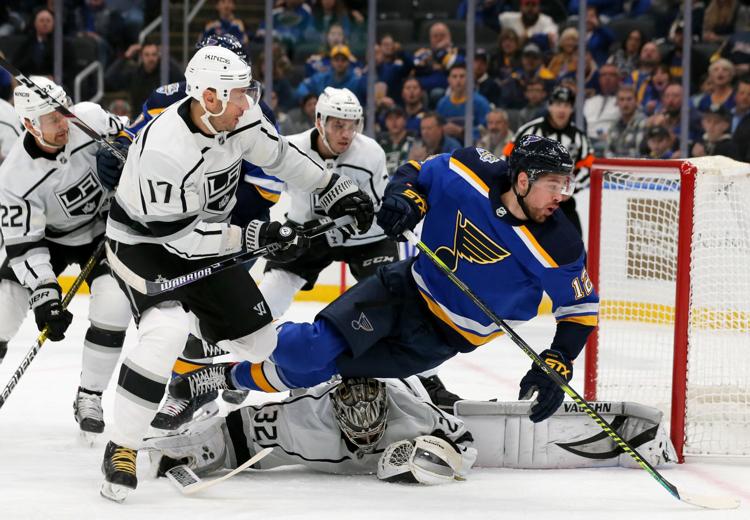 QUESTION: Why does Sanford continue to get all the time on the second line when he has not been playing well at all, but someone like Fabbri never got that opportunity for an extended look? Sanford is not contributing on a line where the other two are on fire.
JT: I think in Sanford, Berube sees a player who is more defensively sound, could establish in theory a net-front presence (hey, that'd be a good name for a podcast, wouldn't it?) and would be more physical. With the possible exception of defense, not all of that has is happened — at least not all the time — with Sanford.
IS FAULK MEETING EXPECTATIONS?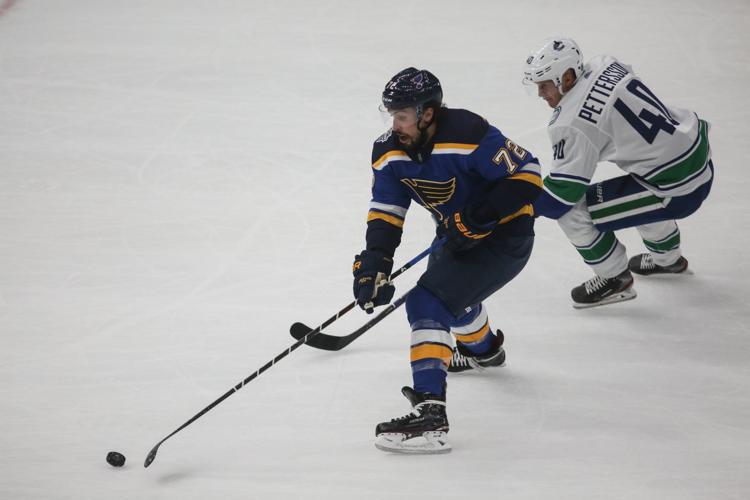 QUESTION: Has Justin Faulk been what the Blues hoped he would be when they traded for him?
JT: I'm sure they would like a little more, particularly on offense at this point. But I talked to Berube about Faulk the other day. He didn't seem discouraged at all by Faulk's play. Mentioned he had a good shot, and thinks some goals will start happening.
---
Follow-up: What is your early evaluation of Faulk?
JT: He's been OK, maybe a little better than OK. I think if he had even a couple of goals at this point, he may not even be a topic of conversation. He's been good in the corners and along the boards. Tough to get off the puck. Skates pretty well, although not the most elusive guy. As a reader mentioned earlier, it would be good to see him close on the net a little more often, and not rely so much on just his outside shot.
He has displayed some questionable decision-making with the puck at times. But that might be in large part due to the fact he's the only new guy on the defending Stanley Cup champs. (Or he was until recently.) That's been a big adjustment, maybe more than we — or even Faulk — could have anticipated.
BRING BACK ... PAT MAROON?
QUESTION: Any chance the Blues would have traded for Pat Maroon if he was healthy, for that veteran depth they seem to be in search of? Or if they would possibly trade for him later in the season?
JT: If you're talking about Maroon's recent upper-body injury with Tampa, I believe he's healthy now and back in the lineup. As for a future trade, I guess I wouldn't just categorically rule it out. Maroon, by all accounts, left on good terms here. I wouldn't think Armstrong would want to give up much.
---
Follow-up: Given the injury situation, and the tryouts the Blues have brought into town the past few days, maybe it was a mistake to not lock down Maroon. Seems like he is what they could use right now.
JT: Yeah, what you say makes a lot of sense. But I think at the time it was a cap issue. The Blues now have cap room — albeit temporarily if Tarasenko returns before the end of the regular season.
ANY PROGRESS ON A PETRO DEAL?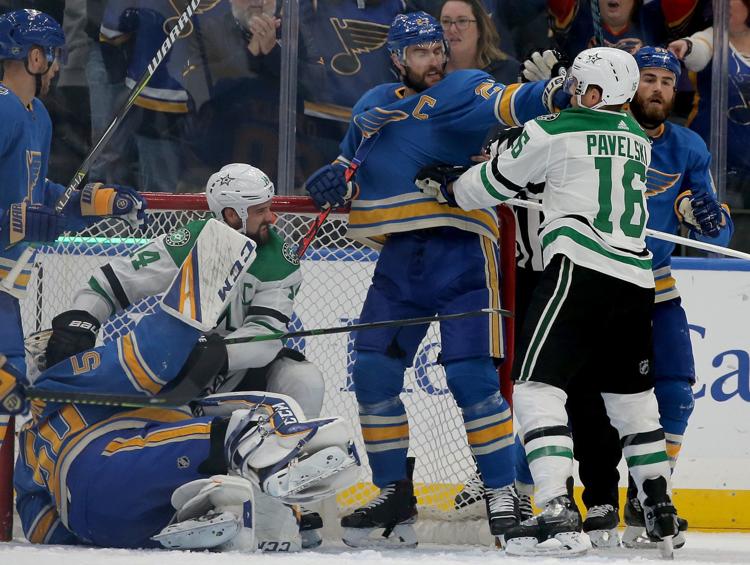 QUESTION: Are you aware of any developments with regard to re-signing Pietrangelo? Assuming that Petro's representation looks at Josi's deal with the Preds as a comparable deal, how does the Josi contract affect the likelihood that the Blues and Petro will be able to come to an agreement?
JT: I did some poking around on the recent trip, but don't really have a feel for it. I would have to think that Josi's deal would have to be some kind of benchmark.Meaning Pietrangelo has to come in somewhere in that neighborhood, whether it's somewhere above or below.
I don't think Josi's contract negatively affects the Blues' ability to re-sign Pietrangelo. Armstrong, I sense, has a good feel for the market.
THE SEASON AFTER: HOW DO CURRENT BLUES RATE?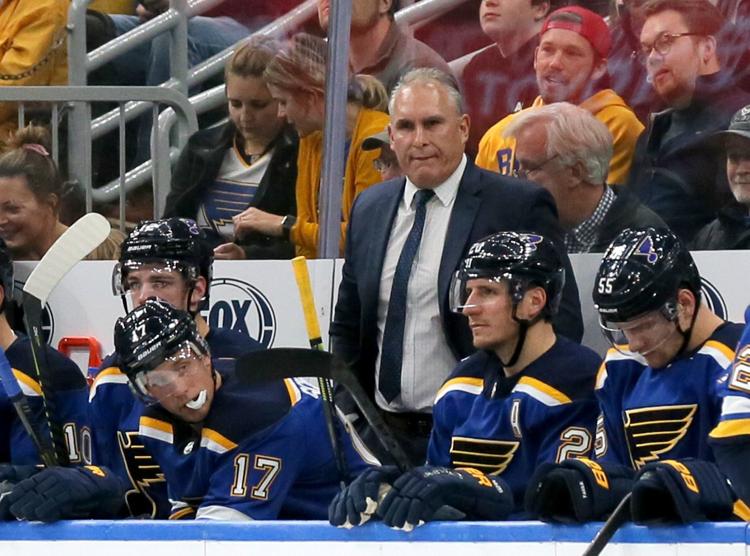 QUESTION: Could you compare and contrast this season's team to last season's championship team?
JT: Still a small sample size, but it's starting to look a lot like last year's team. The overall team defense is getting better. Binnington's play has gone from good to really good. Getting more balanced scoring than earlier this season. Power play is a little bit better -- although people forget the Blues finished 10th in the regular season last year on the power play, which is good. There's this mistaken impression by many that they were lousy all last season.
Overall, although again a small sample size, the Blues have been even more consistent game-to-game than they were last season. Only two bad games all season in my opinion this year so far -- both Montreal games.
NO CREATIVITY IN SHOOTOUTS?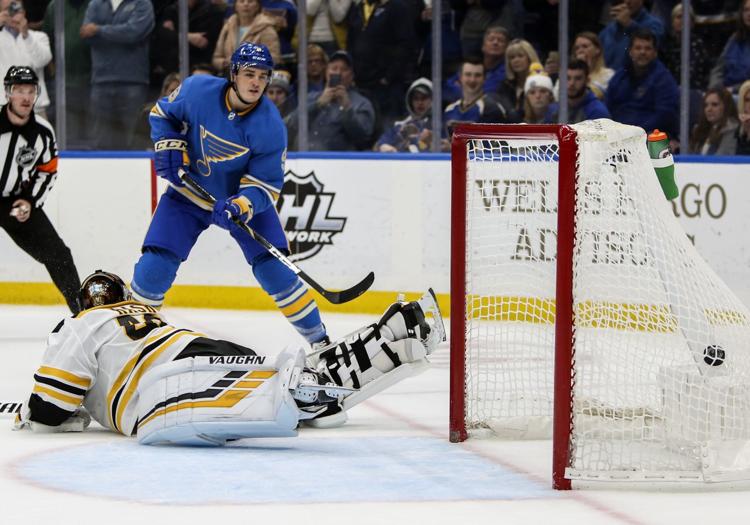 QUESTION: Any idea why the Blues struggle so badly to score on shootouts?
JT: Well, they certainly haven't been good this year. But Bozak, for example, is a 44 percent shooter on shootouts over his career. O'Reilly, Perron,, Tarasenko are all around 33 percent. Maybe it's something they should practice a little more.
---
Follow-up: When it comes to shootouts, the Blues show no creativity. An example is the shootout with Vancouver in October, where every shots was directed at the 5 hole.
JT: As I pointed out earlier, Bozak's success rate (44 percent) belies his simple approach. I think Blais and Thomas might be the type of players you're talking about as far as creativity, but they're still very young in the league and probably aren't established enough for Berube to trust them in a shootout situation. (Although Blais did score a shootout goal last year to beat Boston in the regular season -- in the 6th round).
WEARING THE 'A'
QUESTION: Schenn and Schwartz have worn the "A". Who else is going to get the rotating A? Is O'Reilly's "A" now permanent until Steen and Tarasenko return?
JT: Yeah, it looks like O'Reilly's "A" is "permanent" until Tarasenko returns. As for Steen's "A," I wonder if it will be rotated just between Schenn and Schwartz — maybe Schwartz wears it at home and Schenn on the road as has been the case so far. Or will there be more Blues in the rotation? Stay tuned on Friday in Columbus.
BLUES IN THE ALL-STAR GAME?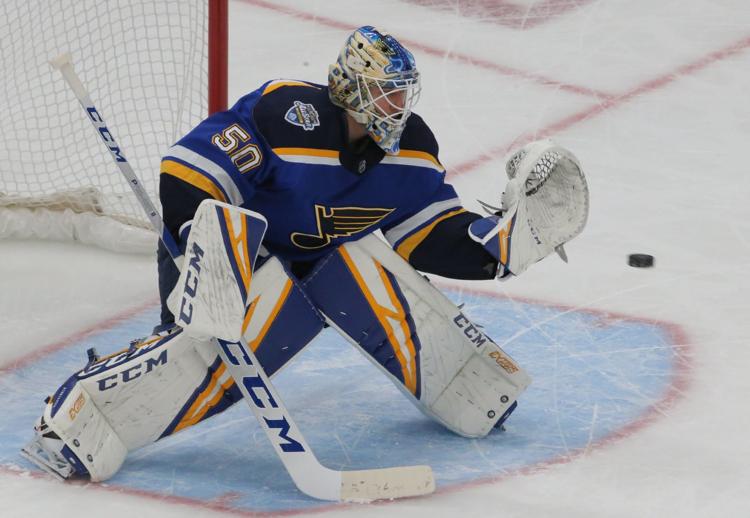 QUESTION: Will the Blues get more players in the All-Star Game because it is being played in St. Louis? Which Blues might make it?
JT: Right now I would say they most likely candidates on the Blues are, in no particular order: O'Reilly, Perron, Schenn, Pietrangelo. And if Binnington stays with his current level of play, maybe he squeezes in there.
But yeah, with the game in St. Louis, the Blues the defending Cup champion, and the team doing well (if that continues to be the case),I could see two — maybe 3 — from the Blues.
FAREWELL TO FABBRI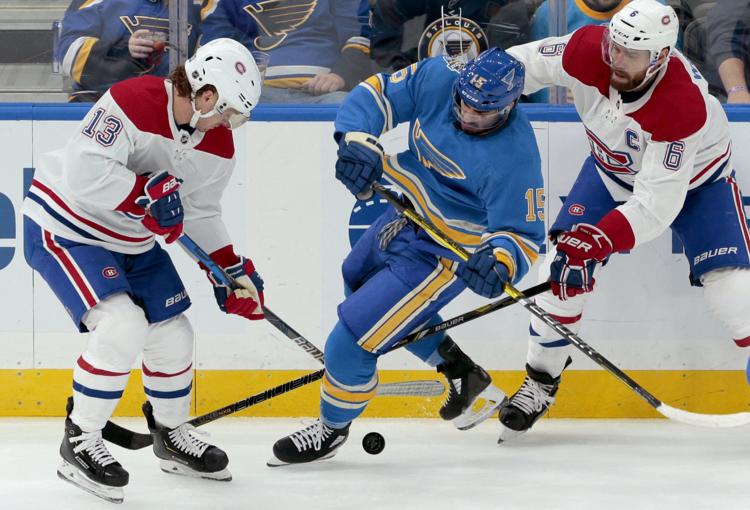 COMMENT: Figures that the critics would come out with Fabbri's good start in Detroit. Seriously, I wish him all the best after all he's gone through but he showed nothing since his rookie season to indicate he deserved a regular role with the Blues. Thankful the Blues got anyone for him. These other teams aren't stupid. They saw what the Blues saw. Your opinion?
JT: I would've liked to have seen the Blues commit to playing Fabbri 20-25 games with a regular role somewhere on the top 9 and see what happens. I've said that on the radio a couple of times. I do realize, however, that this is not just some extended training camp or preseason and you have to see results and see them relatively quickly. It's clear that Fabbri's style didn't fit what Berube wants in his players.
In terms of what the Blues got for Fabbri, you have to remember that there were cap ramifications — they traded a $900K player for a $900K player.
UNAPPRECIATED BY FANS?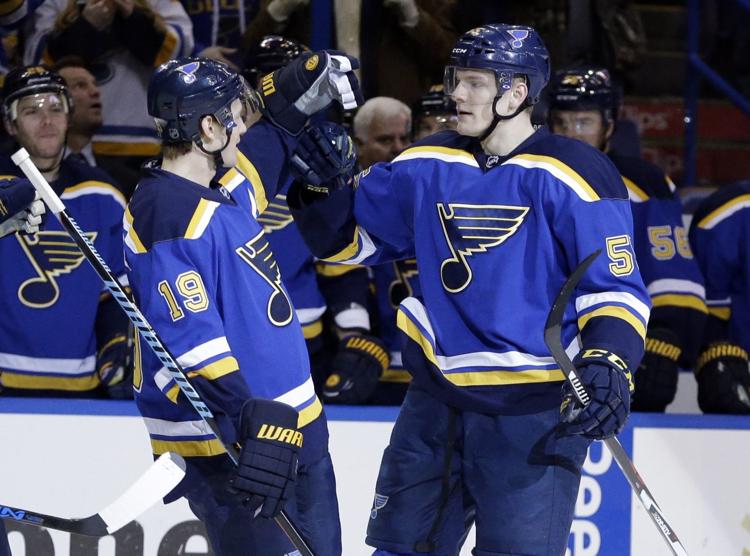 QUESTION: What current Blues player do you think is most under-appreciated by fans?
JT: I'd rank the top three in this order:
1. Bouwmeester
2. Parayko
3. Steen.
WHO'S THE ENFORCER?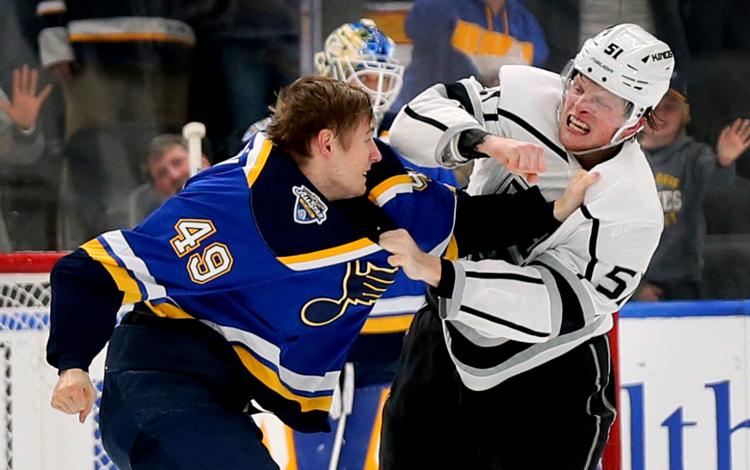 QUESTION: If Bortuzzo is not dressed, who are the Blues enforcers?
JT: The Blues don't have many fighters minus Maroon and Edmundson. Then again, there aren't many fights in the game these days. Blais and Barbashev certainly will throw their weight around. (Barbashev has the only Blues fight this season.) Schenn isn't afraid to drop the gloves. And I don't think MacEachern would be either. You saw Sundqvist jump to the aid of MacEachern the other day (Calgary).
So the Blues have a heavy, physical team without anyone really who would qualify as a classic enforcer.
PARAYKO'S HIDDEN TALENT?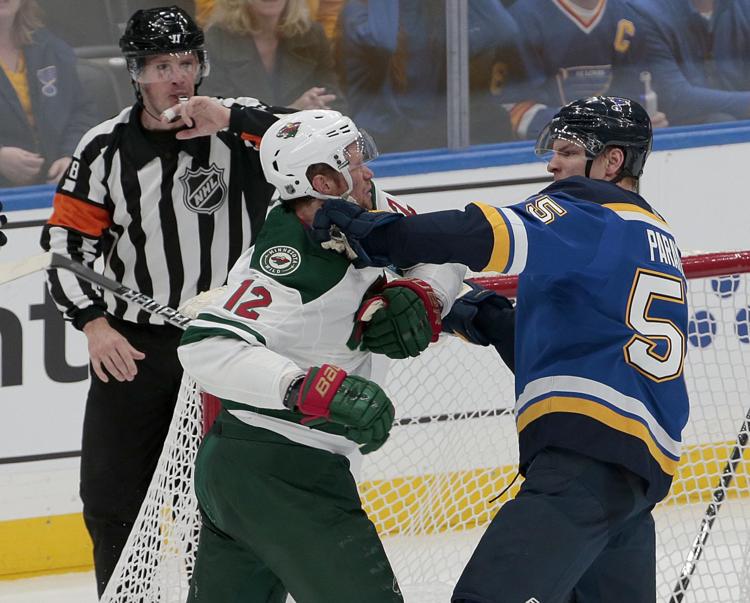 QUESTION: Which Blues player would it be the biggest mistake to provoke into a fight? Might be Parayko?
JT: Parayko is getting more physical, although I think we'd all still like to see more. I also think he falls into the category of doesn't know his own strength. I think we've all seen several occasions where it looks like he's barely shoving the other guy, and the guy either falls backward or crumples to the ice. With Parayko, it's just a matter of getting him worked up enough, mad enough (fight-wise).