About 10,000 people showed up when Vladimir Tarasenko had his Stanley Cup day last month in Novosibirsk, Russia.
"So maybe like 5,000, 6,000 had a chance to take a picture with the Cup," Tarasenko said.
Was Tarasenko in all those pictures?
"Almost every time," he said. "But I needed to have a rest. It's a lot of people."
Those were the warm and fuzzy days of summer. They were pretty crazy, too. The post Cup celebration and parade in St. Louis. Partying in Vegas. The sight of goalie Jordan Binnington wearing sunglasses indoors at the ESPY awards.
"I know some of the NBA players and rappers wear shades inside," Binnington deadpanned on Sunday. "I'm trying to make it my thing with the black shades there. I think it suits me. What do you think?"
There's more. During a rush hour traffic jam on Interstate 64 — on an exit ramp no less — a Blues fan popped out of his car to greet Binnington, who was stuck in traffic as well.
"We talked for a couple minutes and he was on his way," Binnington said. "He's a funny guy. I wasn't sure what he was doing, but he opened the door. Usually that means he's coming at you. But he was a pretty friendly guy and happy."
Last year at this time, Binnington was anonymous in this town. Those days are over.
"I can't really fly under the radar here," he said. "It's something to get used to. It comes with the territory. It's been a lot of fun. You can tell the influence this team has had on the city is very positive and it's fun to be a part of."
Young center Robert Thomas said the same thing happened to him this summer — he was approached by a fan while in his car. At least Thomas was at a stop light.
And count Tarasenko, Binnington and Thomas among what surely is a large number of Blues players who got meals and beverages comped for them at restaurants and establishments all over town.
"After we won, the people are paying for dinners and lunches," Tarasenko said. "They never show up (identify themselves), so you never know who it was. That was pretty nice. But St. Louis has been a nice hockey town always."
"You always appreciate a free meal," Binnington said. "I mean, free, right? It's been great, and I'm looking forward to more."
In a city that loves sports and loves its hometown sports heroes, these Blues will forever be legends in St. Louis after ending a half-century's worth of a Stanley Cup drought.
All fine and dandy. But training camp started Friday, and the Blues are actually playing an exhibition game — at least some of them — Monday night in Dallas.
Perhaps Tarasenko put it best when meeting with reporters Friday.
"I know you guys have a lot of questions about the Cup and all this stuff," he said. "Summer was nice, but it's time to get back to work. If we keep living with the Cup memories you don't have any success in the future."
It's a new season, and time to turn the page, to the point where the Blues even want to put their beloved celebration song — "Gloria" — to rest.
"I saw some 'Petro' words about it and I agree with him," Tarasenko said, referring to team captain Alex Pietrangelo. "It was a cool thing for last year. It'll be in our memories, too. But it's time to move on. I think we gotta get a new song. So we'll see. It's not about a song, it's about winning here."
It was a short offseason. Compared to a year ago, when the Blues didn't even make the playoffs, it was shorter by about more than two months. But the players have returned to camp looking refreshed and ready to go.
"We've got to start building what we want to do this year," veteran Alexander Steen said. "Bring with us what we can from last year, all the learning experiences that we went through, because we had a lot of them, especially looking at the first half of the year.
"But I think you start fresh. We've got to redo everything again. Build the same structure, the same team camaraderie and all those selfless things we were doing last year."
The Blues know if they don't, if they live in the past, they will be passed in the standings.
"You can't sit there and (say), 'We're Stanley Cup champions,' " coach Craig Berube said. "It's a tough league. It's tough to make the playoffs. There's a lot of good teams. Our division's very good. We gotta get ready. We got work to put in."
Berube was all about setting a tone and getting a pace established in the initial practices over the weekend.
"As a coaching staff, we gotta make sure we're monitoring our guys," Berube said. "They just finished playing, not long ago. But on the other side of things, we gotta get the tempo back up and get 'em going. We've gotta find a mixture there."
With an eighth preseason game this season and a short offseason, monitoring the workload of veteran players is one of the key points of emphasis in September.
"We'll have a 'big' camp longer than previous years, just because we're gonna want to make sure we have enough bodies to get through those games without taxing guys," Blues general manager Doug Armstrong said. "But we have to get ready for opening night (Oct. 2). It's coming very quickly. And Craig will work with his staff and talk to the veteran players on the number of games they feel are necessary."
With 22 of the team's 23 playoff participants returning, camp competition will be more about ice time than earning a roster spot. But hockey's here. The Blues play three exhibition games this week — all on the road.
The regular season is just 2½ weeks away.
---
10 questions as the Blues open camp
10 questions as Blues open camp
1. PARTY'S OVER. WHO'S HUNG OVER?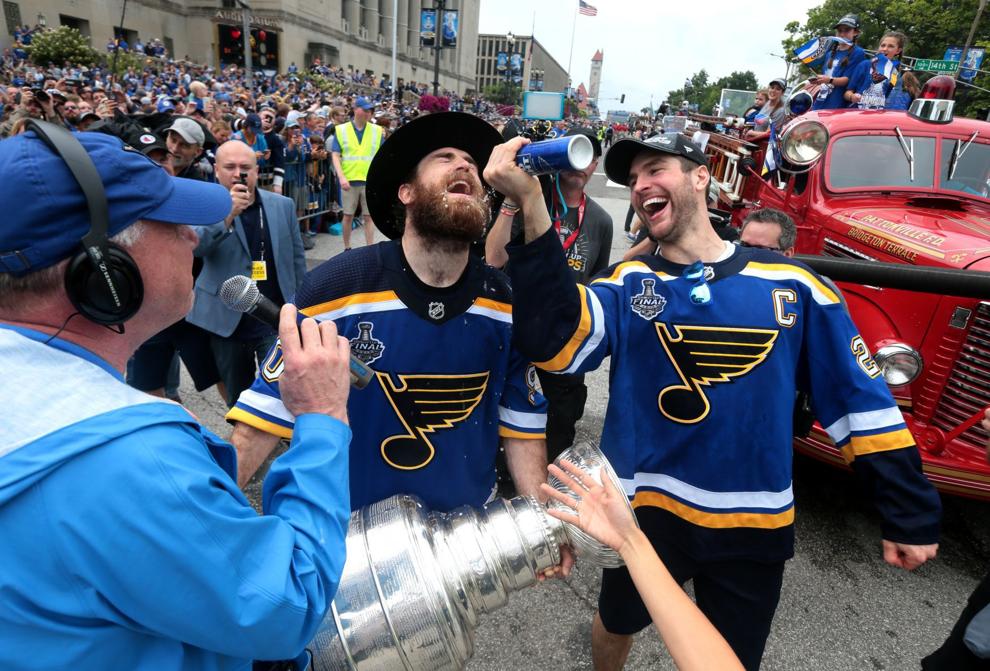 Over the past 20 years, only one NHL team has pulled off a repeat as Stanley Cup champions. That would be the Pittsburgh Penguins, who went back-to-back in 2015-16 and 2016-17. Over that same period, only two teams have failed to make the playoffs after winning the Cup the previous season: the Carolina Hurricanes stayed home after the 2006-07 campaign and the Los Angeles Kings did so after the 2014-15 season.
So where will the Blues fall along that spectrum? As mentioned, they won Game 7 of the Cup Final against Boston on June 12; they're back in camp on Sept. 13. That's barely three months of down time to recharge batteries, recover from the wear and tear of a season (and in a few cases surgery), and get in some training for the coming campaign. Are the Blues ready to go at it again?
2. CAN THEY STAY HUNGRY?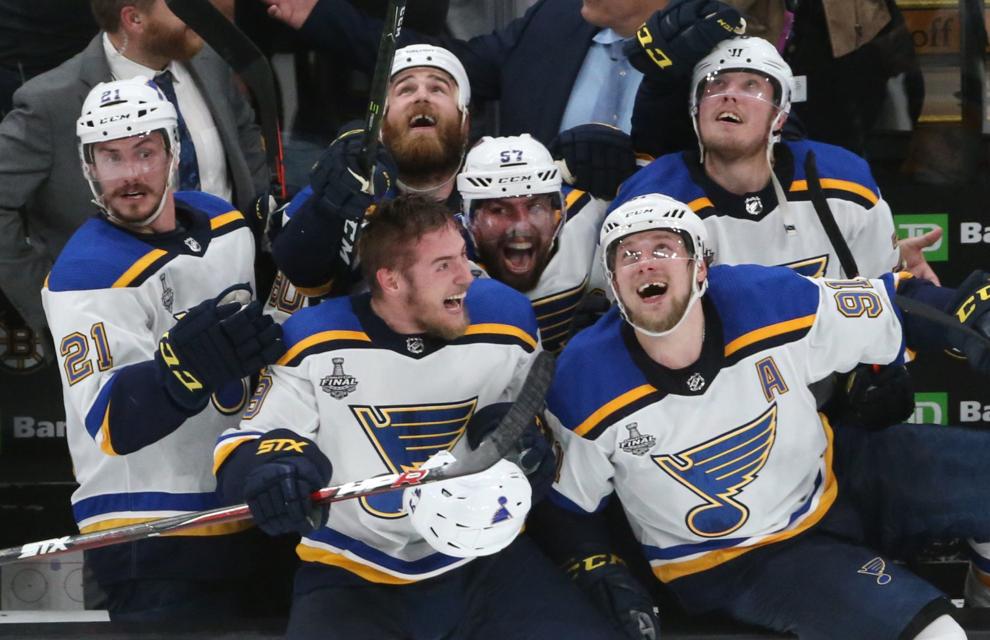 Hangovers are sometimes inevitable. Motivation is an entirely different thing. No matter what happens this season — or the next 20 seasons — the 2018-19 Blues will forever be legends in this town. They go down in local sports lore as the team that ended a dry spell that lasted a half-century by bringing St. Louis its first Stanley Cup. And they did so in dramatic fashion, going from worst in early January to first on June 12.
Will success spoil the Blues? Will heads swell? Did they train as hard in the offseason? Will they have the same resolve, resiliency, mental toughness that they displayed last season? The NHL is so balanced, the Central Division so stacked, even a slight dropoff could mean the difference between mounting a spirited title defense or being the '07 Hurricanes or '15 Kings.
3. BINNINGTON — STILL NOT NERVOUS?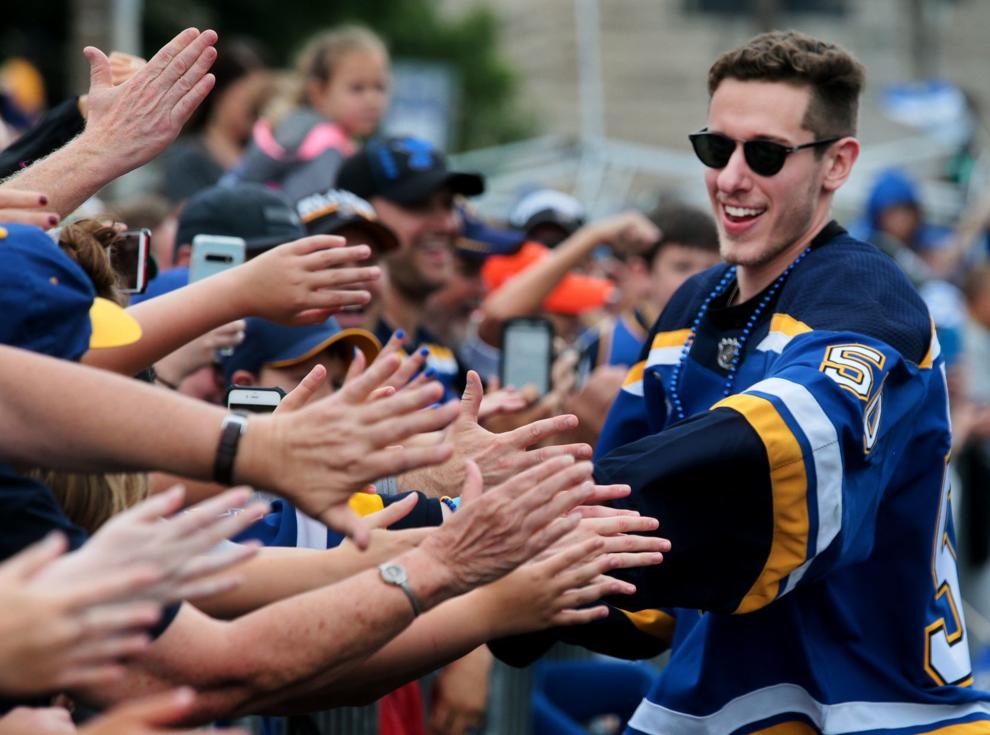 No one expects a repeat performance by Jordan Binnington — do we? But even if he's somewhere in the same area code as his out-of-nowhere performance last season, the Blues should be in good hands in goal. Even so, the entire NHL pretty much knows what he's about this time around. He won't sneak up on anyone.
Binnington played with a chip on his shoulder a year ago after being all but buried on the organizational depth chart. That fire and intensity was plain to see, long before he made his mark as a Stanley Cup champion. Little more than a year ago, Binnington was excited that his two-way contract paid him $100,000 even if he stayed in the AHL. Will success, and a two-year, $8.8 million contract change him? In other words, will Binnington actually get … nervous?
4. COULD THIS BE IT FOR PETRO AND/OR SCHENN?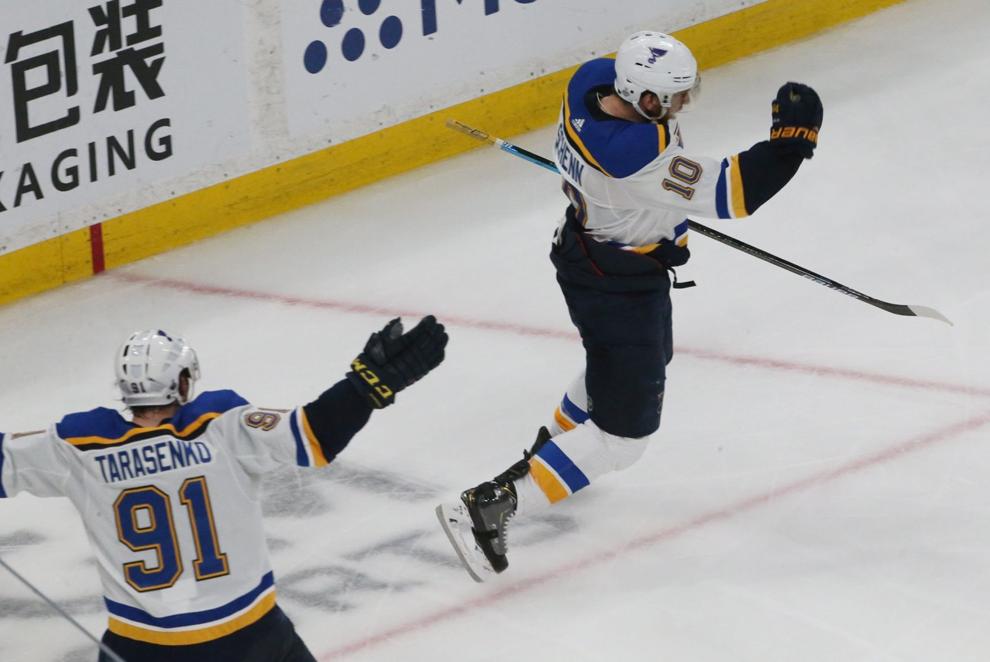 General manager Doug Armstrong and his front office staff have done a masterful job in recent seasons with roster management and managing the salary cap. The Blues have avoided situations where they've had to expose many players to unrestricted free agency in any particular offseason. They've been able to maneuver through tight cap situations while avoiding the cap issues that have plagued other teams.
Once again, they don't have many players scheduled for unrestricted free agency after this season. Then again, two who are, Alex Pietrangelo and Brayden Schenn, are two big names. Will the Blues be able to retain both players and remain in cap compliance? Do they want to retain both players? There are several factors that could affect the equation as the season unfolds, including team performance, the two players' performance, and whether the salary cap increases for 2020-21.
5. THIS YEAR'S 'SUNNY' SUNDQVIST IS . . . ?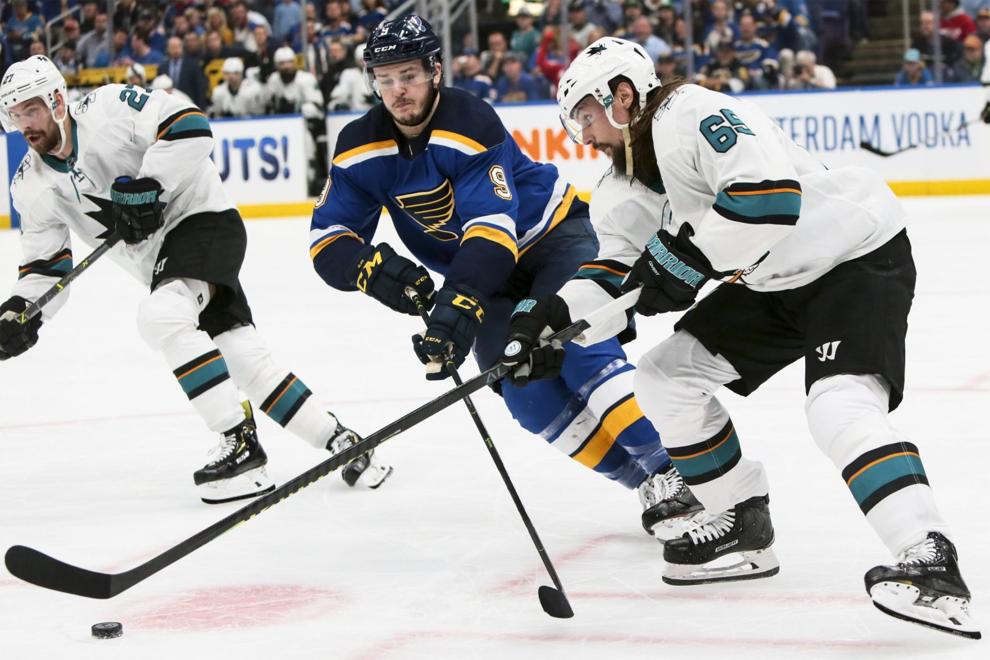 After a busy offseason of player acquisition, Oskar Sundqvist was anything but a lock to make the opening-day roster a year ago. But after an offseason of hard work, Sundqvist broke out with 14 goals and 17 assists in the '18-19 regular season and added four goals and five assists in the playoffs. He was one of the team's top penalty-killers and even saw power-play duty in the regular season.
So who is this year's breakout player? Sammy Blais, Zach Sanford and Robert Thomas are all candidates. In the 2014 draft, 175 players were taken before Blais, but he showed signs last season of combining physical play with scoring ability. Sanford displayed flashes of being an effective power forward. As for Thomas, he could make a significant leap from the nine goals he scored as a teenager last season.
6. HOW DO YOU MAKE THIS CLUB?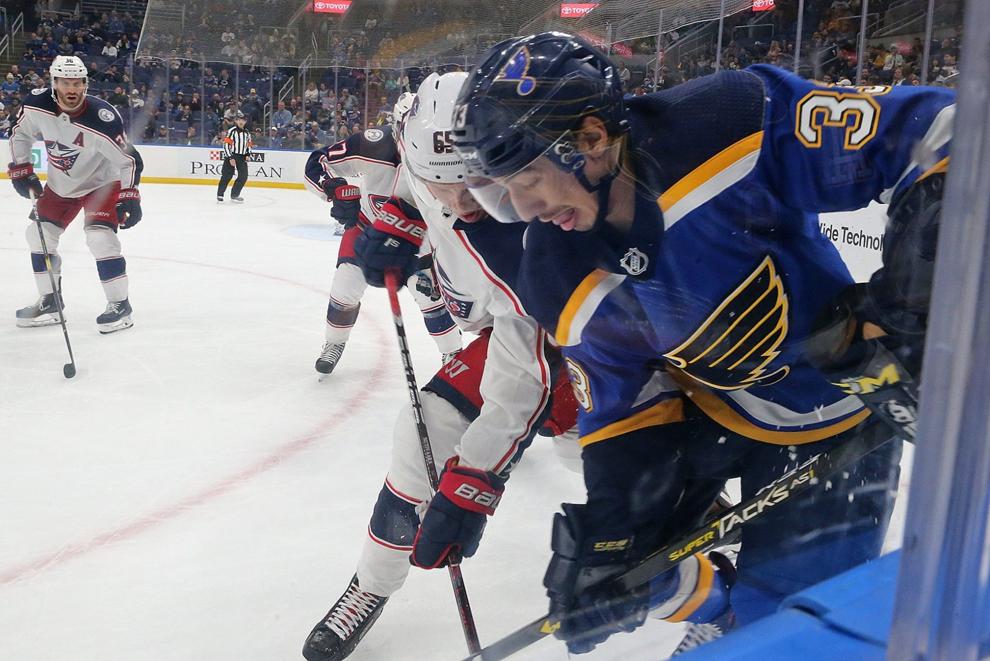 Pat Maroon signed a free-agent deal with Tampa Bay last month, but of the 23 Blues who appeared in the playoffs last season, he's the only departure. So for those prospects in San Antonio, how do you make this roster? Easier said than done barring injury. But injuries are a part of hockey, and at any given time in a season, it's safe to assume the Blues might be down a man or two.
That's where forwards Jordan Kyrou and Klim Kostin could step in, or defensemen Niko Mikkola and Mitch Reinke. Those four look like they're next in line to make a roster push, with Kyrou getting a taste of the NHL last season (16 games). Don't forget about Jordan Nolan as a potential call-up player. He has played in 375 NHL games — 14 for the Blues last season.
7. CAN SAVARD SPARK POWER PLAY?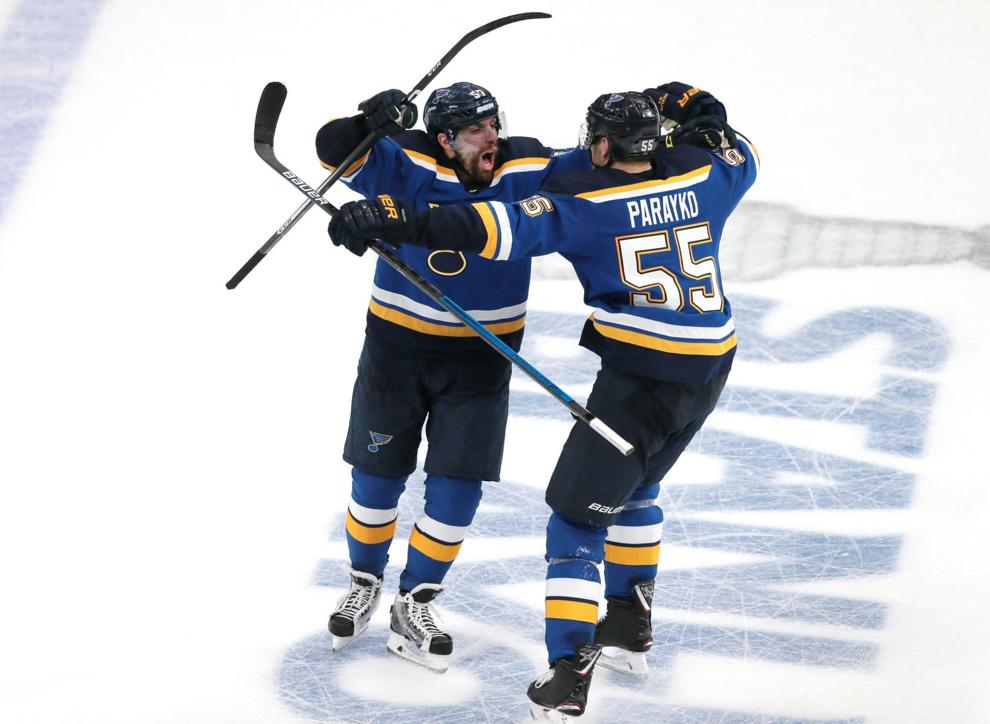 Marc Savard, whose NHL career spanned 13 season and more than 800 games, was added to the Blues' coaching staff — where among other things he's charged with improving the power play. It has been forgotten by many that the Blues finished a very respectable 10th in the regular season in power-play efficiency. But no one has forgotten the Stanley Cup Final series against Boston, in which the Blues somehow managed to win the Cup despite going an abysmal one-for-18 on the power play.
As a player, Savard knew a thing or two about scoring on the power play: 80 of his 207 career goals came with the man advantage, and he had three seasons with 10 or more power-play goals. But as a coach? Power-play tutelage or otherwise, that's a blank sheet. This is Savard's first coaching job.
8. WHICH SIX PLAY ON D?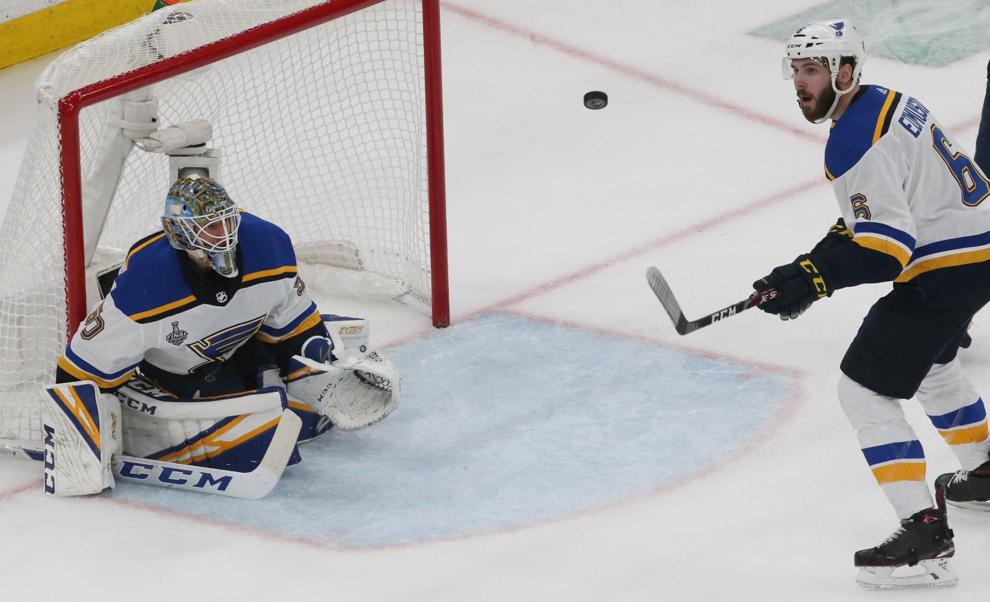 The Blues' top seven defensemen from a year ago all return. They have 3,532 games of NHL experience between them, ranging from Vince Dunn's 153 games to Jay Bouwmeester's 1,184. And those are just the regular-season games. The point being, all are NHL veterans — although Dunn is entering just his third season. And all are used to playing.
With rare exception, teams dress only six defensemen for games. So who's the odd man out on game day among the seven? Last year during the regular season, it wasn't much of an issue because the Blues rarely had all seven healthy and ready to go. But what if that's not the case this year? Joel Edmundson, whose role ranged from top defensive pairing all the way to healthy scratch at times, is someone to watch here.
9. NOW OR NEVER FOR FABBRI?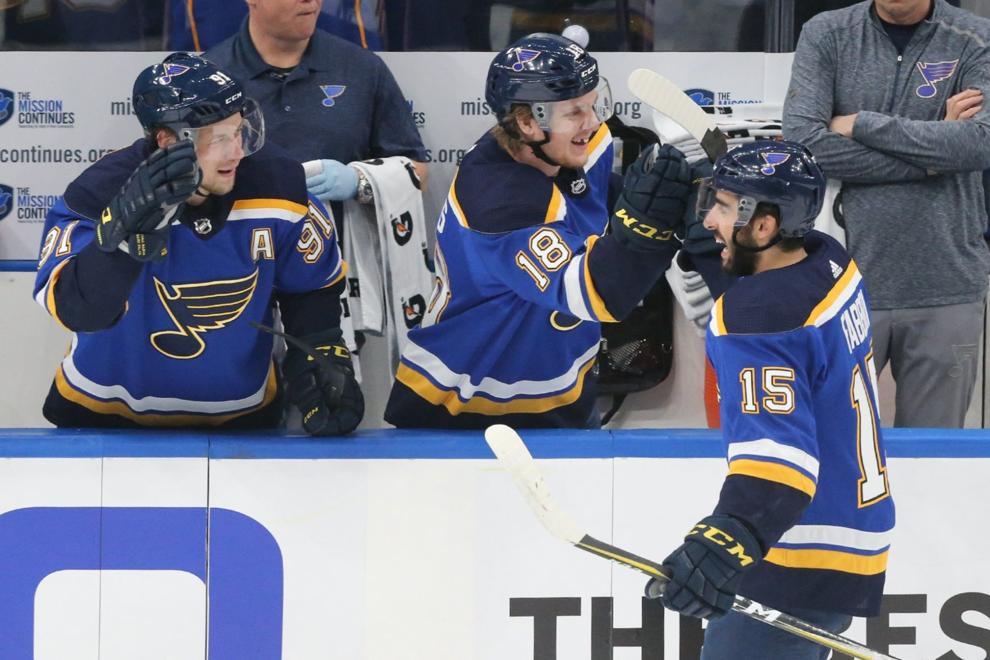 It's often the case that players recovering from major knee surgery, regardless of the sport, really return to form in their second season after the surgery. The Blues certainly hope that's the case with Robby Fabbri. He's actually coming back from two knee surgeries, but this is his second season back from the most recent procedure.
If Fabbri returns to form, and he showed flashes of it last season, he's a top six — certainly a top nine — forward. And if he doesn't? Well, the parade could pass him by in St. Louis, with young players such as Sammy Blais, Zach Sanford, Robert Thomas and prospects Jordan Kyrou and Klim Kostin all vying for a roster spot and playing time. This is a huge year for Fabbri, who looked like a star in the making not that long ago.
10. WILL HUSSO BOUNCE BACK?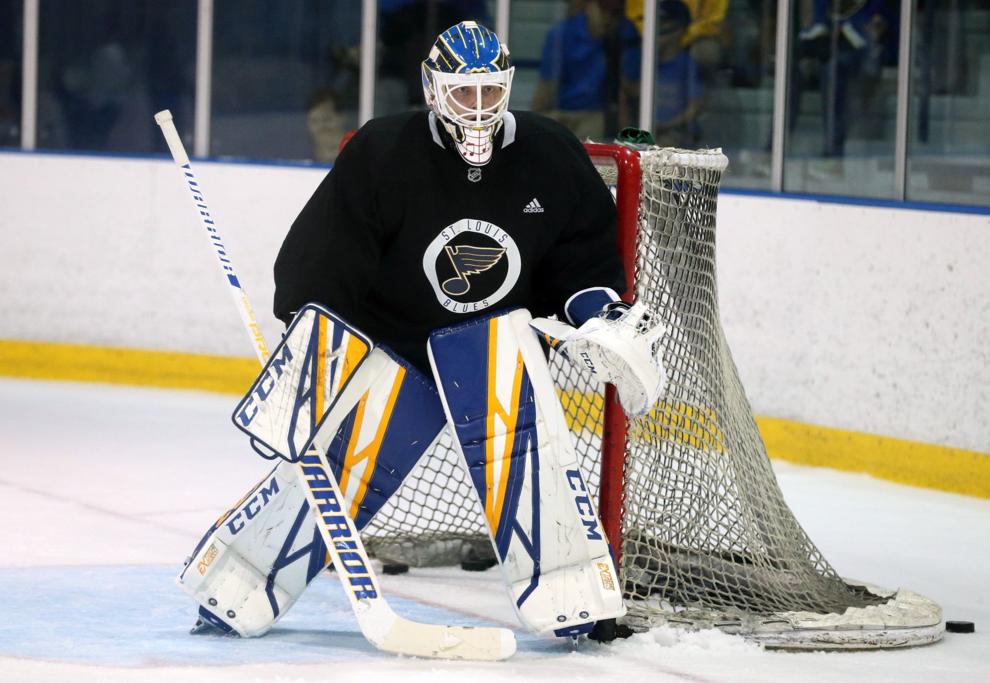 It's also a huge year for Ville Husso. Last year at this time, he was viewed as the Blues' goaltender of the future. Not Jordan Binnington. As such, he was ahead of Binnington on the organizational depth chart, third behind Jake Allen and Chad Johnson. A nagging ankle injury slowed Husso's development last season with the San Antonio Rampage, but even before the injury he wasn't posting the kind of numbers he had previously in the American Hockey League.
Once again, Husso enters camp as the Blues' No. 3 goalie behind Binnington and Allen. He needs a strong, injury-free year in San Antonio to restore the organization's faith that he can be a starting goalie in the NHL. In turn, that could eventually impact Allen's future with the team, or who knows — even Binnington's — if he struggles this season.