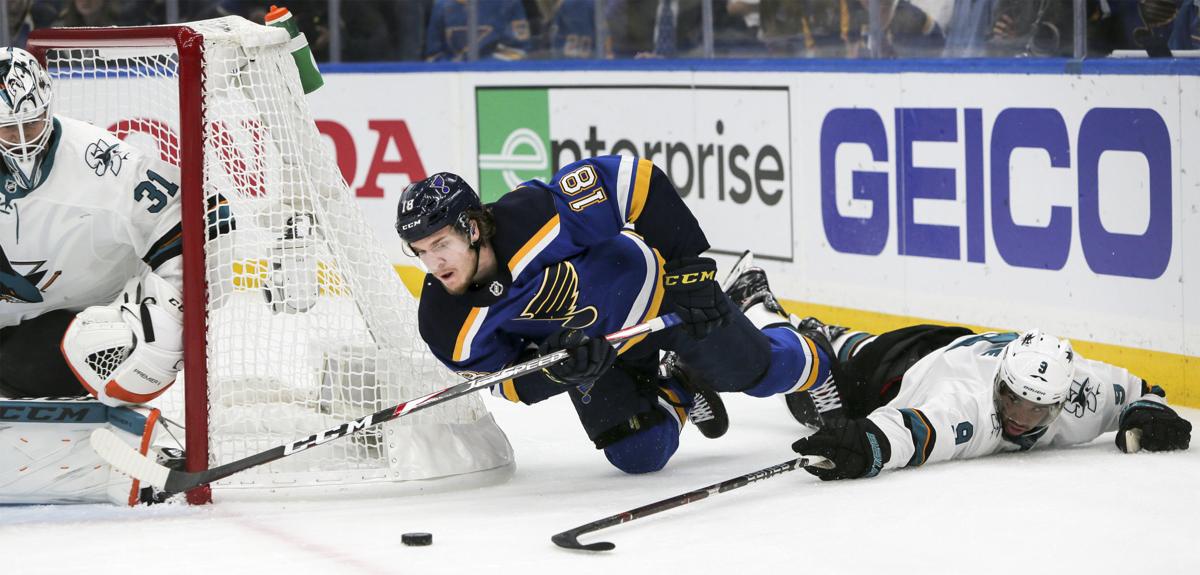 Some of the changes have been mandated by the league because of suspensions. Some have been because of injuries, or the recovery from injuries. Others because of how players have played.
But for whatever the reason, the Blues lineup has been in steady flux throughout the Stanley Cup Final and will have yet another new look for Game 6 on Sunday.
This time, Ivan Barbashev will be out because of a suspension; in to the lineup, it appeared on Saturday, will be forward Robert Thomas, who has been out since he got clobbered by Torey Krug in Game 1 of the series.
Blues coach Craig Berube said Thomas' absence was not related to the hit – he's been nursing a sore wrist for a while – and he said Thomas' return to the lineup would be – you guessed it – a gametime decision. But all signs pointed to his return. Thomas skated with his longtime linemates Tyler Bozak and Pat Maroon in practice on Saturday, with Sammy Blais, who had been filling in on that line, moving down to Barbashev's spot on the fourth line.
The return to the lineup of Thomas, who missed four games, may not have the dramatic effect of Boston's Zdeno Chara playing with what is thought to be a broken jaw, but the Blues are excited about it.
"Oh, it'd be awesome," said Maroon. "He has a lot of skill, he has speed, he brings a different element to the game and I think with him on our line, it makes our line a lot better. He drives the engine with his fresh legs and his young talent. It helps us go.
"He's been working hard to get back in the lineup. We'll see tomorrow if he plays. Obviously it's always good to see the kid out there skating around and he's been just itching to get back out there with the guys, so it's good to see him out there."
"He's an outstanding player," center Ryan O'Reilly said. "He's one of the guys that got us here with the way he performed and what he's done. To see him out there skating, it's obviously exciting. And if he gets a chance to get in the lineup, I think it's a big spark for us. He's an outstanding player that always impacts the game."
"He was out there today and we'll see tomorrow, for sure," Berube said. "It's a game-time decision. Obviously, he's been a very good player for us for a long time, and we'll see."
This will be the Blues' sixth game in the Final and their sixth lineup of 20 players. For Game 2, Thomas came out and was replaced by Robby Fabbri. After Game 2, Oskar Sundqvist was suspended and Zach Sanford went in for Game 3. For Game 4, Sundqvist came back, Sanford stayed in, Fabbri came out, Vince Dunn went back in and Robert Bortuzzo came out. For Game 5, Bortuzzo went back in and Joel Edmundson came out. Now, for Game 6, Barbashev will be out and Thomas will likely go back in. (The Bruins, meanwhile, have used three different rosters in their first five games.)
"We have good depth," Berube said, "which is very important on the back end and up front. A guy like Sanford coming in and doing a good job for us after being out for some time, and Sammy Blais, just different guys. It's really important."
If Blais moves down to the fourth line, as it looked on Saturday, he's a perfect fit to replace Barbashev. Barbashev's 80 hits are the second most in the postseason while Blais' average of 4.9 hits per game is the 10th most in the postseason and the most for anyone still playing. If the goal of the fourth line is to have an aggressive forecheck, Blais is cut out for that job.
"Not too much (difference without Barbashev), I think," fourth-line center Sundqvist said. "A new guy's going to come in. Me and (Alexander Steen) need to talk a lot and help who's going to play with us out. Obviously we're going to miss Barbie but we need to do the best we can to help whoever is coming in."
"It's tough to lose a guy like Barbie here," defenseman Carl Gunnarsson said. "Same thing with Sunny when he was out. But we got a ton of guys on the sideline just waiting to step up and we show that time and time again. Last time Sanford came in and played a great game, Fabbri's been in too. ... We feel bad for Barbie. He's obviously a big part of the team. Someone else is going to have to step up tomorrow."
Neither Steen nor Vladimir Tarasenko skated in practice on Saturday. Berube said it was maintenance for both. Tarasenko had the added complication of his wife having a baby on Friday night. Jordan Nolan, another certified hard-hitter, skated in Steen's spot and would be another candidate to come in for Barbashev, though he hasn't played since the middle of April.