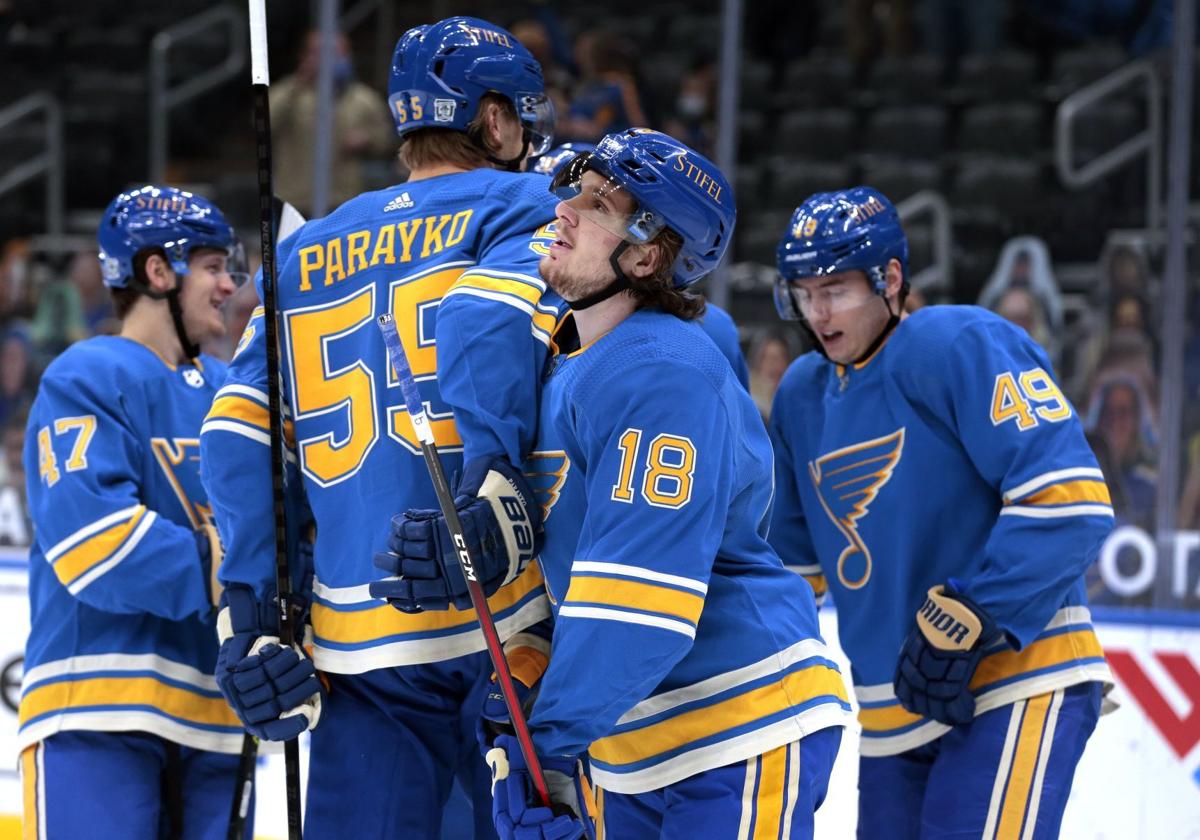 Struggling Robert Thomas finally got his first goal of the season. But he also suffered what appears to be a left wrist injury that made it a short afternoon for the 21-year-old forward.
He fell on the wrist in the first period just minutes after scoring to tie Saturday's matinee against Arizona at 1-1 and did not return.
Coach Craig Berube declined to discuss the injury after what became a 3-1 Blues loss at Enterprise Center.
Thomas' early-season struggles were, however, a topic of conversation during coach Berube's pregame media session.
"He's gonna get better," Berube said. "He's having a tough stretch right now. He's gotta work his way out of it. But you've gotta control a couple things. How hard you work. And how hard you compete. You can control those things, so first and foremost he's gotta make sure that he's outworking his opponent, outcompeting his opponent."
Berube talked about the need for Thomas to work closer to the net and take more shots. Thomas had only four shots on goal through the first 11 games of the season and only 12 overall shot attempts.
"He definitely needs to have a shooting mentality a little bit more than he does," Berube said. "I know he's a passer but he does have to have a shooting mentality, too."
Thomas appeared to take those words to heart before the injury with three shots on goal and a fourth attempt missing the net in his brief time on the ice.
And he was in close on his goal. Working around the net, Thomas sent a backhand from a tight angle that got past Coyotes goalie Darcy Kuemper at the 4:05 mark of the first period.
Just a few minutes later, Thomas went down with the injury. His day was done after just 3 minutes 1 second of ice time.
"It's unfortunate," captain Ryan O'Reilly said. "Losing another guy. We have to adjust and keep playing."
Sanford, Scandella out
Defenseman Marco Scandella and Zach Sanford both were held out of the lineup Saturday. Scandella's absence was pretty much expected. Sanford's not so much.
Scandella missed Game 4 of the season, Jan. 20 against San Jose, with an upper-body injury, and was a late scratch in Thursday's game against Arizona for the same reason. He didn't practice on Friday.
Berube didn't say if the current injury was related to, or an aggravation, of the first.
"We're going to re-evaluate him and keep watching him," Berube said. "He's day-to-day right now. That's the best information I can give you. We'll just go from there."
Sanford, meanwhile, was sick with the flu. He did not practice with the team Friday.
It's the first game Sanford has missed since Dec. 31, 2019, when he was a healthy scratch against Arizona.
Up from taxi squad
The Blues placed veteran center Tyler Bozak (upper-body) on the injured reserve list Friday.
"He's gonna be (out) a little bit yet," Berube said. "He hasn't skated yet."
Bozak had missed four games when he was placed on IR, and Saturday made his fifth. With defenseman Robert Bortuzzo already on IR with an apparent concussion, that made two roster spots available.
The Blues filled those vacancies by promoting forward Mackenzie MacEachern and defenseman Jake Walman from the taxi squad. Both were active Saturday, making their season debuts, with Walman playing 5:51 and flashing his speed on a couple of occasions.
MacEachern played 10:19, and saw more duty on the penalty kill (4:14) than any Blue other than O'Reilly (6:44) and Oskar Sundqvist (5:11).
"He did a good job killing," Berube said of MacEachern.
For MacEachern, it was his first Blues action since Game 6 of the team's playoff series against Vancouver on Aug. 21 in the Edmonton bubble.
For Walman, it was only his second NHL game since being drafted in the third round in 2014. His only other NHL game came Jan. 4 of last season against Vegas.
Coach Craig Berube got creative with the makeup of the second power play unit. Maybe it's time to shake up the first?