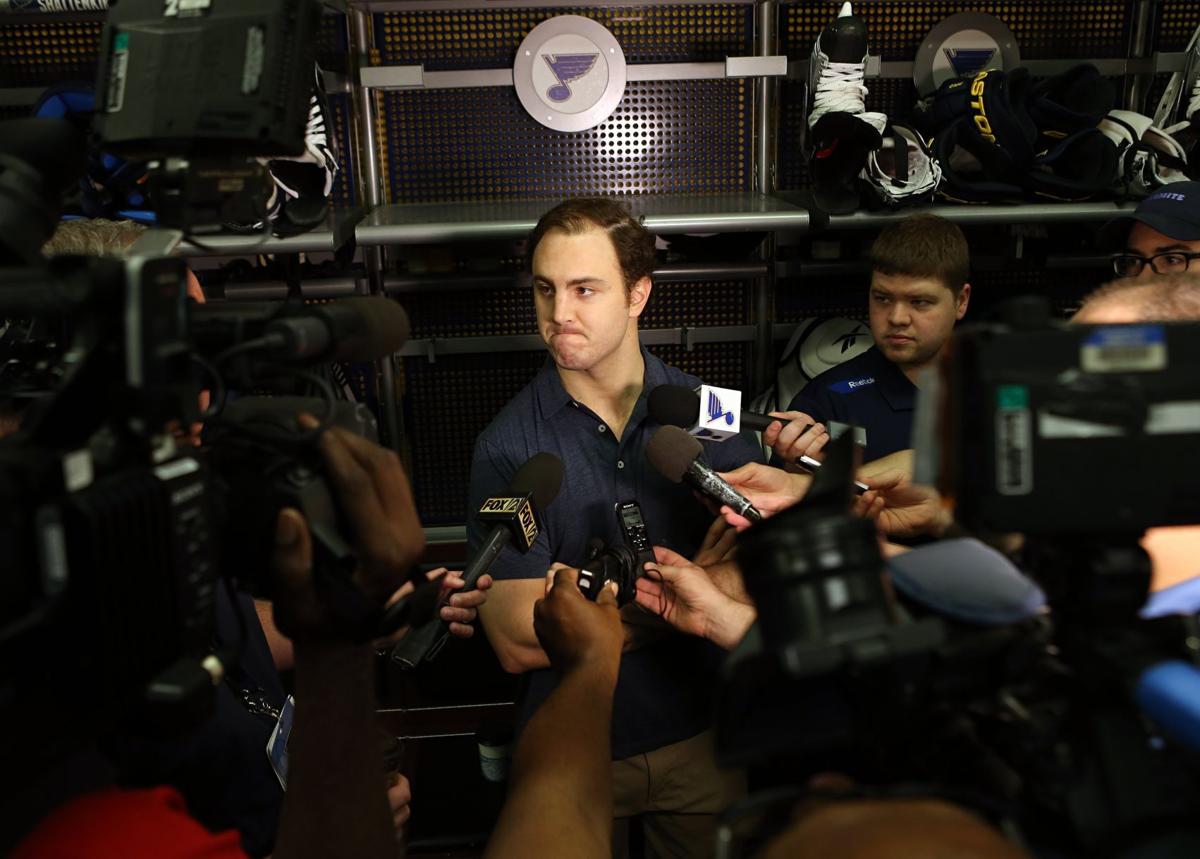 Now that the Blues are in their offseason, Kevin Shattenkirk will enter his third round of trade speculation in the past year.
The rumors began at the NHL draft last summer, when it was believed that the Blues were close on a blockbuster deal involving the All-Star defenseman and T.J. Oshie. Oshie was dealt, but Shattenkirk stayed. The talk picked up again before the league's trading deadline last February, but nothing materialized.
Facing a summer of salary-cap uncertainty, and with Shattenkirk entering the final season of his contract, the Blues could finally be reaching the point where they pull the trigger on what may be an unpopular yet necessary move.
"It was a wild year with all the rumors going on," Shattenkirk said. "It might plant the seed of doubt in your head but that's not my decision. I have a year left and this is where I want to be next year, so that's out of my hands unfortunately. It's the nature of the salary-cap league and it's tough.
"(But) you hear those rumors and you wonder what's going to happen and now you get into the offseason and you wonder what's going to happen again. We'll have to see what happens the next few weeks. Again, this is where is home is and this is where I want to be."
Shattenkirk, 27, wrapped up his fifth full season with the Blues last month. He had 14 goals and 44 points in 72 regular-season games, once again ranking in the top 25 among NHL defensemen.
Averaging more than 22 minutes of ice time per game, including 2½ minutes on the power play, Shattenkirk has provided the Blues with top-tier depth behind No. 1 defenseman Alex Pietrangelo, which his club realizes is a luxury.
But Blues general manager Doug Armstrong also realizes that he will have a tight squeeze fitting his roster under a salary cap that's expected to remain "relatively flat" from its current $71.4 million level. There is approximately $57.6 million committed to 16 players, which means less than $14 million left to sign as many as seven players.
The Blues have prioritized restricted free-agent forward Jaden Schwartz and also have interest in re-signing unrestricted free agent David Backes. Each player could command $6 million-plus, accounting for at least $12 million. That would dismiss the possibility of bringing back unrestricted free agent Troy Brouwer, and would make it difficult filling out the roster with free agent options that include Scottie Upshall, Kyle Brodziak and Steve Ott.
This is why Shattenkirk's future with the Blues seems in jeopardy. His salary-cap hit in 2016-17 will be $4.25 million, not to mention that his actual salary jumps to $5.2 million from $4.3 million. With the emergence of Colton Parayko ($858,750 cap hit), the Blues could find some cost savings this season if they find a trade partner for Shattenkirk. They would also not face the possibility of paying him $6 million to $7 million a year on a new contract after his current one expires next summer.
"I view him as a top player, not only on our team, I view him as a top player in the game," Armstrong said. "But he falls into the jigsaw of the salary cap. Do I expect him back here in September? Sure.
"(But) it's a business decision, and Shatty's going to have to make one and we're going to have to make one. But he's a hell of a hockey player and he's a big part of our team."
The situation is coming to a head after a regular season in which Shattenkirk saw his plus-minus rating drop to minus-14 from a plus-19 a year ago. He admitted that the speculation may have affected him.
"Once the deadline was over, it was a little bit of a nice breath to take and realize that you had a spot," Shattenkirk said. "But it was (tough). It was my first time really dealing with that. I had a good talk with 'Army' at one point in the season and he was honest with me, (saying), 'If this is real buzz, we'll talk about it, but right now just try to focus on your game.' (But) when that's all you're reading about, you start to ask questions in your own head, and it's hard not to do."
Then in the playoffs, Shattenkirk struggled, particularly in the Western Conference finals. In the first two rounds, he had 10 points and was a minus-1. But in the third round against San Jose, he managed just one assist and was a minus-7.
"They were a tough team for a lot of us on the back end, us offensive guys, to get any sort of mojo going," Shattenkirk said. "It was one of those teams that you felt like you had to worry about playing defense more than pushing the offense because they're so lethal. This was another step for me to realize that when you get to the Western Conference final, it gets tougher to create and be the player that I want to be. That's the lesson that I've really taken out of it."
But will Shattenkirk be back to apply those lessons with the Blues?
"I think (Armstrong) knows that this is a place that I like," Shattenkirk said. "The team that's built here has been built from the savvy moves that he has made. He's someone who doesn't make rash decisions, but he makes smart decisions. It's going to be up to him to have to make that decision."