They will lift a jersey to the scaffolding at Scottrade Center on Thursday night. It won't take much, some light cable, a small motor, a bit of torque. The garment itself weighs less than a pound.
What it carries with it, for a hockey franchise, for a rambunctious kid from Kirkland Lake, Ontario, is off the scales. Entwined in the fabric is 50 years of respect for what it meant to wear it, 50 years of loyalty to an honest game and a single team, 50 years of contributions to a dogged city and its genuine fans.
Bobby Plager's No. 5 will be the seventh jersey to be retired by the St. Louis Blues, the 123rd so honored among the 30 NHL cities. What it carries with it might outweigh them all.
"He deserves it," said Scotty Bowman, the legendary coach who mentored the Blues through their start-up seasons. "I'm so glad for him. You know, they use the expression to say someone is 'true Blue.' Well, no one could be more true Blue than him."
Photos: Bob Plager through the years with the Blues
Original St. Louis Blues player Bob Plager opened the team's 50th season between the St. Louis Blues and the Minnesota Wild on Thursday, Oct. 13, 2016, at the Scottrade Center in St. Louis. Plager was a member of the original 1967-68 St. Louis Blues team. 
Plager arrived in St. Louis by trade, not a deal with Brock-for-Broglio cachet, but an exchange no less remarkable. During the expansion draft of June 6, 1967, the Blues worked an arrangement with the Rangers to select their defenseman Rod Seiling, then trade him back for four young players.
One of the four, defenseman Gord Kannegiesser, played only 23 NHL games. But forward Gary Sabourin scored 136 goals in seven Blues seasons. Tim Ecclestone became a valuable two-way winger over four Blues seasons. And 21-year-old Bobby Plager — later joined by older brother Barclay and younger brother Billy — became the heart and soul of the franchise.
The expression "hard to play against" is a standard piece of today's hockey jargon. Since inception, there never has been a group harder to play against than the original St. Louis Blues. They set a tone, established an identity and applied a principle to reach the Stanley Cup finals in each of the first three seasons. They assigned a personality to the note on the sweater that has never faded.
In the late 1960s and early 1970s, teams primarily played two sets of defensemen. For the Blues, the pairs were Al Arbour and Barclay Plager, Noel Picard and Bobby Plager. Hard to play against? They were a shot-blocking, hip-checking, crease-clearing nightmare to play against.
"If anybody had their head down, they took their chances," Bowman said.
Plager wore that jersey through 11 years, 615 regular-season games, 74 playoff games and 957 penalty minutes. But that's not the half of it, literally. When he arrived in the summer of '67, he knew next to nothing about this town. When his playing career ended in the winter of '78, he never left.
He has been a Blue in every capacity imaginable, from scout to coach to broadcaster. He has become ingrained in the city the way treasured athletes rarely do. Chances are you have met Bobby Plager; certainly someone you know has. Chances are there was a joke involved, a belly laugh, an autograph, a picture, or all of the above.
It is his nature to be a self-effacing jester, to make people laugh and to laugh right along. It cloaks the more cerebral side, the intuitive qualities, the organic hockey acumen. In 1990-91, the Blues asked Plager to coach their Peoria team in the International Hockey League, just for one season while they found a replacement. The Rivermen lost all of their preseason exhibitions, then lost their opening game 4-2. At the end of the night, a Peoria writer asked Plager if he was concerned about the poor start.
"Have you ever covered hockey before?" Plager asked in a friendly manner. "Listen, if we play the way we played tonight, we're going to win a lot of games."
The Rivermen won the next 18 in a row, finished 58-19-0-5 and won the Turner Cup. Plager's "struggling" squad scored 405 goals in 82 games, almost five per night. David Bruce had 64 goals in 60 games, Kelly Chase had 20 goals and 406 penalty minutes and 5-foot-10, 165-pound winger Nelson Emerson had 115 points.
"I had a lot of coaches throughout my career," said Emerson, who played 11 NHL seasons, including two as a popular winger in St. Louis (1991-93). "People ask me who was the best coach I ever played for and Bobby's at the top of the list."
In in his own inestimable way, Plager knew which buttons to push and how to push them.
"He could sense the room and he knew what the room needed," added Emerson, now a director of player development for the Los Angeles Kings. "You talk about funniness and jokes and all of that stuff, but our team was smart enough to look past all of that and know the reason for it.
"Sometimes the smartest people in the room, who have so much to offer, do it in a lot of different ways. Once we won and once we all moved on, we realized, 'Holy crap! That was one of the smartest hockey people I've ever been around in my life.'
"We had an incredible team and he used all the wisdom he had to help so many of us make it to the NHL."
Emerson can tell you lots of stories from that season. But what he remembers most had nothing to do with hockey or stories. What he remembers most is Melissa Plager, Bobby's daughter, sitting in the stands for nearly every home game.
"She drove down from St. Louis all the time," Emerson recalled. "It was just something that caught my eye, you know. It was like, Bobby's with us every day at practice, he's here riding the buses with us … But every weekend his daughter would be right there by his side.
"It was something that, as I moved on, it stayed with me. You know, this is a business, it's a game, but it's family that really helps us get through important times in our lives. There was something about it that said something about Bobby, something I've never forgotten."
Emotions will run high on Thursday. There's not a player or staff member of the Blues — past or present — who has not grown to appreciate Plager. There's not a bleeder of Blue who doesn't hold him dear. The man of the moment will be bursting. Thumbnails of family, friends and teammates will fast-forward through his mind.
Four prominent figures in his life have passed away over the last 15 months: Arbour, Jimmy Roberts, Dickie Moore and brother Billy. Two men most instrumental in his playing career, Bowman and Emile Francis, won't be able to attend. He will be thinking of them.
He will be thinking of his parents, Edith and Gus, and thinking of his brothers. Billy died at age 70 in January last year. Barclay was taken by cancer at the age of 46 in 1988. The 1969 night Bowman started all three Plagers on a forward line remains one of Bobby's most cherished memories. Barclay was his idol, still is.
He will picture a shift alongside "one tough cookie," his long-time partner Picard. He will remember his first years in a St. Louis dressing room, mouth shut and ears open, absorbing the wisdom imparted by the likes of Doug Harvey, Glenn Hall, Jacques Plante, Jean-Guy Talbot and Phil Goyette. It was Hockey 101, taught by Stanley Cup PhDs, available to someone smart enough to listen.
Bobby Plager will be thinking of the distance he has traveled from the ponds of Kirkland Lake to the roof at 1401 Clark Ave., grateful to all those who helped him cover it.
"What's happening to me … it's not like Bob Plager went out there and did this," Plager said. "This thing that is going on is because of them, coaches and players that people today don't even know about, or remember."
But no nod to Robert Bryant Plager should be too sentimental; he wouldn't have it. No tribute can suffice without a story.
"In those days, all the players were signed to one-year contracts," Bowman recalled. "After the first year, I was doing the contracts and there was no real forethought to it. Whoever was around at the time would come in and you would get it done.
"So one day I signed Barclay and then, as it happened, I had Bob in after that. And he floored me because he said, 'I'll just leave it up to you. You know what I'm worth, just give me what you want.'
"Then, as he was getting ready to leave, he said, 'But I'll tell you what, I won't take a nickel less than Barclay.'" Bowman paused to laugh: "Of course, he knew exactly what Barclay's contract was. I said, 'OK,' and we gave him the same as Barclay."
So they raise Bobby Plager's jersey on Thursday. He was the first to be penalized for the Blues, the first to assist on a Blues goal. He was first into the stands on that 1972 night in Philadelphia, the first to arrive if you messed with Red Berenson.
And now, he will be where he belongs, No. 5 in your rafters, No. 1 in your hearts. Right there with Barclay, not a nickel less.
The brawl in Philadelphia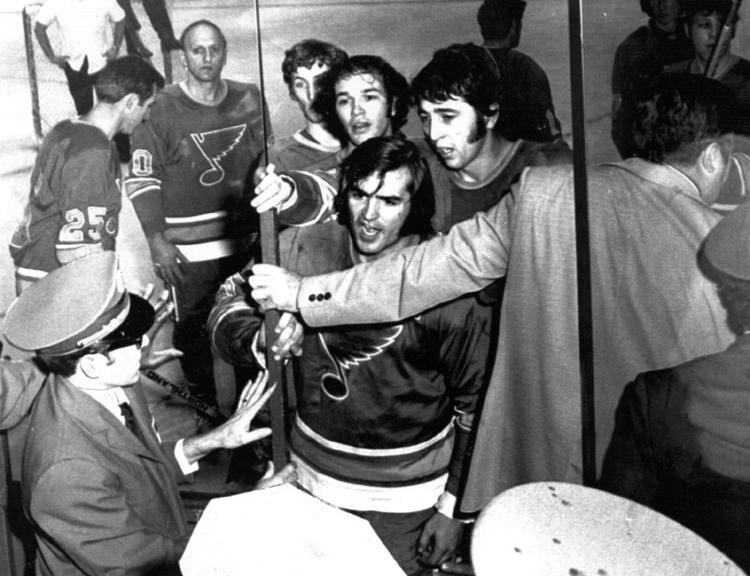 Holy headwound!
The handcuff debate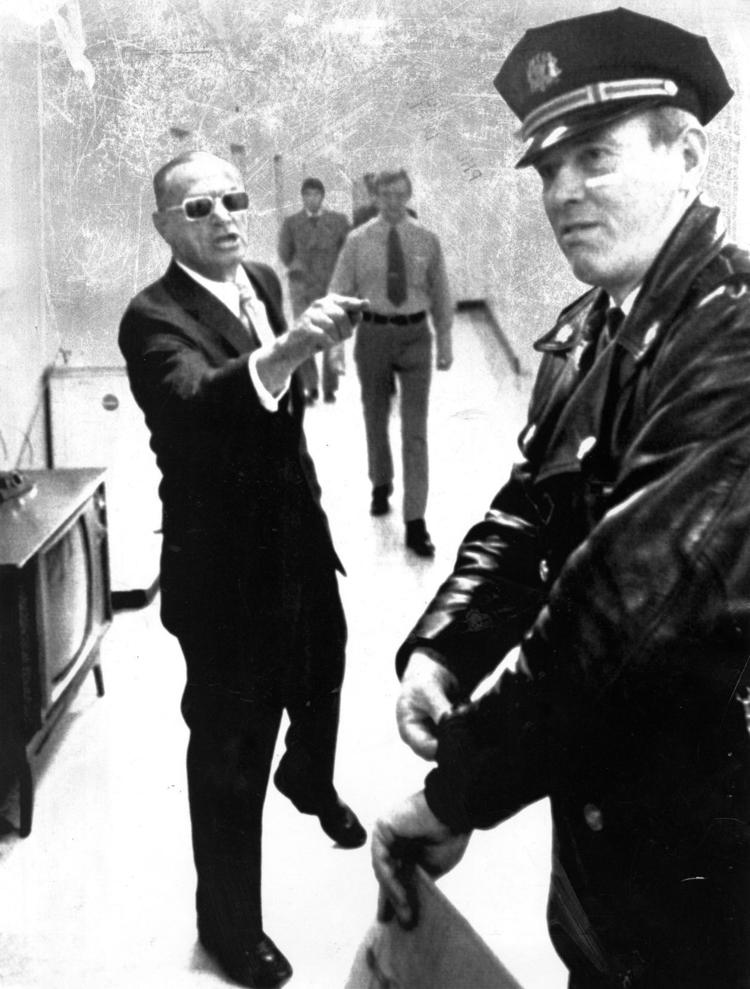 To the paddywagon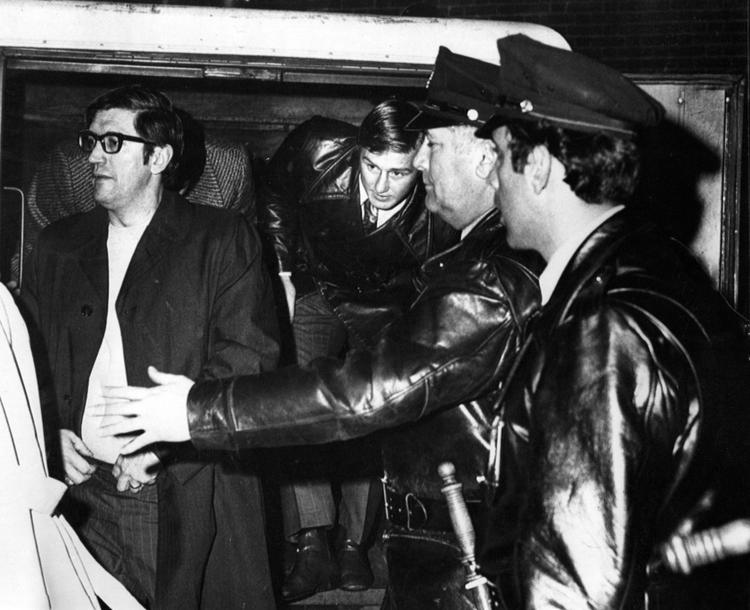 Video highlights: Duane Dow's TV report
Post-Dispatch coverage: A wild stick-swinging melee
In what owner Sidney Salomon called 'the worst case of police brutality that I've ever seen,' coach Al Arbour, and players John Arbour, Phil R…