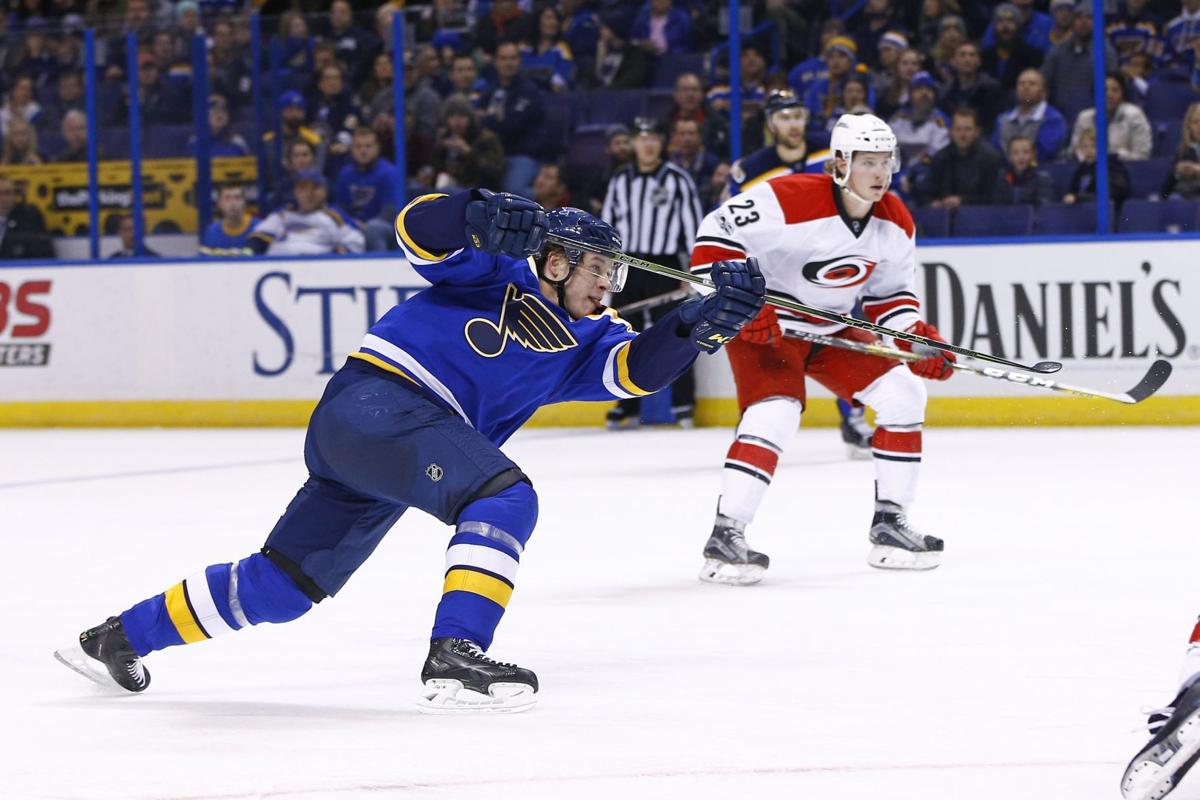 One thing about the Blues this season: The good times don't last long.
The Blues continued their boomerang season, ending up right back where they started as once again they followed up an optimism-generating win with a game that can only induce pessimism. This wasn't so much a hangover from the Winter Classic as it was the latest in a series of hangovers from wins. For the seventh straight time, the Blues couldn't follow up a win with another win, a streak that goes back to just after Thanksgiving.
So this was nothing new. This time, the Blues followed up their impressive Winter Classic win over the Blackhawks with a 4-2 loss to the Carolina Hurricanes, who are most definitely not the Chicago Blackhawks. The loss left the Blues 2-2 in their season-long six-game homestand with two games to go before setting off on a stretch of a lot of road games and very few home games.
"I thought that was our worst game of the year," goalie Jake Allen said. "We need to look ourselves in the mirror after that game. Unfocused, (didn't execute), just didn't play our game at all. … I thought we had a lot more to give coming off the Chicago game, from all of us. I think we all need to get back real soon. We've got a huge divisional game coming this weekend."
While others wouldn't go so far as to label it the team's worst game this season — let's face it, there is some competition — it certainly did suffer by comparison to Monday. The Blues had chances but went just 1 for 5 on the power play and were outshot overall with a man advantage 4-2 with the best scoring chances belonging to Carolina.
"We certainly lost both ends of the special teams, battling — we got outworked," Blues coach Ken Hitchcock said. "That's not a good sign. … Pucks off the boards, won faceoffs, won battles. The winning goal, we had a chance to get it 200 feet to win a board battle. We didn't win it. Those are the details that matter. Game's on the line. Doesn't matter where the energy's at, we're in a position to get points in the game and we didn't do it. Very disappointing."
The Blues had two power plays in the third period but managed just one shot on goal total against the league's top-ranked penalty kill.
"We knew they would be aggressive and we'd have to move quick," center Paul Stastny said. "We just weren't ready for it. … When you play close games like this, special teams always makes a difference."
The Blues now have been outscored 28-13 in the past seven games immediately following wins. Those wins have produced all sorts of good vibes — a six-goal effort against Philadelphia, an overtime win in Dallas without Stastny and Alex Pietrangelo, an overtime win over powerhouse Montreal — none of which led to anything other than a loss.
"It's just frustrating," Stastny said. "That's more mental than anything. If we look slow, mentally we're playing different or playing hesitant. That's the part we have to sharpen up. No one's going to help us, we have to look within each other and do it. "
"This is attitude consistency," Hitchcock said. "We needed to really dig in and regroup with each other and we didn't have enough people doing it today. You can't play the game when you're losing as many races to pucks and battles — that's the game. Our first goal was a great example of that. Did a great job on it. We needed more people involved in the game today. Many more."
The team's past seven games have alternated losses and wins and they haven't won two in a row since the first game of December. They're not losing ground, but they're not gaining any either.
"If you do that," Stastny said, "you're a .500 hockey team and will be scratching to get in the playoffs. It's almost 40 games into the season so we have to find a way to turn this around in the 10-game stretch before the All-Star break."
Carolina got the game-winner on a power-play goal by Jeff Skinner with 6:08 to play in the third period that took a just-big-enough redirection off defenseman Jay Bouwmeester's skate. The Hurricanes got the power play when Brad Hunt was called for slashing trying to break up a breakaway by Jordan Staal. "I just tried to hit the puck and slashed him a little bit," Hunt said. "I guess that's the way it goes. Obviously it sucks but I've just got to learn from it and move on."
The Blues got their goals from likely and unlikely candidates. Joel Edmundson got the first and Vladimir Tarasenko got the second. It was the first of the season for Edmundson and the 19th for Tarasenko.
The Blues gave up a goal 69 seconds in to fall behind but tied the game early in the second period on a shot from the point by Edmundson around a screen by David Perron and then went ahead on Tarasenko's goal, a power-play goal that started with an Allen save and ended with Robby Fabbri feeding the fast-charging Tarasenko for the goal.
The lead, though, didn't last. Jay McClement, one of three one-time Blues draft picks on the Carolina roster (along with Ty Rattie and Lee Stempniak), took a shot that hit Allen and went in to tie the game with 8:58 to go in the second.
And then the third went the way a lot of third periods have lately for the Blues, getting outscored 2-0 after a late empty-netter.
"It definitely wears on you," Edmundson said of the inability to run wins together, "but we're trying to stay positive in here. We know we have a good team, so we've just got to stick to the system and the wins will come."