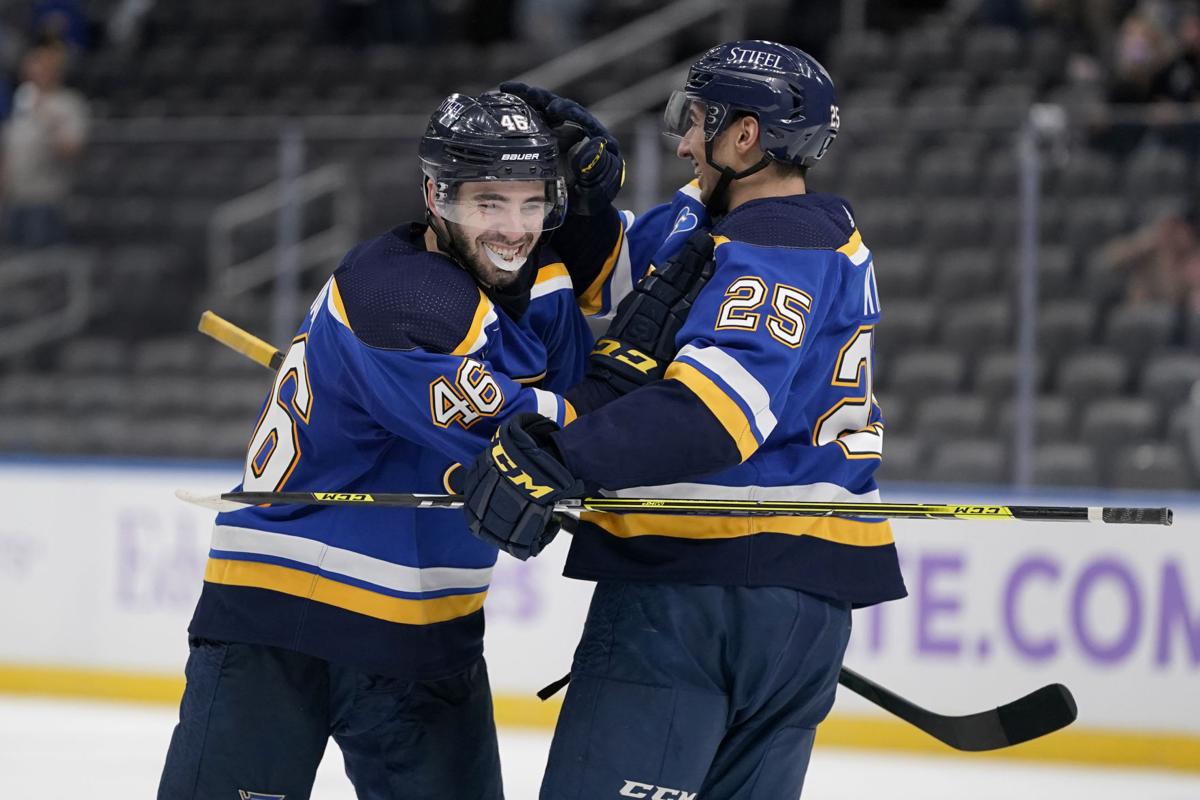 Blues goalie Jordan Binnington knows a thing or two about perseverance. He was drafted in 2011 and was in his sixth season in the minors before getting called up full-time to the NHL in the 2018-19 season.
So he knows what Jake Walman has been going through.
Walman was drafted by the Blues in 2014 and then played three seasons of college hockey and three more in the minors before making his NHL debut last season six weeks shy of his 24th birthday. He started this season in the bullpen again, either on the taxi squad or as a healthy scratch, waiting for that chance.
"I saw the work this guy put in the last few summers, especially this summer, this offseason," said Binnington, who trains in the same gym in Toronto in the offseason. "He wanted to be up here. He believed in himself. … I think he kind of took it in his own hands and learned from experiences. It's nice to see it come together for him."
Walman has finally gotten his chance and has been making the most of it. After making two cameo appearances for the Blues early in the season when they chose to dress seven defensemen (and he was No. 7), injuries opened up a door for him and he has gradually laid claim to one of the six defensive spots. He has played in nine of the past 11 games and figures to be back in the lineup on Friday when the Blues face Minnesota as their desperate stretch drive continues.
Walman's first NHL goal was an attention-getter in that game, especially since it came during the month of the NHL's Hockey Fights Cancer awareness program and Walman had written the name of his uncle Doug Wilkie, who died of cancer last April, on his stick for the game, but even before that, his play was earning him ice time. Coach Craig Berube has used him in overtime and in Denver, he was sent out to help kill a five-on-three advantage for the Avalanche. "Did a great job," Berube said.
"He's feeling a lot more comfortable, he feels good, he's skating well, and he's making good puck decisions," said Robert Bortuzzo, who is frequently paired with young defensemen, from Joel Edmundson to Vince Dunn and, on several occasions this season, Walman. "That's going to be a big part of his game, coming out of our end and making the first pass clean and supporting the rush as opposed to kind of leading it. He's been doing that, he's been real solid here. He's been doing well."
What the Blues' defensive picture looks like after this season is unclear. Someone on the current unit is likely to be gone. But Walman has shown that he can have a place in the team's plans, despite how long it has taken him to get here.
"It's great," he said. "Getting the trust of the coaching staff is something I've been working on and just doing the little things right to stay in the lineup and help the team win and just keep going with that. Working hard every day, and if I'm not playing, in practice I'm working hard and it translates to the game."
Colton Parayko's return temporarily bumped Walman from the lineup on Monday, but he was back in on Wednesday, taking Bortuzzo's spot.
"That's all mental stuff," Walman said, "and I've gone through ups and downs in my career and it's nothing different. Just stay in the moment and work hard and when the chance comes again, be prepared."
He's been prepared for a while, but just hasn't gotten the chance.
"The last two years I thought he had really good training camps," Berube said. "Last year was just a numbers game. Obviously we had a lot of veterans on the back end and didn't have room for him. This year, with what's going on here and taxi squad and that stuff, he's getting an opportunity and he's making the best of it."
The Blues defense has taken some hits lately. Jay Bouwmeester's career abruptly ended last season when he had a heart episode in a game in February 2020. Alex Pietrangelo signed with Vegas in the offseason. Carl Gunnarsson was lost for the season this February when he tore up his right knee. Bortuzzo missed 10 games with a concussion, Marco Scandella missed seven with an upper-body injury and Parayko missed 21 with a back injury. All of that had to happen for Walman to get his shot.
Dunn and Walman briefly overlapped with Chicago Wolves in 2016-17. Dunn was just out of juniors and that was his only AHL season before going to the NHL. Walman, eight months older than Dunn, joined the Wolves after his college season had ended and would have three more years in the AHL before getting his chance.
"He's kind of been in and out of the lineup so I know that's not always easy on him," Dunn said. "He takes a lot of pride when he's in the lineup. I think sometimes he's a little too hard on himself, but I thought last game, he was just instinctive and jumped in holes and that's his game. He's the guy that can turn the play around, change from defense to offense very quickly. I think he's a very good skater and a good puck mover and has a hell of a shot. He plays to his strengths and I thought he did a great job, playing safe when he needed to and taking advantage of jumping in holes like he did on that goal."
Walman's goal was big for him as a tribute to his uncle, and big for the team. It made a 2-0 Blues lead 3-0, which made holding off Vegas' late push just a little easier. A player's first NHL goal makes everyone happy, but the Blues were ecstatic about that goal.
"It's been a long path for him and to see him get that first goal is big," Binnington said. "He's got to keep working and keep competing every day."
If he hadn't done that, he wouldn't be getting this chance now.
Post-Dispatch beat reporters Jim Thomas and Tom Timmermann joined columnist Jeff Gordon to discuss the end of the Blues' losing streak and sig…