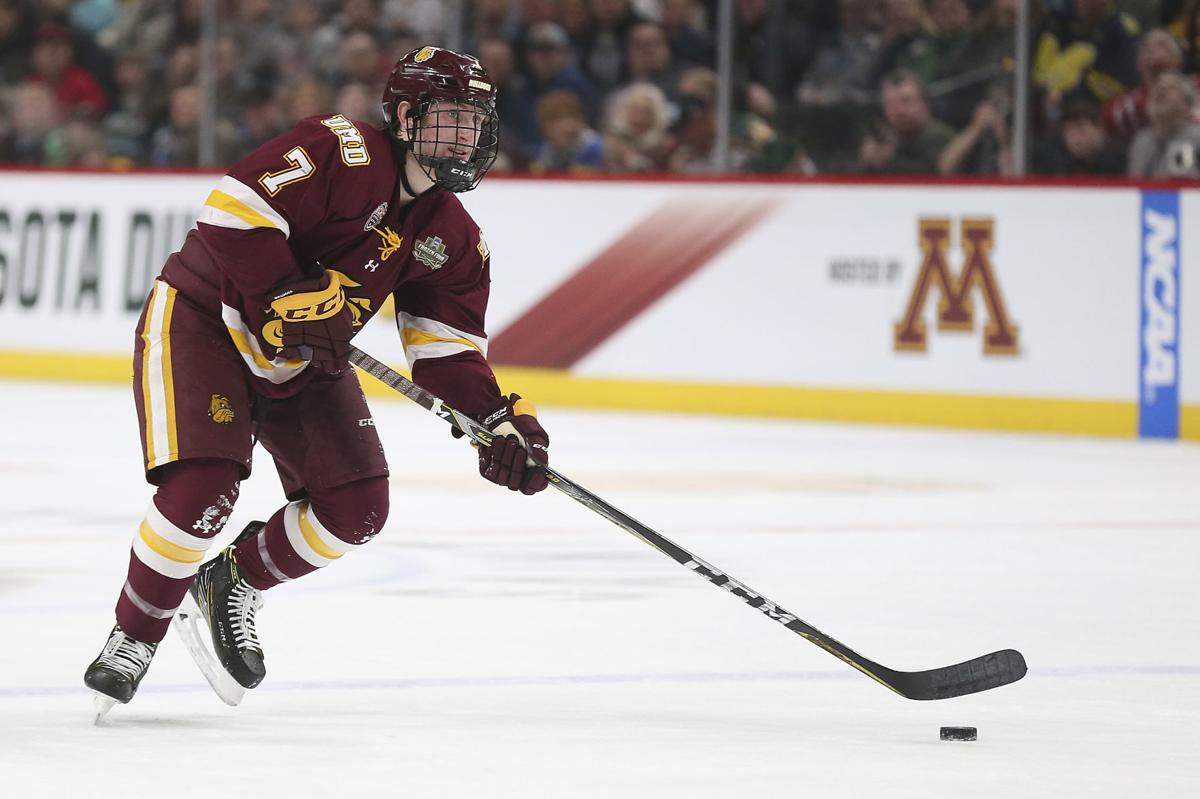 Once he steps on the ice for St. Louis, which could be sooner than you think, defenseman Scott Perunovich will become the latest Minnesota-Duluth product to don the Blue note.
Hockey Hall of Famer Brett Hull spent two seasons there in the mid 1980s. Three-time NHL all-star Justin Faulk played for Minnesota-Duluth's NCAA championship team in 2011.
And now Perunovich, who heard from Faulk after agreeing to terms on a two-year entry-level deal with the Blues a week ago.
"Just talked to me for a few minutes, kind of welcoming me," Perunovich said. "Let me know if I needed anything just to call him. It was nice having that."
Perunovich was driving from Duluth to the family cabin at Side Lake when Faulk reached out. When the Post-Dispatch caught up with Perunovich this week, he was walking Milo — part mini goldendoodle, part Aussie — near the lake and cabin, which is about 20 minutes from his hometown of Hibbing, Minn.
From the sound of Perunovich huffing and puffing up and down hills, it sounded like Milo was walking Perunovich.
"Taking Milo is a lot more exercise than I thought," Perunovich said. "So I think I'm gonna count this as a workout. He's flying around."
After the NCAA canceled its hockey season March 12, the same day the NHL indefinitely suspended play due to the coronavirus pandemic, Perunovich set up a gym at the cabin for workouts. Apparently Milo will do his part as well.
Perunovich's college season — and college career — may be over, but there's an outside chance he will play Blues hockey if the NHL season continues. On March 27, the Blues announced an unusual arrangement in which Perunovich agreed to a pair of contracts: one that begins this season if the NHL resumes play. And one that begins in 2020-21 if this NHL season is canceled.
"I'm not even sure whose idea that was exactly," Perunovich said. "But I think it benefited both of us that they came to that agreement."
It was a telling indicator of the high regard in which the Blues hold Perunovich, starting with his selection in Round 2 of the 2018 NHL draft.
During this just-completed college season, director of player development Tim Taylor, development coach Glen Wesley, and amateur scout Keith Tkachuk all beat a steady path to Duluth to see Perunovich.
The topper was a visit by general manager Doug Armstrong to Kalamazoo, Mich., in late February when Minnesota-Duluth played a two-game conference series with Western Michigan. It was a "two-fer" for Armstrong because Blues prospect Hugh McGing — who signed an entry-level deal with the Blues earlier this spring — was on the Western Michigan squad.
"That was extremely special to me," Perunovich said. "It was kind of like a surreal moment to have an NHL GM come to one of my games."
All that attention paid off, because Perunovich had the option of becoming an unrestricted free agent this offseason. But he stayed true Blues.
"St. Louis did a great job of kind of bringing me in from the beginning," Perunovich said. "They drafted me when no one else would. And they drafted me pretty high. That's important to me that they decided to take me.
"I thought that we've had a good connection ever since. And I've been meeting with a lot of the guys after my games in college and we've had a great relationship."
Whenever he makes his Blues debut, Perunovich won't be hard to find on the ice. On a D-corps full of tall skaters, he'll be the little guy (5-9, 175 pounds). That may the reason why a lot of teams passed on Perunovich.
But at the college level at least, great things came in small packages. Perunovich has accomplished just about everything possible in college hockey.
"He's won a couple of championships," Minnesota-Duluth coach Scott Sandelin said. "He's been the player of the year in our league. He's been a first-team guy three years in a row and he'll be an all-American again. I mean, he might win the Hobey Baker."
(Perunovich is one of three finalists for the Hobey Baker Award, which will be announced at the end of next week and goes to college hockey's national player of the year.)
Minnesota-Duluth's hopes for a third straight national championship ended when the season was canceled, and that removed any doubt about whether Perunovich would return for his senior year. There wasn't much doubt anyway, although Perunovich did remember a playful conversation from earlier in the season.
"I was talking to my roommate one night, that if we did win another (title) I would come back," Perunovich said. "But I don't think we shook on it. I think that was just having a little fun one night."
Smaller, quicker, offensively-skilled defensemen seem to be thriving in the NHL these days. The list includes Torey Krug of the Boston Bruins, Quinn Hughes of the Vancouver Canucks and Adam Fox of the New York Rangers.
At Minnesota-Duluth, Sandelin frequently referred to Perunovich as a fourth forward on the ice.
"I always knew he was a really talented offensive player with some special gifts," Sandelin said. "He's always been that undersized guy but just tremendous hockey IQ. He's got a great feel for the game.
If Sandelin has one quibble with Perunovich's game, it's that he doesn't shoot enough. He's very much a pass-first player.
"He's got vision, can make plays you don't see other guys make," Sandelin said. "He's got great deception. I always joke with our guys — you gotta make sure you're always ready when Scotty's on the ice. Especially in the offensive zone because he'll make those plays through deception and try plays that a lot of guys don't see."
Which sounds like a defenseman version of Robert Thomas, doesn't it?
The latest STL Blues hockey news, NHL headlines, scores, standings and rosters.