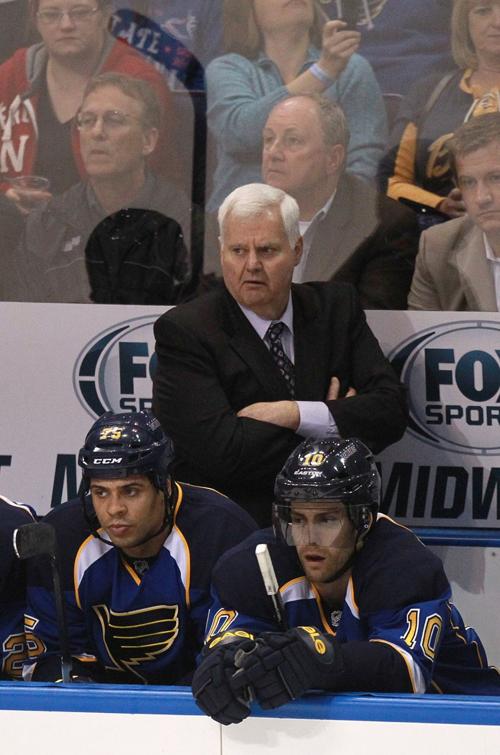 As of Tuesday morning, the Blues' courtship of Detroit coach Mike Babcock continued, and in the meantime, Ken Hitchcock is awaiting word on his future with the franchise.
The Post-Dispatch reported earlier this week that the Blues were one of four NHL teams who received permission from the Red Wings to speak with Babcock, whose contract expires in June. The others are Buffalo, Toronto and San Jose.
Blues general manager Doug Armstrong met with Babcock at the IIHF World Championships in the Czech Republic and expressed the team's interest. Both have returned to North America — Babcock to suburban Detroit, where he is mulling his decision.
Babcock, 52, is meeting with Detroit general manager Ken Holland Tuesday and could have an announcement as soon as Wednesday, according to multiple reports. The Red Wings have made him a four-year contract offer that would make him the highest-paid coach in NHL history, but Babcock preferred to test the market first.
"Just going to re-visit everything one more time (with Holland)," Babcock told MLive.com on Monday. "I've talked to all the teams I'm talking to ... I learned a lot. I talked to lots of good people. I kept Kenny abreast the whole time. We'll talk one more time (Tuesday) and then I'll sit down with my family one more time (Tuesday) night and make a decision."
Meanwhile, many are wondering whether the Blues have kept Hitchcock abreast the whole time. His contract, like Babcock's, expires in June. Armstrong and Hitchcock both said after the club was knocked out of the playoffs in April that they needed time to evaluate their respective situations.
The two agreed that they would reconvene when Armstrong returned from the World Championships. 
During that time, Hitchcock has continued to show up at the Blues' practice facility, watching game film and searching for answers to the team's third straight first-round playoff exit. It's believed that after doing so, he has decided that he does want to return for a fifth season with the Blues.
But does Armstrong have other plans? Well, seeing his strong pursuit of Babcock, the answer is obvious: yes.
And here is where it gets sticky.
Armstrong, Babcock and Hitchcock are all close, winning gold medals together at the last two Olympics with Team Canada. Some feel that Babcock would not be interested, and certainly not go to the extent of interviewing for a job currently held by Hitchcock. And how could the Blues do this to Hitchcock, who has led them to three of the best regular-season records in club history?
It's believed that while the Blues are awaiting an answer from Babcock, Armstrong has been up front with Hitchcock the entire way. While there may be a feeling of "twisting in the wind," Hitchcock appears to be understanding of the fact that the Blues need to conduct their due diligence.
The Blues are approaching this decision with the long-term future in mind, not just next season, and with Babcock available now, it makes sense to explore the possibility.
But what if Babcock says "no" to the Blues?
The list of candidates outside the Detroit bench boss is short and underwhelming. Todd McLellan, who left San Jose this offseason, will be named as Edmonton's next coach Tuesday afternoon. The Sharks are said to be interested in former New Jersey coach Pete DeBoer and former Pittsburgh coach Dan Bylsma. Meanwhile, if Babcock does return to the Red Wings, Buffalo and Toronto will still be looking for coaches as well.
The likely scenario is that the Blues would turn back to Hitchcock, despite the fact that it's now known that they are trying to replace him. It doesn't seem like the club would be worried about how that looks from the outside, because the Blues were trying to bring in one of the league's top coaches and would be returning to one who has won the fourth most games in history.
That's where the situation stood Tuesday. We could have an answer by Wednesday.