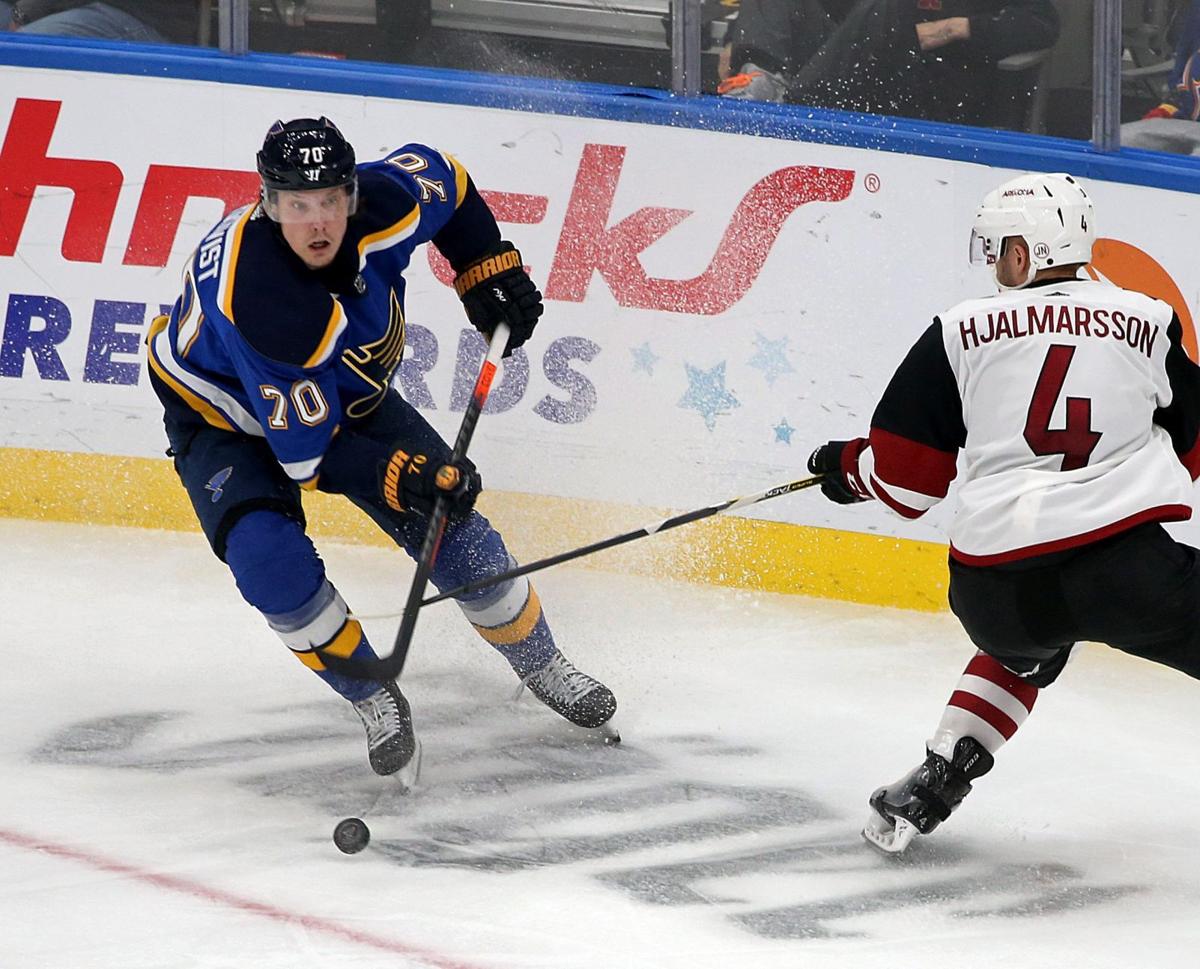 By this time next season, there will be a 32nd team in the NHL — the Seattle Kraken. And that means next offseason Seattle will start stocking its roster in the NHL expansion draft.
Granted, no one knows for sure when this season (2020-21) will start because of the ongoing coronavirus pandemic. So pinning down exactly the next offseason starts is a bit of a crap shoot.
But it's coming, which means one player on the Blues' current roster probably will head to Seattle for its 2021-22 inaugural season.
Who will be that Blues player? And who will they protect?
Before getting into that, let's go over the rules. It's a refresher course actually because it's the same set of rules used so successfully by the Vegas Golden Knights in their 2017 expansion draft to help build an instant Western Conference contender.
The Kraken must select 30 players — one from every team except the Golden Knights. Vegas is exempt from the draft. The overall contract value of those 30 players must be at least 60% of the overall salary cap of $81.5 million. That prevents the Kraken from loading up on younger, cheaper players.
One other thing to keep in mind. The Kraken have a 48-hour window before the expansion draft to sign any pending free agent left unprotected by a team. If a team loses a free-agent to the Kraken during this signing window, that team does not lose a player in the draft.
On the flip side, the Blues have two options in terms of players they can protect:
• They can protect seven forwards, three defensemen and one goaltender — or a total of 11 players.
• Or they can protect eight skaters and one goalie — or a total of nine players. This options gives a team the flexibility of protecting more than three defensemen. But it comes at a cost; the team gets to protect two fewer players overall (nine instead of 11.)
The Blues went with the 11-player option during the Vegas expansion draft: seven forwards, three defensemen and one goalie. They're likely to go the same route in the Seattle draft.
Only three of the 11 players protected in 2017 — just three seasons ago —remain on the Blues' roster. Their protected list then:
Forwards: Patrick Berglund, Ryan Reaves, Jaden Schwartz, Vladmir Sobotka, Paul Stastny, Alexander Steen and Vladimir Tarasenko.
Defensemen: Jay Bouweester, Joel Edmundson and Alex Pietrangelo.
So today's jewels might not look so valuable two or three years down the road. Schwartz, Steen and Tarasenko are the only remaining Blues from that list, and Steen is nearing the end of his career.
Before taking a stab at the Blues' potential protected list for the Seattle expansion, let's look at the contract situation after this season. At the moment, forwards Schwartz, Steen and Tyler Bozak are scheduled for unrestricted free agency. On defense, Carl Gunnarsson is scheduled for unrestricted agency. And so is goalie Jordan Binnington.
Among that group, the only "musts" in terms of re-signing would seem to be Schwartz and Binnington. Bozak, Steen and Gunnarsson have been valuable players, but all will be age 35 or older at this time next year.
The Blues also have four forwards scheduled for restricted free agency after this season — Ivan Barbashev, Jacob de la Rose, Zach Sanford and Robert Thomas.
And then there's defenseman Vince Dunn, who's currently a restricted free agent. The assumption is that he'll be on the roster again this coming season. If he simply signs a one-year deal, he'll be a restricted free agent again after this coming season.
One last thing to note in terms of these players whose contracts expire after this coming season. The Blues currently have more than $25 million in salary-cap space available for their 2021-22 roster, which should be enough to re-sign the players they want.
That being said, listed alphabetically, here's our guess at players the Blues will protect.
Forwards: Jordan Kyrou, Ryan O'Reilly, David Perron, Brayden Schenn, Jaden Scwartz, Vladimir Tarasenko, Robert Thomas.
Defensemen: Vince Dunn, Torey Krug, Colton Parayko.
Goalie: Jordan Binnington.
At forward, the toughest decision was Kyrou over Sammy Blais and Zach Sanford. Also left unprotected under this scenario would be Ivan Barbashev and Oskar Sundqvist. Barbashev and Sundqvist are valuable role players. But they're just that — role players.
Blais and Sanford have shown the potential to be more. But Blais, in part because of his fiercely physical style, has a tendency to get injured. Sanford has had eye-opening spurts of play, but still needs to be more consistent on a night-in, night-out basis.
Kyrou is a bet on the future. He has a lot of ground to cover to go from prospect to quality NHL player, but his speed and flashes of skill are hard to ignore.
Some may disagree with keeping veterans Schwartz and Perron on the list. But remember, you need goals and one of your top goal-scorers — Vladimir Tarasenko — has had continuing shoulder problems. Perron has played like a fine wine since returning for his third stint in St. Louis — better with age.
Schwartz played in all 71 games last season, countering the narrative that he's injury prone. He had 12 postseason goals during the team's Stanley Cup run and tied for the team-lead (with O'Reilly and Perron) with four goals during the team's nine postseason games in the Edmonton bubble.
Schwartz is a player who doesn't shrink in the moment. And those are handy players to have.
Obviously what takes place during the 2020-21 season could change the list. For example, what if Blais or Sanford really breaks out and Kyrou doesn't progress?
On defense, keeping Dunn, Krug and Parayko, means Robert Bortuzzo, Justin Faulk and Marco Scandella are exposed. Why Dunn over Faulk or Scandella?
He's just 24 and has scored a combined 21 goals over the past two seasons, placing him among the top 20 defensemen in the league in goals over that span. Especially without Pietrangelo, who has signed with Vegas, the Blues need scoring from the blue line.
In goal, the Blues have the potential of losing Ville Husso. That would leave them looking for a backup goalie.
There isn't a single Blue on the roster with a no-movement clause in his contract. So that gives general manager Doug Armstrong total flexibility in terms of who he might want to expose.
Armstrong said the expansion draft hasn't factored into how he has shaped the roster.
"No," he said. "You just want to make sure you have the proper amount of players available under contract. So we're not gonna have any issue.
"We're not gonna trade a good player now — which would hurt our team —so we don't lose him a year from now."
Besides, no matter what happens in the expansion draft, the Blues are only going to lose one player. It won't be the end of the world.
"Yeah, exactly," Armstrong said. "And for $600 million (Seattle's expansion fee), they should get some good players."