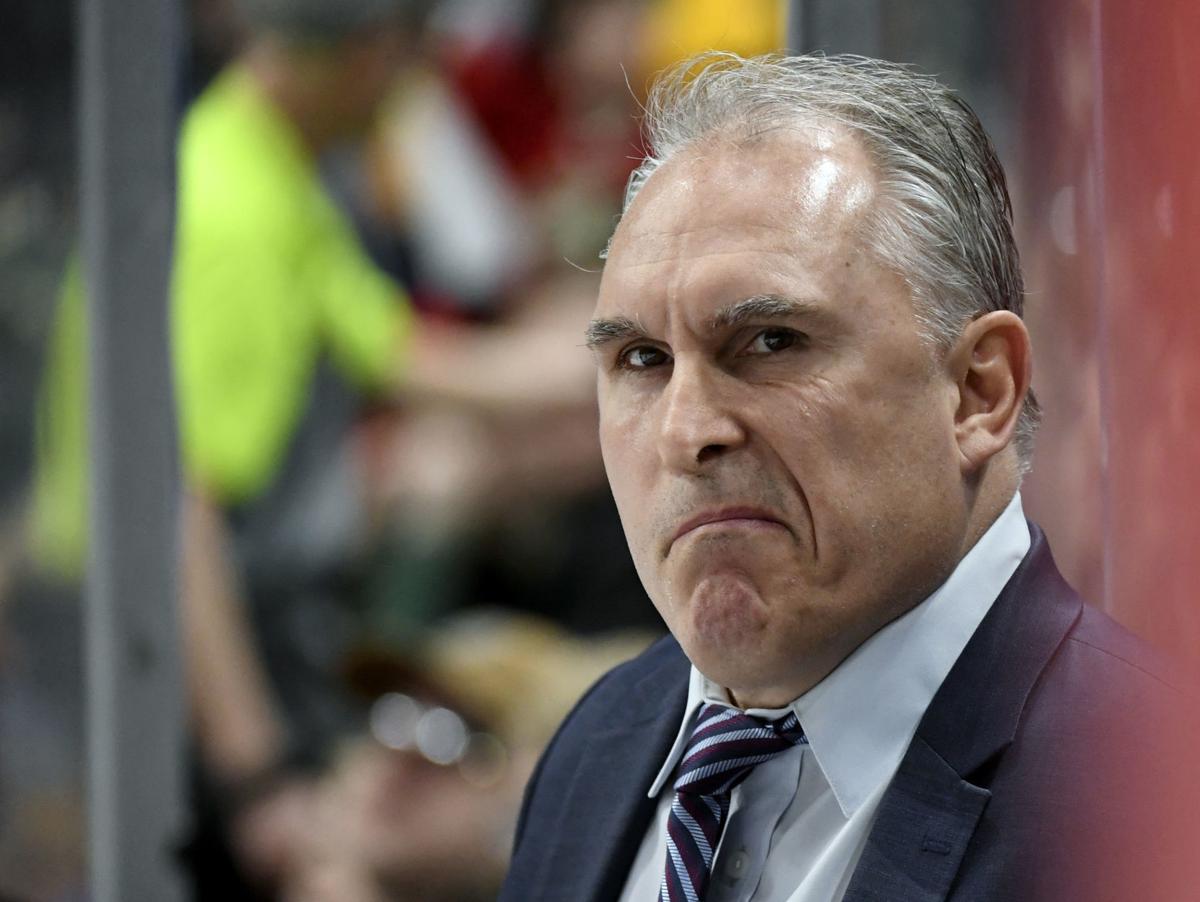 In another sign that hockey could be just around the corner, Craig Berube is back in town. And planning.
The Blues coach has spent most of his time at his permanent residence near Philadelphia since the NHL hit the coronavirus pause button March 12. But his days of cooking eggs for seven, bicycle riding, backyard hoops, barbecuing, golf, and binge-watching "Ozark" are over.
"I got back last week," Berube told the Post-Dispatch on Monday. "I'm gonna hang out here for a bit and maybe go home on the weekends. Guys will be coming back here and get going. I'd rather be over-prepared than under-prepared."
Berube took part in Zoom calls over the weekend with groups of Blues players, going over what the team's Phase 2 small-group workouts will entail — in terms of what happens on the ice, plus the coronavirus testing and health precautions that will be followed at Centene Community Ice Center.
Throughout the NHL, teams could begin Phase 2 workouts as early as June 8, but the Blues are waiting until June 22 — or Monday — to get going.
"We're trying to get things organized, like how many guys we're gonna have here going out in these pods (small groups)," Berube said. "A coach can go out with these guys and run 'em through some drills, things like that.
"But then also, trying to get ahead on training camp. It's gonna open up July 10, so just kinda figuring out how we're gonna do that. It's different than normal training camp for me, just because there's a lot of uncertainty and what kind of shape are guys gonna be in.
"I'm still discussing with the coaches about 'do you scrimmage a little bit more because of the layoff?' You're not really gonna get a ton of exhibition games — maybe two or something they said. So we'll have to probably do some things differently to prepare our guys."
Berube said members of his coaching staff continue to filter in to St. Louis. Staff members and those players already in St. Louis are undergoing testing this week in anticipation of hitting the ice June 22. As of early Monday afternoon, Berube said he didn't have a firm handle on how many players overall would participate in Phase 2, or when all of the players not in St. Louis would be back in town.
The two Blues players who have been in Sweden — Oskar Sundqvist and Jacob de la Rose — do not have to go into 14-day quarantine once they return, according to Berube.
Even with the Blues starting Phase 2 two weeks later than some, Berube expressed confidence that his players will show up in good shape and have more than enough time to get ready for game action. Of course, he won't know for sure until they hit the ice.
"They're a pretty dedicated team," he said. "I know this is a different circumstance, but I do believe that we will be OK."
In a normal offseason, Berube said most NHL players don't start skating until July, and that's usually only a couple of days a week.
"Most of the time, August rolls around, pretty much all the guys are skating," he said.
So in these very unusual times, about three weeks of small-group skating followed by three weeks of training camp should be more than enough.
"I don't think it'll be three weeks of camp," Berube said. "I think it'll be two weeks."
During the Phase 2 workouts, Berube said, "it's just about getting on the ice with some structure, doing some drills and things like that. You can work out all you want in the weight room and all that stuff. But really, it's not the same as getting on the ice and getting that conditioning down."
With Vladimir Tarasenko returning to action — his left shoulder now healthy from late-October surgery — Berube has been mulling line combinations. It's something that will be discussed in detail with his assistants once they're all back in St. Louis, and there certainly will be some experimentation during training camp.
As for roster callups, Berube made it sound like that decision is either close to being made, or already has been made. There has been no official announcement by the league, but the expectation is that each team can have 28 skaters and an unlimited number of goalies on their postseason roster.
General manager Doug Armstrong previously told the Post-Dispatch that the Blues are looking at going with four goaltenders, or two more than normal. So when all is said and done, the Blues will add about a half dozen players from their now-former American Hockey League affiliate in San Antonio.
"Doug and I have discussed which guys we're gonna bring up, who's gonna be here," Berube said. "That's all been discussed. Not ready to announce it yet. We're gonna need everybody, too, that we're gonna have here.
Berube also hinted strongly that the San Antonio call-ups will participate in the Phase 2 workouts.
For Berube and everyone else associated with hockey, March 12 seems like a long time ago. Berube didn't anticipate the coronavirus pause lasting this long. But it's looking more and more like the 2019-20 hockey season will resume. Otherwise, Berube would still be cooking omelettes back in Bucks County, Pa.
"There's a lot of stuff that's up in the air yet," he said. "But once you get going and get on the ice and get the guys, it's all gonna be just bang-bang. It's gonna be good."
The latest STL Blues hockey news, NHL headlines, scores, standings and rosters.