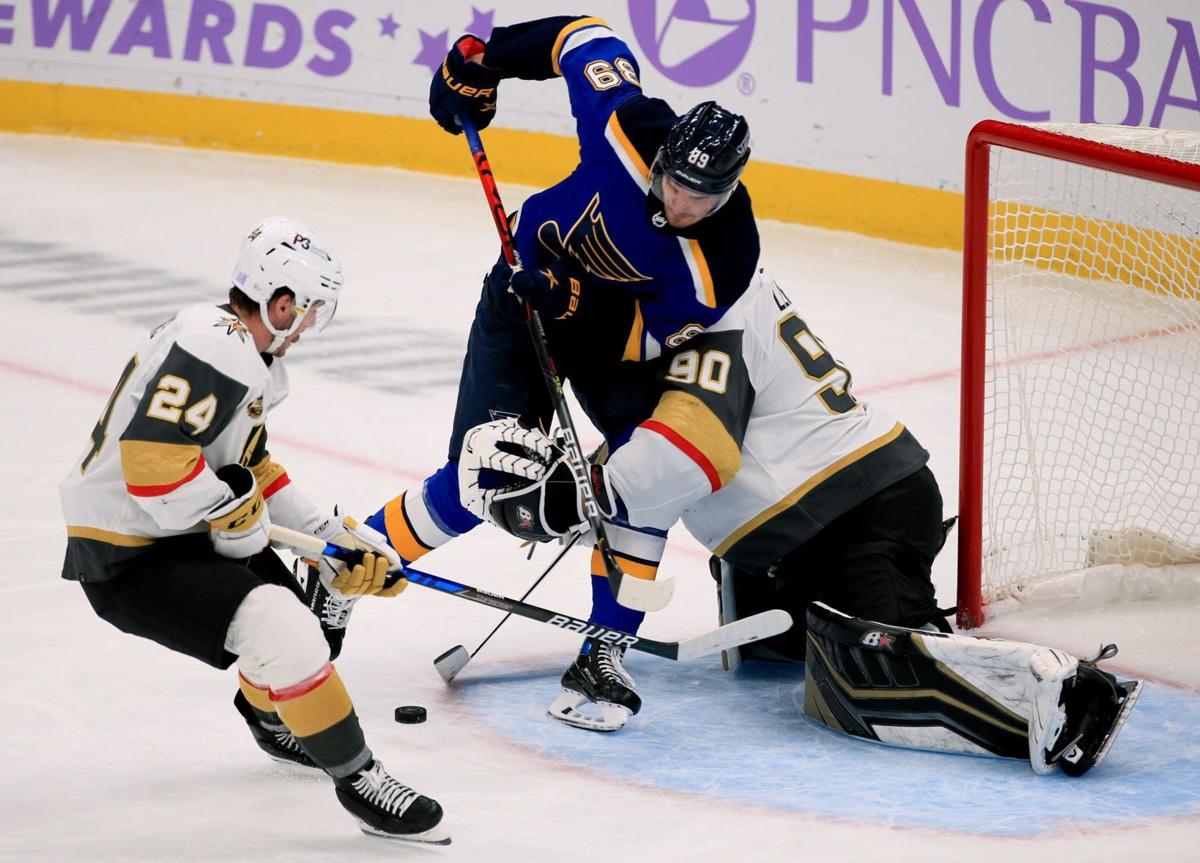 Post-Dispatch beat reporters Jim Thomas and Tom Timmermann joined columnist Jeff Gordon to discuss the Blues' 5-2 victory over Vegas and the l…
DETROIT — With the return of Brayden Schenn imminent, coach Craig Berube and the Blues are close to playing with a full deck.
All the players that were sidelined from COVID are back, and have regained their form.
Oskar Sundqvist has played four games since returning from knee and hip surgeries last spring. He had been out for eight months, so it will take a while to reach his peak game. But he's on the right path.
And now Schenn is on the brink of returning after missing nine games with what's believed to be a wrist/hand injury. In fact, it will be at least a mild surprise is he's not in the lineup for Wednesday's 6:30 p.m. (Central) contest against the Detroit Red Wings at Little Caesars Arena.
If Schenn does return, Berube will have his entire roster available for the first time this season. That's rare at any time, much less nearly a quarter of the way through a season.
"Unreal," veteran center Tyler Bozak said. "That's one thing we love about our team is our depth. We know throughout the season, especially with COVID now, that guys are gonna get injured — guys are gonna probably get COVID.
"So you're gonna need guys to step up and play different roles. I think we have a lot of depth to handle that, but obviously it will be a huge boost for us when you get a guy like Brayden back."
Already this season, the 10-6-2 Blues have had a five-game winning streak to start the season, and then a four-game winless streak (0-3-1). Having six players land on the COVID list from Oct. 21 through Nov. 5 tested that depth and led to some disjointed play.
But for now, that's in the past. The Blues showed flashes of a return to form in wins over San Jose (Thursday) and Vegas (Monday), but in between was one of the worst losses of the season Saturday to Dallas.
"Some of those losses, I thought we played pretty well," Berube said. "But you make a mistake at the wrong time, and I talked about timely saves, they're important. Those things are really important.
"I thought three of the games were right there for us, whether we go into overtime or we win the game and we made a mistake and we ended up losing the game."
Actually, all four games during that 0-3-1 spell could fit that description — starting with a Nov. 11 contest with Nashville, through the Nov. 16 game against Arizona. All were one-goal losses, with the Nashville game decided in overtime. The three regulation losses in that span, to Carolina, Edmonton and Arizona were decided on goals late in the third period.
"We've got work to do," Berube said. "We've got to keep improving. I think we can still be more consistent with what we're doing with our game and stay on it and stay on it and keep pushing, like the third period (against Vegas). I would have liked to come out and really make a push right away in the third period."
Instead it was Vegas that did the pushing, outshooting the Blues 8-1 over the first nine minutes of the third period. But goalie Jordan Binnington and the defense kept Vegas off the scoreboard, and then a rare goal by Niko Mikkola at the 9:37 mark made it a 3-goal lead and a 5-2 win.
"It's a long season, and there's gonna be ups and downs," Binnington said. "I think it's just trying to be as consistent as we can with our work ethic, game-in, game-out, and buying into the system. It's gonna be tough. Travel, schedule, stuff like that come up and you just gotta do the best you can to feel the best you can. I think we're figuring that out."
The Detroit game begins a stretch of unfamiliar opponents. Eight of the Blues' next nine games are against teams from the Eastern Conference, teams that the Blues didn't play at all last season — a season in which they played the same seven teams over and over.
"It keeps it interesting for us, I think," Binnington said. "Different looks, different tests. We're gonna have to adapt to different systems. I think it keeps it fun. Just challenging ourselves to be consistent and play our game and see how it goes against the rest of the league."
No matter who they're playing, it's time to start stacking up wins, grab as many points as possible while the roster is intact. And that process, Bozak believes, starts with defense.
"I think that's when we play our best, is when we're playing well defensively and not cheating for offense," Bozak said. "When we play well defensively, the offensive chances come.
"After those first two goals (by Vegas), that was kind of our focus — that we needed to get back to that. We know we're not successful when we try and trade chances and go rush-for-rush with teams. We're at our best when we play well defensively and that translates into offense."
Vegas scored both its goals, to take a 2-0 first-period lead, when the Blues were caught "cheating for offense."
"You just can't get complacent," Bozak said. "You gotta keep working hard. You gotta keep focusing on the little things out there that make us successful as a team. Playing well defensively.
"And sometimes when you win a few games in a row, it starts to seem like it's getting easy and you try things that you normally wouldn't and try to make plays that you know you shouldn't because things have been going well. That's something we gotta get away from."