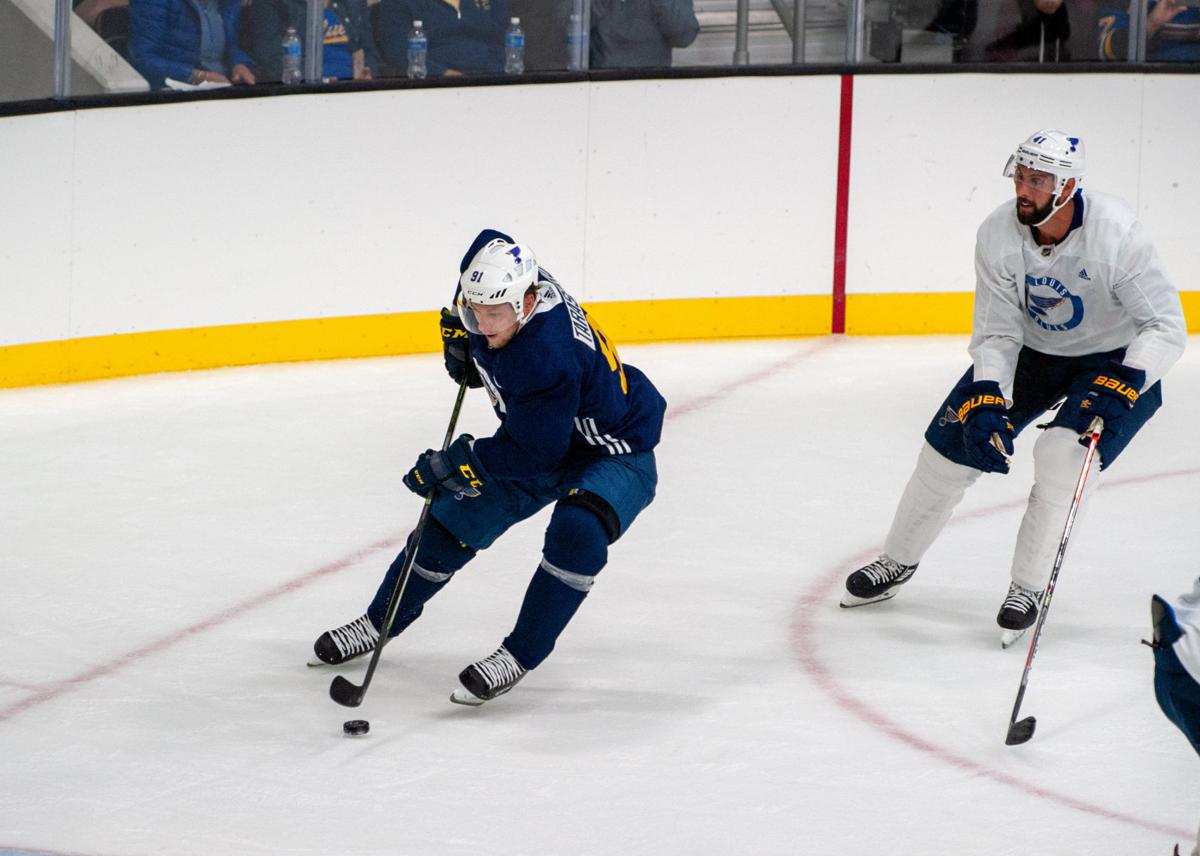 Amid all that is going on now, when it comes to hockey, sometimes you hear things that may never have been said by hockey people before.
Blues general manager Doug Armstrong was reflecting on Friday about his team's upcoming training camp, which is weird enough to say in mid-June when camp is usually three months away rather than four weeks. Just because no one will be competing for a roster spot — everyone who is there will be there for the long haul and there aren't any minor leagues to send anybody to anyway — that doesn't mean there won't be things going on and decisions made.
"There's going to be new wrinkles," Armstrong said. "(Vladimir) Tarasenko is back into the group. That alters the lines. I think because you ended on a certain line in March does not mean you'll start there in August. It's more of a training camp situation. Getting the chemistry, the feel. What's in your mind has to translate on to ice."
The concept of what lines look like in August has in the past been a theoretical exercise for fans looking to fill time in the offseason. At least for this year, hockey lines in August are a real thing.
The NHL and the NHL Players Association announced Thursday that teams will move to Phase 3 of the return-to-play protocol, the opening of training camps, on July 10, assuming it's safe to do so. That will put, assuming a three-week camp, which the players have expressed a presence for, a season that starts around Aug. 1, assuming that health conditions permit and that the league and the players association can hash out the voluminous details that go along with actually getting back on the ice.
The setting of that date for the start of Phase 3 means the Blues can get a better feel for Phase 2, which began for the league on Monday. Many teams, including the Blues, which have a limited number of players in town, haven't begun the individual, voluntary workouts that Phase 2 permit — no more than six players on the ice at one, with no members of the coaching staff present — choosing to let players continue to work out wherever they are.
The Blues have now set Monday, June 22, as the day when they will open the doors at Centene Community Ice Center (for players only; the sessions are closed to the public and media) to begin training locally.
"When we have a date for the next phase, you get a little more focused," Armstrong said. "This reminds me a lot of August. The 22nd is the date we talked to the players about before. We have to make sure we get tests done and have checked all the boxes."
In a normal offseason, the first players would usually show up at the Blues' practice facility three or four weeks in advance of camp for skating and non-contact shinny games. With a July 10 start to camp, NHL players will have gone just shy of four months without any on-ice work, about as long as a team goes when it loses in an early playoff round.
With the starting date set, Armstrong has begun having conference calls with players so they understand the protocols already in place for things like traveling back to St. Louis and what they'll have to do when they get here.
"The ball is starting to roll," he said. "The ice is in place, our locker room is still our locker room. Once we get the go-ahead, we're ready to go."
The two busiest people over the next few weeks figure to be head trainer Ray Barile and equipment manager Joel Farnsworth, who with their staffs figure to be overseeing the complexities of the restart and the health protocols.
"They're going to be working feverishly," Armstrong said.
The latest STL Blues hockey news, NHL headlines, scores, standings and rosters.