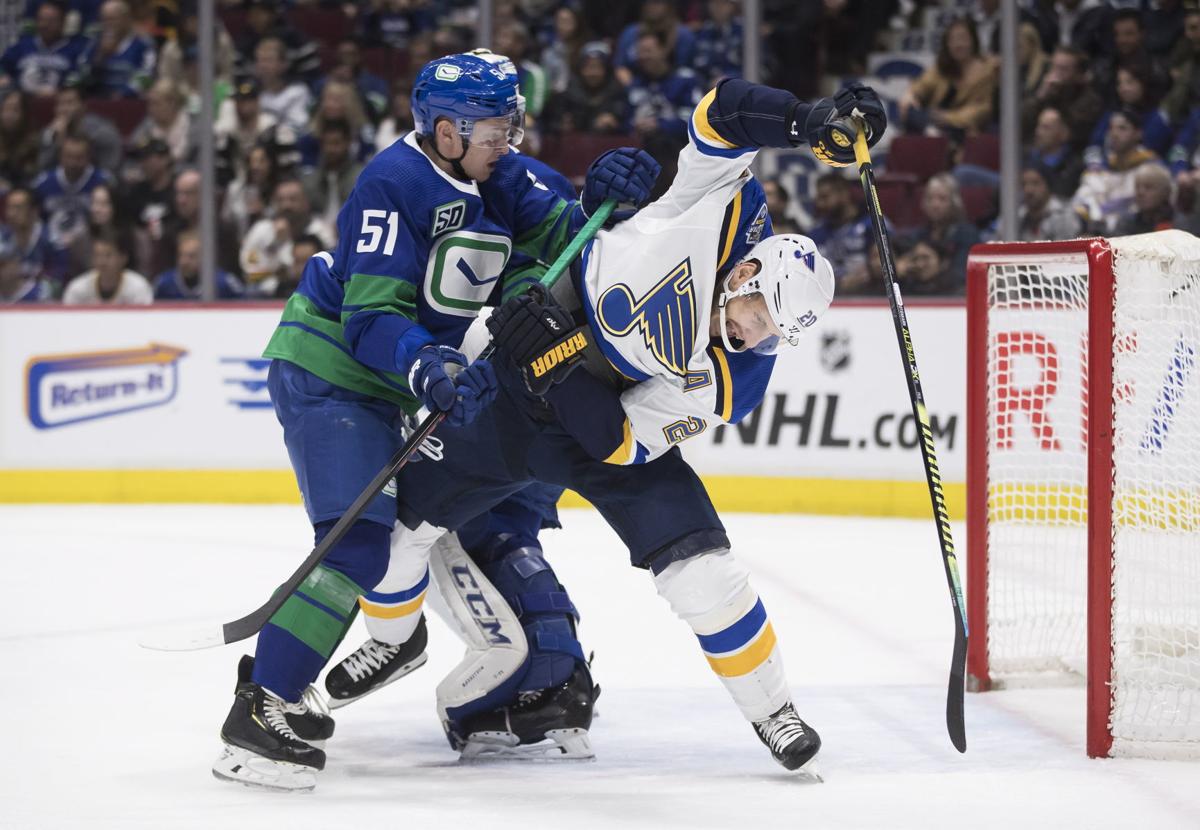 CALGARY, Alberta — The Blues reported to camp missing just one member of their 2018-19 Stanley Cup squad.
That, of course, was Pat Maroon, the pride of Oakville and author of the goal that sent the Dallas Stars into the offseason. He signed with Tampa Bay as a free agent over the summer.
Then defenseman Joel Edmundson got traded to Carolina. On Wednesday night, forward Robby Fabbri was traded to Detroit.
In between, Vladimir Tarasenko underwent shoulder surgery and could miss the rest of the regular season.
That's four pieces of that championship pie.
And just about an hour before the Fabbri trade was announced after the Blues' 5-2 victory in Edmonton, a fifth slice went down. Veteran forward Alexander Steen suffered a left high-ankle sprain in a collision with Alex Chiasson of the Oilers late in the second period.
Steen was placed on injured reserve and will be re-evaluated in four weeks. High-ankle sprains routinely take about a month to six weeks. They can be tricky, because if you rush back from one and aggravate it, it's like starting over in the rehab.
If Steen is out exactly a month, he will miss 13 games.
"He'll be missed," Berube said. "We're losing a good player, a penalty killer. A dependable guy night in, night out. He does a lot of good things for us. So someone will have to fill in. That's the way it goes. Same with Vladi being out. Everybody's just got to help out and fill in."
That "someone" is Jacob de la Rose, the 24-year-old forward acquired from the Red Wings for Fabbri.
"We got this new kid coming and we'll see how it goes," Berube said. "He's supposed to be a good player. So he's going to have a role."
De la Rose, scheduled to join the team Thursday night in Calgary, will be thrown right onto the frozen water. He'll be in the lineup Saturday when the Blues complete their four-game, nine-day trip with a 9 p.m. contest against the Flames.
"Right away," Berube said. "Jump in with both feet."
The Blues don't have a choice because at the moment they have no spare forwards. De la Rose is forward No. 12, giving them enough to form four lines. Although general manager Doug Armstrong indicated he was strongly considering calling up someone from San Antonio after Tarasenko's injury, that didn't happen.
The Blues had one spare forward available in Fabbri. Now with Steen down, they have zero extras. As of Thursday, an off day for the team as it traveled from Edmonton to Calgary, there were no indications that a Klim Kostin or Nathan Walker were on their way from San Antonio, the Blues' American Hockey League affiliate.
"Not really right now, I don't think," Berube said. "The new guy (de la Rose) will be here, and he's going to have a spot right away. So that's a good thing, I think. He's a big kid that I think can help us."
De la Rose, 6 feet 3, 215 pounds, is known as a checking/defensive specialist. It's almost a certainty he will join the fourth line with Mackenzie MacEachern and Ivan Barbashev. If that's the case, it's likely Oskar Sundqvist moves up to the third line with Tyler Bozak and Sammy Blais.
So the Blues are now without both their alternate captains in Tarasenko and Steen. Ryan O'Reilly has been wearing Tarasenko's "A." And captain Alex Pietrangelo has been a little banged up lately, but hasn't missed any practices or games.
"That's the way it goes in this league," Berube said. "You've got to play and you've got to deal with injuries. That's part of it all. It happens to every team."
Steen fell awkwardly after the collision with Chiasson and had to be helped off the ice, favoring his left leg. He did not accompany the team to Calgary, returning to St. Louis instead.
He has played in all 17 games this season, with no goals and five assists. He's plus-2.
When Barbashev scored an empty-net goal with 33 seconds left in regulation against the Oilers, it made Steen the only forward on the team without a goal this season. He has been a reliable 15- to 20-goal scorer throughout his long career, scoring as many as 33 goals during the 2013-14 season.
But as his career winds down, his goal and point totals have decreased each of the past four seasons. This is Steen's 15th NHL season, and at age 35 he's the second-oldest player on the team, five months younger than defenseman Jay Bouwmeester, 36.
"He's a leader of this group," goalie Jake Allen said after the Edmonton game. "He's a heart-and-soul guy. Longest-tenured guy on this team and keeps this whole locker room together."
Steen played nine games this season on the third line, five on the fourth line and three on the second line.
He's fourth on the team in blocked shots (21), but most importantly is one of the Blues' top penalty killers. In fact, other than defenseman Robert Bortuzzo, who has played in only seven games, Steen has the most ice time in shorthanded situations among Blues skaters, averaging 2:53 per game.
De la Rose should be able to take on some of Steen's PK role — he averaged 1:50 of shorthanded ice time this season with Detroit.
The injury delays Steen's pursuit of 1,000 career games. Including his time with Toronto, which drafted him 24th overall in 2002, Steen has played in 980 regular-season NHL games. The Edmonton game was No. 727 with the Blues, tying him for fifth on the team's career list with David Backes.