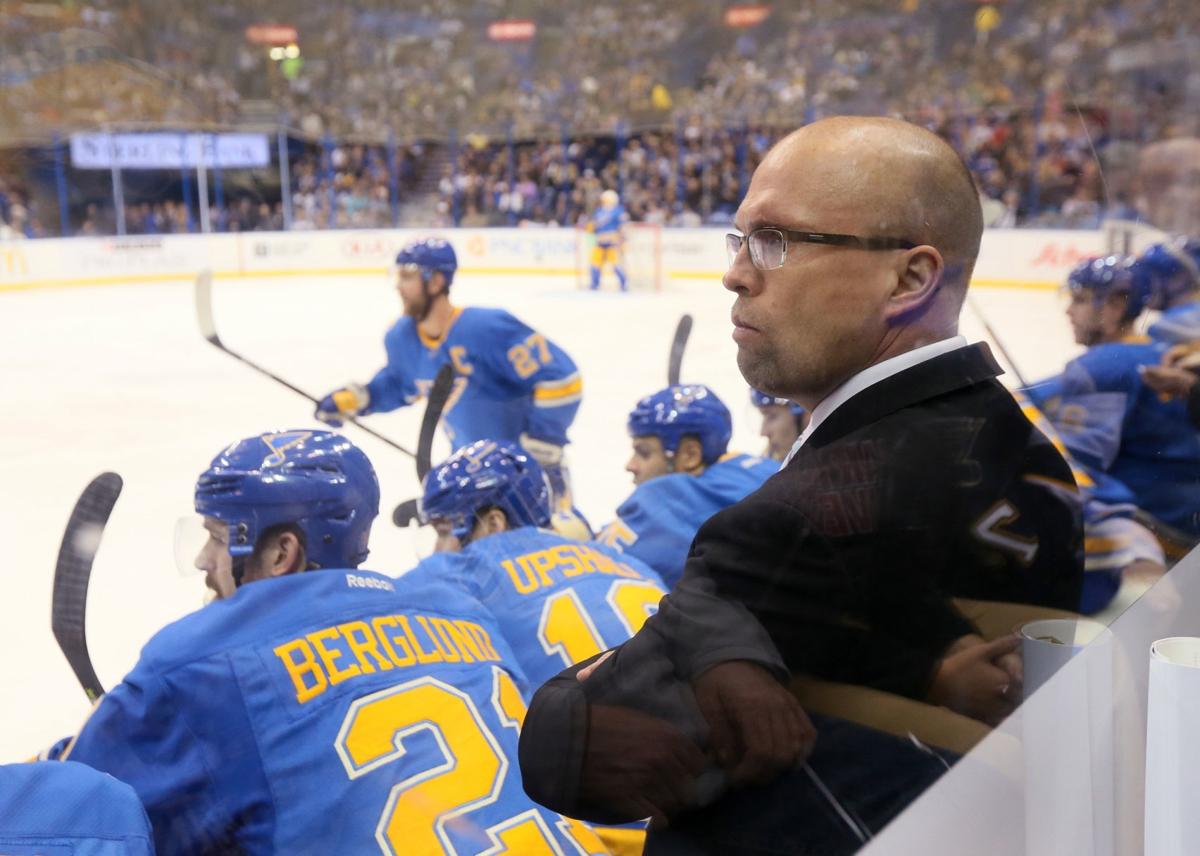 Former Blues coach Mike Yeo will be back in town Wednesday as an assistant coach for the Flyers. The last time he was behind a bench at Enterprise Center was Nov. 19, 2018, when the Blues lost to Los Angeles 2-0.
He was fired shortly after the game.
"He brought me in here," said Blues coach Craig Berube, who had the title of associate head coach under Yeo and then interim head coach, and eventually head coach, after Yeo was fired. "We worked closely together and I learned a lot from him.
"He's a smart coach and it was unfortunate what happened but that's the business and there's always things that happen like that in this business.
"But now he's back coaching again in Philly and they're doing OK, so it's good to see him back."
Paper shuffling
In a move with few, if any, practical implications, the Blues put defenseman Colton Parayko on injured reserve Tuesday and took defenseman Carl Gunnarsson off it.
Berube had been saying for several days that Gunnarsson was healthy to play, which should have led to him coming off the IR. But it didn't really matter, since Parayko, who is out with an upper-body injury, wasn't playing either. What the Blues did was swap the labels on each. Now Parayko is on IR and Gunnarsson will be a scratch; before it was vice versa.
Parayko's IR stint was backdated to Jan. 2, the date of the last game he played, so he's eligible to come off injured reserve at any time, including on Wednesday if the Blues felt him ready to play.
Berube said again Tuesday that Parayko could play before the All-Star break if he was healthy and that they weren't looking to keep him out and utilize the All-Star break and the team's bye week to give him an extra week to get better.
If Parayko doesn't play vs. Philadelphia, it will be the sixth game he's missed, matching the number he missed in his first four seasons in the league. Niko Mikkola, meanwhile, continues to do well. He has averaged 17 minutes over the past two games and continues to log significant time on the penalty kill. It's likely that Mikkola will be sent back to San Antonio no later than Saturday anyway, since the Blues will take that chance to have him play for San Antonioj during the bye week.
Hot at home
With the Blues looking for a franchise record 10th straight home game victory — they've already set the record for the longest win streak at Enterprise Center, since the previous nine-game home win streak was done at the Arena — Berube praised the fans at Enterprise. "You have a good shift and (the players) hear it," Berube said. "It's better than hearing boos."
He should know, since he played seven seasons and coached for two in Philadelphia. "That affects players too," he said.
The NHL record for consecutive wins at home is 23 by the Detroit Red Wings in 2011-12. If you want a streak that doesn't include games won in overtime or a shootout, the Flyers won 20 in a row in the 1975-76 season. In a stat that may be indicative of easier travel and more rested bodies, 18 of the 20 longest home win streaks in NHL history (and 28 of the top 31) are by teams in the Eastern time zone.