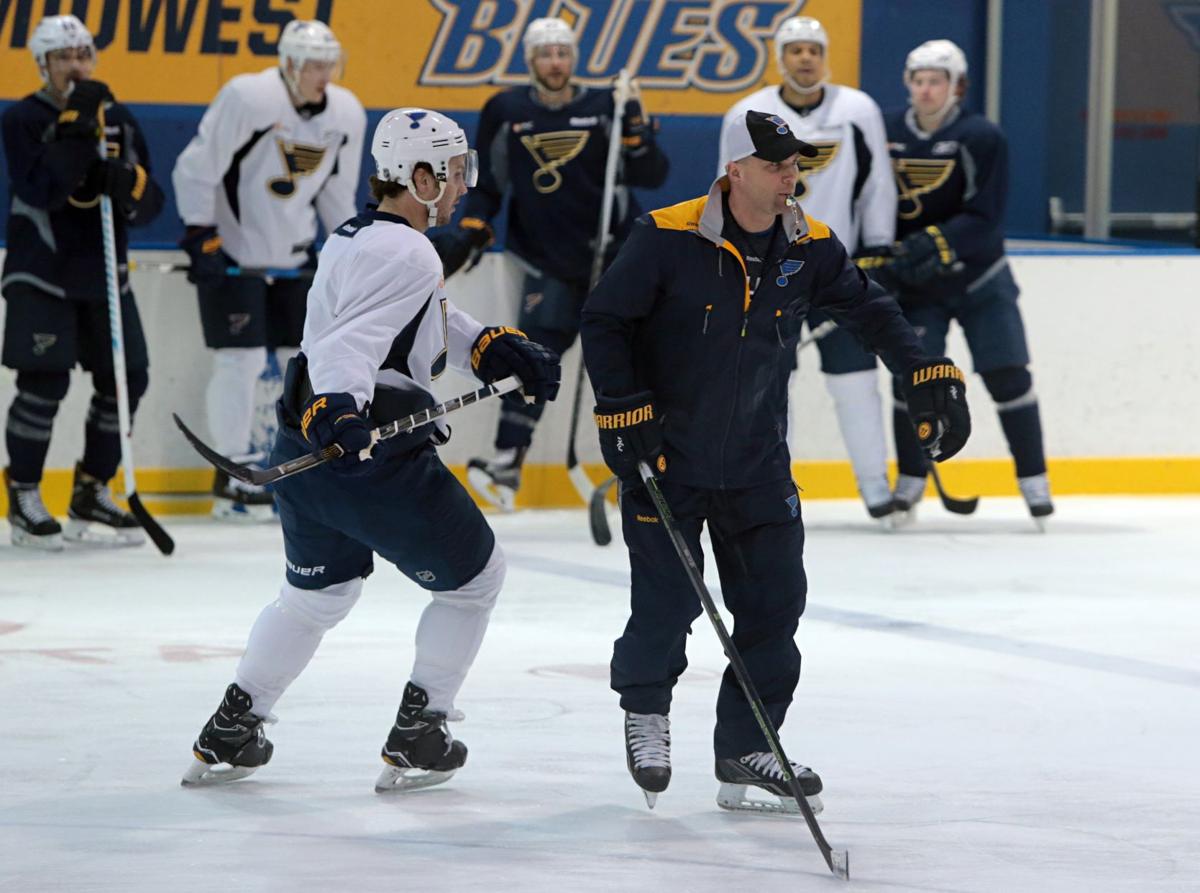 When Mike Yeo opens his first full season behind the Blues' bench in 2017-18, it will be with a new coaching staff.
The club announced Tuesday that it won't be renewing the contracts of assistants Ray Bennett, Rick Wilson and Steve Thomas and will also part ways with developmental goaltending coach Ty Conklin.
"We felt having Mike (Yeo) start his first full season with a new staff would rejuvenate the organization," Blues general manager Doug Armstrong said. "Mike handpicking his coworkers right from the start, the situation now, we felt the timing was right for continuing to build the foundation. I think for Mike to have the best chance for success, I want him to have full control over who he works with."
Bennett joined the Blues in December 2006 and had served under Andy Murray, Davis Payne, Ken Hitchcock and Yeo. Wilson, who had a chance to return but wanted to be closer to family in Dallas, and Thomas coached just one season with the Blues. Conklin, a goalie with the club from 2009-11, had been in his current position for four seasons.
"I'd like to thank the four gentlemen for their work here in St. Louis over the last number of years," Armstrong said, "especially Ray Bennett, who's been here the better part of a decade and was here through some difficult times and some of the organization's stronger seasons too."
The Blues didn't name any replacements Tuesday, but their search may not last long or take them far.
It's not a far-fetched idea that the entire Chicago Wolves' coaching staff — head coach Craig Berube and assistants Darryl Sydor and Daniel Tkaczuk — would be brought to St. Louis. They led the team's American Hockey League affiliate to a regular-season record of 44-19-13 for 101 points this season, a 27-point improvement over 2015-16, and went to the second round of the AHL playoffs. Sydor was a member of Yeo's staff for five seasons in Minnesota (2011-16).
"All three of those guys did a very strong job in the American Hockey League, not only winning the division and advancing, but in development," Armstrong said. "Mike and I have talked about those three guys in some form or fashion, but we're not just limiting it to that group right now. We'll see if they are the best guys and after a review, see who we go with. We want to keep our mind open to other people."
Other possibilities include Michel Therrien and Dan Bylsma, both of whom Yeo worked for in Pittsburgh. Therrien and Bylsma are both available, after being ousted in Montreal and Buffalo, respectively, this season.
"The first place I think we need to look is Chicago with the guys down there and the job they've done," Yeo said. "But what it comes down to really is sort of a vision of how I see the staff playing out and then filling it in with the right pieces. In my mind, I've got a pretty good sense of the qualifications and sort of the résumés of the people that we're looking to bring in. Now just begins the process."
The search, meanwhile, continues to replace Martin Brodeur as the Blues' goalie coach. Brodeur finished out the season in that role after the team fired Jim Corsi, but he will return his focus to his role as assistant general manager.
"What we've asked Marty to do is compile a list of candidates and he'll bring a smaller group to Mike and myself and then the three of us will then meet with these guys," Armstrong said. "We've asked Marty to take the lead on it, but ultimately those candidates will interview with Mike because Mike has to work with these guys on a daily basis."
The Blues, who retained video coach Sean Ferrell, are expected to have their new staff in place by the amateur draft in late June.
"We have our development camp right after, and then obviously I want Mike to recharge his batteries in July, so I'm hoping we can press this through and we can get this done by the draft," Armstrong said. "I think it's important for the coaches to get to the draft and meet the rest of the staff also. Our goal would be by the draft. I don't see a reason why we won't be able to reach that goal."
Tom Timmermann of the Post-Dispatch contributed to this story.