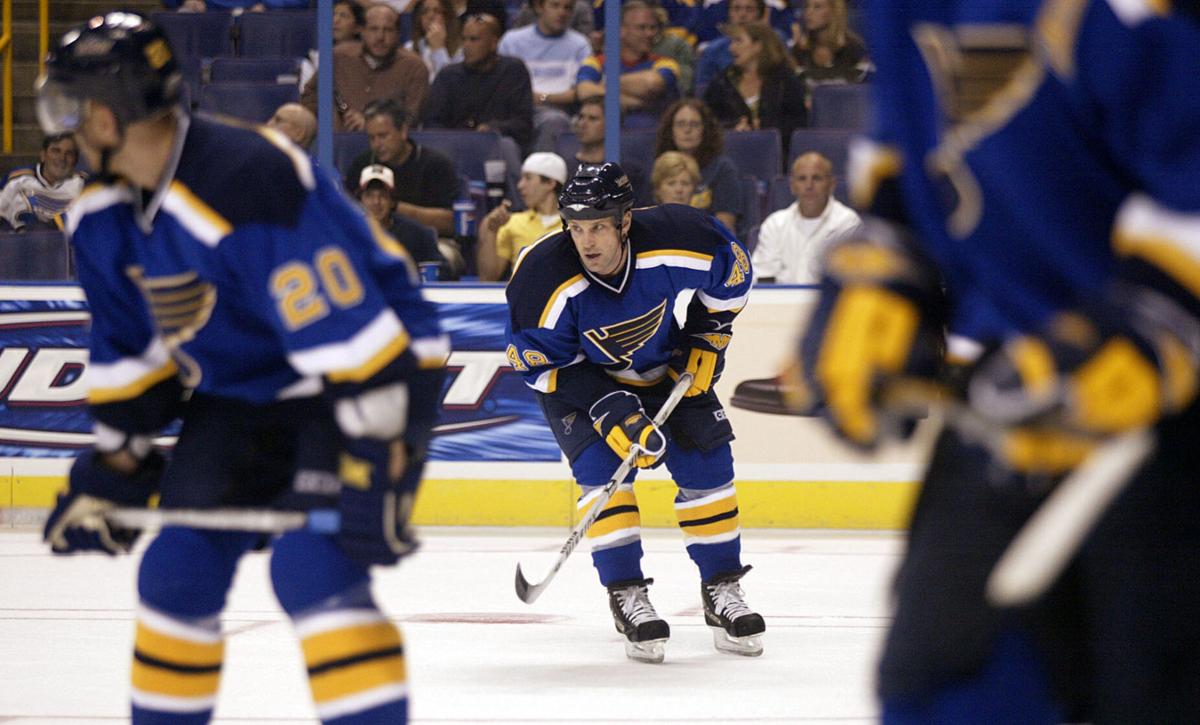 Spanning 17 seasons and six franchises, forward Scott Young had a long, highly-successful, and well-traveled career in the NHL. He was a member of Stanley Cup championship squads in Pittsburgh (1991) and Colorado (1996).
But he played the most games (377), scored the most goals (125) and maybe had the most fun in two stints with the Blues in the late 1990s and 2000s.
"I loved it in St. Louis," Young said. "I thought the people there were great. They treated us great. Made more friends there off the ice than I did anywhere else."
And probably ate the most frozen custard here as well. Young, now director of player development for the Penguins, lived in Chesterfield while playing for the Blues. His favorite restaurant, Paul Manno's, was right down the street.
So was Lix Frozen Custard.
"I used to go there almost every night when I was playing," he said. "I don't know if it's there anymore."
It got to be a routine — he'd put the kids to bed and head down to Lix for some custard. (Apparently, the kids didn't know what they were missing.)
He was such a fixture at Lix that when he returned to St. Louis for his second stint in the 2005-06 season, he was greeted by fans at Enterprise Center (then Savvis Center) with a sign that read: "We miss you at Lix."
Former Blues tough guy Kelly Chase didn't have a sign, but he did greet Young when he arrived for his first stint with the Blues seven years earlier. Chase and Young had a mutual friend at the time in Curtis Leschyshyn of the Avalanche, and Leschyshyn put in the good word on Young.
"From the minute I got there, Kelly Chase would pick me up every day," Young said. "And I didn't know him at the time. Chaser, he lived right down the street. He picked me up every day to go to practice, every day to go to games.
"We hung out. Our families hung out. We had a good relationship. Everybody knows how popular he is in St. Louis. He showed me the ropes. He showed me everywhere, and introduced me to so many different people. He was probably the main reason that I got to meet so many people outside of hockey."
Known as a streaky sniper with the Blues, Young scored 24 goals in each of his first two seasons here, with the 1999-2000 squad winning St. Louis' one and only Presidents' Trophy for best overall record in the NHL.
But the 2000-01 season was even better for Young personally, with him notching a career-high 40 goals. Only 14 players in Blues history have scored at least 40 goals in a season. Of course, one of those 14 — Brett Hull — did it eight times, including a franchise-record 86 a decade earlier during the 1990-91 campaign.
But they're not scoring goals like that these days in the NHL, and only two Blues have reached 40 since Young did — Brad Boyes scored 43 in 2007-08 and Vladimir Tarasenko had 40 in 2015-16.
"Pierre Turgeon was just such a good playmaker, and we just developed a chemistry that when I hit a spot — popped open — he found me, he put it right on my tape," Young said, of his former linemate. "And it was like that all season long.
"I was a bit of a streaky scorer. And that was the season that it just all came together as far as I didn't go into these 10-game slumps or longer — it just kept going. I just wanted to keep going and keep pushing, keep riding that as long as I could. And it ended up being a 40-goal season which is something I'm very proud of.
"But we had a really good hockey team. I mean, getting the puck from (Chris) Pronger and (Al) MacInnis. . . . Again, you hit a hole and it's on your tape full stride. It was just such a good hockey team."
After dipping to 19 goals in the '01-02 season, Young signed with Dallas in what he simply called "a contract thing." There, he was reunited with Turgeon but the pair couldn't recreate the chemistry they had in St. Louis. After two seasons with the Stars, Young returned to the Blues for what proved to be his final NHL season.
"I did miss it there. I wanted to return," Young said.
But with no Turgeon, Pronger, MacInnis or Pavol Demitra, the '05-06 Blues were mere shells of their past selves. Young led the team in scoring with 49 points on 18 goals and 31 assists, but the team finished 21-46-15 for 57 points — the third-worst total in franchise history.
"It just wasn't the same coming out of the (2004-05) lockout year," Young said. "The fans there were always great; we always sold out. And that year we didn't. That lockout hurt, and we didn't have a great team. It was a tough year. But I'm still glad that I retired a Blue."
Young, who is from Clinton, Mass., stepped away as a player at age 38 but never left the game. He coached his sons in the same youth hockey program where he played as youngster.
Then came a paying job coaching the team at St. Mark's, the same high school where he played.
Next came a stint as director of hockey operations and then assistant coach at Boston University where — you guessed it — he once played.
And now he's in player development with the Penguins, where he won a Cup in his only season in Pittsburgh.
"So I kind of mirrored my childhood growing up, and ended up going up through all the levels," said Young, now 53.
An amazing life in hockey, to be sure, one that's included three Olympics playing for Team USA and induction into the U.S. Hockey Hall of Fame in 2017.