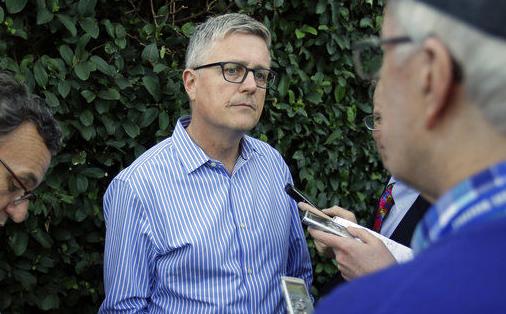 QUESTION: Was the "win-at-all-costs" reputation instilled in Jeff Luhnow during his time in the Cardinals' front office?
GOOLD: This is an interesting, fair, and good question. I hope I come up with an answer that does it justice. I asked Luhnow that question outside of Hinch's office in Washington during the World Series. I asked him, "Are you comfortable with a win-and-at-all costs reputation, if indeed all you do is win?" He said he would not get into that discussion, not with me, not at that time. He did say that perhaps later he would have an answer for me.
Being around teams and owners and management, I get the sense that many personalities make up the whole. That was true for the Cardinals when the dominant personality around the team was Tony La Russa's, and it is definitely the case now as Mozeliak is a larger personality and Shildt is gaining ground and Girsch has seen his profile grow. But even as I type that, I realize that it's important to point out that DeWitt sets the table, sets the goal, and, yes, establishes guardrails. Does he know everything that is going on the lower levels, no. Is there room for leaders at different levels and in different roles to stray from those guardrails? Absolutely.
I do not get a "win at all costs" mentality from DeWitt -- and I didn't from La Russa, despite what some think of his reputation. I don't from Shildt either. I think we actually saw that a few times from Shildt this season, where he tried to win the game, but not at the cost of the future, the team, or what he thinks is important to the game. Clearly, teams make decisions that some of us or other businesses would not make due to the talent involved or the need to win.
But I don't see any evidence that the Cardinals would be comfortable with a "win at all costs" reputation. That's not how DeWitt has described the brand. That is not how DeWitt described the bruising the Cardinals took following the hacking scandal.