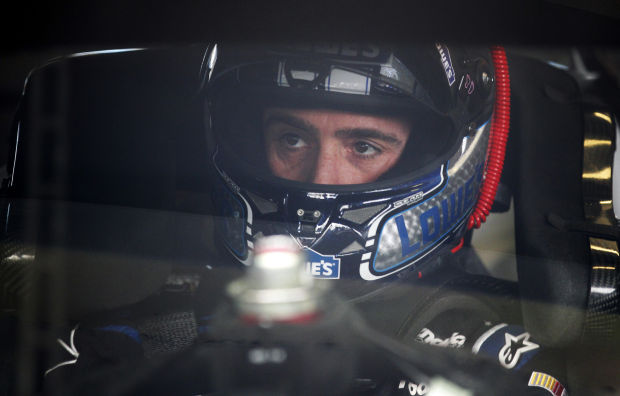 Sunday marks the end of the 30-year NASCAR Cup series racing career of Fenton native Ken Schrader.
Also on Sunday, the book will close on the 2013 Cup season when NASCAR crowns a champion in Homestead, Fla.
While Jimmie Johnson is the favorite to become a six-time champion, Schrader has had time to reflect on a career after 763 Winston Cup/Sprint Cup races.
"I've walked around the garage area and I didn't see very many other 58-year-old drivers," he said in a recent phone interview. "I have enjoyed what I've done and what I've accomplished. But I want to do other stuff. It's not like it's been a job. It's been fun and I have definitely enjoyed it."
Although he's won four Cup races, Schrader never has won a NASCAR championship. His last Cup triumph came driving for owner Rick Hendrick on June 3, 1991 at Dover Downs International Speedway when he beat close friend Dale Earnhardt by 1.18 seconds. Schrader led 89 of the 500 laps and earned $64,800.
"The biggest thing we've done in the Cup car is being able to milk it for 30 years," he said. "Just being able to hold on that long. Every race that you didn't win, you wanted to win.
"You wanted to win a championship. We've run top 10 a bunch (184 times). However we've run, we've only won four. But... we're there. And ... we're getting paid to be there. I don't have any regrets. I'm not looking back at it. It worked out just fine. Just fine."
Schrader, whose first Winston Cup start came on July 14, 1984 when he "begged" owner Elmo Langley for a ride at Nashville and finished 19th, will have earned more than $38 million (he's at $37,976,968 entering Sunday's race).
He has put in 220,374 laps and 272,689.8 miles for the four manufacturers for which he has driven.
In nine starts this season in the No. 32 Ford for Frankie Stoddard, Schrader has completed 3,185 of 3,252 possible laps, while earning $749,047.
Along the way Schrader has earned the respect of every driver in the NASCAR garage.
Columbia, Mo., native Carl Edwards, who is a second cousin to Schrader, calls Schrader a "great racer, first and foremost. He's a great guy, a guy that a lot of people demand respect from. I don't think there is one person in the garage area that hates Kenny. He's a racer to the core."
Edwards, who has won a championship in the Nationwide Series and has had a very successful 10-year career in Cup racing, calls Schrader a "super hero" who would swing through Columbia and "talk to my dad (Carl) about racing. I would not be where I am today without the opportunities that I had with Kenny. ... He allowed me to become a part of it."
Edwards, 34, said Schrader gave Edwards his start by letting him "hang around and work at (Kenny's) shop for two years. Mow the grass, sweep. Whatever I could do."
Three-time Sprint Cup champion Tony Stewart is close friends with Schrader and the duo, along with Kenny Wallace and Bob Sargent, who co-own dirt tracks in Macon, Ill. and Paducah, Ky.
"He's my No. 2 hero behind A.J. (Foyt)," Stewart said. "He's a great race car driver. Great with people. He's smart. He's very intelligent. Very quick-witted. He just has that personality. He just has that nature about him."
Stewart thinks the reason Schrader is so well-liked is because of his demeanor.
"He's a fierce competitor," Stewart said. "You just don't see him get into a confrontation. He can get madder than hell at you, but he can pull you off to the side and it's not so bad. If he makes a mistake, he'll admit it."
Schrader also is a close friend with the Earnhardt family. In fact, whenever out-of-town visitors would stop by Schrader's race shop in Concord, N.C., he would offer to take them to see the now-late Earnhardt and his son Dale Jr.
One thing Dale Jr. sees in Schrader is how Schrader conducts himself around everybody.
"He's just real easy going," Earnhardt said. "You look at what he's done and how he's treated his career and he continues to be very appealing. He likes to race all the damned time because he enjoys what he does."
Dale Jr. also agreed with Stewart in that whenever there was an incident involving Schrader on the racetrack, Schrader was able to move on.
"He wasn't the kind of guy that lashed out at you," Earnhardt said. "He'd just let you know (when you did something wrong). He could move on from it. He has such a good personality. ...
"He brings you down to your level. There's no pressure. No arrogance whatsoever. I feel real comfortable to be around him. He's been unassuming about his career and his own accomplishments. He's just a normal guy."
Fellow St. Louisan and NASCAR Nationwide driver Kenny Wallace said last week that Schrader has gone about his career "the right way. His records are very deceiving. Kenny just loves to race. I love Kenny Schrader like he's my brother. He has done everything for me."
While Schrader is retiring from the Cup circuit, he will continue in NASCAR in 2014 running in the Camping World truck series, although the stop at Gateway Motorsports Park on June 14 is not on his schedule.
This past July, when the trucks made their first dirt stop ever at Eldora (Ohio) Speedway, Schrader became the oldest driver in NASCAR's three series (Cup, Nationwide, trucks) to win the pole. But, he wound up 14th in the Mudsummer Classic.
He will also continue running his ARCA car in 2014, in which this year he became the oldest driver to win a race, capturing the Menards 200 at Toledo (Ohio) Speedway on May 19.
Most importantly, though, he will climb in his dirt modified. He has three more dirt races this season.
His modified is housed in Cedar Hill, which means Schrader will be spending some time in the St. Louis area.
But he'll be traveling the country in the near future going to places where he can mingle with people, who love to talk about racing.
"It's not retirement from NASCAR," he said. "There's just no plans to come back. If you don't have any other plans ... I wouldn't change anything. There are other programs we can do."