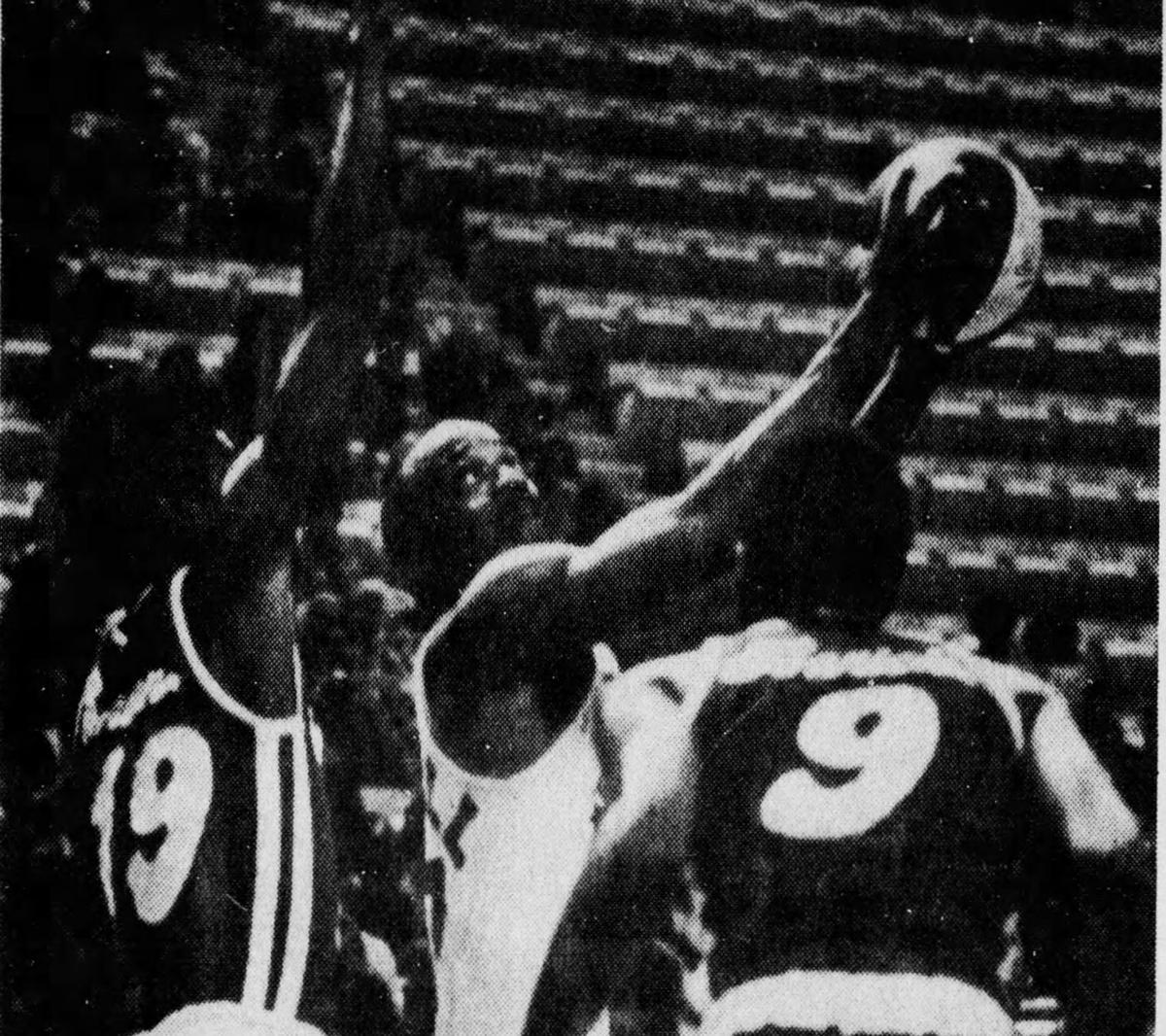 On Oct. 18, 1974, the Spirits of St. Louis played their first game in the American Basketball Association. This is how basketball writer Dave Dorr covered the game.
On Oct. Joe Caldwell sat alone in one corner of the Spirits' dressing room, fingering a loose thread on his tan suede pants. His face wore a look of disgust and disbelief.
Down the corridor, Freddie Lewis reached around to shut the door to the Memphis Sounds' dressing room. Lewis was headed for the shower. On his face was a wry smile, a look a little kid would have when he pulled his hand from the cookie jar and knows he got away with it.
Lewis, a 6-foot journeyman guard cavorting in a game dominated by giants, almost by himself demolished the Spirits last night and wrecked their American Basketball Association debut at The Arena.
The Sounds, who made little noise for most of the game, came on with a roar in the final minute to win, 97-92, and then stole silently out of town after pulling a bit of thievery that would have made even Lou Brock proud.
The last 63 seconds were a chamber of horrors for the Spirits, who crumbled in the pressure-cooker and, in the end, got burned on questionable plays by rookies.
The first came with 54 seconds to go and the Spirits on top, 92-86. A long pass found Spirits forward Gus Gerard free in one corner. Instead of holding the ball and eating up some of the 30-second clock, Gus fired a jumper that missed.
Memphis grabbed the rebound and the Sounds' Chuck Williams drilled in a 27-footer for a three-point goal. The Spirits called time out.
Then came the play that turned the game around.
Spirits guard Bernie Fryer in-bounded the ball to rookie Fly Williams at midcourt. But Fly, tight-roping the center-court line was off-balance and to avoid stepping in the back-court, a violation that would have turned the ball over to the Sounds, he flung the ball toward a teammate. Williams picked off the pass and didn't stop until he had layed the ball through the net.
"I've been a pro 10 years," said Caldwell, "and this is the first time the first, man that I've ever lost one like this. I've been on teams that did it like this to somebody else but this is the first time I've had it done to me."
Caldwell alternately looked at the floor and the ceiling. "How can you lose it?" he asked. "If you're up by three with 46 seconds to go you oughta be able to waste away that much time. How can you lose it?"
A reporter, reading from his notebook, offered to help.
"Well, it happened like this, Joe," he said. "Naw," said Caldwell. "I know. I know. I mean, how?
"I know what you're going to say, that we're young and time will tell. There is no time. This is a business and every game means dollars to someone.
"If they're so young, why did they pay all that money to them? This is a super way to make a living. It gets tough at times and you hope to survive. But you've got to execute. We didn't when we had to."
Steve Jones, who came off the bench in the first quarter and helped settle down the jittery Spirits, took a different approach.
"Don't blame Gerard or Fly," said Jones. "No one person loses a game. I thought we had it (the game) under control but we made crucial mistakes."
Fly was outstanding. He hit his first six shots and brought the crowd to its feet on a slam-dunk. He led the Spirits' scoring with 22 points. Jones had 20. Barnes added 21and hauled down 17 rebounds. Caldwell played 28 minutes. Not enough, he intimated.
In 1975, the St. Louis Post-Dispatch Pictures section took a look at life on the road with the Spirits of St. Louis of the American Basketball…
"Is it going to be like it was last year at Carolina?" asked Pogo Joe. "I have my pride and I know where to be on the floor. Look for me, you'll see me there. You didn't tonight."
Amid the grousing, mistakes and a heartbreaking finish, Spirits coach Bob MacKinnon rallied his troops for tomorrow's clash with the Utah Stars at The Arena.
Cheer up, Jumpin' Joe. There's only 83 games to go.