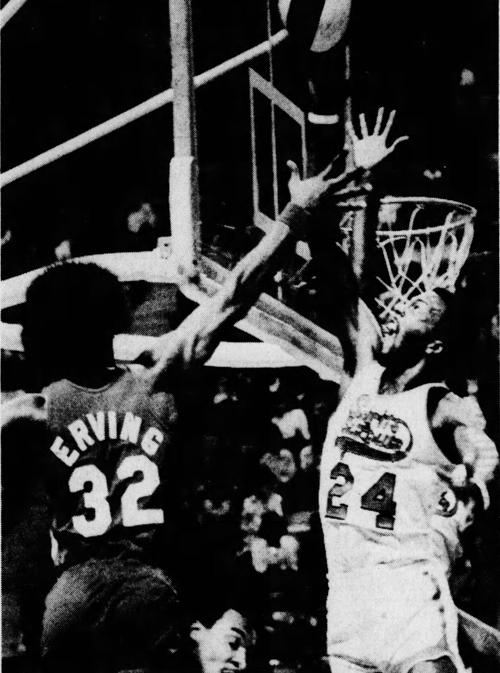 Editor's note: On Jan. 10, 1976, the Spirts of St. Louis of the American Basketball Association beat the New York Nets in double overtime before a crowd of 10,201 at the Arena. It was the largest crowd of the season and the first time they beat the Nets in the regular season, and was followed the next night with a victory over the Kentucky Colonels.
Here is how Spirits beat writer Rick Hummel captured the optimism that was surrounding the team following the Kentucky game.
Harry Weltman was smiling. "We hope we've turned the corner," said the Spirits' president-general manager last night.
After the events of the weekend which began with the Spirits outlasting the New York Nets, 141-130, in two overtimes Saturday night and ended with them outlasting the Kentucky Colonels, 113-111, last night at The Arena if the Spirits haven't turned the corner then at least they have their blinker lights on.
Where only recently the Spirits were in danger of joining the Virginia Squires at the bottom of the American Basketball Association heap, they now have won five of their last six games. And watching them win the last two were crowds of 10,201, largest of the season, Saturday and 6,860 last night.
Combined with the turnout of 9141 at the Spirits' last previous home game, two weeks ago against Denver, they've attracted an average of 8,734 for their last three games here as compared to an average of 2323 for their first 18 appearances.
"We have to feel very good about what's happening now," said Weltman.
There still, however, are two conditions preventing the Spirits from fully negotiating their on-court and box-office turnabouts. One is that they remain in sixth place in the ABA standings although they now are only 1 game behind the Indiana Pacers and the Colonels, who are tied for fourth.
The other is that the Spirits' management has yet to receive the solid base of season-ticket support it was hoping for when it decided last month to keep the team in St. Louis.
On Dec. 1, Weltman announced the team was staying here instead of going to Salt Lake City because of assurances by St. Louis Mayor John H. Poelker that he would do everything in his power to encourage the purchase of tickets.
Poelker has brought up the matter of the Spirits' problem at numerous functions, but thus far results have been decidedly spotty on the season-ticket front. The Spirits have sold only 30 more season (now half-season) tickets than the 650 they already had. They say they need 3,000 to constitute solid support. But season tickets or no, people are starting to find their way to Oakland Avenue.
And the Spirits' players are responding. "The crowd brings out intensity in the players," said Ron Boone, who tied Marvin Barnes for team high-point honors with 26 points last night.