The idea behind Title IX upon its birth in 1972 was grand despite the rather concise presentation it received as part of the vast Federal Education Amendments. Those 37 words ultimately changed the course of athletic opportunities for women.
The potential impact was hard to grasp, in part, because the wording did not make reference to sports.
"No person in the United States shall, on the basis of sex, be excluded from participation in, be denied the benefits of, or be subjected to discrimination under any education program or activity receiving Federal financial assistance."
With that, the slow and still incomplete crawl toward equality in sports began.
It took a considerable amount of time for the interpretation and implementation of Title IX to take shape — a process that continues upon its 50th anniversary on Thursday. From a seemingly simple statement came immense change that continues to expand.
"It took 16 years for Title IX to really assume the force it later had as a broader coverage in education, scholarships and different aspects," said St. Louis University professor Tassos Kaburakis, Ph.D. "They wanted gender equity and couldn't foresee what it would do for opportunities for women and different programs and sports."
Kaburakis learned the Title IX history and landscape with the help of a speech by co-author and former Indiana Sen. Birch Bayh in the early 2000s. Bayh helped shepherd the legislation into existence after its creation by representatives Patsy Mink and Edith Green.
Kaburakis now has a consulting firm for prospective student-athletes with an international emphasis and works with his wife, Kristin Folkl-Kaburakis, who became an unwitting Title IX benefactor along with legions of other St. Louis athletes, coaches and administrators in the last five decades.
"When I was going through college, I had no idea," Folkl-Kaburakis said. "I wasn't that aware of Title IX. It wasn't until I had hindsight and the benefit of age that I could put it into context."
Here are the stories of some of the many St. Louis athletes and leaders whose lives were changed by the implementation of Title IX:
Kristin Folkl-Kaburakis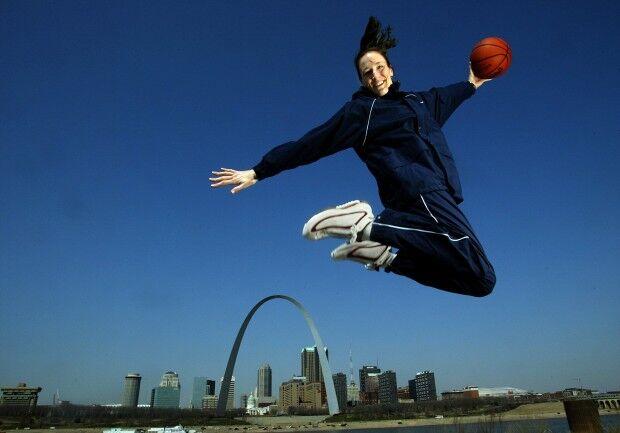 As a two-sport standout talented enough to play basketball and volleyball at the Division I level, the St. Joseph's Academy product was in the rare position of being able to command scholarships for both. She did just that at Stanford starting in 1994.
In 1972, athletic scholarships for women were largely non-existent. The first gender equity study by the NCAA was done in 1992, showing large gaps in participation rates and funding.
"What I didn't understand was that I was really expensive for Stanford," Folkl-Kaburakis said. "Both programs had to continuously hold a scholarship for me. I truly used both, but as a kid I didn't understand that's what was happening. I was a very expensive recruit. If I'd been born 10 years sooner, that wouldn't have been the case."
There was still a lot of room for improvement as Folkl-Kaburakis discovered at the basketball Final Four in 1995. In an attempt to match gifts given to male players, organizers put together a package for the women. It included a box of Bisquick and measuring cups.
Folkl-Kaburakis's mother didn't play sports, and her daughter assumed it was from a lack of interest or athleticism. But her mother later revealed that she would have if the opportunities had existed. By the time Folkl-Kaburakis reached high school, she said she didn't want for anything as an athlete.
"Some of your success depends on things out of your control," she said. "It dawned on me, I had that chance, and we never would have been able to afford that school. So, I did something that would have been 100% out of my reach without the scholarship. I was born in 1975. You figure it took years to start implementing Title IX. We were the daughters of women having babies when it was enacted and some of the kinks were worked out by the time we got to college."
Laura Arnold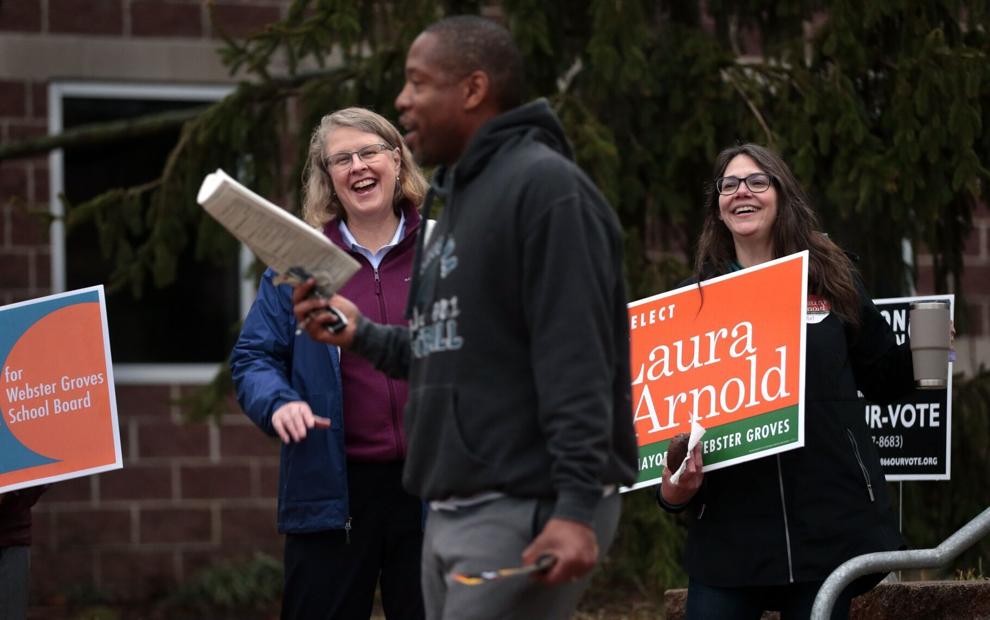 Laura Arnold didn't start playing sports, specifically basketball, on all-girl teams until she was in eighth grade. Many of her friends who wanted to play sports didn't because the only options were with teams consisting of a majority or all boys.
She ended up at Northwestern after graduating from Visitation Academy and played in the 1987 NCAA Tournament. Now the mayor of Webster Groves, Arnold remembers the players on that team more for what they accomplished after college than during their playing days.
"A lot of what you learn from being a high-level athlete translates into how you live life and what you do professionally," she said. "Every one of my teammates is in a leadership capacity. I think one of the underappreciated things about Title IX is that it really jump-started generations of leadership among women in business."
The number of Fortune 500 female board members increased from 9.6% in 1995 to 27% in 2019, according to the Pew Research Center. Women held 30% of college and university president positions in 2016, an increase from 9.5% in 1986.
Arnold had teammates at Northwestern who went on to become leaders in fields such as an NBA executive, coaches, an owner of a mental health consulting firm, school board members, among many other things.
"I'd been working with a woman on housing policy and found out she was a college soccer player," Arnold said. "We talked about how that prepared us to do what we're doing now. Every few years I run into someone I'm working with, find out they were a college athlete and it all makes sense."
Lori Flanagan
After teaching and coaching at a high school for 10 years, Lori Flanagan made a career move to St. Louis University in 1992, where she became the senior women's administrator, a position created by the NCAA three years earlier.
At the time, however, she was not the highest-ranking woman in the department because Debbie Yow was in the midst of her tenure as athletics director. It was an uncommon arrangement at the time — in some regards groundbreaking.
"Debbie was a shaker and a mover," Flanagan said. "The program was elevated to where you could make subtle but significant changes to where the equality of programs started to even out. I don't know if we were ahead of the curve, but people looked to Debbie as an advocate and driver of Title IX."
It was a big improvement from Flanagan's days in a Wisconsin high school, where girls had to petition the principal to start a basketball team in the years after Title IX was enacted.
After Yow departed SLU, Flanagan was left as the lone woman in administrative meetings for many years, having a huge impact on women's sports. She left for Missouri-St. Louis in 2006 and remains as the athletics director for the Division II program.
Charmin Smith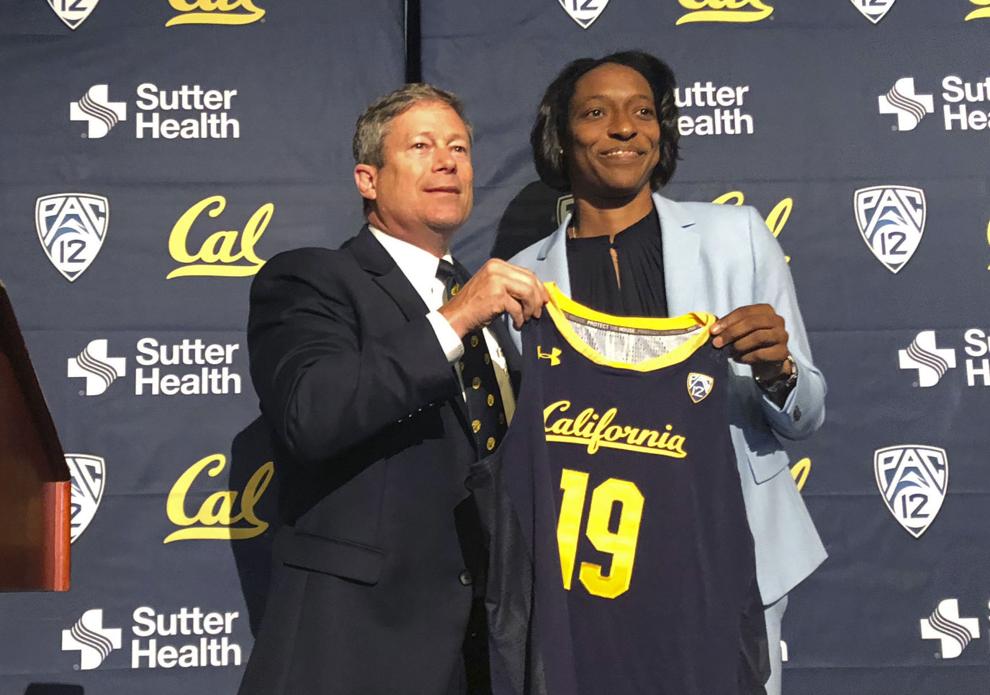 Charmin Smith grew up in St. Louis accustomed to standing out, whether she was the only girl in an honors class or the lone student of color in an engineering class. She went to Ladue High and then played basketball at Stanford, overlapping with Folkl-Kaburakis. She is now the women's coach at California.
"Title IX has been impactful on my experience, even where I am as a Division I coach," she said. "It's similar to the way I navigated in terms of race and social justice issues. I didn't live in a time like my parents when they had separate drinking fountains, but I experienced racism and understand what it means."
Smith acknowledged that being able to attend Stanford might not have happened without Title IX. She now said she spends time educating her players on advantages they have that may not have been available to past generations.
But she and others were reminded of problems that remain when it was revealed at the 2021 NCAA Tournament that the women were given inferior workout facilities compared to the men at their Final Four site.
"We knew it was happening but everyone else didn't know," Smith said. "The NCAA knew and didn't care to change until they got caught. That's disappointing. I wish they'd done something earlier because it was the right thing to do."
Janet Oberle
When Janet Oberle was deciding on a college to attend in 1992, she was hoping to combine her academic pursuits with excellence in soccer. However, finding a university with an NCAA women's soccer program that also offered her major in environmental engineering was a challenge.
So, Oberle, who went to Nerinx Hall, ended up enrolling at Illinois for the academics and playing club soccer instead of potentially getting an athletic scholarship elsewhere.
"My experience in the recruiting process was making a decision if I wanted to pick a school for sports or because of my degree program," she said. "I wasn't willing to go somewhere that didn't have my major. I tell students now they don't have to make decisions to give up their major because they want to play a sport. They can find multiple options. Title IX has helped girls out of high school to make decisions they want instead of what they have to give up."
Things might have been different for Oberle, who is the senior women's administrator at SLU, if she had been born five years later. She had been offered a spot on the Columbia University soccer team in '92 but without athletic scholarship money.
There were no NCAA women's soccer programs in Missouri or any state that touched it when she entered college. In 1996, teams were added at SLU, Missouri, Missouri State and Southeast Missouri State.
Patty Viverito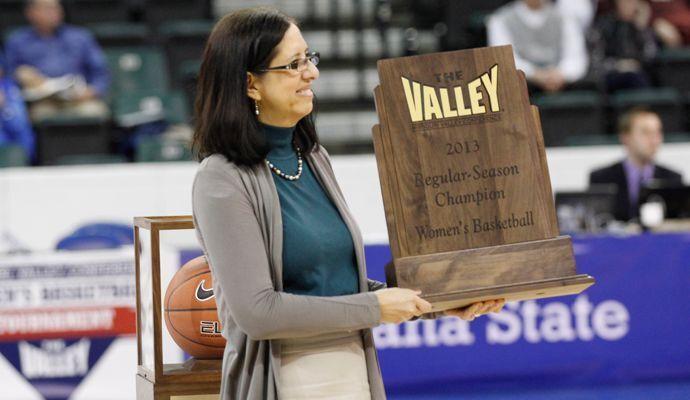 The passage of Title IX was an inspiration for Patty Viverito, who was working in corporate marketing out of college in South Bend, Indiana. While there, she began to hear about the growth of women's sports at Notre Dame in the early 1970s.
She returned to college to study sports management with the intent of taking advantage of the anticipated changes. She has spent more than 30 years working as senior associate commissioner of the Missouri Valley Conference and helped lead the merger of the Gateway Conference's women's sports and football operations with the MVC.
"Title IX was getting attention and I was living in South Bend, and it became apparent to me there would be opportunities in women's sports that had not existed," she said. "So, I decided to go back to college and market women's sports."
Viverito helped organize the two women's Final Fours that were played in St. Louis, calling them highlights of her career. Two scholarships for female athletes recently were created in her name in the Quad Cities area where the MVC women's basketball tournament is played. She remains as commissioner of the Missouri Valley Football Conference.
"There was a time when some didn't appreciate and endorse women's sports opportunities," she said. "The biggest change is that no one questions that anymore. We're just fighting how to pay for those opportunities."