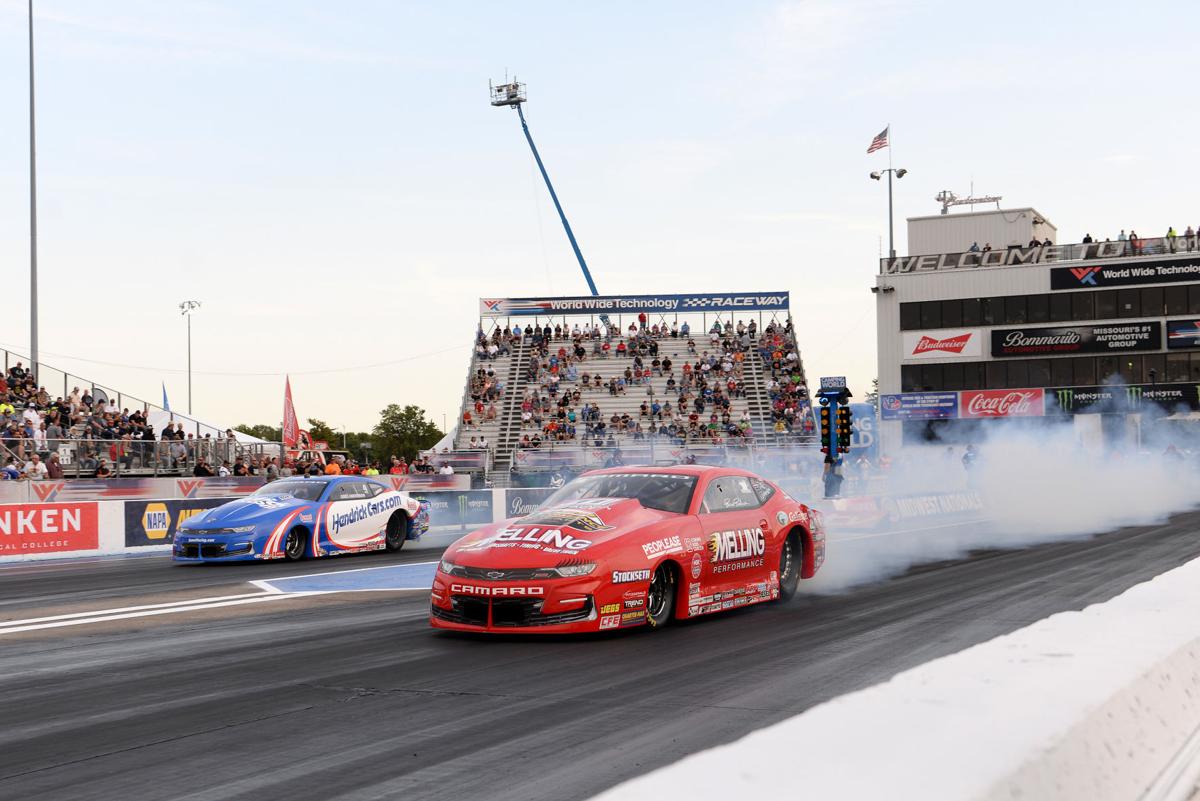 Greg Anderson worked for Warren Johnson for 12 years, serving as crew chief for the NHRA's all-time winningest pro stock driver.
He achieved his pro stock license only because Johnson forced him to attend driving school in the mid-1990s so that Anderson would understand the challenges of operating the vehicle.
"The last couple of years working for Warren, he got disgusted with myself and his son because we were always picking on him," Anderson said. "He said, 'I'm sending you guys to driving school so you can get inside a car and learn how difficult it is from the inside.' The next week, Curt (Johnson) had a ride. I didn't have any money and didn't have an opportunity to race."
Approaching his 40th birthday, Anderson took a chance two years later. He wanted to find out if he could have a fraction of the success driving that he did at the helm for Johnson, who went on to win 97 NHRA events.
Anderson warned his boss he might be back, begging for his job, but that wasn't necessary.
Now 60, he is tied with Johnson with 97 wins and trying to break the mark at this weekend's Midwest Nationals at World Wide Technology Raceway.
Although he has won two fewer season championships than Johnson, Anderson freely acknowledges his desire to break he record because it would mean another boost toward a possible fifth title.
"A few races ago I thought I wasn't going to make too much out of this deal," he said "First of all, I didn't know if I'd get there, and I probably had more important things to concentrate on. I'm trying to find a way to win a championship.
"But I can't stop thinking about it. So, it's become important and it's cool. I don't think I'm going to hurt myself thinking about it because if I find a way to break the record, I win a race and get the most points."
Anderson did as well as possible in qualifying, posting the best time in all three runs and taking the No. 1 spot for Sunday's eliminations with a best of 6.519 seconds at 209.10 mph Saturday. In top fuel, Mike Salinas held onto the top qualifying spot at 3.652 seconds and 327.74 mph. Matt Hagan ended up atop the funny car qualifying at 3.868 seconds and 333.25 mph.
Anderson has not won a season championship since 2010, capping a decade in which he dominated the division and began his pursuit of Johnson's record by beating him more often than he lost in head-to-head meetings.
He has been chasing younger drives the last 10 years but still winning plenty. Just not as regularly as from 2003 to 2005 — all championship years — when he won 35 of 69 events.
For whatever reason, WWTR has not been among the tracks that he's had great success. He won in 2004 and 2017 while Erica Enders has ruled at the track with four wins in the last nine years.
"There's no reason," Anderson said of his inability to win more at WWTR. "It's a great track for pro stock and there's never been a problem. I can't answer why other than it must be something I did."
Anderson is just happy to be racing after starting the season on shaky ground in terms of sponsorships. He was admittedly "on thin ice" as he tried to get enough backing to compete each week.
He was patching things together when he got the idea to call Rick Hendrick of Hendrick Motorsports. Anderson met Hendrick 10 years ago and had kept in touch enough to feel comfortable making the call.
Hendrick signed on for the remainder of the season.
"I called to see if he had any interest at all, and he didn't bat an eyelash," Anderson said. "He's a smart businessman and saw this whole record deal coming down and wants to be on the side of the car with the record. He's no dummy."
In addition, Hendrick allowed Anderson to use the color scheme that Hendrick's son, Ricky, used during his NASCAR days. Ricky Hendrick was one of eight people who died in 2004 when a plane owned by Hendrick Motorsports crashed en route to a race.
What started out as a season of uncertainty has gone unexpectedly well. If Anderson was thinking about retirement, he's probably thinking about it a lot less.