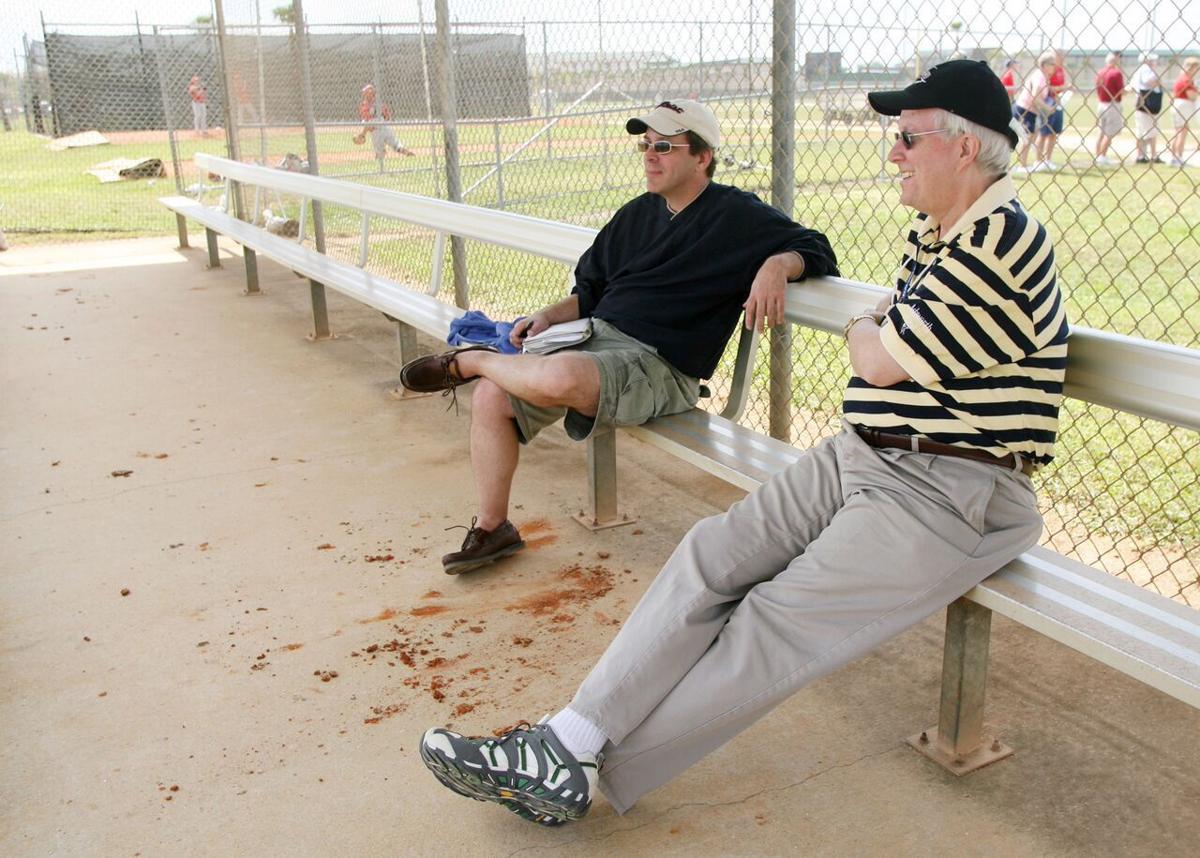 With Joe Strauss, the glass was always half empty, if that.
Woodward and Bernstein had nothing on him, as far as conspiracy theories. If it was 80 degrees and not a cloud in the sky, Joe would want to know why it wasn't raining, contrary to the forecast. Had God changed his mind?
But that hard-bitten, take-nothing-at-face-value attitude was what made Joe Strauss a top-notch baseball scribe and, for three years after he got off the beat, a first-rate sports columnist at the Post-Dispatch.
And he probably worked even harder at his column job than he did covering the Cardinals, which he did for a decade after taking over for me. Joe knew his expertise, while considerable in general, was less than he thought it should be in some sports. So he set about familiarizing himself with players and coaches in other arenas, especially Blues coach Ken Hitchcock, who Joe told me spent more time with Joe explaining strategy and procedure than he really needed to.
"Joe was intrigued by the inner workings of a team and what made it function properly or not," Hitchcock told Jeremy Rutherford of the Post-Dispatch on Sunday. "He was fascinated about hockey because he saw the game as the ultimate team sport and wanted to learn why players made those sacrifices for each other. He wanted to learn the game from an intellectual level, and our conversations were very enlightening for both of us.
"That's why I had so much respect for Joe, because he wanted to dig deeper and wanted every detail and wouldn't leave until he knew why. I will miss him."
Strauss didn't necessarily set out to make friends when he was at work, although his work was widely respected.
"Joe was the best pure reporter I ever worked with," said Baltimore Sun columnist Peter Schmuck.
Former Post-Dispatch columnist Bernie Miklasz, who worked with Joe Strauss for some 13 years here, said, "It was really hard to explain Joe to people who didn't know him. I would say, at times, he was like unduly feisty, trying to be combative, and he was never hesitant to stir the pot.
"Now, if you explain that to an outsider, they would say, 'That's not a very nice thing to say.' But you didn't know and love Joe Strauss unless you've sparred with Joe Strauss.
"He was a tough, salty guy on the outside and, at times, as a colleague and a friend, he could be difficult to deal with because he was complex. But underneath all of that, he was a genuinely sweet, caring man. If you had a problem or a crisis, he would be the first on the scene to help.
"That was the secret he never wanted anybody to know. He enjoyed that persona that he had. But those who knew him best knew there was a lot of tenderness under that persona."
Perhaps capturing it best, longtime friend Schmuck called Strauss "a lovable curmudgeon."
Joe would never burden you with his or his family's health issues, but he was always concerned about yours. A notable example was his concern for late Post-Dispatch columnist Bryan Burwell, a fellow Virginian, and his family. Burwell died Dec. 4 of last year, not long before Joe was diagnosed with leukemia.
While Joe was an award winner on several lists as a writer, he might have made Mr. Blackwell's list for fashion, as in the worst-dressed category. Camp shorts, sweater, loafers, no socks, ratty baseball cap. And that's for when he was going formal. But any critique of his wardrobe mattered not a whit to Joe.
He came to the Post-Dispatch between the 2001-2002 seasons when I was taken off the Cardinals beat (by a previous administration). The job was advertised and highly sought after, but some of my friends who had interest said they would have felt uncomfortable replacing me and turned down interviews.
Joe, who then was covering the Orioles for the Baltimore Sun, wanted to interview. But he called me to make sure I would be OK with it if he were offered the job and took it. I had known Joe not only when he was in Baltimore but, before that, in Atlanta covering the Braves for the Journal-Constitution and, I told him, of course it would be OK.
So as Joe took over the beat I had held for a quarter-century, I settled into a hybrid role as a columnist, national writer and backup beat writer. It was a role with which I struggled for a while. Joe often would ask how I was doing with the change and offered to help in any way possible.
Joe's best work here may have been his weekly Wednesday chat, which occasionally bordered on contentious but never lacked for amusement. "El Diablo," a term which Miklasz says he initiated, took on any and all issues, throwing daggers at the University of Missouri if he felt it necessary and always keeping an eye on the Cardinals and what they did, didn't do or should have been doing.
Fox Sports columnist and broadcaster Ken Rosenthal, who spent several years working alongside Strauss as a reporter in Baltimore, said, "I know he could be not the easiest, but he was a great freakin' reporter.
"The legacy he leaves is one to which we should aspire — to go about it the way he did. The way he went about it was the right way. It is our job to ask hard questions. It is our job to write articles that people don't necessarily want to read if they're revealing on a certain subject. And it's our job to keep scratching, keep clawing and not stopping until we get what we think is the proper resolution. He embodied that."
Joe knew a lot about a lot. His friends at the Palm Beach Kennel Club will miss him in the poker room, although they probably won't miss him taking their money.
Once in a while, I would accompany Joe to the Kennel Club to watch the dogs race and invest in a couple of them. Joe often had other ideas. As we walked into the track's clubhouse one night, he noticed, on the televisions above us, the imminent start of a harness race in Yonkers, N.Y.
He said, "I'm going to play the trifecta." He barely had seen the horses before he hustled to the window to make his bet. Of course, that trifecta came through, and I never had much reason to doubt Joe's overall knowledge again.
"I would say we spent six months at the track over the course of our lives," said Schmuck, chuckling. "But you never knew if he won or lost. He was very dispassionate. He lost some and, at times, he won a ton. But he showed very little outward display of emotion."
But Joe had his sense of humor, sometimes twisted, until almost the very end. Around Thanksgiving, he had taken his first turn for the worse and, apparently, was out of commission for a few days. In my last visit with him at the hospital, I asked him if he had been unconscious or in a coma. He said he didn't know.
"They told me I was under sedation for three or four days," he whispered. "People have told me many times that I should have been sedated."
Strauss' trademark phrase was "Everybody up." The origin was an announcing change for the Orioles network in Baltimore, where a cheerleading, positive type was brought in to replace future Hall of Famer Jon Miller.
Strauss, in twitting the new announcer, would suggest that the announcer should ask everybody to rise up to support the Orioles. "'Everybody up,' became his trademark phrase," said Schmuck.
It might be applied to Strauss shouting, "Everybody up," at 8 a.m. outside Schmuck's door in the Fort Lauderdale, Fla., spring training condo they shared.
Or it might be Strauss starting a telephone conservation with somebody he knew by blaring, "Everybody up."
"It was like 'Aloha,' or 'Shalom,'" said Schmuck. "It meant everything. It meant different things."
"Everybody up" now for Joe Strauss. On a gloomy weekend, when it rained and rained and rained some more, Joe's fight ended.
"It's actually hard for me to believe that cancer got him," said Rosenthal, "because he was so tough and so unyielding. You just felt that he was someone you thought would win."
"He was a bit of a throwback sports writer,'' said Schmuck. "He would fit into that era."