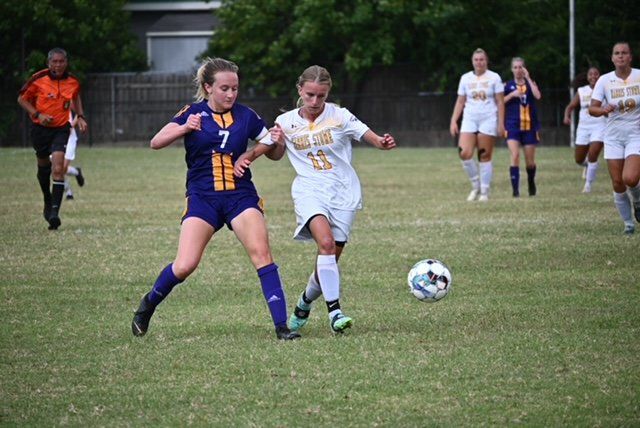 The rebuilding of the soccer program at Harris-Stowe State University is being guided by former Hornet Scot Vorwold.
A local product, Vorwold attended Tower Grove Christian and transferred to Harris-Stowe after a successful start to his college career at Meramec Community College. He's been coaching Harris-Stowe's women since 2014; the team went 11-5-2 in 2018, 10-7-1 in 2019 and 6-6 last season while dealing with COVID-19.
He took over the men's program last year and battled through a 1-6-1 COVID season.
Heading into Saturday's American Midwest Conference games at William Woods University in Fulton, Mo., the Harris-Stowe women are 7-0 and the men are 6-1.
"It's a bit surprising, but honestly, I knew we had this kind of potential," Vorwold said. "The building process with the women has been steady. Last year, we were really playing well when we ran into COVID troubles late in the season that really hurt us. Coming back this year, our women definitely seemed a little salty and with something to prove after the way last year finished.
"With the men, I brought in a bunch of new players and they're come together a little better than I expected."
Harris-Stowe's women are led by St. Louis home-school player Mary Grace Angeli (5 goals, 4 assists), Ireland's Rachael Manley (6 goals, 2 assists) and defender Nicole Garrido from Iowa. On the men's side, the Hornets' key players include Italian Ricardo Benini (4 goals, 4 assists), German Massimo Kluver (2 assists), Spain's Anthony Medina (4 goals, 1 assist) and goalkeeper Joshua Precious (3 shutouts, 0.70 goals-against) from New Zealand.
"Our depth is better with both teams," Vorwold said. "We've managed to get off to great starts and now we have to keep it going during conference play. We want to stay humble and hungry and to keep pushing for success."
Honor roll
Lindenwood linebacker Drew Seers (Parkway West) was named Great Lakes Valley Conference football defensive player of the week following the team's 56-34 win over Kentucky Wesleyan. He finished the game with 14 tackles, including four solo stops and ½ sack. In addition, he picked off a pass.
In the victory, the Lions tied a school record with eight rushing touchdowns, including five from QB Cade Brister (Fort Zumwalt North).
• The fourth-ranked Missouri Baptist volleyball team (12-2) stretched its winning streak to seven matches as Giovanna Tapigliani and Manuela Vargas repeated as the American Midwest Conference attacker and setter of the week, respectively. Tapigliani had 10 kills and no errors against Culver-Stockton while Vargas averaged 12 assists in the straight-set victory.
• Missouri State's Bailey Redden (Belleville West) was named Ohio Valley Conference goalkeeper of the week after matching a season best with eight saves in a 1-0 win over Missouri State. She now ranks second in program history in saves, fourth in shutouts and fifth in wins.
In volleyball, the Redhawks' Claire Ochs (St. Joseph's Academy) and Laney Malloy earned setter and offensive player of the week, respectively. In helping SEMO win the Redhawks Invitational, Ochs led her team with 112 assists.
• UMSL's Megan Woll has done it again. For the second time in as many weeks, the Tritons' Wall (Edwardsville) was named GLVC defensive player of the week in volleyball. She had 60 digs, seven assists and three aces in wins over Illinois-Springfield and Quincy.
• SIUE men's soccer (1-4-2) made its return to the Missouri Valley Conference last weekend, dropping a 1-0 contest to visiting Missouri State. The Bears (5-1) scored on a free kick in the 14th minute.
• McKendree freshman golfer Imogen Rafferty picked up her second title in as many tournaments with a victory at Drury's Lady Panther Fall Invitational. She shot a 1-over par 145 for 36 holes to win by eight strokes.
• Lindenwood's Najwa Chouati and Rachael Morrison finished 1-2 at Columbia College's Larry Young XC Invite last weekend. The Lions finished behind the host team in the team standings. Lindenwood also took second in the men's race as the Lions' Louis Moreau finished as runner-up. Missouri S&T won on the men's side.
• Missouri Baptist's Tyler Ball (Ritenour) was named Mid-States Football Association offensive player of the week after catching seven passes for 102 yards, including a 52-yard TD, and adding a 95-yard kickoff return for a score in the Spartans' 42-24 win over visiting Madonna. Missouri Baptist (3-0) takes on No. 8 Marian (2-1) Saturday in Indianapolis.
In men's soccer, the Spartans' Brandon Burton was named American Midwest Conference offensive player of the week after coming up with three assists in a 5-4 OT win over Tennessee Southern and adding a goal and an assist in a 4-0 win over Taylor.
• Fontbonne's Cody McKinney (Sullivan) was named St. Louis Intercollegiate Athletic Conference golfer of the week after finishing 11th at the John A. Logan Invite.
• Four Webster athletes earned SLIAC athlete of the week honors — Nathan Freyling (Fox) in men's cross country, Danielle Schultz (Belleville East) in women's cross country, Henok Moges (Parkway North) in men's soccer and Jordan Lande in women's soccer.
In volleyball, the Gorloks' Mary Nelson (Bishop DuBourg) posted her second triple-double of the season in a 3-2 win over Illinois College. She finished the match with 10 kills, 16 assists and 13 digs.
• Washington University had three athlete of the week honors. In football, kicker Chris Vartanian was named CCIW special teams player of the week after booting five extra points and field goals from 42 and 40 yards in a 41-7 win over North Park. Soccer player Ariana Miles had three goals and an assist for the 5-0-1 and third-ranked Bears to earn University Athletic Association honors. Also picking up UAA honors was golfer Sydney Kuo, who won medalist honors and helped the Bears win the team title at the Illinois Wesleyan Classic.
In cross country, the Bears took first on the women's side and second to Wisconsin Whitewater in the men's race at the Tom Hoffman Invitational in Wisconsin. In the women's race, Emma Walter won ahead of Kiera Olson, Emily Konkus, Lindsay Ott and Sophie Young as the Bears swept the top five.
The Bears' Jacob Ridderhoff led Washington U. with a third-place finish in the men's race.
• McKendree's Boriss Kamdem went 5-0 and didn't drop a set in winning the ITA Fall Circuit last weekend at the Dwight Davis Tennis Center in Forest Park. He beat St. Louis U. High's Gus Tettamble 7-6 (4), 6-3 in the final.