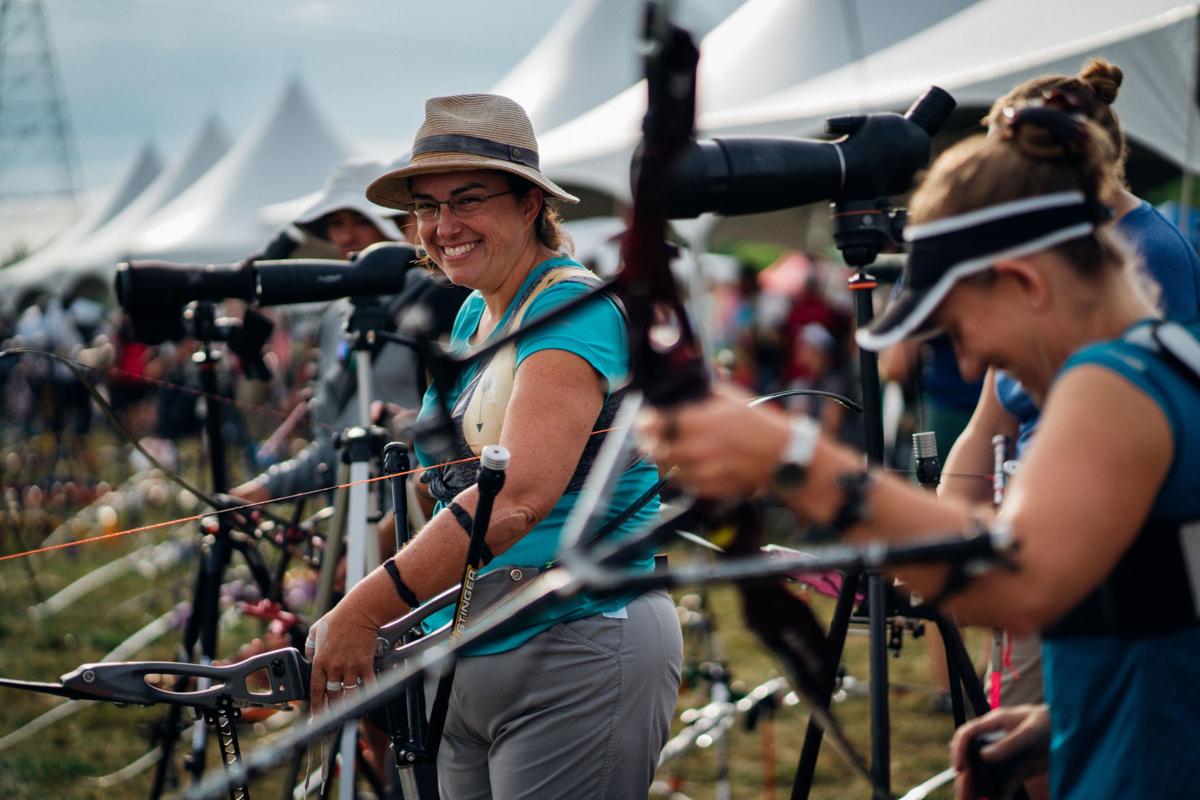 (Part of the "Best of St. Louis" series, featuring the region's top performers in Olympic and recreational sports.)
Depending on what she wants to work on, sometimes you can find archer Darcy Gill shooting arrows on the range at Forest Park or the one at Buder Park in Valley Park.
And sometimes you can find her shooting arrows in her kitchen in Kirkwood.
With a mirror on the kitchen ceiling ("That was quite the conversation piece among guests at my daughter's graduation party," she said) and cameras set up to allow her to record her movements from four angles, when Gill wants to work on her form, she moves some hanging pots and pans out of the way and fires arrows from her kitchen, through a window-sized opening in the wall and into a target set up about 8 yards away in her breezeway.
The family calls it her "archery lair."
"That's how somebody with a career gets in 200 arrows a day," her coach, M.J. Rogers, said.
Gill has a Ph.D. in microbiology, focusing on technical molecular microbiology and microbial pathogenesis, and works as the medical science liaison for the biotechnology company Genentech, working with researchers doing clinical studies of drugs. That's because we do not live in a world in which archery alone allows people to pay their bills. When people ask her what she likes to do for fun, she tells them, "I fling pointy things at paper circles."
But it's clearly more than just a hobby. There are a lot of variations of archery out there, different kinds of bows and different types of targets. But when it comes to the kind of archery you would see at the Olympics, with archers trying to hit a bulls-eye a little smaller than a CD from 70 meters — hold your arm out and the size of your thumbnail is about what the target looks like at that distance — Gill is the best in St. Louis.
In the most recent USA Archery rankings, she was ranked 17th in the nation in women's recurve — the type of bow used in the Olympics,
At the Olympic trials this year, she was hoping to finish in the top 16. That would have her in a round robin for a spot on the team, but didn't make it.
"I didn't do as well as I thought I would," she said. "I was confident I would be in the top 16 and didn't perform as well as I had hoped. I was not too far out. It's a disappointment, but it's OK."
Balancing act
Balancing a career in science and a career in archery can be a challenge. Gill took about a 15-year hiatus from the sport, starting when she hit grad school as started her career and her family, before picking up her bow again six years ago. But while some of the best archers in the world are in their teens, there also are very good archers who are much older. Rogers thinks archers such as Gill, 44, benefit from the lives they've led.
"Her tenacity is certainly a big asset," said Rogers, who lives in Carlinville. "She does that as well as many in the sport of archery. It's not necessarily a youth-driven sport. Those that have had life experiences — kids, family, the myriad of things that goes along with that maturity — allows her to put the success or failures in a proper perspective. It allows her to be a very competent competitor."
And the commitment level is very high.
"Last season, I was very busy with the Olympic trials season," Gill said. "I was at the range at least five days a week for a minimum of three hours, usually five. It depends on how much time I have with my work schedule and two teenagers at home. It's pretty demanding. But I give everything I possibly can."
There's a fair amount of Zen involved in archery — the first book to bring the concept of Zen to the awareness of the western world was called Zen in the Art of Archery, published in 1948 — as competitors block out everything around them, including their own errant shots. Arm strength also helps: When her bow is at full draw, it's the equivalent of holding 40 pounds for Gill.
"Archery is a sport of repetition," she said, "as much mental as physical. You have to be very strong, but also focused. It's an interesting competition. There's a lot of motion going on though you appear to be perfectly still."
Getting started
Gill came to archery through a fluke of geography. As a child, her family moved to Jefferson, Iowa. That happened to be the hometown of Doreen Wilber, who won the gold medal in archery at the 1972 Olympics. Gill's mother signed her up for a parks and recreation class taught by Wilber, and Gill loved it. Wilber's husband, Skeeter, became Gill's first coach.
"I went the first time and I fell in love with it," she said. "It was almost like a scene from Harry Potter when Harry gets his wand. The first time I shot, I absolutely loved it."
Gill came to St. Louis for grad school at Washington University and stayed. She said one of the things she is asked most when people learn she's an archer is if she's going to the Olympics, which, for most people, is the only place that archery exists. (It also exists in movies; the appearance of archery in movies such as "The Hunger Games" and Disney's "Brave" boosted interest among kids.) Right now, the answer is no. But she's still trying.
Archery is a sport with a long horizon, so even though she's 44, she's got many competitive years ahead. In this second incarnation of her archery career, she's a veritable newcomer. While she doesn't have a big tournament win to point to, she did beat national champion Casey Kaufhold in the round of 16 at the 2018 Buckeye Classic. But she didn't win the tournament.
"It's been a story of slow and steady and just not winning the race," she said. "I've always been a good archer and performed well, but never where I want to be. I've not had huge wins but I've come close. I'm just as proud of the journey as I will of the big wins that are coming some day."