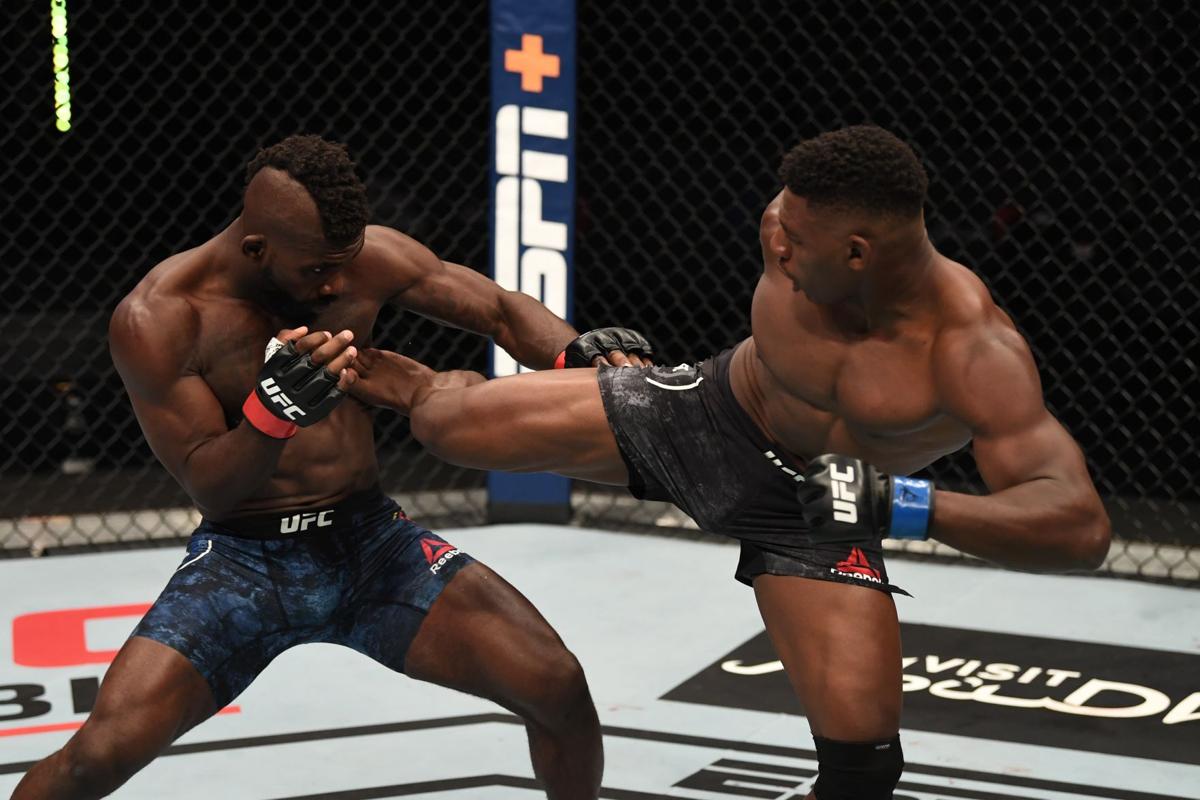 It's a kick that Joaquin "New Mansa" Buckley often does while training.
"Basically, it's something for a highlight video," said Buckley, a St. Louis-based mixed martial arts fighter. "On the heavy bag, it's so much fun to do. And it looks so cool. But realistically, it's not a move I was ever expecting to pull off in a real fight."
That is, until Buckley caught previously undefeated Impa Kasanganay on Oct. 10 at UFC Fight Night 179 in Abu Dhabi. Following an action-packed first round won by Buckley, the middleweight bout was about two minutes into the second round when Buckley threw a kick that Kasanganav caught. Instinctively, Buckley jumped to spin and delivered a kick with his other foot to Kasanganav's face that knocked him out cold.
It was Buckley's first UFC victory, in just his second UFC fight. Video of the kick has been shown on virtually every MMA highlight reel and he was awarded an extra $50,000 as a "performance of the night" bonus. And now he's also an early favorite for "knockout of the year."
The kick is featured in a video put out by hip-hop superstar Kanye West and prompted President Donald Trump to call UFC president Dana White to rave about the epic finish.
"After all the hard work, all the workouts, that one kick has pretty much changed my career," Buckley, 26, said. "I realize this is a huge opportunity, one that some fighters never get. I'm grateful for it and now it's up to me to take advantage of it."
Buckley, who improved to 11-3 with eight knockout victories in his career, is now scheduled to fight Jordan Wright (11-0) in UFC 255 in Las Vegas on Nov. 21. That card is headlined by a flyweight title bout between Deiveson Figueiredo and Alex Perez.
"I see this whole thing as a blessing — God's plan for me — and now I have to work to take advantage of it," Buckley said. "I don't need to work any harder — I'm always working hard — but I have to work smarter now. I need to keep doing what I've been doing and take advantage of the added resources and opportunity I have now."
Buckley, a Marquette High graduate who lives near the Delmar Loop, wrestled in high school but always seemed to be drawn to mixed martial arts.
"I wasn't the best wrestler, but I always tried to put on a show, trying for as many takedowns as I could,'" he recalled. "My first coach, Joe Wier, left after my sophomore year to coach at Lafayette. I really think if he'd stuck around, he really could've helped me become a state champ."
Buckley also was influenced by former Marquette wrestling standout Bobby Conn.
"Bobby was coaching us and told me that I reminded him of (former McCluer and Mizzou wrestler and MMA standout) Tyron Woodley," Buckley recalled. "To be honest, I had to look up info about Tyron, but when I did, I guess it inspired me."
After high school, Buckley decided to give MMA a shot. Using Google, the first gym he came across was Finney's MMA.
"I was an only child and kind of a weird kid," Buckley admitted. "I watched a lot of martial arts movies and did a lot of pretend martial arts. I was young and naïve then. I walked into Finney's and the first class I took was a kick-boxing class. It kicked my butt.
"Back then, I was doing some things I shouldn't have been doing. But I stuck with the MMA fighting and pretty soon I started to develop my own style."
Buckley started competing in Shamrock FC and eventually made his way to Bellator and then to the Legacy Fighting Alliance before getting his opportunity with UFC. Buckley made his UFC debut on Aug. 8 in Fight Night 174; after taking the fight on short notice as an injury replacement, he lost on a third-round TKO to Kevin Holland (19-5).
"I've had some ups and downs, but I feel like those tough times forced me to grow as a man and also as a fighter," he said. "Hopefully, the adversity helped me to grow up a little. It's forced me to change my ways and be in this position.
"This isn't a fluke. God put me in this position for a reason and this is my chance to prove that I belong."