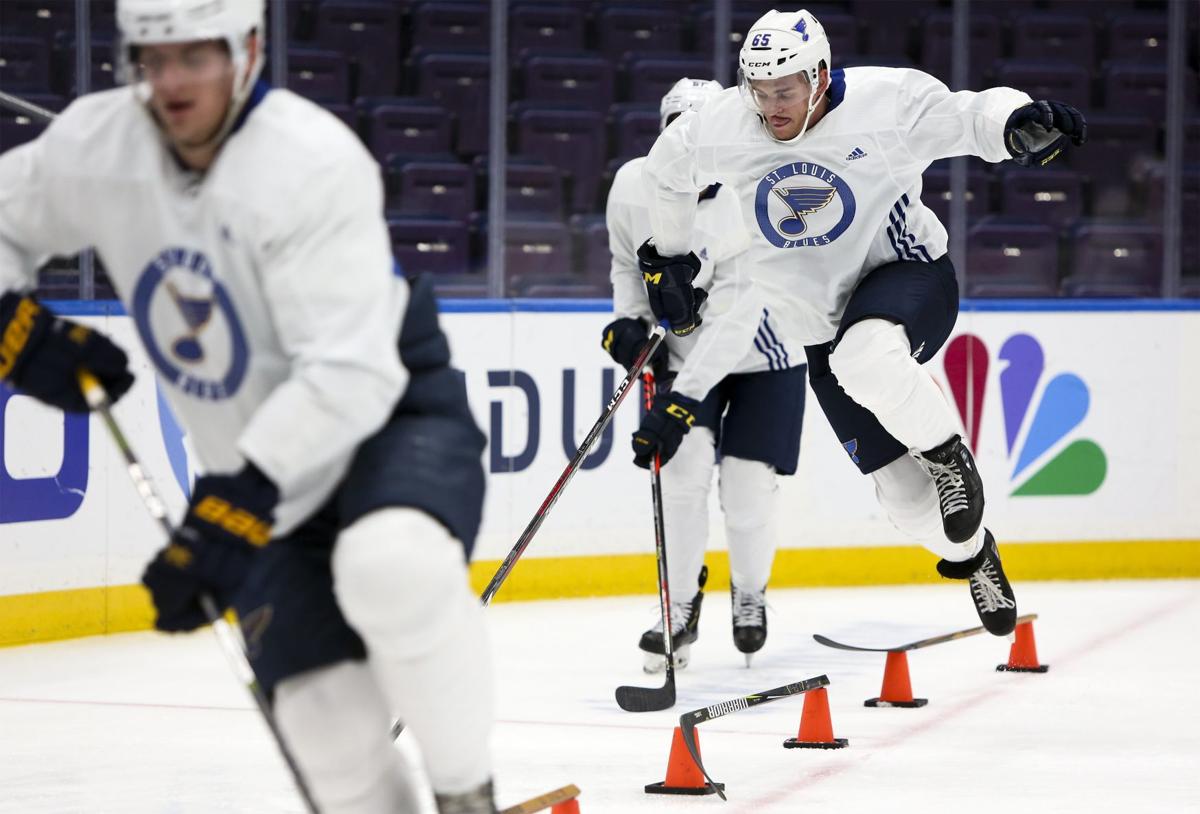 Blues prospects lose tournament opener
Goals by Robby Jackson and Alexey Toropchenko gave the Blues' prospects a 2-1 lead after the first period, but it was all Toronto after that. The Maple Leafs scored the game's next five goals to defeat the Blues 6-2 Friday in the NHL Prospect Tournament in Traverse City, Mich.
Toropchenko, a fourth-round draft pick of the Blues in 2017, starred for the Guelph Storm in the Ontario Hockey League playoffs and the Memorial Cup last spring, scoring 13 goals in 24 postseason games.
The Blues play Detroit on Saturday at 2:30 p.m. The Red Wings lost to the Chicago Blackhawks on Friday in their tournament opener, 5-4 in overtime. (Jim Thomas)
Female officials work tourney: The NHL for the first time selected four female officials to work on the ice at prospect tournaments being held this weekend. Katie Guay and Kelly Cooke were selected as referees, while Kirsten Welsh and Kendall Hanley will work as linesmen, the league announced Friday. They were selected out of a group of 96 officials, including 11 women, who participated in the league's annual officials exposure combine last month in Buffalo.
It's the first time women have officiated at the pre-training camp prospects tournament level. It's the next step in the league's bid to have women officiate at the NHL level. NHL Commissioner Gary Bettman previously said he envisions a woman officiating at the league level, without providing a timeline. (AP)
Sharks keep Thornton: Joe Thornton will be back with the San Jose Sharks for what will be his 22nd NHL season. Thornton and the team came to terms on one-year deal worth $2 million, a source confirmed, as general manager Doug Wilson completed his last big piece of business before the start of training camp next week. It's the third consecutive year that Thornton, 40, has agreed to a one-year deal to remain in San Jose. Thornton and the Sharks agreed to an $8 million contract for the 2017-18 season and a $5 million deal for last season. Thornton is the NHL's active leader in career assists (1,065) and points (1,478), and is second with 1,566 games played. (Mercury News, San Jose, Calif.)
Colletti changes sports: The Sharks also announced that former baseball executive Ned Colletti will join the organization as a scout. His primary tasks will be scouting players at the American Hockey League and NHL levels. Colletti, who served as the Dodgers' general manager from 2005-14, is returning to his roots with the hockey team after he worked as a beat writer covering the Philadelphia Flyers before embarking on a career in baseball management. "Ned has an extensive background working in professional sports and talent evaluation and he will bring a fresh perspective to our organization's evaluation process," Sharks general manager Doug Wilson said in a statement. "This was a unique opportunity to add someone of Ned's experience to our staff."
Colletti grew up a Blackhawks fan in Chicago and began his nearly 40-year career in baseball when he joined the Chicago Cubs' front office in 1982. He joined the Giants in 1994 as the team's director of baseball operations and was promoted to assistant general manager before leaving for the Dodgers in 2005. He helped guide the Dodgers to five playoff berths and three appearances in the National League Championship Series during his time in L.A. (Los Angeles Times)
Hurricanes add defenseman: The Carolina Hurricanes signed defenseman Jake Gardiner to a four-year contract that averages $4.05 million per season. Gardiner, 29, had three goals and 27 assists while playing 62 regular-season games with Toronto last season, then added two assists in seven playoff games. He has 45 goals and 200 assists during his eight-year NHL career. (AP)
Boise State gets football win: Hank Bachmeier threw for 282 yards and a touchdown and No. 24 Boise State held its second straight opponent scoreless in the second half to grind out a 14-7 victory over visiting Marshall. Boise State won despite the lack of explosive offense shown in its opener last week in a 36-31 victory at Florida State. The Thundering Herd (1-1) were held to 172 total yards. (AP)
Churchill wants winter racing: Churchill Downs, the home of the Kentucky Derby, wants to expand into winter racing in 2020. The famed Louisville track's parent company said it plans to seek approval from the Kentucky Horse Racing Commission to host a winter racing meet, in January through March and in December 2020. After that, Churchill Downs Inc. said it hopes those thoroughbred racing dates are awarded to a racing and gaming facility the company wants to build in northern Kentucky. Churchill's applications means the powerful racing and gaming company is trying to take over racing dates that historically have been awarded to Turfway Park, a racetrack in northern Kentucky (in suburban Cincinnati). The request sets the stage for a bitter turf battle. (AP)
STLFC takes on Nashville: Coming off back-to-back United Soccer League Championship wins for the first time since the first week of April, St. Louis FC (8-9-8) will try to keep it rolling when it hosts Nashville SC (15-6-6) at 7:30 p.m. Saturday at Soccer Park in Fenton. With one-goal wins this week over Hartford Athletic and the Ottawa Fury FC, STLFC holds the 10th and final playoff spot in the Eastern Conference. Nashville sits second in the conference, just two points behind the conference-leading New York Red Bulls II. On March 16, STLFC defeated host Nashville SC 1-0, getting a late goal from Caleb Calvert and a shutout from Jake Fenlason. (Joe Lyons)
Bills fall in soccer: Eddie Munjoma scored in each half to lead Southern Methodist to a 2-0 victory over vising St. Louis University in a nonconference men's soccer match. The Billikens (0-2) generated several dangerous chances but were unable to sneak one past goalie Shane Lanson of SMU (3-0). SLU is back in action next Friday, Sept. 13, when it heads to Southern Illinois University Edwardsville for the Bronze Boot game. Kickoff is set for 7:30 p.m. (News services)