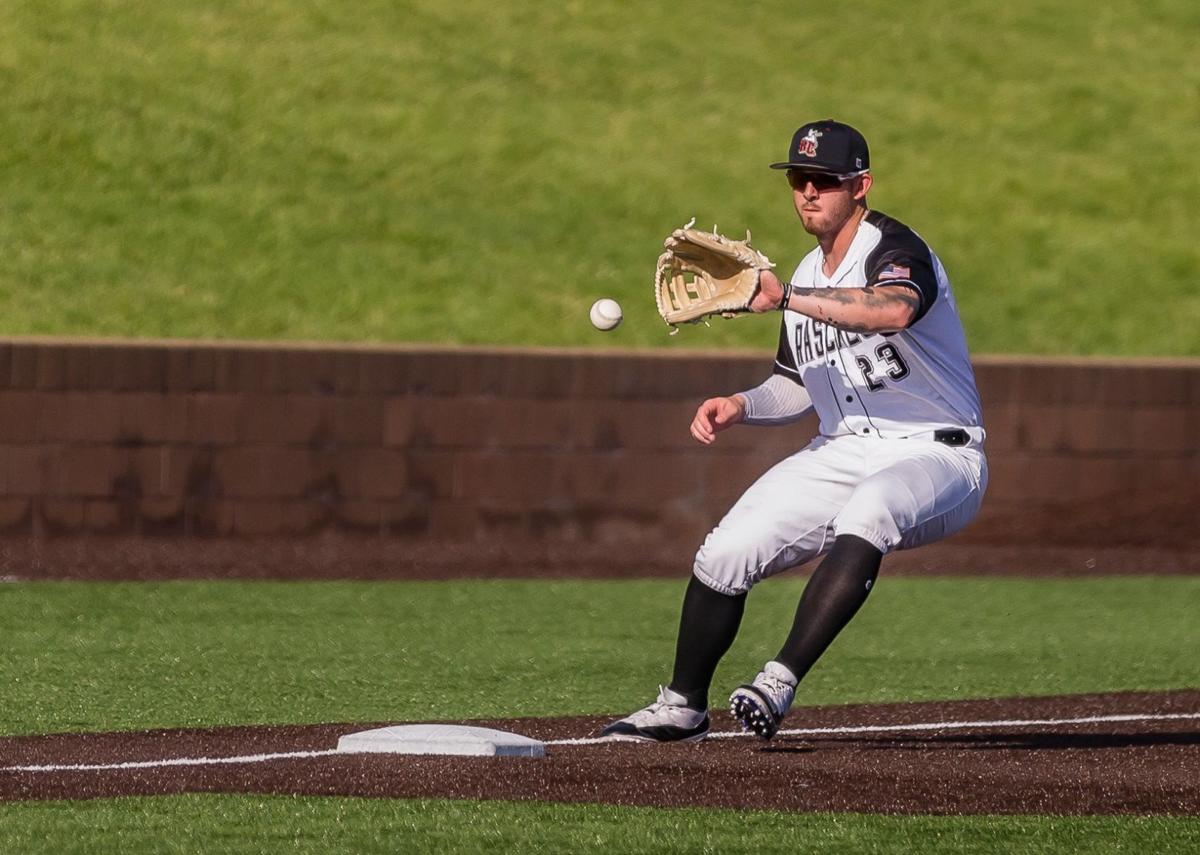 The visiting River City Rascals exploded for six runs in the seventh inning on Monday night in Kentucky, rallying to beat the Florence Freedom 7-5 for the Frontier League title to go out in style.
The Rascals won the best-of-five series three games to two. It's their second Frontier League title — they also won in 2010, in manager Steve Brooks' rookie season. After 19 seasons, the Rascals, of O'Fallon, Mo., will cease operations after this season.
River City finished as league runners-up in 2009, 2011, 2014, 2015 and 2016.
The Rascals, who trailed 3-1 after six innings, got a two-run double from Lee-Jun Kalawaia followed by a two-run triple from Kameron Esthay to highlight the seventh-inning outburst. James Morisano and Zach Lavy also drove in runs that inning.
Tanner Murphy drove in the first River City run with a two-out hit in the fourth. Braxton Martinez, a Francis Howell North High and St. Louis University product, had two hits for the Rascals.
Anthony Herrera came on in relief to get the win while Andrew Vernon finished for the save. (Joe Lyons)
Ex-Billiken Gordon on roster at JUCO: Carte'Are Gordon's college journey continued Monday when he appeared on the roster at Northwest Florida State College, a junior college in Niceville, Fla., where he would immediately be eligible. The former Webster Groves High standout left St. Louis University after the fall semester last school year and transferred to DePaul. After spending the spring and summer there, he entered the NCAA transfer portal two weeks ago. (Stu Durando)
SIUC's Kill on the move: Jerry Kill, a three-time national coach of the year who resurrected the football programs at Southern Illinois University Carbondale, Northern Illinois and Minnesota, has stepped down as the Salukis' athletics director to join Virginia Tech's program as special assistant to football coach Justin Fuente.
Interim Chancellor John Dunn appointed Liz Jarnigan to replace Kill as athletics director.
As a football coach at SIUC, Kill went 55-32 in seven seasons, leading the Salukis to the FCS national semifinals in 2007. As an AD, he hired seven new head coaches, including Bryan Mullins for men's basketball, Ed Allen for volleyball, and most recently, Lance Rhodes for baseball. (The Southern Illinoisan)
Virginia coach Bennett turns down raise: Virginia men's basketball coach Tony Bennett has declined a pay raise offered by the school and instead asked school officials for additional compensation for his staff and program improvement.
University officials said in a news release that Bennett did sign a one-year contract extension, but instead of a pay raise the coach asked athletics director Carla Williams to focus on his staff and the program. The release also stated that Bennett and his wife made a $500,000 contribution toward a career-development program for current and former players.
Bennett, who guided the Cavaliers to the NCAA title last season, earned nearly $6 million last season and received a $1 million retention bonus.
Bennett's record in 10 years at Virginia is 254-89 and includes seven NCAA Tournament appearances and one trip to the NIT. (AP)
Longtime football coach Ralston dies at age 92: John Ralston, who coached Stanford to two Rose Bowl victories and spent five seasons leading the NFL's Denver Broncos, has died. He was 92. San Jose State, where Ralston finished his coaching career, said that Ralston died Saturday. He coached Stanford to Pac-8 championships and Rose Bowl wins in 1970 and 1971 and was inducted into the College Football Hall of Fame in 1992. (AP)
New bowl game at Fenway: Add another bowl game to the mix, this one at Fenway Park. The century-old baseball park will host a matchup between teams from the Atlantic Coast Conference and the American Athletic Conference, starting in 2020. (AP)
Arena in Seattle set to open in 2021: The arena for Seattle's NHL expansion franchise remains on track to open sometime in the summer of 2021. The budget for the project remains around $930 million. (AP)