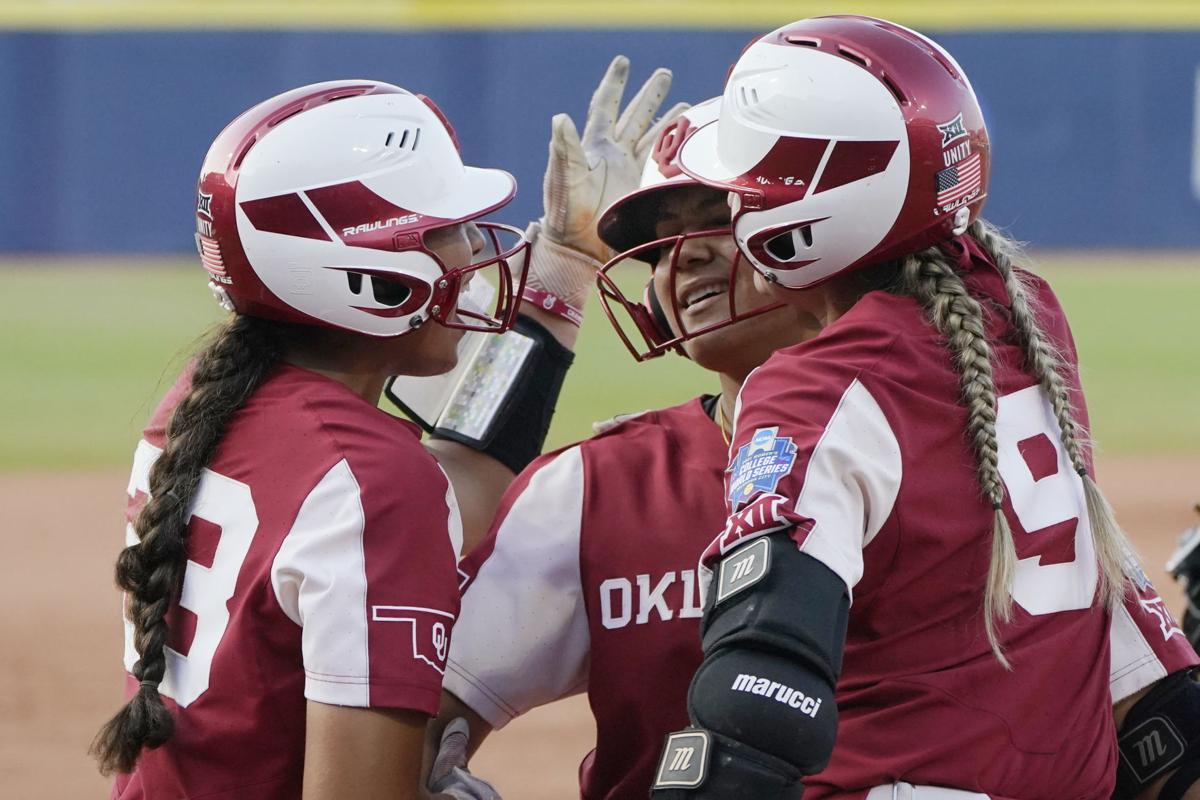 Jocelyn Alo hit a go-ahead homer in the sixth inning, and Oklahoma beat Florida State 6-2 on Wednesday night to force a decisive Game 3 for the Women's College World Series title in Oklahoma City.
The final game will be played at 2 p.m. Thursday. Oklahoma (55-4) is seeking its fifth national championship. Florida State (49-12-1) is trying for its second title in four years.
Alo, the USA Softball Collegiate Player of the Year, sent Kathryn Sandercock's 2-0 pitch over the right-center field fence, giving the Sooners a 3-2 lead. Her blast fired up the crowd of 12,115 mostly Sooners fans at USA Softball Hall of Fame Stadium, which is about 25 miles from Oklahoma's campus.
The homer gave the Sooners the Division I single-season record for home runs with 159, breaking the mark Hawaii set in 2010.
Giselle Juarez pitched a complete game for Oklahoma. She gave up two runs in the first inning, then threw six shutout innings and allowed just two hits the rest of the way. She improved to 4-0 in the tournament and has surrendered just three earned runs in 24 1/3 innings.
Sandercock started and gave up four earned runs and seven hits in five innings for the Seminoles, who won the opener of the best-of-three final 8-4 on Tuesday. Florida State's Elizabeth Mason hit a two-run homer in the first inning. (AP)
MLS All-Star Game against Mexico's stars: It will take place more than a year later than originally scheduled, but a match between the top players in Major League Soccer and Mexico's Liga MX is on.
The two leagues announced Wednesday that the MLS All-Star Game will be played Aug. 25 at Banc of California Stadium, home of Los Angeles FC of the MLS.
The game was originally scheduled to take place last July 29 and coincide with MLS's 25th season until the coronavirus pandemic curtailed those plans.
The upcoming game represents a departure from the format for the past 15 MLS All-Star games that had the best players in the league facing European clubs. (AP)
Four elected to US Soccer Hall: American national team defenders Steve Cherundolo and Christie Pearce have been elected to the U.S. National Soccer Hall of Fame along with Bolivian forward Jaime Moreno and former D.C. United general manager Kevin Payne.
The four will be inducted Oct. 2 at the hall along with former U.S. captain Carlos Bocanegra and Colin Jose Media Award winner Andrés Cantor, whose ceremonies were delayed from last year because of the coronavirus pandemic. (AP)
UEFA halts Super League case: UEFA put a hold Wednesday on its disciplinary case against Super League rebel clubs Barcelona, Juventus and Real Madrid, while the six Premier League clubs that tried to join the breakaway accepted a collective fine of 22 million pounds ($31 million).
The three clubs who refused to renounce the Super League project are facing a possible ban from the Champions League, although that now looks unlikely before next season.
The plan to split from the existing Champions League run by UEFA collapsed within 48 hours in April after the English clubs — Arsenal, Chelsea, Liverpool, Tottenham and Manchester clubs United and City — pulled out amid a backlash from their own fans and the government. (AP)
Former Penn State president in jail: Former Penn State president Graham Spanier has reported to jail early to begin serving his sentence for child endangerment in a case stemming from the Jerry Sandusky child sexual abuse scandal.
An online inmate locator shows that Spanier is in custody at Centre County Correctional Facility, several miles from the Penn State campus. It wasn't immediately clear when Spanier reported to jail. Phone and email messages were left with jail officials on Wednesday. Spanier's attorney declined comment.
A judge upheld Spanier's sentence last month and ordered him to begin serving at least two months in the county jail by July 9 for a single misdemeanor conviction of endangering the welfare of children.
After Spanier is released, he will spend two months on house arrest with electronic monitoring. (AP)
Broncos to honor Manning: Peyton Manning was elected to the Broncos Ring of Fame on Wednesday in recognition of his record-breaking four-year run in Denver that culminated with a victory in Super Bowl 50 after the 2015 season.
Manning will be honored during a game against Washington at Empower Field at Mile High on Halloween, less than three months after his induction into the Pro Football Hall of Fame on Aug. 8.
Manning joined the Broncos as a free agent on March 20, 2012, after his release from the Colts following a 14-year run in Indianapolis that included a win in Super Bowl 41. (AP)