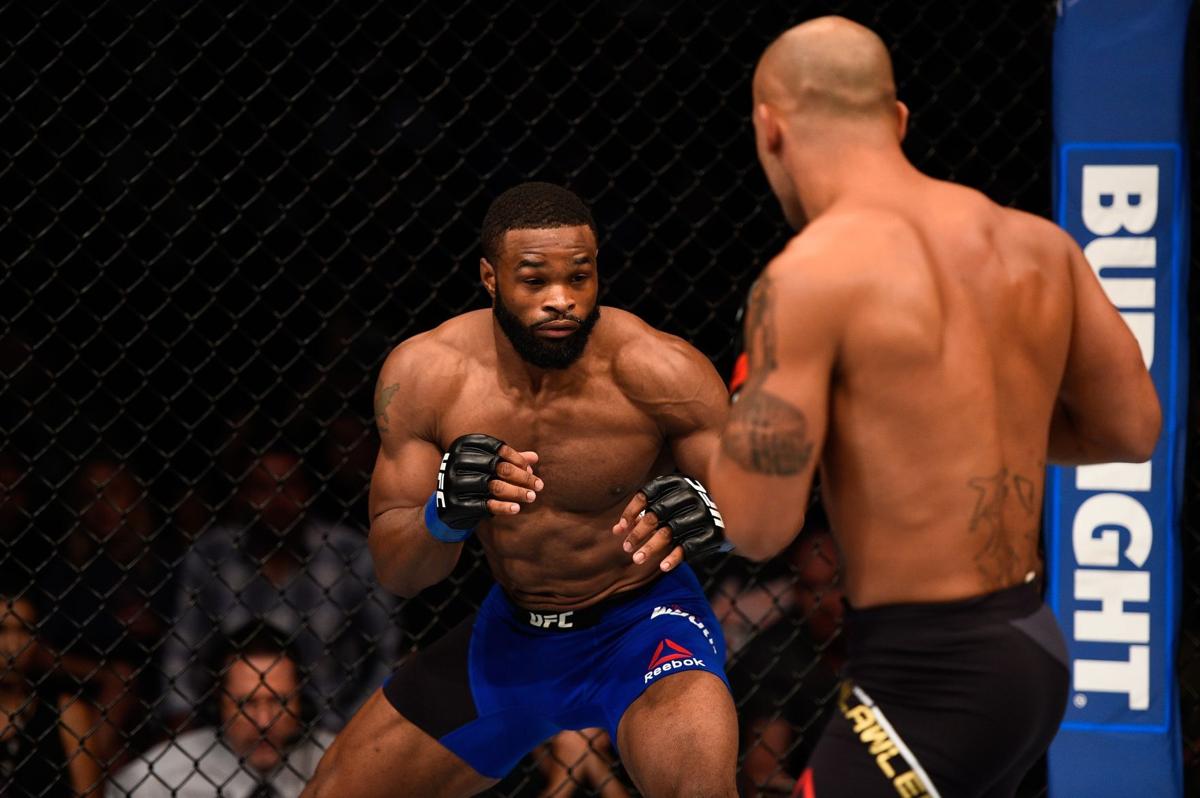 Tyron Woodley was in Atlanta on April 17, supporting good friend and fellow University of Missouri wrestling standout Ben Askren.
That night, Askren lost by TKO at 1:59 of the opening round in a boxing match against YouTube sensation and internet personality Jake Paul.
Before that night's main event, Paul and some his cornermen were involved in a backstage confrontation with Woodley, the former UFC welterweight champion. Then, after Paul's bout with Askren, Woodley called out Paul.
"I exchanged words with some of Paul's 'girlfriends,'" Woodley recalled. "Somebody said something about a fight and I guess one thing led to another. I'm definitely looking forward to it."
This month in Los Angeles, a news conference announced that Woodley and Paul will square off in a 190-pound catchweight boxing match on Aug. 29 at Rocket Mortgage Fieldhouse in Cleveland. Paul, 24, was born in Cleveland and grew up in nearby Westlake, Ohio.
The eight-round bout will air live on Showtime pay-per-view. That night's card also will feature a championship fight between WBC/WBO/IBO featherweight champ Amanda "The Real Deal" Serrano (40-1-1) and WBC super bantamweight champion Yamileth Mercado (18-2).
Paul, known as "The Problem Child," is 3-0 in the ring after winning by knockout over YouTuber AnEsonGib (first round) and former NBA player Nate Robinson (second round) before dispatching Askren.
Tyron "The Chosen One" Woodley is a 39-year-old from Ferguson who starred in football and wrestling at McCluer High School. He won the Missouri Class 4A wrestling title at 160 pounds as a senior and went on to compete at Mizzou, where he won a Big 12 Conference title and twice earned All-America honors in wrestling.
Woodley began his MMA career in February 2009 and was undefeated through his first 10 bouts. He made the step from Strikeforce to UFC in February 2013. On July 30, 2016, Woodley captured the UFC welterweight title with a first-round knockout win over champion Robbie Lawler in Atlanta.
'Shut him up'
Woodley, known for his dominance in the cage, successfully defended the title four times before losing it in March 2019, in a unanimous decision to current champion Kamaru Usman in Las Vegas. Woodley (19-7-1) is on a four-match losing streak and is no longer under contract with UFC.
"He's a talker — I can't imagine he believes everything he says — but my goal in this fight is to shut him up," said Woodley, who stands 5 feet 9. "It's my first boxing match, but boxing has been a part of my workouts and my training since I was 8 years old. As an MMA fighter, I've always been a striker — that's my game. I have the ability to cover distance in the ring and to take my shot, especially when I know my opponent is hurting. And that's when I'll be looking to put him away."
In his MMA career, Woodley has posted wins by knockout or submission in 12 of his 19 victories.
Woodley said Paul's first-round knockout win over Askren provides little if any data heading into this bout.
"I'm doing my own research and I know I'll be ready for this fight," stressed Woodley, who reportedly has met with 50-0 pro boxer Floyd Mayweather Jr. for some training work and advice. "I want to put him in his place, but honestly, my focus is on doing what I need to do in the ring. Whatever he's got going on, that's his thing. His fanbase is younger kids who love and support whatever he does; they're going to support him no matter what.
"I'm going to punch him in the face, I'm going to knock him out and then I'm going to move on to the next step in my career."
Woodley, who's done some acting and some broadcasting work, isn't sure what his future holds. He's keeping his options open.
"I will continue to box, but I'm not done with MMA," he said. "After this, I'm looking for the best fights, the ones that will be most beneficial for me."
During the news conference in Las Vegas, Paul proposed a wager and the fighters later shook hands on it.
"Let's make a new bet: if I beat you, you have to get "I love Jake Paul" tattooed on you. But if I beat you, I get "I love Tyron Woodley" tattooed on me, and you have to post it on your Instagram feed."