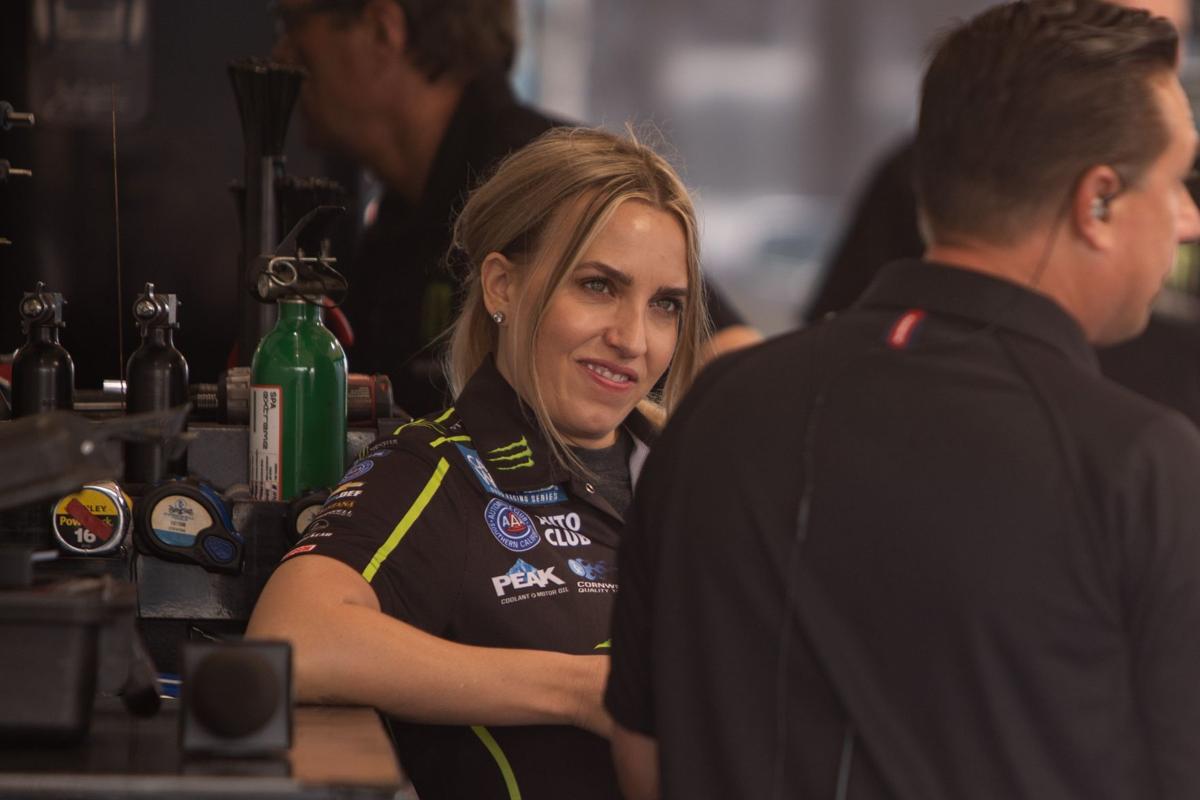 The Christmas tree at Brittany Force's home remains in place year round, and she's apt to be found staring into the lights any day she's not at a racetrack.
The aptly nicknamed electronic starting device, with its blue-amber-green light sequence, is merely a simulation of what she sees at the start of her NHRA top fuel races. But it's one way to practice, especially when you don't race for a full year.
Force returned to the NHRA series this season after a 12-month layoff because of COVID-19. Her constant work with the Christmas tree and other training methods helped the 35-year-old drag racer remain sharp and produce results that have her atop the standings entering this weekend's Midwest Nationals at World Wide Technology Raceway.
Force started the event having been the top qualifier in eight consecutive events, one short of the top fuel record. Reaction time at the starting line never is taken for granted.
"I have a simulator at home I practice on regularly and one in my trailer," she said. "I've done a lot of research lately on reaction time and how to improve. Any sport — baseball, basketball, whatever — where you can find reaction time training. There are certain workouts for leg movements. You can play video games where it's just reacting."
Force has won one event this season, but her consistency combined with the mass of qualifying points she has accumulated have allowed her to build a 21-point lead with five races remaining.
Reaction time was not a problem in Friday's qualifying round, but Force smoked her tires and sputtered across the finish line, quickly looking to a chance for improvement Saturday. Mike Salinas led the top fuel field at 3.652 seconds and 327.74 mph.
"You watch what Brittany's been doing and that's impressive," Salinas said "All of us are trying to run these crazy numbers, but we know we have a fast car and need to finish the year off with what we're doing."
Ron Capps edged Matt Hagan for the fastest run in the first funny car round at 3.888 seconds and 332.59 mph. In pro stock, season leader Greg Anderson had the top time of 6.536 seconds at 209.65 mph.
Drivers will have two rounds Saturday to improve their qualifying position. The emphasis of Force's team on being the top qualifier before Sunday's eliminations is at the highest level imaginable, starting with crew chief David Grubnic.
"It's a matter of not making any mistakes and I really give (credit) to David," she said. "He's the one who pushes this car to where you almost can't push it and the one who puts those numbers on the board. He wants to set the record and get as many points as we can every time. He wants to run the best we can every single run."
The fastest driver in each of the three qualifying sessions receives three points. The top overall qualifier from the first two days gets eight points. Thus, 17 points are possible just through the qualifying rounds.
Force is a daughter of NHRA funny car legend John Force, who is third in the standings, and one of three sisters who have competed in the series. She is the last of the sisters still driving.
She started her career in 2013 and won the season championship in 2017 with four victories that year. She has another in her sights after finishing fifth and third in subsequent seasons before the entire John Force Racing team shut down early in the 2020 season.
Brittany and John Force already have one significant accomplishment for 2021. They won their respective divisions at the same event for the first time in Topeka in August.
"That was a big win, not just for me but for the team," she said. "Trying to do that with my dad felt like chasing the impossible. It's hard enough to win on a good weekend. It was always on my bucket list, but I never knew if we'd be able to get the job done."
Now the potential exists for them to win championships in the same season, although Brittany Force won't let her mind wander to that scenario with so many races remaining.
Brittany is the only one of Force's daughters who remains active in racing. Ashley Force Hood retired from funny cars in 2011 and Courtney Force Rahal stepped away from her car in 2019.