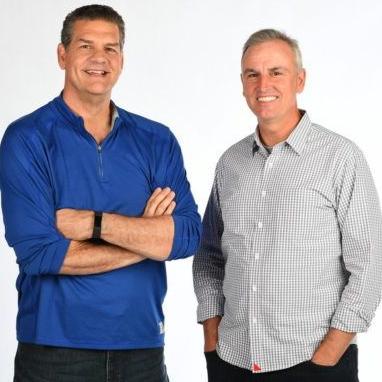 Trey Wingo, who left St. Louis 23 years ago to begin what has blossomed into a high-profile and long run at ESPN, is about to fall into career limbo.
He has been co-hosting ESPN Radio's "Wingo & Golic" show since late 2017, working alongside Mike Golic. Wingo replaced Mike Greenberg, who moved to an ESPN television program after teaming on radio with Golic for 17 years.
But now Golic and Wingo are on the way out of their program, which runs from 5-9 a.m weekdays (locally from 5-7 a.m. on WXOS, 101.1 FM). It also is simulcast on ESPN2 television.
ESPN announced this week that they will be replaced, beginning Aug. 17, by the trio of "SportsCenter" host Zubin Mehenti, former NFL receiver Keyshawn Johnson and former NBA guard Jay Williams. That is part of a huge overhaul of ESPN Radio's lineup, which will have four new daytime programs (most of which are not expected to air live regularly in St. Louis). The last "Golic & Wingo" show is set for July 31, with fill-ins then working until the newcomers begin.
The contracts of Wingo and Golic expire at the end of the year and ESPN's plans for them until then, as well as if they will be re-signed, are unclear. That's according to the New York Post's Andrew Marchand, who has reported extensively on the ESPN Radio situation.
"'Mike & Mike'" broke up three years ago and ESPN Radio lost its anchor," Marchand wrote. ". . . It tried to replace Greenberg with Trey Wingo and it didn't work. Wingo failed in supplying the same energy as Greenberg. In a world with so many choices, 'Golic & Wingo' didn't give you enough reason to pick it."
Greenberg, who moved to host "Get Up" on ESPN television after leaving "Mike & Mike," will return to radio next month when he begins conducting a midday show. He will continue to anchor "Get Up," which airs from 7:30-9:30 a.m. weekdays.
Wingo, 56, previously had expressed desire to leave a shift for which he has to get up in the wee hours. He alluded to that on the air Wednesday, after Golic talked about needing the alarm clock to go off only once — and never missing a show because of oversleeping.
"That is a gift that you have received and been blessed with, and that is a wonderful thing for you," Wingo said. ". . . I've yet to receive that gift in 2½ years."
Wingo now is headed for vacation.
"I'll see you in a couple weeks," he told Golic. "Then we'll have a victory lap, for lack of a better term."
Wingo has had many duties in his ESPN marathon, which began at ESPNEWS after spending seven years in the sports department at KSDK (Channel 5). His other prominent roles have included hosting "SportsCenter" and being heavily involved in NFL-related programming, most notably as the lead anchor on its coverage of the last four NFL drafts — taking over after Chris Berman departed.
Wingo earned high marks in April for hosting this year's event, which was a complex, massive undertaking as ESPN and NFL Network combined for one production. The telecast had to mesh video feeds from well more than 100 locations becasue of coronavirus shutdowns and Wingo and the entire crew adroitly pulled off the unprecedented task, which drew record ratings.
Golic, meanwhile, has been a fixture on national morning drive-time radio for two decades, so his departure will end an era.
"It certainly was not my choice,"  Golic, who was a defensive lineman who played in the NFL from 1986-93, said on the air this week. "I would've loved to have kept doing the show, but listen, I didn't want to be cut by the Houston Oilers. I didn't want to be cut by the Miami Dolphins. Sometimes what you want and what happens isn't the same."
Golic, 57, said he's not sure what is next.
"I'm not retiring. I'm too young to retire. My wife won't let me," he said. ". . .  I'm still going to stay in the business. This was management's choice to do it. Just like coaches, they have every right to do what they want to do. I would love to keep doing it, but not in the cards right now. We'll see where it goes."
Be the first to know
Get local news delivered to your inbox!