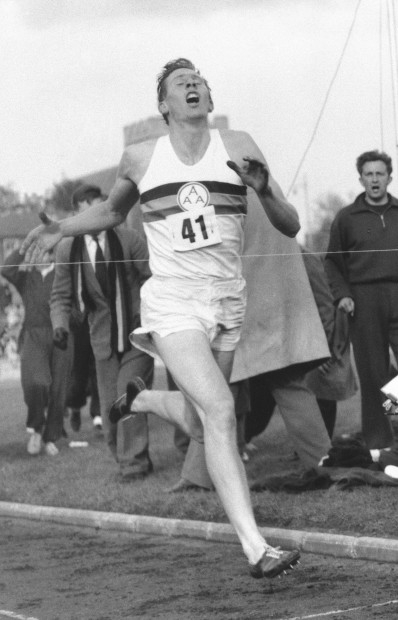 Ryan Lamppa is missing a story that he knows is out there.
Narratives of people's most memorable mile runs have arrived in his inbox. They come from pro runners who have flirted with the four-minute mark, a man who relives a full-uniform military race and a middle school boy determined not to finish last again in his class race. Another man recalls the final encore mile he would run for his 92-year-old former high school coach.
"But we're still looking for that story from a coach," Lamppa said. "That coach who saw his kid in PE class and said you could be a great miler, and one day a couple years down the road his kid had that breakthrough mile and became a great miler. I know that story is out there."
Lamppa is the media director of Running USA and the founder of "Bring Back the Mile," a campaign he launched publicly in January to champion the mile run. It's a track and field event that once captured the country's imagination and, he believes, still remains in the country's consciousness despite the sport's general conversion to the metric system.
The campaign's mission: moving people to remember.
Lamppa has advocates in St. Louis holding an event that precedes his idea. The Big River Running Company will put on its fifth annual Festival of Miles at St. Louis University High on Thursday. It includes junior high and high school mile races as well as a corporate relay before the elite men's mile, in which competitors almost every year have run sub-four-minute miles.
One purpose of the Festival of Miles is to raise money for an athlete in need, and during its first two years race director Ben Rosario says the crowd was mostly there to show support. The event, though, also promotes what he says is the most dramatic contest in track and field, and now people also come because they "want to see a great track meet."
"They call the Kentucky Derby the most exciting two minutes in sports," he said. "I would say the mile is the most exciting four minutes in sports."
To run a mile in less than four minutes, the story went, would surely be accompanied by death.
By 1954, other thresholds of human endurance had fallen. A year before, Mount Everest had been scaled. Still, as attempts to run a four-minute mile failed one after another, it seemed beyond the bounds of human possibility.
At the height of anticipation, an Oxford-educated doctor named Roger Bannister came along. On May 6, 1954, he ran a mile in 3:59.4. It was a challenge of sorts to people beyond Great Britain.
"They were banging against this wall, and it created this mystery," said Jim Denison, author of "Bannister and Beyond: The mystique of the four-minute mile.'' "It's a fortunate convergence of events that produced a romantic tale around this distance, and I think we'd be foolish not to exploit the power that tale has to promote our sport."
At first, that's what happened. American runners became heroes, like Don Bowden, the first to run the mile in less than four minutes; Jim Ryun, a Kansas boy who broke the world record in 1966 and 1967; and Steve Scott, the first American to break 3:50. Among the most popular track events in the world were the Wanamaker Mile at New York's Millrose Games and the Dream Mile in Oslo, Norway.
It was the glory days of the mile run.
But as the country adapted to the metric system in areas like math and science, it also did so in track and field. In the late '70s and early '80s, college and high school tracks began to be built as 400 meters instead of 440 yards.
By 1980 all other imperial system races, such as the two-mile race and the 100-yard dash, were abolished. The mile run lasted some places as a stand-alone event, but colleges run the internationally accepted 1,500, and high school state competitions adopted the 1600-meter race. To mile purists, they're just not the same. Lamppa says there's a reason the 1,500 is referred to as the 'metric mile' rather than the other way around.
High schools settled on the 1,600 because it's convenient to run four even laps on the 400-meter track. The distance is widely considered equivalent to the actual mile, and some say creating a separate starting line back nine meters solely for the mile would be impractical.
That, too, doesn't sit well with true milers. SLUH added the line to its track last year, in part because the school hosts the Festival of Miles and in part because, according to assistant track coach Tom Flanagan, it really wasn't that big of a deal.
"We might be inclined to start having it as the official race," said Flanagan, who is also on the Festival of Miles board. "That way when kids say they have a mile time, they actually mean it. … (Running the 1,600) is not that big of a deal, but it just seems like the mile is much more credible."
The Bring Back the Mile website allows visitors to petition individual high school associations. With the annual MSHAA track and field committee meeting June 5, St. Louis representative and MICDS coach Jim Lohr says he hasn't heard any mention of proposed changes.
"The 1,600 is part of the National Federation's schedule of events, and that's the rulebook we go by," Lohr said. "I have a feeling that it would have to change there first."
Mile times can be converted to 1,500 times. For professionals, there's about a 15-17 second difference. However, the International Association of Athletics Federations (IAAF) does not accept converted times in the mile (about 1609 meters) to qualify for the 1,500-meter race in the Olympics and World Championships.
Because of this, many pro runners don't waste the effort on mile races. It doesn't get them anywhere.
One might wonder why, as the effort to globalize continues, Lamppa is pushing the other way. He admits he has received emails from foreigners saying the mile is archaic and that it is time for America to join everyone else.
Lamppa recalls the street signs 30 years ago that had both miles and kilometers on them. Instead of transitioning to the latter, the country was adamant about sticking with miles. His point: Forget opinion. The fact is that culturally, America never accepted the metric system.
"I don't think it's a conscious thing, but I think it has to do with pride in being an American," he says. "Our country prides itself in being a bunch of individuals. We're not going to be like the rest of the world. I don't think that's good or bad, it just is. And it's not going away anytime soon.
It's not just an American thing. In Bannister and Beyond, runner Jama Aden tells Denison that he explained to other Somalians "great stories and rivalries of the mile, and the history and importance of four minutes."
"Clearly it shows that the mystique of the mile has transcended borders," Denison said. "People really understand it and it's a landmark achievement in athletes' careers."
"Sometimes there's nothing wrong with tradition," Rosario said. "Sometimes we don't have to change, and I think this is probably one of those cases."
Stephen Pifer will be among the competitors at the Festival of Miles on Thursday. Pifer, an Edwardsville native and former All-Metro athlete of the year, was one of three runners last year to finish under four minutes, all within a second of each other.
Rosario called it the quintessential mile.
"You could see the athletes started to get antsy coming up to that last lap," he said. "When they looked at the clock last year it was at three minutes, so they knew they had to get moving if they were going to break four. One guy made a move, another guy responded, and finally the last guy made a move on the homestretch. The crowd would gasp every time something happened. It was unbelievable."
Lamppa, who lives in California but taught and coached at St. Louis' Country Day Lower School from 1982 to 1985, has grappled with his own most memorable mile. It just might be the time he won the Market Street Mile in 1984. When he crossed the finish line at St. Louis Union Station, he clocked in at 4:12.
"That's part of what we want to do, tell stories about the mile," he said. "It just gets people emotionally involved. … The mile still has a place in our culture in America. There still is something about it that, at least in our lifetime, isn't going away any time soon."