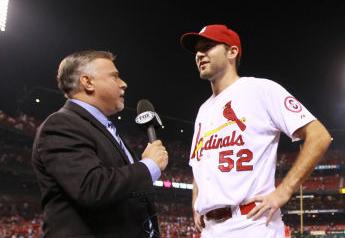 "The Cat" has another life at KFNS.
It was announced last week that Jim "The Cat" Hayes, a central member of 590 AM's popular "The Morning After" program along with Tim McKernan and Doug Vaughn, was out immediately. Reasons given included him being tired of getting up at 5 a.m. to do the show that begins at 7 a.m. on weekdays, though sources said money actually was a key factor.
Whatever the reason, station owner Randy Markel said an accord was reached Wednesday that will have Hayes returning Monday. And Markel credited a bevy of support from listeners via emails and social media postings, much of it relayed by McKernan (who runs the program), as being a key factor in the decision to bring Hayes back.
"Tim showed me a stack of emails and said, 'Can we work it out for him to come back?" Markel said. "I said, 'We just worked it for him to leave'" including severance. "But it benefits us to have him back. Maybe we underestimated his popularity. Maybe Jim underestimated his own popularity."
McKernan said on the air this week, before Hayes was brought back, that "the goal has always been, 'Don't break up the show.' Always. Still is."
Hayes is grateful for the listener support.
"Things changed and it made me reevaluate," said Hayes, whose position as a reporter and anchor for Fox Sports Midwest was not affected by the radio situation. "The outpouring of kind words and support from our 'TMA' listeners meant so much to me. That also made me re-think.
"Our listeners are the most loyal in radio. Too bad for them they'll have to listen to me for a little while longer."
Charlie Marlow had been scheduled to replace Hayes, but Markel said Marlow will be used as a fill-in on that program and also continue to work with Martin Kilcoyne, from noon-1 p.m. as part of the station's retooled lineup that de-emphasizes sports is to take to the air on Monday. Kilcoyne had been scheduled to go solo for that hour under the original plan.