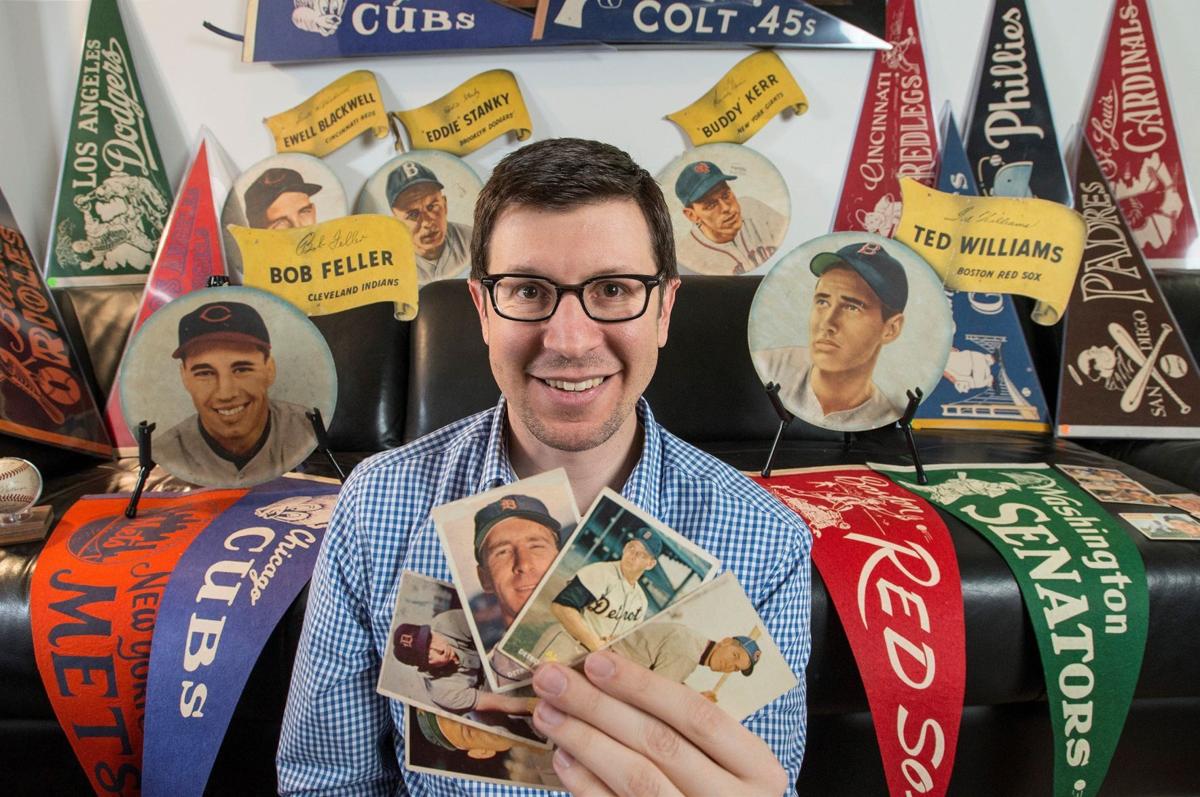 In times of crisis, whether global or personal, or global and personal, there are things people turn to: eating comfort foods like macaroni and cheese, or adopting a dog or a cat.
Or collecting baseball cards.
Few things are normal right now, so maybe that's why Americans are turning, en masse, to a throwback to a simpler time, when the image of a baseball player on a small piece of cardboard brought solace and a sense of normalcy. Who knows what tomorrow will bring, but it's a little better with that Topps card of Mike Trout on your dresser.
"It is going insane right now," said Michael Osacky of Chicago, who appraises baseball cards and other sports memorabilia for Professional Sports Authenticator. "This is like no other time in the last 25, 30 years for sure."
"This is the hottest the industry has ever been," said Wally Militzer, the owner of 1,000,000 Cards in Manchester. "There's been a real nice steady growth the last three years, steadily increasing, and then it went on steroids this year with the pandemic."
At a time when the long-term popularity of baseball is questioned — The games are too long! World Series ratings are down! There will be a universal DH! — the baseball card industry points to the contrary, or at least points to an increased fervor among a certain subsection of fans.
Because it's not just kids who are now grown up who collected in the 1980s and 1990s. Those fathers are sharing their childhood hobby with their sons and daughters.
"It seems that at the beginning of the pandemic," Militzer said, "a lot of 35-, 45-year-olds had some time on their hands and went through their cards, and said, 'This was a lot of fun when I did that.' Now they happen to have an 8-12-year-old and their kid is fascinated by the whole thing too. There's a lot of people that fit that demographic."
Osacky also points to other items that are pushing the market and driving up prices: Federal government stimulus money that people weren't spending on restaurants, movies or travel; a nostalgia swing brought on by the Michael Jordan documentary at the start of the pandemic; and more interest among celebrities that are driving up the price of higher-end items. And the increasing number of NBA players coming from Europe are driving up the market for basketball cards abroad, something that hasn't happened before.
Both Osacky and Militzer don't see this as a bubble, a briefly inflated period of buying and selling that will soon return to normal levels.
"I think about the sports collectible market like the stock market," Osacky said. "I would say for some items, it could be a bubble: you have a rookie basketball player or someone hits two home runs in a game and people think this be the next Babe Ruth and people start driving prices up. That's not a smart financial decision. It's a bubble in those certain instances. In a while, prices will come back down — they have in the past six weeks — but when you have a lot of demand and a fixed supply, overall, in three years now, it will be higher."
That's because Topps has learned the value of limiting production. Topps, which has exclusive rights to use Major League Baseball logos and names on their product, no longer floods the market like was the case in the late '80s and early '90s, which has kept prices up and spurred demand. Topps also comes out with many variations and has also begun printing limited runs of cards, where the cards are announced, collectors place orders, and then Topps prints only as many cards as are ordered.
"The card companies tell us how much of a product we can order," Militzer said. "We don't tell them five cases of this, ten of this, two of that. They tell us how much we can buy and there are no reorders. That's different from most business; you sell out of the Pepsi, the Pepsi guy comes back and resupplies. There are so many new people getting in and so many old people rediscovering it, none of the stores get enough products. That's caused prices to go up to the consumer."
So in that sense, some baseball cards have become like toilet paper, bicycles and recreational vehicles, items that have become more valued during the pandemic. "If I only get 12 boxes of a product," Militzer said, "they're gone in less than a week. I've got more than 12 good customers who like to collect."
Osacky has what seems like a dream job, appraising baseball cards and other sports memorabilia (as well as jewelry, antiques and, because someone has to do it, dinosaur bones for PSA), sometimes for insurance purposes, sometimes for tax reasons, sometimes if someone is looking to sell something and wants to know a fair price. In more normal times, he would travel to appraise items; now, a lot is done through photographs though he is coming to St. Louis next week to appraise a large collection for estate planning purposes.
"I can appraise anything sports related, a card, an autograph, a saddle from a Kentucky Derby winner, advertising," he said. "What it comes down to is condition. If it's a card, how are the corners, the centering, is there any paper loss. If it's an autograph, how bold is it, is it on a baseball, was there shellac or nail polish to preserve it over the course of time. An item can be very valuable, but if the condition is not that great, the value is most likely not that great."
And some are hard to value just because they are unique. Osacky gave a talk once and had invited people to bring memorabilia for him to appraise, ala PBS's Antiques Roadshow. A man brought him an autographed photo of Babe Ruth, with the date on it of the day Ruth died. The photo had belonged to a priest who was a friend of Ruth's. Is it possible that this was the last autograph signed? Maybe. In that case, it was no ordinary autograph.
"It's hard for me sometimes to determine the price on a one-off item," he said. "That was definitely six figures, but is it $250,000 or $500,000. I don't know right now."
While those items are out there, much of the market right now is in good, old-fashioned baseball cards. You can buy a complete set, but a lot of collectors still go for the challenge of buying cards a few packs at a time, assembling the set that way. One of the things Militzer sees online is older collectors filling in the blanks on missing cards they never got in a childhood collection or buying a card that was out of their financial reach when they were 12.