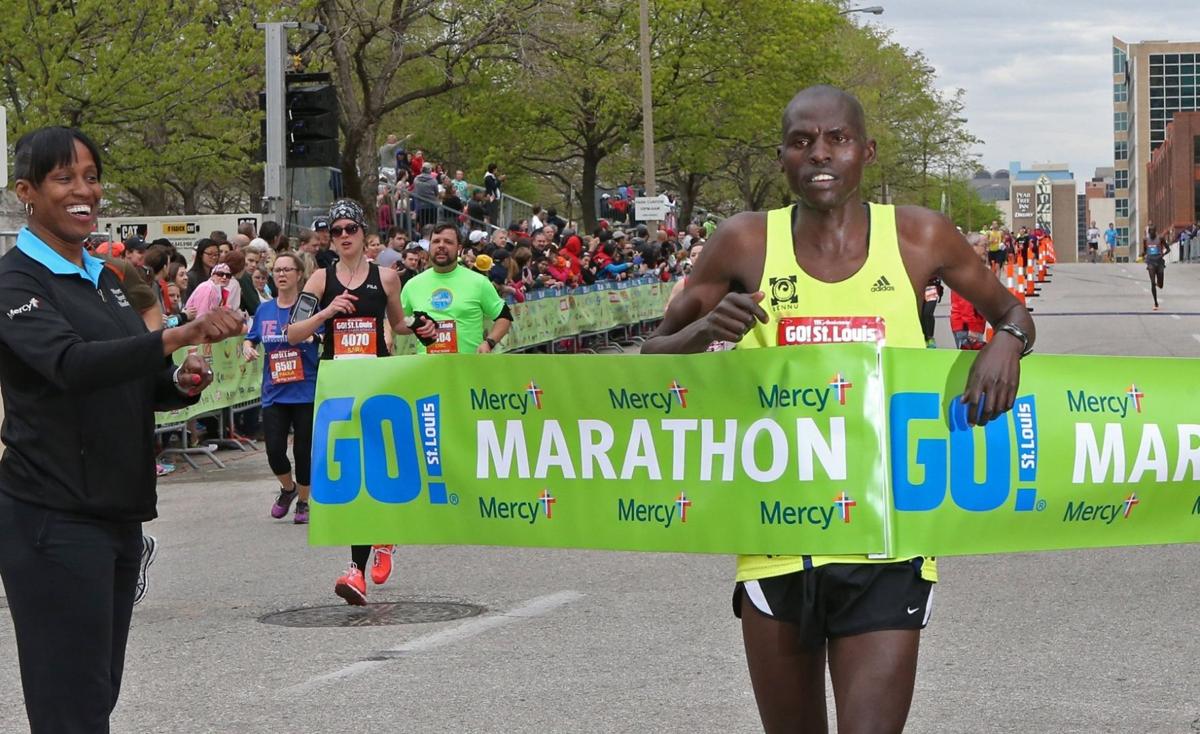 Race officials on the GO! St. Louis marathon course made it clear to Andrea Karl that she was the leading woman in the race as she began to pull away Sunday morning.
So, it was a surprise when Karl crossed the finish line only to be told another woman had won.
"They said someone had crossed before me and she really wasn't ..." Karl said, not sure of how to complete her sentence. "I don't know. People were telling me on the course as I was going that I was the first female. I thought I was most of the way."
Another competitor managed to cross the line first, but race officials did not have any record of her at other points on the course, and she was disqualified.
Karl, who is working toward a doctorate at Washington University in the molecular genetics and genomics program, won with a time of 2 hours, 54 minutes and 28 seconds for her second marathon win in as many attempts. Richard Chelimo of Kenya was the clear-cut winner of the men's division with a time of 2:36.10.
The moment was reminiscent of the 1980 Boston Marathon when Rosie Ruiz was crowned the women's winner before being stripped of the title when it was learned she did not run the entire course.
"We just disqualified her," GO! St. Louis spokesman Jeff Trammel said. "She wasn't even around after the race. She crossed the line and just disappeared."
When approached after the race, the woman who crossed first was asked if she had won. She said she was unsure.
According to officials, the riders of the lead bikes on the course did not see the woman as the race unfolded. She did not have times register at various checkpoints. Race officials have the woman's name and plan to call in search of an explanation.
The winner of the men's and women's divisions each receives $1,500.
Trammel said this happened once before. Several years ago a woman crossed first and acted as if she had won, even conducting an interview. Then she left.
Karl won with little fanfare, but she might just be starting. She didn't begin distance running until a year and a half ago after completing her degree at Denison University, where she played soccer.
She has run in two marathons and won both. Her first attempt was the Rock 'n' Roll Marathon last fall, when she ran 3:01 and came in first. The first time she ran as far as eight miles was in November 2013.
"I really don't know what to say when people ask me," she said. "I had never run in a group. When I moved here I joined a training team. To hang out, we go and run a lot. And when you run with fast people you run faster."
Chelimo, 33, had an earlier start. Although he said he didn't run competitively until he was in his early 20s, he was traversing long distances as a child growing up in Kenya. He now lives in Colorado.
He said as a child he would run five miles to school. He ran home and back to school at lunch, and then home after school for a total of 20 miles.
"When the bell rings, I ran for food one hour and back," he said. "People were not using cars much. There were a lot of guys that were fast, but I was really among the fast guys."
Chelimo said he loved the course, especially noting the portion that went through Forest Park. However, the time on the newly designed course was slower than last year's winning time of 2:34.34. In 2013 the winner finished in 2:20.00.
"I can say it was really not that fast a pace," he said. "It was a bit slow. It was just the two of us."
Fellow Kenyan Stanley Boen, who now lives in Santa Fe, N.M., was second, 15 seconds behind Chelimo.
Kenneth Rotich won the men's half marathon in 1:03.45, and Lilian Mariita won the women's in 1:13.34.